As one of our generation's greatest storytellers, Taylor Swift knows a thing or two about keeping her fans fed. Having released three original albums and re-recorded two others in the last three years, she could certainly be forgiven for putting her feet up for a bit. Instead, she took the moment of winning Video Of The Year at this year's MTV VMA's to casually announce that 'Midnights', her tenth studio album, would be dropping on October 21. 
As expected, this new era has encouraged Swifties to roll out a rich tapestry of potential clues, pulling on threads of potential analysis. First is the artwork, quite striking in its disarmingly old-school approach. With simple sans-serif font and that ominous fire lighting image, it hints at stripping things back to basics, but also pulling things together through grungy collage; perhaps a homage to the Tumblr indie years? This would match with some of the outfits she's been wearing publicly; lots of metallic glamour, but still a little tweecore in shift dresses and twin sets.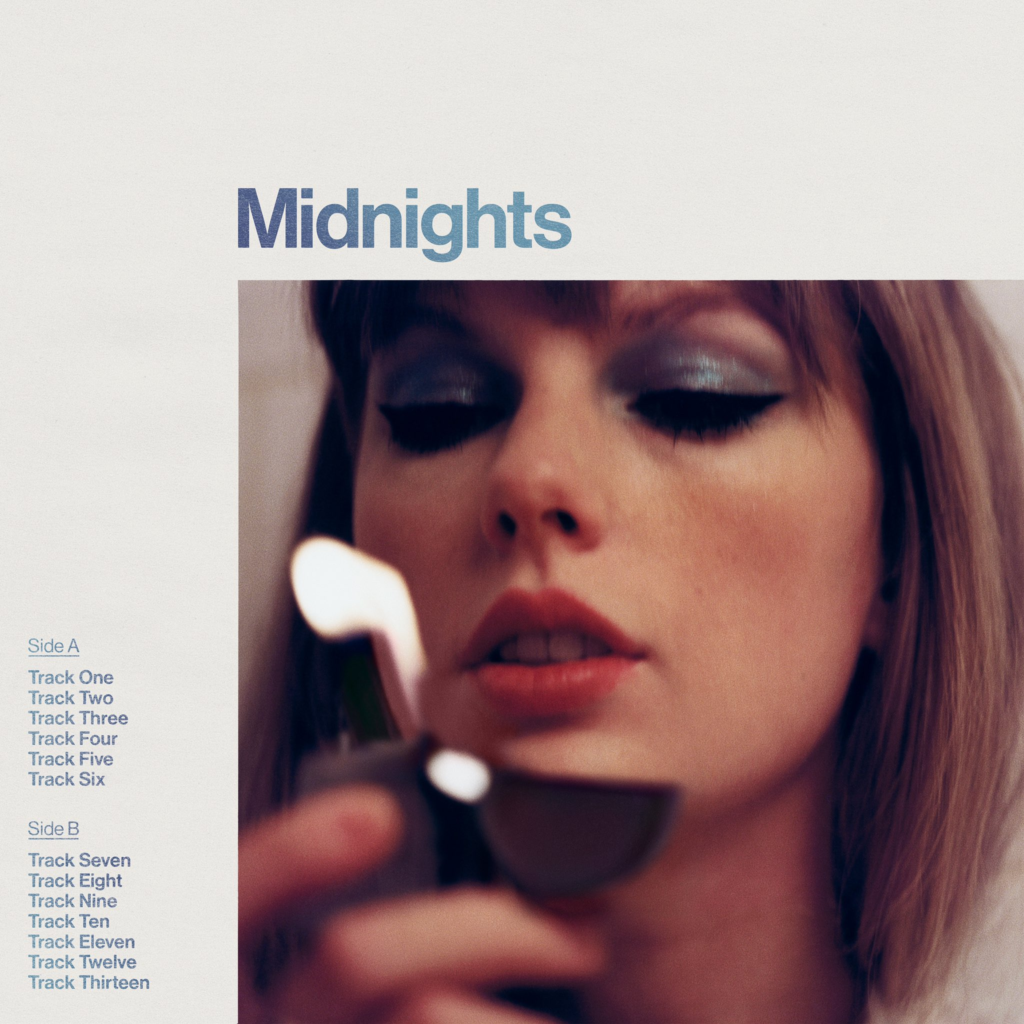 Some fans think there's an element of 50's classic imagery in there, but the wider photoshoot is also a little bit seventies; could this be Taylor in her hipster phase, potentially having fun with the way that 'Folklore' legitimised her in a load of snobby dudes' eyes?

With Taylor, the biggest focus is always the lyrics. Where she was able to play with character and imagination more readily on previous records, 'Midnights' promises to be a personal record: "a collection of music written in the middle of the night… the stories of 13 sleepless nights scattered throughout my life." Written in a slightly clunky way, the announce potentially gives up the song titles upfront; phrases like 'self-made cages', 'right this minute' and 'keep the lanterns lit' are perhaps a little too poetic to ignore.
So what else do we know about those potential sleepless nights? Some fans feel that 'Midnights' will inherently be twinned with 'Lover', which initially had the working title of 'Daylight'. With 'Folklore' and 'Evermore' coming about as pandemic experiments, it is certainly possible that 'Midnights' was always destined to be the follow-up, the darker foil to 'Lover''s upbeat energy. Others feel that the 13 new tracks will be spread more evenly, taken directly from Taylor's now-iconic 'vault' of spare songs from each album era. Given the teaser image of a clock, fading in and out of the colours of various 'eras', this seems more likely, echoed in the album's vinyl colour variants.

What does also seem bob on is the idea that she might revisit some of the biggest betrayals, traumas and revenge fantasies of her professional career. The night of Kanye's mic-stealing 'Imma let you finish' seems to be a given; does announcing 'Midnights' at the VMAs, thirteen years on from the initial incident, while wearing a strangely-familiar sparkly Oscar De Renta dress seem like a coincidence to you? This also ties in nicely with the theory that 'Midnights' might actually revive some of the tracks from 'Karma', the record that was rumoured to be her sixth, before all the Kardashian-West drama led her to reframe things and release 'Reputation' instead. That 'Midnights' is due to be released on Kim Kardashian's birthday is perhaps more of a fortuitous coincidence than a true easter egg, but we still wouldn't put it past her to have kept it in mind.
Elsewhere, fans have been heavily debating the potential themes of relationships, one of Taylor's strongest writing stimuli. We might potentially see a return of the seven deadly exes; ever since the ten-minute version of 'All Too Well', fans have been speculating that there might be similar versions in the vault with regards to Joe Jonas, John Mayer or Harry Styles, whose film 'My Policeman' also comes out on October 21. Recently, Matty Healy has denied that he is a collaborator on the record, but he still might make an appearance in spirit; as any Swiftie will know, one of the strongest theories in the fandom is that of a dalliance between Taylor Swift and Karlie Kloss, with Swift herself even 'liking' some of the shipping posts on Tumblr back in the day. As talk of 'Midnights' has increased, blurry 'kissgate' footage of the women at a 1975 concert in 2014 has resurfaced, adding fuel to the fire. Nobody is entirely sure where the Healy collab rumours started, but could they be a red herring hint that we'll finally get an exploration of that night?
As somebody who likes to break the fourth wall between the way that she is talked about in the press and the way she sees herself, all these lyrical themes are distinctly possible. But as a fan, I'm hopeful that 'Midnights' might expand on narratives that we know less about; deeply relatable teenage experiences like the kind on 'Fearless', or more introspective moments of self-doubt that move in unexpected directions. One of my favourite ever Taylor Songs is 'peace', a cut from folklore that sees her exploring the difficulties of navigating relationships in the spotlight in such a way that it becomes relatable to anyone who has ever worried about being "too much". Of course, the theme of 'sleepless nights' doesn't have to be purely maudlin; With 'Midnights' aesthetically nodding to Taylor's edgier side, we could be getting some sexier songs, 'Reputation' Style, exploring reckless all-nighters or fortuitous encounters. Potentially, if some fans are to be believed, we might even be getting a marriage announcement; a 'lucky' thirteenth track, perhaps, that signals the close of a chapter, or even, a well-earnt career break.
If 'Midnights' theories have indeed got some fans fearing the end, they shouldn't worry just yet. In many ways, this is a fresh new beginning; a world tour announcement for 'Midnight' is surely imminent, and fingers are firmly crossed that she will be re-booked for Glastonbury 2023, making good on her pandemic-cancelled 2020 billing. If this really is a moment of collective pause and celebration for Swift, looking back over her career thus far, what could be a better celebration than to headline the largest festival in the world?
The thrill of a good fan theory might involve us all, but when midnight strikes on October 21, it all comes down to the words of one woman. Without even releasing a single, Swift has proven her enduring ability to dominate discourse. Just in time for the clocks to change, a new tapestry begins.
READ MORE: Taylor Swift has embraced her teenage self – and you should do the same