It's here! The gates are open and Glasto campers are making the schlep from car to campsite. Here's everything you need to know about Glastonbury 2023 including who's playing and what's new for this year. First time? Check out our top Glastonbury tips from a 10-time attendee. And keep up to date on all the secret sets from across the weekend.
When will Glastonbury Festival 2023 take place?
23-25 June 2023, with gates opening from Wednesday, 21 June.
Where will Glastonbury Festival 2023 be held?
The same place as always: Worthy Farm, Pilton in Somerset.
Who will headline Glastonbury Festival 2023?
Elton John is the first confirmed Glastonbury headliner for 2023. The Rocket Man has chosen Worthy Farm for his last ever UK performance and his final stop for his triumphant Yellow Brick Road tour, Emily Eavis announced on Friday 2 December.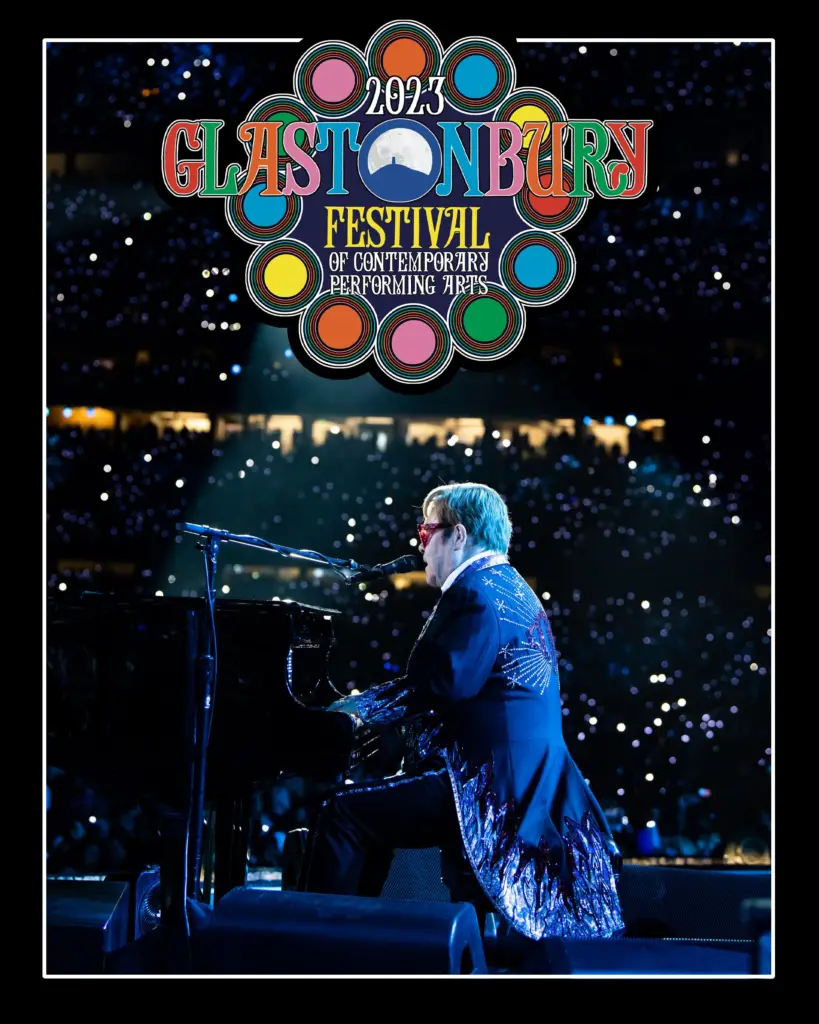 Of the booking, Emily Eavis said: "It gives me enormous pleasure to let you know that the one and only Elton John will be making his first ever Glastonbury appearance, headlining the Pyramid Stage on the Sunday night next year. This will be the final UK show of Elton's last-ever tour, so will be closing the Festival and marking this huge moment in both of our histories with the mother of all send-offs. We are so happy to finally bring the Rocket Man to Worthy Farm!"
Guns 'N' Roses are now confirmed to be headlining the festival. Duff McKagen seemingly confirmed that the band would be performing on Three Chords & The Truth on SiriusXM radio a while ago. When discussing the band's upcoming shows, he said "Glastonbury is going to be iconic for us". Now it's official.
Arctic Monkeys are the third name atop the bill, returning to Worthy Farm as headliners for the third time.
Backlash against all-white, all-male headliners came thick and fast on the lineup announcement. Emily Eavis, speaking to The Guardian, defended the festival's decision saying "We're trying our best so the pipeline needs to be developed. This starts way back with the record companies, radio. I can shout as loud as I like but we need to get everyone on board."
She continued to say: "It's not just about gender, it's about every aspect of diversity. We're probably one of the only big shows that's really focused on this."
There will be more diversity amongst next year's headliners with Eavis promising that at least one female headliner has been booked for 2024 and one more is close to booking. Both are Glastonbury first timers and speculation is already being made that it could be Madonna and Rihanna, both of who will (hopefully) be back performing live after some time.
The only person who was booked as a headliner for 2020 but is yet to return is Taylor Swift – another Glastonbury first-timer who could be back next year. Emily Eavis did say that they had a female headliner booked for this year but they were forced to cancel. Could Swift's Eras Tour have scuppered her Glastonbury plans? Now that she's announced the UK leg of that tour, there is a suspicious Glastonbury-shaped hole in the schedule meaning our bets are on Taylor.
What about the rest of the Glastonbury lineup?
54 artists have been announced so far on the Glastonbury bill. 52% of them are male and 46% feature a non-white member. Lizzo has been billed as a co-headliner (what that means is yet to be seen). Lana Del Rey will return to Glastonbury headlining The Other Stage – although she was displeased about how that information was announced. The festival has since adapted the poster to feature Lana higher up. The Chicks and FLO will play Worthy Farm for the very first time. Other notable additions are Raye, Rina Sawayama, Maggie Rogers and Weyes Blood. Check out all the news on secret sets as we receive any intel.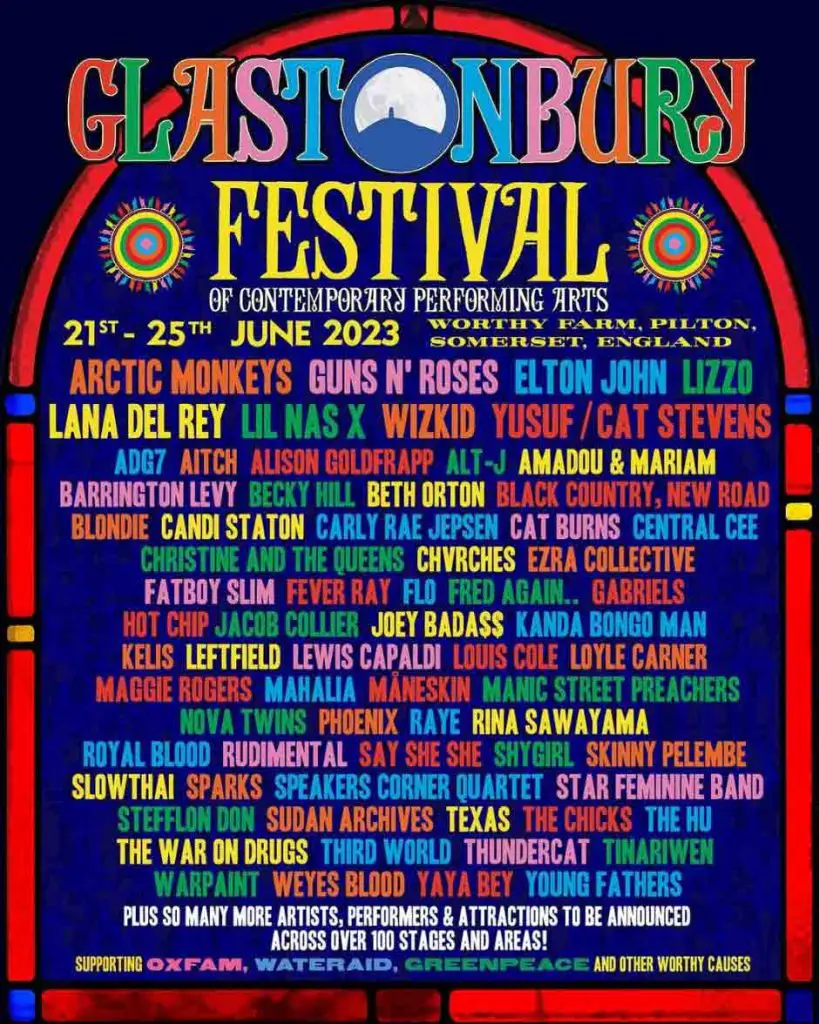 The West Holts stage has also announced its lineup for 2023. Kelis, Sudan Archives and Yaya Bey will feature.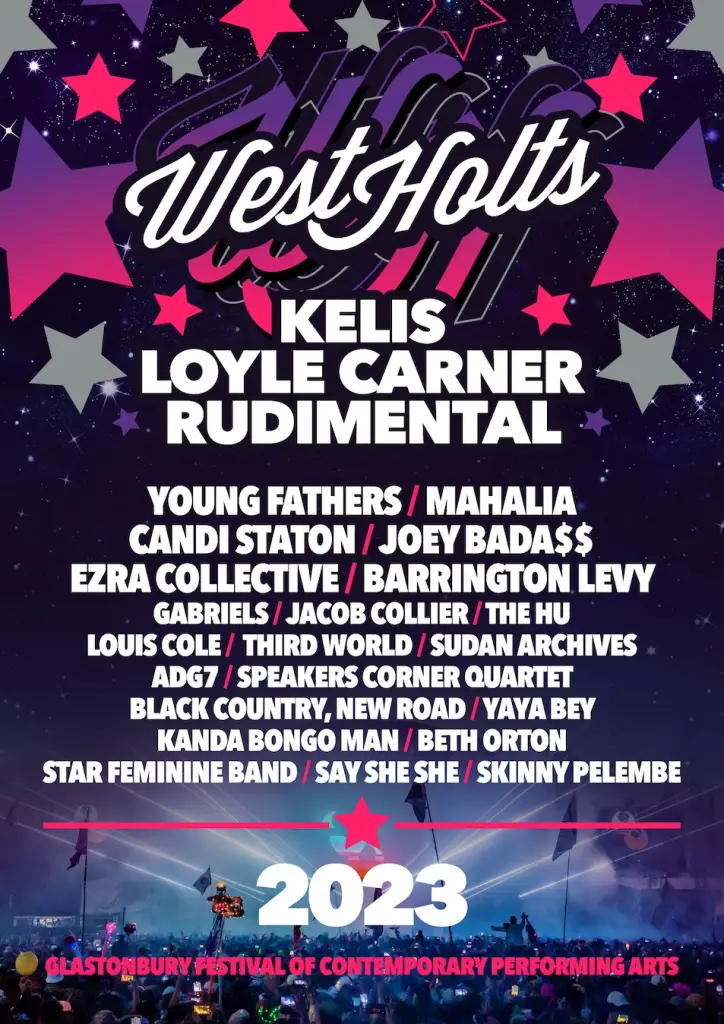 The Croissant Neuf stage over in the Greenfields promises on helluva time with intergalactic oddballs Henge and newbies Prima Queen.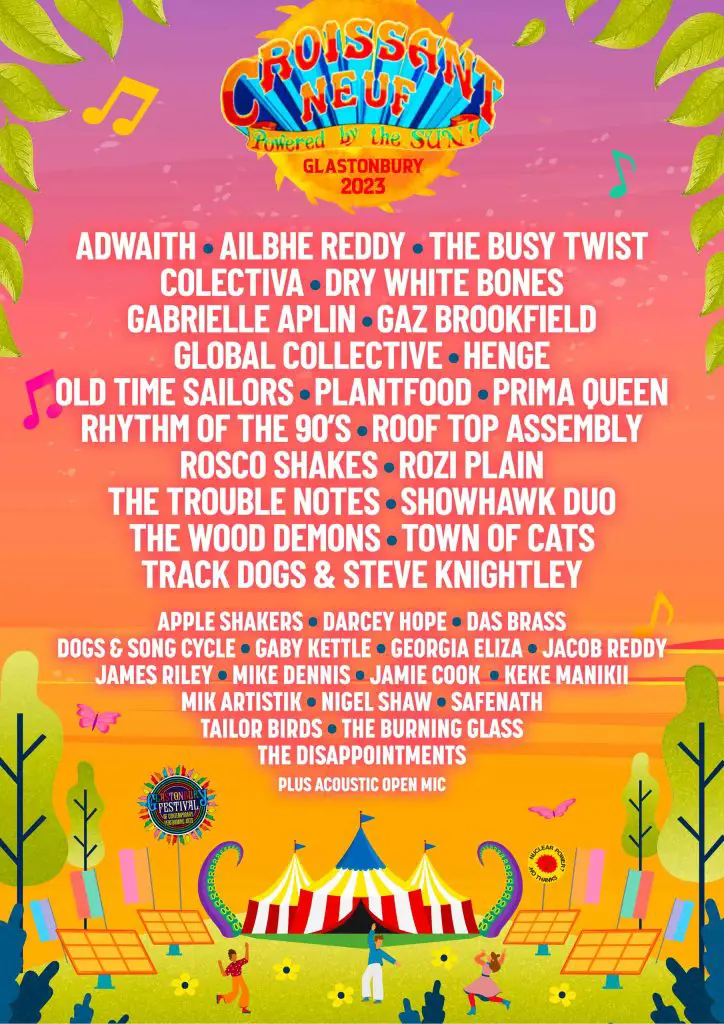 Over in the Leftfield there are loads of brilliant talks scheduled as ever, tackling issues such as the future of the NHS, climate action and justice for Grenfell plus performances from the likes of Big Joanie and Cassyette.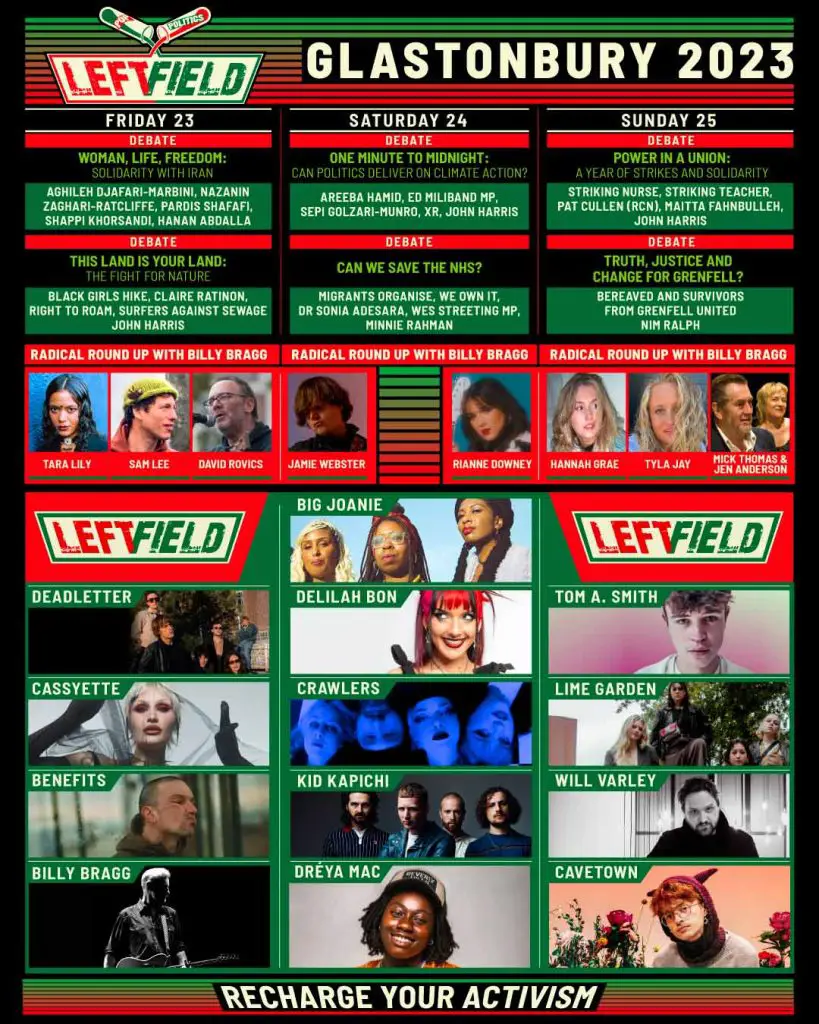 How can I get tickets for Glastonbury 2023?
Tickets for Glastonbury 2023 are now completely sold out. The resale has been and gone. I'm afraid you've missed the boat.
Tickets first went on sale on Sunday 6 November 2023 and sold out within one hour – longer than usual due to a technical fault.
Ticket prices have increased by £70 since 2019 with the 2023 tickets costing £335 plus a £5 booking fee, up from £265 plus a £5 booking fee in 2019. Tickets were exclusively sold at glastonbury.seetickets.com.
When is the Glastonbury 2023 resale?
The Glastonbury resale took place on Thursday April 20, 2023 at 6pm GMT for coach travel + ticket, Sunday 23 April at 9am for general admission tickets and Thursday 27 April at 12pm for accommodation (eg. glamping options – all tickets include the ability to pitch a tent).
Resale tickets are now sold out for Glastonbury 2023.
What is a hospitality ticket for Glastonbury?
Hospitality tickets for Glastonbury 2023 are supposedly reserved for music industry professionals and offered at the festival's discretion. If you work for a record label or a company affiliated with the music industry, you may have the option to buy a number of hospitality tickets for your team. These are about double the price of the normal Glastonbury ticket and allow you access to the spacious hospitality camping field – where you can pitch your own tent and access showers and flushing toilets – and several hospitality bars on site. It also gives you access to a cut-through between the Other Stage and Main stage which can save a fair bit of time getting between sets. Worth noting, this does not give you access to the artist areas on site or to watch from side of stage. While celebs can often be spotted in the hospitality bars, this is not a "backstage pass" as such.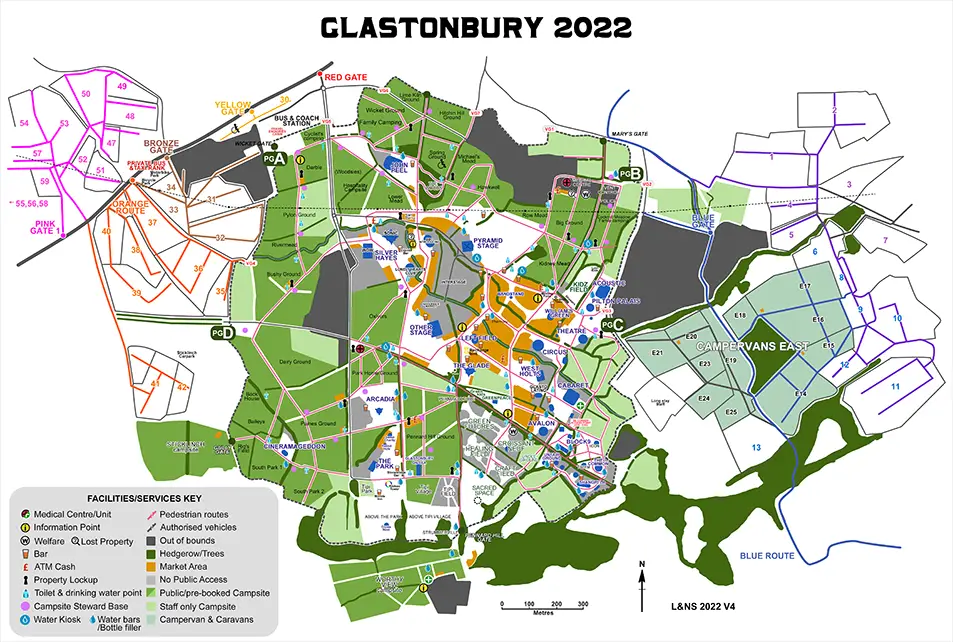 What's new for Glastonbury 2023?
The John Peel stage will be renamed Woodsies. A move, Emily Eavis says, to name the stages after the fields in which they stand and not a response to a petition to have the stage renamed due to Peel's alleged 's comments about underage women and marriage to a 15-year-old (when he was 25).
More on all things Glastonbury 2023 as we have them. This article will be regularly updated. While you wait, you can bet some of the artists behind the best albums of 2022 will be on the bill. Check out the list.