If the cost-of-living crisis wasn't already biting hard enough, it seems our favourite pop stars are simply hellbent on procuring our hard-pennies for a rollicking good 2023. First there was the fastest-finger-first sell-out of the UK Paramore tour, and then there was Beyoncé's quiet suggestion of an upcoming stadium announcement while at a charity auction event. Of course, there was also the usual stampede to secure Glastonbury tickets, despite being hiked up to a cost of £335 apiece.  
Rumours have been swirling around Swiftie circles for some time about the potential of live dates, but it's fair to say that none of us were quite prepared for exactly what Miss Taylor Alison Swift had up her sleeve. This week, and in typically mic-drop fashion, she delivered news of her Eras Tour; a career-spanning stint across the US, joined by a revolving support roster that reads like its own kickass female-heavy festival; Paramore, Haim, Phoebe Bridgers, Gayle, Beabadoobee, Gracie Abrams and Owenn. Be still our beating hearts.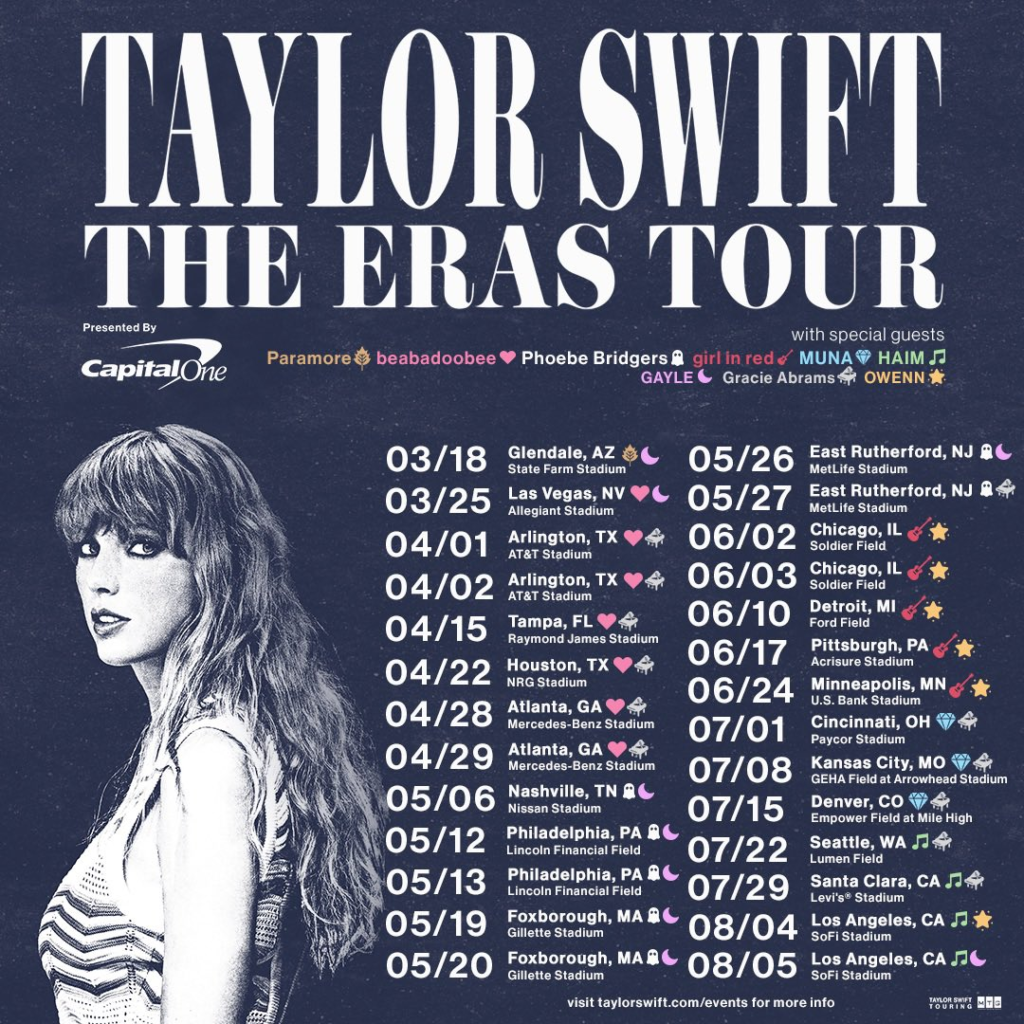 Positioning her live return as an 'Eras' Tour is not only excellent fan service, but a really smart business move. Like many artists, the pandemic got in the way of Swift's usual touring cycle, and due to her relentless work ethic, she has released four new original albums since the 'Reputation' world tour wrapped up in 2018 (not to mention her 'Taylor's Version' re-recordings). While an intimate 'Folklore'/'Evermore' tour still remains many fans' dream (guilty), there was no way she was going to be able to appropriately catch up with herself unless she took more of the one-album-per-night touring approach that some bands do when they hit the greatest hits circuit. Technically speaking, the Eras Tour announcement has been vague enough that this could still be the case, but given how much preparation will be involved in putting on a production of this scale, it is perhaps more likely that it will be a well-oiled, out-and-out showcase of fan favourites and greatest hits, pulling from her entire back catalogue. 
The fun of the greatest hits tour is that it truly offers something for everyone, and directly encourages fans to stan their favourite album in a way that can lead to a lot of fun debate and discussion. Already across TikTok, fans are having a whale of a time sharing tips on the best way to secure tickets, or considering which era cosplay they might wear to the show. Compared to similar stadium acts, tickets for the Taylor tour seem reasonable, but not necessarily cheap; rumour has it that when they go on sale next week, prices will start at roughly $49, but extend up to about $499 for the very top level of VIP. Still, as many Swifties know, a 'bad' seat at the Taylor Swift concert does not guarantee a bad time. Swift's mother, Andrea, is frequently known to keep an eye out for fans who have sent in letters, donned costumes or otherwise made themselves known, inviting them down to meet Taylor herself. Taylor herself also already appears to be having a lot of fun on TikTok, commenting on fans' posts to stoke the fires of speculation. 
When fans are not practising their best 'bejewelled' dance routines or checking that they're signed up for early-access presales, they're busy speculating over the setlist. We all know by now that Taylor has more easter eggs than the proverbial bunny, and from the way she has designed the poster and her mention of being 'enchanted' to announce it, it seems clear that she is suggesting that 'Speak Now' will be the next album in her re-recording odyssey. Some fans think that 'Speak Now' (Taylor's Version) could drop as soon as December, and may form a significant focus of the live show alongside 'folklore', 'evermore' and 'Midnights'. Others feel that she will work through Midnights clock theme more methodically, performing on a specially designed revolving stage that quite literally moves us from era to era. With a 2023 Glastonbury appearance seemingly out of the time-scheduling question, this is her opportunity to deliver the equivalent of her own festival, celebrating her stature as the biggest pop star around. 
To my mind, it seems a little too obvious for Swift to perform her catalogue in chronological order. However, we do know from the 1989 tour that she loves a good collaboration. In taking out so many artists on the tour that have directly spoken about being inspired by her – Beabadoobee, Phoebe Bridgers and Gracie Abrams in particular — it seems inevitable that Swift might also want to bring them out during her main set. In the case of Phoebe Bridgers and Haim, this should mean some pretty special live outings of their collabs 'Nothing New' or 'No Body, No Crime', but it would work just as well to invite each supporting act to participate in a suitable Swift duet from across the eras. How amazing would it be to hear Beabadoobee take on 'Picture To Burn', or Paramore do a 'Misery Business/Better Than Revenge' mashup? Potentially, the support artists could also be allocated to specific Eras/poster colours already, dictating the setlist preference of their corresponding nights, but there is debate amongst fans as to how literal this is, or whether it accommodates for the already existing collaborations. 
So what would The Forty-Five's ideal Swiftie setlist be? After extensive consideration, TikTok trawling and a few inspired wishful-thinking moments of our own, we think we might have cracked a pretty good case that exists somewhere between ideal and realistic. Covering all the eras while acknowledging that she might want to be fairly light on the content that she has not yet re-recorded ('Taylor Swift' and '1989'), our 29-strong song selection below would surely unite fans across all eras, and maybe even convert a few new ones besides. Will we be correct? There are still a fair few months to wait, but rest assured we UK fans will be glued to our phones on opening night, just waiting to see which sparks fly. 
The Forty-Five's Ultimate Eras Tour Prediction
Act 1 (Lavender Haze VT Intro)
Bejewelled
You Belong With Me
Sparks Fly
We Are Never Ever Getting Back Together
Shake It Off
Cornelia Street
Act 2 (22 VT)
Style
The Last Great American Dynasty
Vigilante Shit
This Is Why We Can't Have Nice Things (featuring Girl In Red) OR End Game (featuring GAYLE)
No Body, No Crime (featuring Haim)
I Know Places
Picture To Burn (featuring Beabadoobee) OR Dear John/TBC Speak Now vault song (featuring Hayley Williams)
Act 3 (New Romantics VT)
State of Grace
Betty
Willow
Nothing New (featuring Phoebe Bridgers) And/Or This is Me Trying (featuring Gracie Abrams)
Lover (featuring Owenn)
Soon You'll Get Better/The Best Day Medley
Act 4 (Champagne Problems VT)
Delicate
You're On Your Own Kid
Invisible String
Red
Cruel Summer
Wildest Dreams/Enchanted Medley
Anti-Hero
Encore
Cardigan
Love Story (featuring MUNA)
All Too Well (10-Minute Version)