If you ask a friend what they're up to and they reply "not much going on at the moment", you must not – under any circumstances – believe them. They have run away to the woods to collaborate with Justin Vernon and the boys from The National, made not one but two folk albums and directed their own documentary. This is the true lesson of 2020.
When Taylor Swift released her eighth studio album 'folklore' in July, she even took her own record label by surprise, releasing it into the wild with only so much as a tweet's warning. The enjoyably barmy social media circus was well-rehearsed, then, with memes drafted and ready to go, by the time she dropped 'evermore' – her second 'surprise' album of the year. Unbridled excitement has been hard to come by of late, but Swift might be one of the savviest when it comes to rousing her fandom. Her music isn't there solely to be listened to: fans perform full post-mortems, leaving no stone or easter egg unturned. Few bodies of work hold up under that level of scrutiny.
But it was her sonic evolution on 'folklore' that was the key revelation and pressing play on 'evermore' makes it clear that Swift hasn't abandoned her lowercase, sepia-toned aesthetic just yet. 'willow' opens proceedings with an immediate air of familiarity in the arpeggiated guitars of 'invisible string'. The accompanying music video, that launched at midnight in tandem with the record, sees Swift back at the piano where she first tumbled into folklore on 'cardigan', with another wish to be reunited with a long-lost love.
Swift actively encourages comparisons to 'folklore' throughout and 'evermore' is the previous album's 'sister' in everything from lyrical themes to musicality. She once again opts for telling the stories of others rather than the other side of tabloid headlines: there are flecks of Bonnie and Clyde in 'cowboy like me' and she takes on America's quintessential 20th century folk tale, 'The Great Gatsby', on 'happiness': "all you want from me now is the green light of forgiveness."
But when she does decide to get personal, the results are extraordinary. The sacred 13th track 'marjorie' is named for Swift's opera-singing grandmother, rhyming perfectly with the story of her grandfather on 'epiphany', the 13th track of 'folklore'. But this isn't a life story: it's the story of someone we love once we've lost them and all the fragments of wisdom we try to hold onto. Lines like "should've kept every grocery store receipt, 'Cause every scrap of you would be taken from me" are precisely what we come to Taylor Swift for, and as the grief-stricken mantra of "what died didn't stay dead" returns again and again, so too does the realisation that grief can sometimes defy all logic and reason: "I know better, but you're still around."
'evermore' is often playful where 'folklore' was introspective, with a more undeniable country twang in the form of lap-steel guitars and the upright bass. Unlike the Taylor of ten years ago, who was "slammin' screen doors, sneakin' out late", she now finds herself in the heart of a true-crime revenge story. On 'no body, no crime (ft. Haim)' – a charming, campy ode to the Chicks and 'Goodbye Earl' – you can see the bait and switch coming from a country mile away but it doesn't make the journey any less satisfying. Swift centres Este Haim as the song's protagonist (to indulge her now-elaborate habit of namedropping friends in songs as the socially-distanced version of 'please welcome to the stage' from the '1989' tour) and Danielle makes a blink-and-you'll-miss-it appearance – "she was with me, dude!" When the band told us in June that they wanted to get weird in the woods with Bon Iver, did they manifest this collaboration? Or were they already deep in 'evermore' country?
Other features on the album are more substantial. There's a rendezvous at dusk with the National frontman Matt Berninger on 'coney island' that has the markings of an instant, unassuming classic. Aaron Dessner – the primary producer on 'folklore' – is back on producing duties; this time with brother Bryce in tow. The brothers' arrangement on this track evokes the softer side of the National with melancholic strings and a rolling drum beat that trundles along like a rickety rollercoaster. "Did I close my fist around something delicate? Did I shatter you?" Swift asks and when Berninger responds, his gruff baritone has rarely sounded so delicate and vulnerable.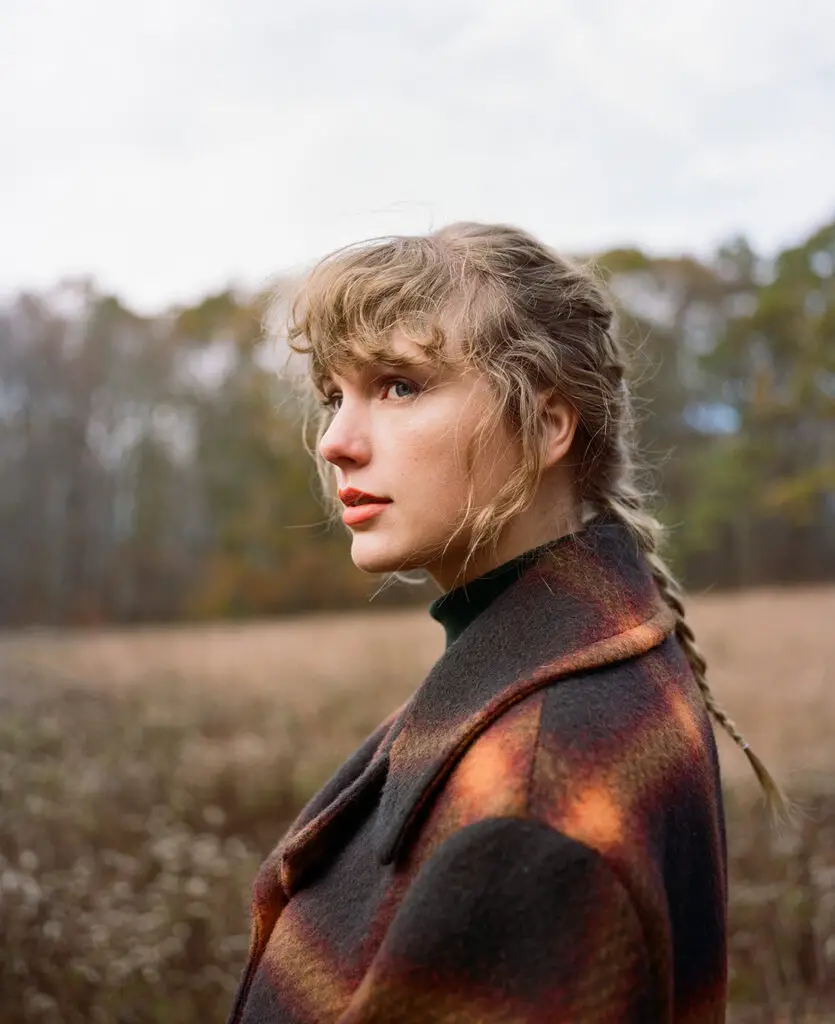 Swift's last duetting partner – Justin Vernon – takes on a bigger role this time around, as he provides backing vocals and instrumentation on five tracks, but their true reunion comes on the record's title track and closer. 'evermore' is another piano-driven ballad that manages a quippy reference to Cats – "motion capture put me in a bad light" – without detracting from the mournful mood. It's not until Vernon's unmistakable voice steps right out to join Swift and we abruptly shift into new, urgent territory, that the song becomes fully realised, with a spine-tingling bridge that makes you yearn for the full version of that.
Still very much in its infancy, 'evermore' might always struggle to step out of the shadow of its older sister, though younger siblings the world over will find some kinship in its scrappier, untethered energy. Will Taylor Swift ever be stopped? Will she ever use a capital letter again? Will she complete the trilogy and will 'furthermore' soon appear outside our bedroom windows on Christmas morning like 'Wuthering Heights' era Kate Bush. In Swift's own words: "I have no idea what will come next. I've always treated albums as one-off eras… there was something different with folklore." As we all delve further into the "folklorian woods", the sense that this is the music Taylor Swift was born to make, only grows stronger.
---
Like what we do? Support The Forty-Five's original editorial with a monthly Patreon subscription. It gets you early access to our Cover Story and lots of other goodies – and crucially, helps fund our writers and photographers.
Become a Patron!