The pandemic, in many ways, has stripped life back to its simplest form. The maximalist, luxury trappings of capitalist life are no longer necessary (why buy that designer fit when you can barely go outside?) and instead we've been reminded of what's really important – health! Connection! Making the most of what we've got! An album made under that atmosphere could go one of two ways – amp up the escapism and go full throttle on the bombast, or reflect the times and peel back the layers.
On her eighth album – and her first dalliance with the art of the surprise release – Taylor Swift opts for the latter. 'Folklore' is her metaphorical holed-up-in-a-cabin-the-woods record, so much so that she's even enlisted Bon Iver's Justin Vernon, patron saint of forest shut-ins, to appear on one song ('Exile'). It's an about-turn from the bright, exuberant pop she's crafted over her last three releases but, after the hit-and-miss patchwork that was last year's 'Lover', it shines as one of her best so far.
This new indie-folk side of her was aided by some new collaborators alongside regular studio pal Jack Antonoff. As well as Vernon, Swift teamed up with The National's Aaron Dessner, who co-wrote or produced 11 out of 'Folklore''s 16 tracks, his brother and bandmate Bryce, who worked on the orchestration and the mystery figure of William Bowery, who fans have speculated is either her brother Austin or her boyfriend Joe Alwyn. While you can pretty much draw a through-line from The National's output from the last decade to this record, it's far from akin to Swift fronting the Brooklyn indie band.
Instead, 'Folklore' delicately twists through subtle sea changes in sound, from the country slant of 'Betty' to the devastating drones of the spare 'Epiphany'. 'Cardigan' recalls Laurel Canyon folk in a similar way to Lana Del Rey's 'Norman Fucking Rockwell!', 'August' is brushed with jangly acoustic guitars and swooning strings, and closer 'Hoax' is led by twirling, polished piano. Swift's vocal delivery shifts throughout too, sometimes hitting the staccato loops that are present in more pop-leaning work, momentarily taking on the timbre of Lou Reed on 'The Last Great American Dynasty', or powerfully hushed and quietly seething on 'Mad Woman'.
Typically, Swift has been a songwriter who fills her craft with evocative personal stories and truths. Fittingly, given the album's title, this time around she's smudging the lines between real life and fantasy, building up characters that contain elements of her and her experiences but also stand alone as their own entities. On 'Betty', she takes on the role of a teenage boy saying sorry to the titular girl for treating her badly. The elegiac 'My Tears Ricochet' imagines "an embittered tormentor showing up at the funeral of his fallen object of obsession", and features the most elegantly delivered sass of the year when the pop star sings: "And if I'm dead to you why are you at the wake?"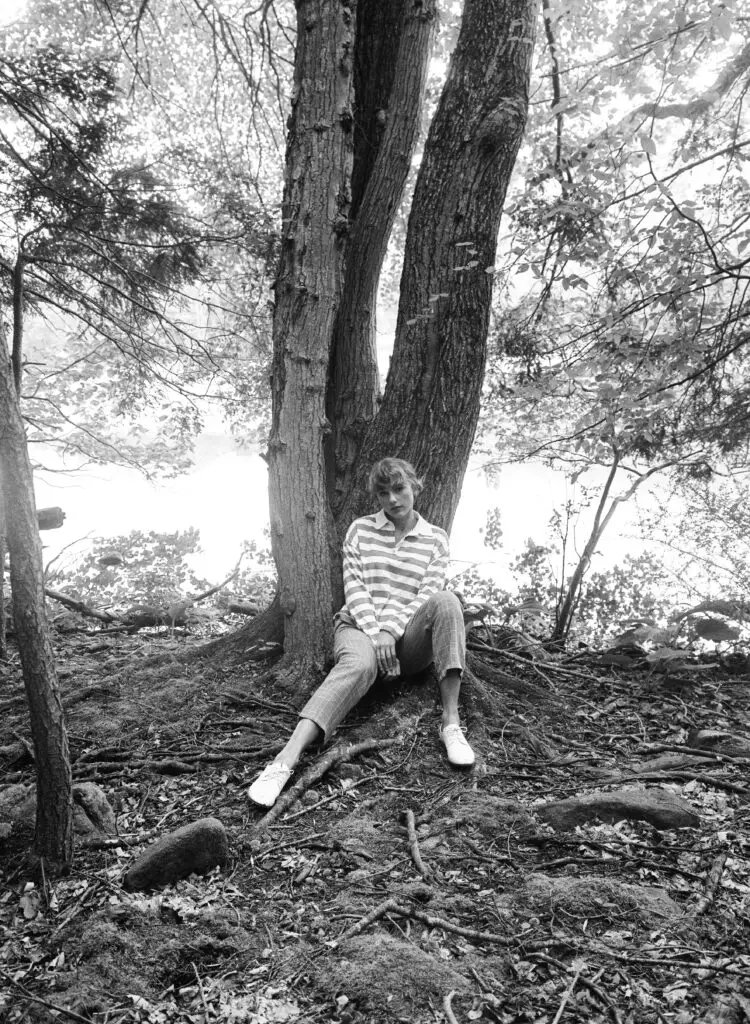 Reality does peep in throughout. 'Epiphany' opens with lines visualising Swift's grandfather "crawling up the beaches" of Guadalcanal during World War II. 'The Last Great American Dynasty' details the story of Rebekah Harkness, who lived in the singer's Rhode Island house decades ago and was vilified by her neighbours ("The doctor had told him to settle down/It must have been her fault his heart gave out"). That song is one of a handful to feature commentary on society's treatment of women, accompanied by 'Mad Woman', which could feasibly be about Swift's battles with Scooter Braun, who bought the rights to her back catalogue last year ("I'm taking my time/Taking my time/Cos you took everything from me"). "Every time you call me crazy/I get more crazy," she sighs on the song's chorus, wearily illustrating the often futile pursuit of challenging gaslighting.
As those tales show, no matter how gorgeous the music that courses through it, 'Folklore''s biggest asset is its lyrics, Swift casually dropping dramatic, romantic and poetic lines at regular intervals. "All these people think love's for show/But I would die for you in secret," she declares on the Joni Mitchell-indebted 'Peace'. "But I knew you'd linger like a tattoo kiss/I knew you'd haunt all of my what-ifs," goes 'Cardigan', on which she compares herself to a piece of knitwear, discarded "under someone's bed". On 'Illicit Affairs', she warns of the eventual decline of what was once an adrenaline-inducing clandestine fling: "Take the words for what they are/A dwindling, mercurial high/A drug that only worked/The first few hundred times."
Like most superstars' modern opuses, 'Folklore' could do with a light edit. Its 63-minute run-time isn't overly egregious but there are moments where it begins to drag. 'Seven', a reminiscence on the naivety and innocence of childhood, is sweet but not particularly memorable and 'Invisible String', which suggests Swift and Alwyn's relationship was written in the stars, is more of the same. Those missteps aside, Swift's unexpected eighth album is a triumph – a poignant, breathtaking reclamation of her crown as pop's best songwriter.