Should Grammy night happen IRL in 2021, It'll be Phoebe Bridgers' younger brother, Jackson, who nabs her plus one. He might, however, live to regret it.
"I was joking that I want to do the Angelina Jolie thing, when she took her brother to the Oscars and they actually made out", Phoebe says, with a mischievous smile – you know the one by now, lips closed, eyes thin, grin spreading from cheek to cheek. "I'm traumatising him with that right now."
To be weighing up who to take to A-list award ceremonies is testament to the kind of year Phoebe Bridgers has had. Her album, 'Punisher', released in June, has earned Bridgers four Grammy nominations for Best Alternative Music Album, Best Rock Performance, Best Rock Song and Best New Artist
More importantly than all that, though, The Forty-Five has named it our album of the year.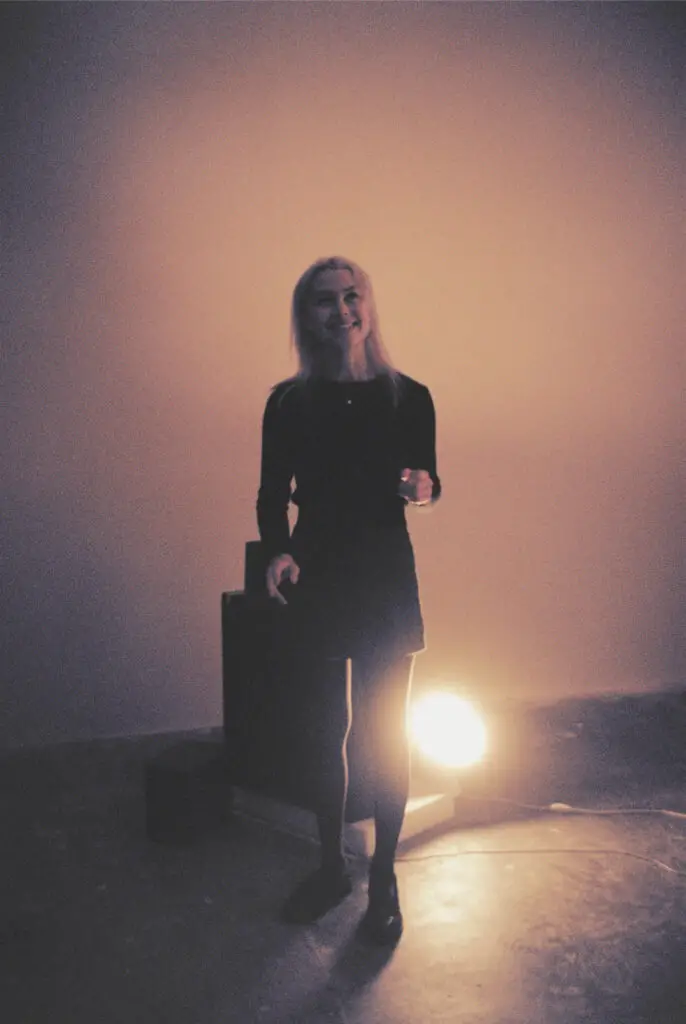 "I feel like it's the first time that certain people in my life have acknowledged that I am doing a good job, which is so nice," Phoebe tells us of the recognition. She's at home in Echo Park, Los Angeles. It's early morning there and this is already her second Zoom interview of the day, a trend that's spanned the last six months. She was in bed with a migraine when the news of her Grammy noms broke, Tweeting, in classic Bridgers style: "I just woke up what?".
---
---
As uncool as it may be to care about big industry awards, the significance clearly isn't lost. "I'm on an indie label. Every time someone in my world gets nominated, it's big for everyone," she says with a rare dose of sincerity. "My grandpa, who I speak to every six months, has called me twice already. He's so excited."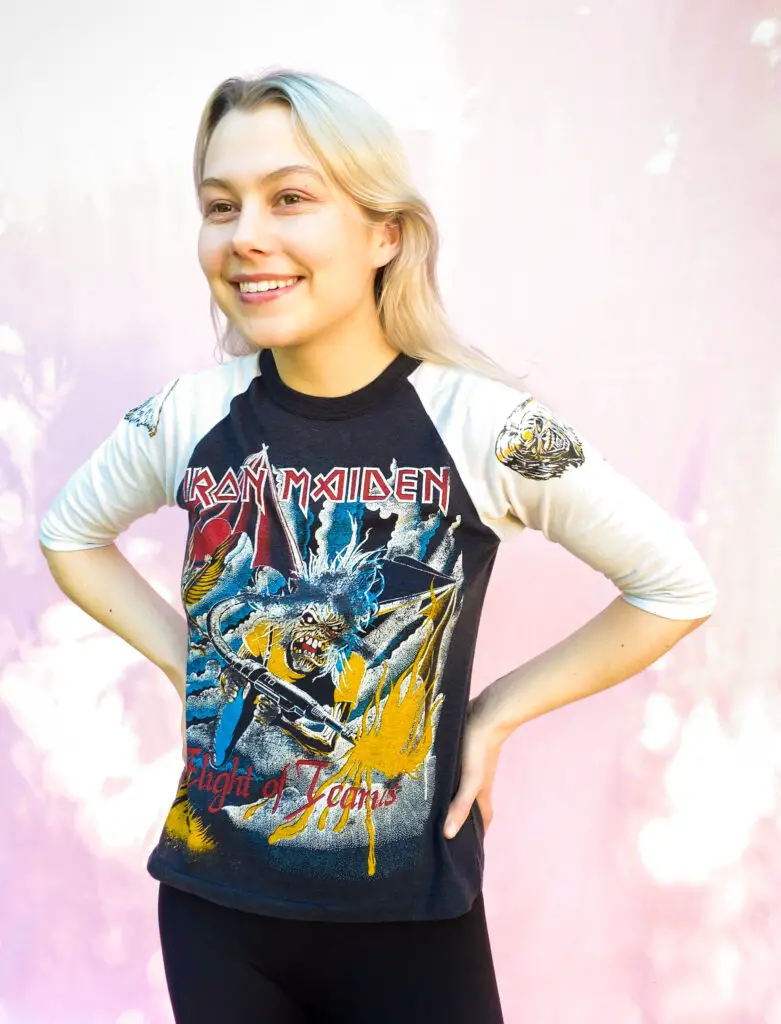 Before this year, Phoebe Bridgers was a cult favourite with the type of work ethic you could have predicted would land her here. Arguably, this upward trajectory started with 'Motion Sickness' from debut album 'Stranger In The Alps': a barbed indie-rock track, as beautiful as it was cutting, about the now well-documented abuse by a former mentor. Much like 'Kyoto,' on this year's 'Punisher,' the song's up-beat tempo and sing-along chorus, gave people reason to pause, before the lyrics whacked them 'round the chops. This wasn't just another singer songwriter, but a young woman with the wit and ability to spin mundanity into poetry like Morrissey, Dylan and her hero, Elliot Smith before her. But even with critics lauding her and a loyal fanbase, Bridgers, by her own admission, was still an artist for people "who pay attention to Pitchfork."
After 'Stranger In The Alps' came a couple of side projects, a boygenius album: her band with tour buddies and US solo artists, Lucy Dacus and Julien Baker. Their album was proof of the magic that can be made when women get together and create. Next up, Better Oblivion Community Center, a record (and duo) made with Bright Eyes' Conor Oberst, a partnership that maintains even when BOCC isn't in session.
There were some more collaborations along the way too, (Fiona Apple, The National's Matt Berninger) and then – pause for breath – we get to 'Punisher,' wonderful 'Punisher'.
It's hard to articulate why the album is so special, but really the reason is Bridgers herself.
Six months on from its release, the world has been treated to a whole lot of Phoebe – "I've done a whole press tour from my bedroom" – and she hasn't held back, each interview, revealing a little more of the funny woman, with clinical depression who sometimes "feels like she doesn't exist". It's rare that a musician is not in any way unlikeable, but the more time you spend in Bridgers' world, the more you want to know.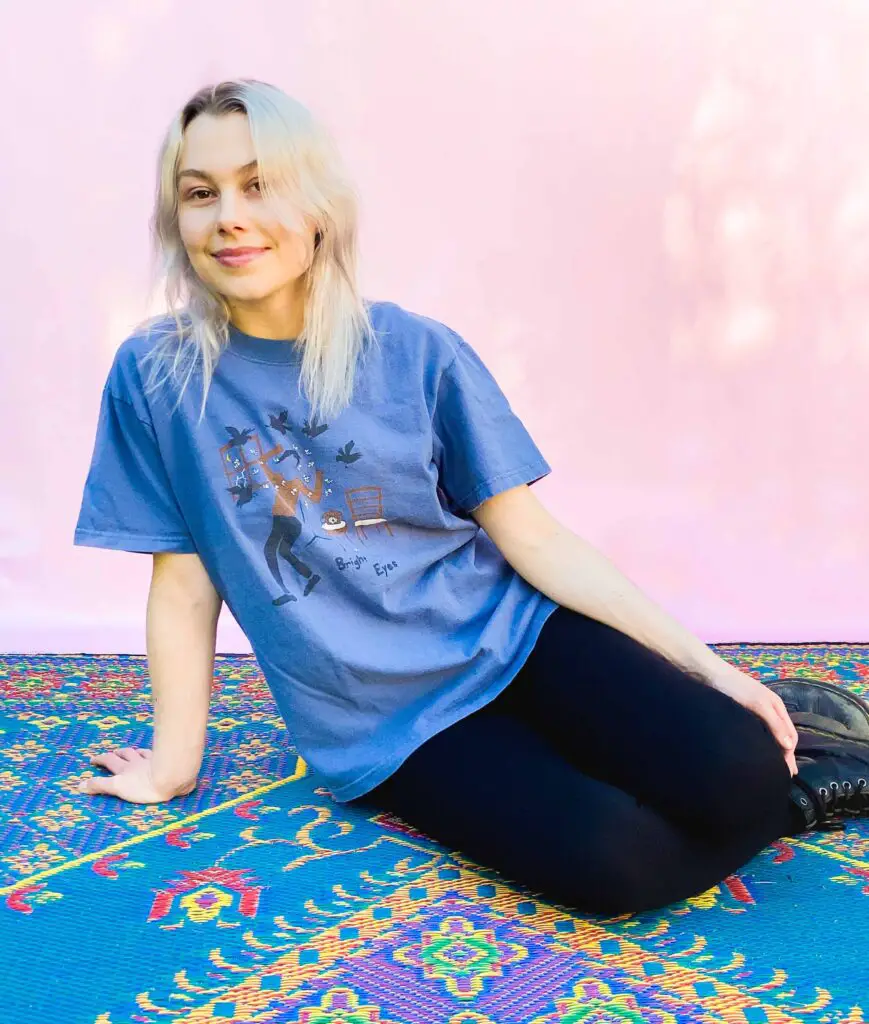 We're not alone in this feeling. Bridgers is collaborative by nature and now in high demand, the internet playing broker for many surprising projects and unions. In spring, The 1975's Matty Healy slid into her DMs, an exchange that led to Bridgers duetting on a song for their album, 'Notes On A Conditional Form'. In the last month alone, Bridgers' comedy tweets have formed the most unexpected of Venn diagrams. Let's start with the video to new single 'Savior Complex', starring man-of-the-year, Paul Mescal (from emotional, make-you-blush drama Normal People) and directed by woman of the decade, Fleabag's Phoebe Waller-Bridge. It all started with an email.
"Phoebe and I had been emailing for a while because our names are the same and it's funny," explains Bridgers. "And then she told me to watch Normal People."
Ever relatable, Bridgers tweeted her reaction: "Finished Normal People and now I'm sad and horny oh wait."
Mescal, who was already a fan ('Stranger In The Alps' purportedly soundtracked his teenage years), saw the Tweet and almost had a heart attack. "I am officially dead," came the public reply.
"Paul, and I started messaging each other," Phoebe explains, "And then I told him who told me to watch the show. And he was like, 'Can we make a video with Phoebe Waller-Bridge?' I asked, and she was like, 'Hell yeah.' So that's it. It was that easy. It was so fun."
The video, shot in the British countryside, is a surreal tale of a small chihuahua in a cape who, on meeting a conman Mescal, makes him her mark, double-crossing him, with the help of Bridgers, for his bag of swag. It has whiffs of the Fleabag fox about it, if the fox were a small dog that looks not dissimilar to Bridgers.
"There was initially a different video idea. I was supposed to be more heavily in it, which I actually didn't want and then a couple of weeks later, Phoebe [Waller-Bridge] called me, and she was like, 'OK, you're fired, because I found the new leading lady.' And she texted me a picture of Charlotte [the dog]."
---
---
Charlotte is a professional chihuahua, the type of actor that says more with a look than many can with reams of dialogue. "At one point Paul said to me, 'That dog is actually acting,'" Bridgers laughs. "It's so weird!".
We're not sure whether Bridgers' next trick tops the Paul + Phoebe + Phoebe + Charlotte supergroup or not, but as a moment in this most peculiar of years, it certainly made a lot of people very happy.
In the midst of US election mayhem, while celebrities were promising to emigrate if one or other of the candidates were elected, Bridgers made her own solemn vow: should Trump lose, she would cover 'Iris' by Goo Goo Dolls. Fans exploded with glee and not only did she keep her promise, she roped in solo artist and friend Maggie Rogers, too. It was the perfect song choice – the cover, released for just one day on Bandcamp, raised $173,703.95 for Fair Fight, a Georgia organisation which addresses voter suppression in a state plagued by irregularities at the polls.
"I don't know a single person from a certain generation who didn't connect with 'Iris,' you know?" explaining the perfectly on-point song selection. "It might be the original emo song for a lot of millennials," she says. "I thought it was funny and then Maggie thought it was funny and I just kind of let it happen. Like, I made one joke, and then it just followed the leaf that I set free."
This happens a lot. Phoebe makes a joke online that sets something in motion.
"I love it. It's like my favourite part about my life. It's my only defence of the internet, because obviously it's tearing people apart in so many ways – it's psychological torture to look at Instagram all day – but connecting with people whose art you like? It's just so easy and fun."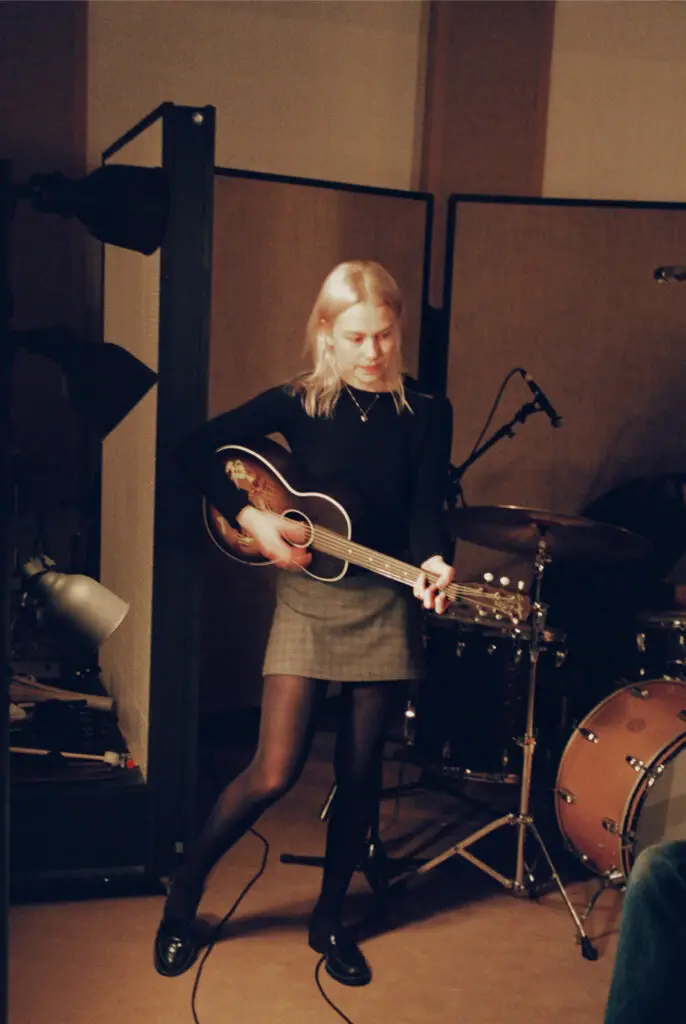 At this point you have to wonder if Phoebe Bridgers ever sleeps. Her 2020 output also includes a new EP, 'Copycat Killer' featuring reimagined versions of four 'Punisher' tracks with just vocals and strings, provided by long-time collaborator (to Bridgers and Bon Iver amongst others), Rob Moose. It's a gorgeous addition to her canon that provides a whole new perspective on some of the album's best-loved songs. The new version of 'Kyoto', more akin to its original demo, before her producers persuaded Bridgers to up the tempo.
Perhaps most significantly, though is her new role as CEO of Saddest Factory records, her new label. Of course the name is a joke – a play on "satisfactory" – because, well, it's a Phoebe Bridgers record label.
Her first signing is Claud (previously recording under the name Toast) whose first couple of releases on Saddest Factory are hooky indie pop tracks which prove Phoebe's boss creds.
"I've been wanting a record label for a long time," she says of the decision. "I think that a lot of stuff is fun that maybe some musicians don't think is fun? Like marketing and planning weird shows, and hooking people up with different artists or tours. And then I found Claud and told my label and they said, 'Oh, we've been trying to sign Claud for like, a year or something'. So, I swooped in and signed Claud. Everybody's super excited about it."
There are no future signings confirmed as yet although Phoebe is reaching out to people. For the time being, the focus is on Claud and the release of their new record, 'Super Monster', out in February 2021. "It's a lot of work," adds Bridgers on why they've just kicked off with one artist. "I've had to make a Slack. I'm very bad at Slack".
Looking back on the year, you'd be hard pressed to name an artist whose output has been quite as consistent and – most importantly – as consistently good. The last time we spoke to Phoebe Bridgers, it was pre-'Punisher', to arrange an inflatable duck to be sent to her mum's house for our June covershoot. ("Everybody thinks the duck is disturbing with the huge weird lips, but then they eventually warm up to it. It's good for COVID-safe hangouts.")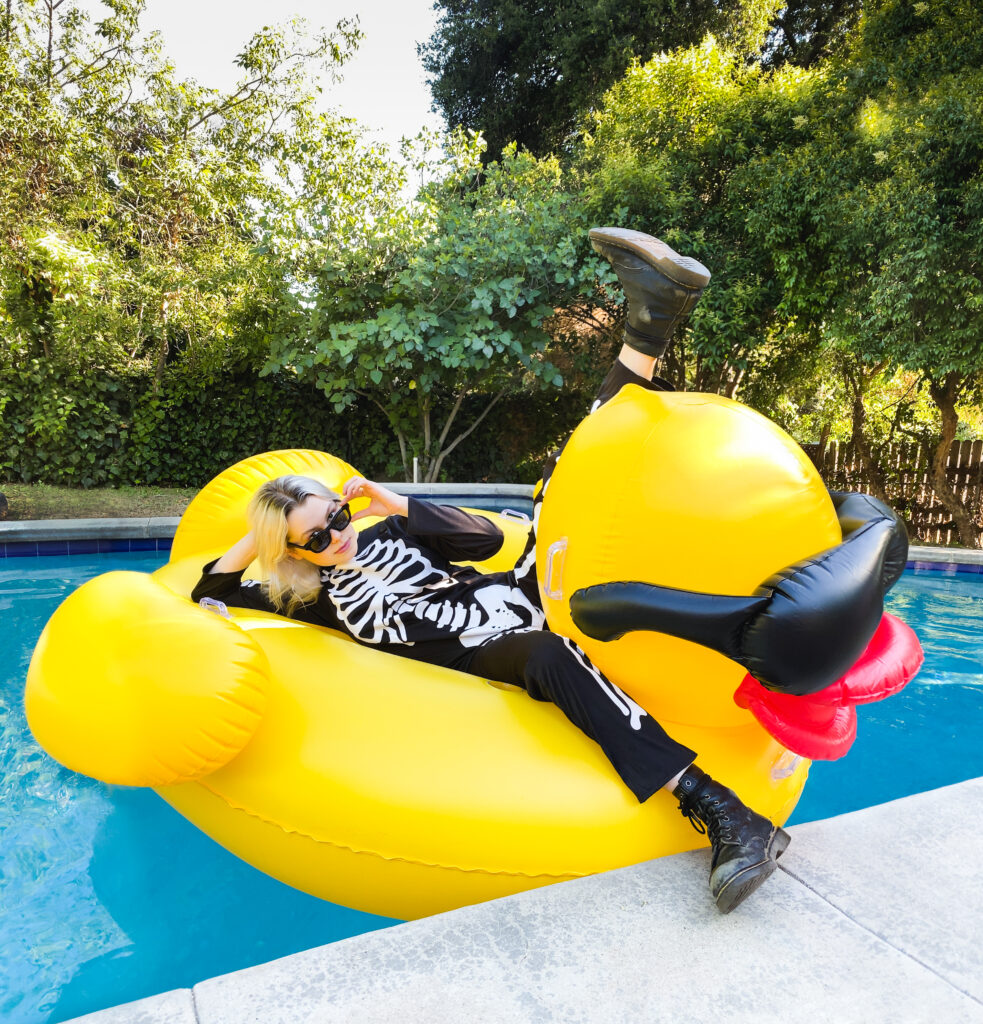 With a little distance between herself and 'Punisher's release, and so much else going on, has there been any time to reflect back on what the album says about this time in her life?
"Um, that when I'm happy, I'm not super focused on how I'm feeling. I'm just enjoying things", she says. "I think that's why my music is so depressing, because I definitely suffer with clinical depression, but I also have so much beautiful stuff in my life. And so the album is representative of what I need to pick apart of my psyche in my brain, and not representative of my whole experience.
---
---
"Also, I think that it definitely is a time and place in my life of a constant growing of social pressure and success," she continues, "But also distance from my childhood. It's like when you get into a car accident, and you're sitting in the emergency room, or you're standing on the side of the freeway, and you're like, 'OK, it's over. It's silent in in this space now, but I'm traumatised'. I hear a lot of that as far as early childhood stuff. But it's nice to be processing it in a public way because people reach out in a way that I didn't think they would."
Bridgers' ability to simultaneously connect with fans on both an incredibly deep and meme-based level is unique: many artists can do one or the other but wielding both is a special skill. As we put this year to bed, it seemed fitting to celebrate a person who has taken one of the crappest annums in living memory and spun some good out of it: sad songs to connect with the sad in so many of us and some silliness to perk us up. As the first COVID vaccines are rolled out across the world, that Grammy ceremony is looking more and more likely. Jackson better iron a shirt.
"We look frighteningly similar," Bridgers says, circling back on the plot to humiliate her brother. "I feel like we could look very austere. And like, I'd make him bleach his hair and maybe we'd both dye it a weird colour."
Pausing for a second to imagine it, she smiles that wide smile again. "I think that would be frightening and great."
---
Like what we do? Support The Forty-Five's original editorial with a monthly Patreon subscription. It gets you early access to our Cover Story and lots of other goodies – and crucially, helps fund our writers and photographers.
Become a Patron!