"Every day is like the same day, over and over again," Conor Oberst half-mutters over Zoom, his soft voice wavering in the distinct way that's familiar to anyone who's ever listened to a Bright Eyes record. It feels like the most Conor Oberst answer to "how are you": slightly convoluted and awkward, with a hint of hopelessness. He can be forgiven for lamenting the sameness of the days, however – after all, the pandemic has disrupted the long-awaited reunion of his band.
After the release of 'The People's Key' in 2011, Bright Eyes – consisting of Oberst and bandmates Mike Mogis and Nate Walcott – took a break. After nine long years, in January, they announced their comeback over social media, calling it "an escape from, and a confrontation of, trying times", shortly before dropping news of worldwide tour dates. In March, the band dropped new track, 'Persona Non Grata', a strange, funeral dirge-style epic replete… with bagpipes. It sounded, and felt, like a culmination of everything to that point: a collage of Bright Eyes records that incorporated all of the maturing, growth and trauma that they'd been through. In June, they announced an album with the presciently apocalyptic title, 'Down in the Weeds, Where the World Once Was'. 
Shortly after announcing their plans, the looming threat of the pandemic became impossible to ignore. "Quickly it became apparent that it was going to derail all of the two years of touring that we had planned," says Oberst. "At first I was pretty distraught about it, and I was feeling just like, 'this is so unfair!'" He's quick to put things into perspective: "Of course it's sad to not be able to go on our rock 'n' roll tour, but when you start to look at what everybody else is facing, it's like, I don't know. We've got it pretty good."
He adds that he's trying to count his blessings, but it's clear he's disappointed. "It's strange, we spent two years making the record and we were very excited about all our plans. My friend said to me the other day: 'You've got to just consider this whole year a wash. You can't think about it anymore'. It's probably not going to get better in the foreseeable future, so I think it's just trying to get comfortable with what the state of the world is."
Over a video call, Walcott and Mogis sit in their respective studios, while Oberst is back home in Omaha, where Bright Eyes' origin story began. He's taking a break from living in LA, which he loves, to spend time with his family. The chemistry between the three of them is evident – they joke with one another, swapping Simpsons quotes and making gentle jabs. Their conversation comes quickly and easily, and it's clear they're back where they belong, although they didn't really spend that time apart. While Oberst worked on other projects like his solo albums, punk rock band Desaparecidos and Better Oblivion Community Center with Phoebe Bridgers, Walcott and Mogis worked on film soundtracks and other albums. They were back and forth working on each other's projects, too, and kept in near constant touch.
In fact, despite assumptions to the contrary, the band are insistent that they never really broke up at all: "We all obviously stayed friends the whole time, and Nate and Mike have worked on different film scores and projects, but they both helped me out with my solo and other work," says Oberst. "There was never really a big stretch of time where we weren't in communication." Mogis agrees. "We didn't have to catch up or break the ice as far as getting used to being with each other in the studio, because we had been together in the studio in various configurations."
Recently, all three of them appeared on Phoebe Bridgers' latest record 'Punisher'. "We're tight, I love her," Oberst smiles. He tells me about Bridgers' theory that men, particularly boyfriends, hate Bright Eyes: "There's sexism in the Bright Eyes fanbase, where the dudes just don't like it," "You've been to a Bright Eyes show, Conor, right?" laughs Mogis. "It's this gal who's singing every word and her boyfriend next to her is kinda pissed. I've seen that before, I'm like why is that guy here, he looks so angry. Why did he buy a fuckin' ticket and he's up front? Oh wait, that's his girlfriend."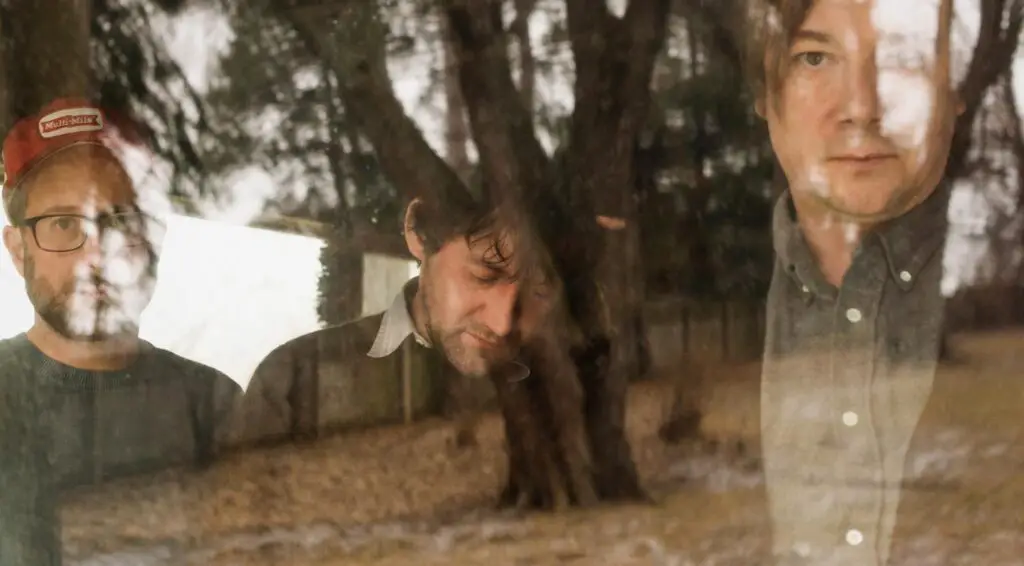 The years apart that inform the record were fraught with personal troubles that Oberst is keen to move on from, calling it, "water under the bridge type life stuff". Those troubles were made uncomfortably public: in 2013, Oberst was falsely accused of assault by a fan, an experience that pushed him into hiding and affected him deeply. He spoke candidly to Noisey in 2017 about the trauma, physical and emotional, that it wrought, insisting that he never wants anyone to use his very rare experience to prove a point: "as painful and surreal and fucked up as my situation was, I don't ever want to use this as an example to justify anything." In 2016, Oberst's brother died. The next year, he and his wife divorced.
Those traumatic years are explored on 'Down in the Weeds, Where the World Once Was', a powerful, at times, raw record. The trio admit that making the album, in light of everything, felt necessary. "I don't think me or Nate could ask Conor if we could make another Bright Eyes record," admits Mogis. "Conor brought it up, because if memory serves me correctly I think all of our schedules were aligning and we had things winding down," adds Walcott. "He mentioned it in my kitchen at a party, 'I think we should do this, we should call Mike', so we got my phone and called up Mike in the bathroom."
Once it was suggested, the decision couldn't be taken back. "We had all been obviously doing different things and had a lot of life experience. At that moment, it kind of came out of my mouth spontaneously. I just kind of said it. Once I said it, I was like, this actually does make sense," says Oberst. "It had been a while, but it's such a part of our lives. I love these guys more than anything, so it felt like it was time to make some new music." More than that, though, it seemed like the right thing for him personally. "In the grand scheme, it was just… I wanted to get with my guys and make some songs."
It wasn't a decision they took lightly. "We wanted to put our best foot forward and just do our power as much as possible with the Bright Eyes record," says Oberst, and it's clear how much they enjoy making Bright Eyes music together. Walcott calls it his "favourite thing to do, musically speaking," says Walcott, and Mogis feels similarly: "When Conor called, it was just like, obviously. Whenever! I'll clear my schedule," he says. "We're all happy. It was about time. It's been nine years, or whatever." Even after that stretch, making new Bright Eyes music came easily. "It's a little different when the three of us get together. It's a very unique, special thing for us and we take it seriously, but it didn't need an icebreaker," says Mogis.
'Down in the Weeds, Where the World Once Was', isn't, as the title might suggest, the soundtrack to the apocalypse. It's musically ambitious, incorporating choirs, orchestra and those aforementioned bagpipes, a culmination of Bright Eyes music that refuses to rely on the things that are comfortable. Lyrically, it tackles with all that life stuff; 'Hot Car in the Sun' deals plainly with the monotony of post-adult breakup life, trawling around a house alone where someone else once was: "It's just painful to walk around/it's just painful to talk out loud/I know this pain is not my own". On 'Tilt-A-Whirl', Oberst confronts his brother directly: "My phantom brother came to me". The political themes present on most Bright Eyes records, are, naturally here, as are themes of addiction and immense loss.
More than that, though, are notes of recovery, optimism and resilience that show men steeling themselves for what's to come. On 'Mariana Trench', recently released as a single, Oberst seems to be drawing strength from loss: "Look down at your other brother's grave/look hard for a harder something to sacrifice/that's what it takes". On 'Forced Convalescence', the second single, Oberst sings about turning 40 and learning to recover. Lines like, "I'm not afraid of the future" and "I'll be prepared for the winter/and the summer/and beyond" feel uncharacteristically hopeful for Bright Eyes, and it's a comfort to feel as if Oberst might be through the worst of the last several years.
That optimism is weaved throughout the music, too. Featuring the addition of a choir, Red Hot Chili Peppers' Flea on bass and Queens of the Stone Age's Jon Theodore on drums, it comes alive: "One of my favourite memories of being in the studio with Flea and Jon was listening back to that song. They were really digging into that one," says Walcott. "It was really fun. I feel like those two dudes were really channelling this feeling of joy in music and it really stuck out to me in that song. Certainly from that perspective, it is on that wavelength of happiness." agrees Mogis. "I think there's an element of contrast that we were going for," says Mogis. "We like to embrace the sound of beauty and joy and happiness and choirs, those are all not necessarily meant to embody the sound of the apocalypse necessarily. There's some fun sounds in there," he laughs.
The result is a beautiful, complex record that draws on everything the band have built together and everything they've learned apart. It's meticulously produced but with room for Oberst's voice to waver and scream, for the emotion of their time apart to trickle through and be wholly felt. It feels like what it is: three friends who chose to make a record together because it's what they wanted and needed. "It's the same three people. I feel like our chemistry and our work patterns and our energy always guides it and it ends up where it ends up and it ends up sounding like Bright Eyes," says Mogis.
"I was surprised when we mastered the record and I listened to it all and I was like, gosh, it reminds me of all of our records. To some degree there was some intent behind that," Mogis adds. They intentionally brought in some of the production aesthetic and instrumentation from their past records: "We had touchstones from them all and they all distilled into this new record." Those touchstones included the orchestra from Cassadaga, the lo-fi sounds of 'Fevers and Mirrors' and 'Letting off the Happiness' alongside the "tricked-out" sounds of the product on 'Digital Ash in a Digital Urn', their electronic record that just turned 15. "We had touchstones from them all and they all distilled into this new record."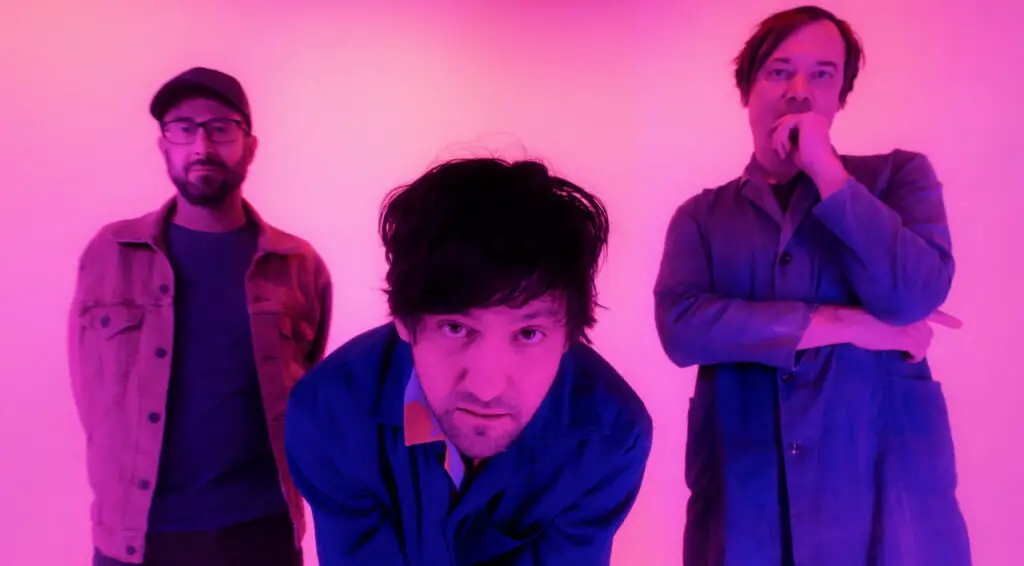 Despite the massive hurdles in getting here, the trio are excited to have the culmination of their work in the world. "It'd just be nice to have it out there. I don't know. I feel excited. It'll feel like a milestone just to get it out," says Oberst. Mogis adds, "It does feel a little different this year as we can't tour and do our normal thing, but I have a similar sense of elation or satisfaction to know we made something and we're putting it out in the world and it's there for people to consume. Or not." They're unlikely to know either way – the band famously don't read reviews of their work. Mogis cites Pitchfork's 2015 revision of their score for 2000's 'Fevers and Mirrors', from a 5.4 to a 9: "That's stupid," he laughs.
On 'Down in the Weeds…', recovery is positioned as what it is: an ongoing process that requires work and constant input, just to stay alive. Happiness and recovery aren't final states. When I mention to Oberst that he seems to be in a good place, he is less sure: "I don't know," he answers, and it's an honest response. Still, he seems happy, comfortable to be home, both in Omaha and Bright Eyes. He laughs and yells, startling the dogs who are running at his feet. He holds one, a scruffy terrier called Lola, up to the webcam, speaking to her in baby talk and telling her he wants to, "show her off". Our call ends when his dogs bark, signalling that he has kept a photographer waiting outside. "I'm thinking of taking my shirt off for this photo," says Oberst with a smile. "I've never taken my shirt off before. Today might be the day, right? Just to be weird." he pulls down his shirt to show off a tiny sailboat tattoo and makes his decision, "I'm going to take my shirt off and just be fuckin' Kiedis out there."
'Down In The Weeds, Where The World Once Was' is out August 21 2020 on Dead Oceans.