Did you have FOMO watching Coachella 2022 unfold? From all the surprises to banging headline sets, if you want to be a part of the Californian music festival next year, here's everything you need to know about who's playing Coachella 2023 and how to get there.
When is Coachella 2023?
Assuming it sticks to the same weekend, Coachella 2023 will take place across two weekends from 14-16 April and 21-13 April 2023.
Where is Coachella 2023 held?
The same place as always, at the Empire Polo Club in Indio, California. It's about a two-hour drive from Los Angeles and 30 minutes from Palm Springs.
Who is headlining Coachella 2023?
The lineup is here! Headliners for 2023 are Bad Bunny, Blackpink and Frank Ocean.
Frank Ocean was previously confirmed to headline Coachella 2023 after initially being booked for the 2020 festival.
Further down the lineup, notable bookings are Jai Paul, boygenius and Blondie! There's a slim Brit presence with Wet Leg, Yungblud, Bakar and Charli XCX flying the flag for the UK. But it's a global lineup all the same, with two of the headliners predominantly singing in another language. We're not sure what Calvin Harris lurking down the bottom in a large font means… but his return will no doubt excite the EDM contingent. Dig into the full lineup below.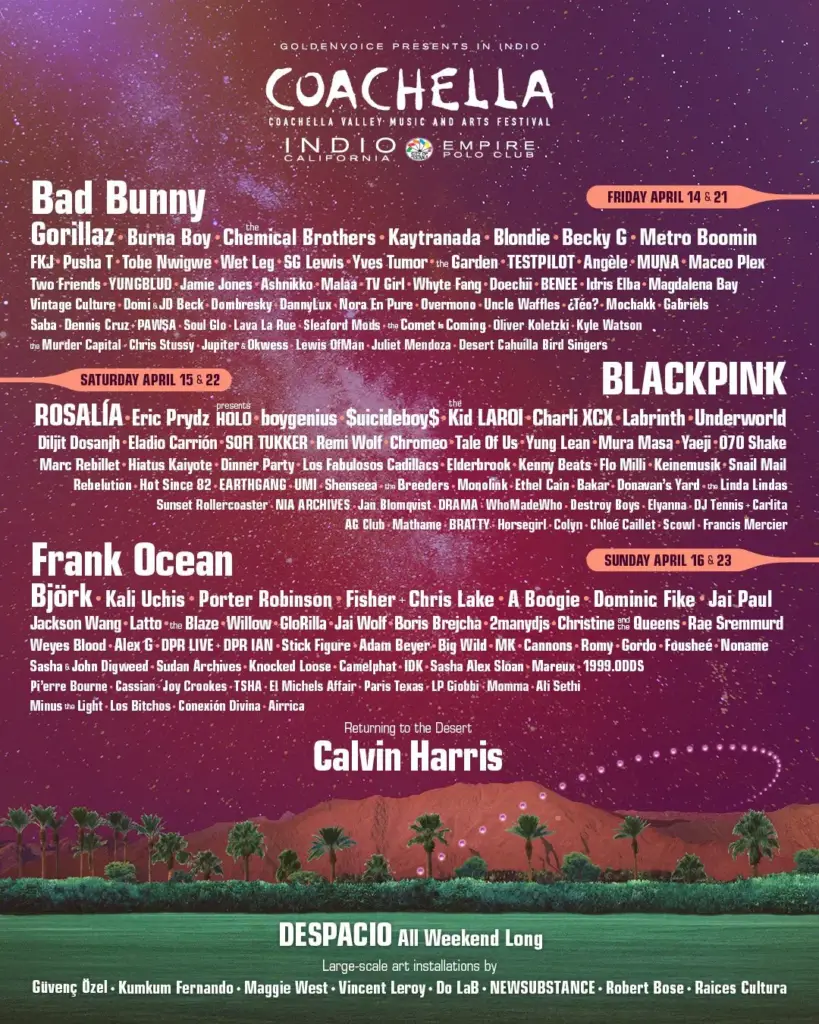 Are tickets yet on sale for Coachella 2023?
Yes. Some of the best value tickets have already sold out for Weekend One so act fast if you want to nab passes. Visit Coachella.com/passes to get yours.
How much is a Coachella ticket?
There are different passes available. The most basic general access three-day ticket for the 2022 festival is $499 + fees. If you also want a shuttle ticket to drop you off at a local hotel, the most basic ticket is $599 + fees. And VIP tickets start at $1069 + fees.
If you want to camp and have a car, you and your vehicle can get a preferred spot near the venue for $375 or one slightly further out for $149. If you are without a car, a spot for your tent is $149.
There's also a glamping area called Lake Eldorado which has a combo of pre-pitched tent and small wooden huts to sleep in. Prices for Lake Eldorado (including festival tickets) range from $2798 for a general access ticket and 'Lodge' up to $9000 for Safari Camping with golf-cart transportation and private air-conditioned showers. This is based on 2-4 people sharing, so Lake Eldorado is most affordable with friends.
How can I get to and from the festival site each night?
Your best bet is to buy a shuttle pass for around $100. Shuttles frequently run to and from hotels in Indio, Palm Desert, Palm Springs and Agua Caliente throughout the day and night, until an hour after the festival headliners end. There are plenty of shuttles at the end of the night although it can take a while to ferry everyone onto the buses and to get the shuttles off-site.