Friday
Lava La Rue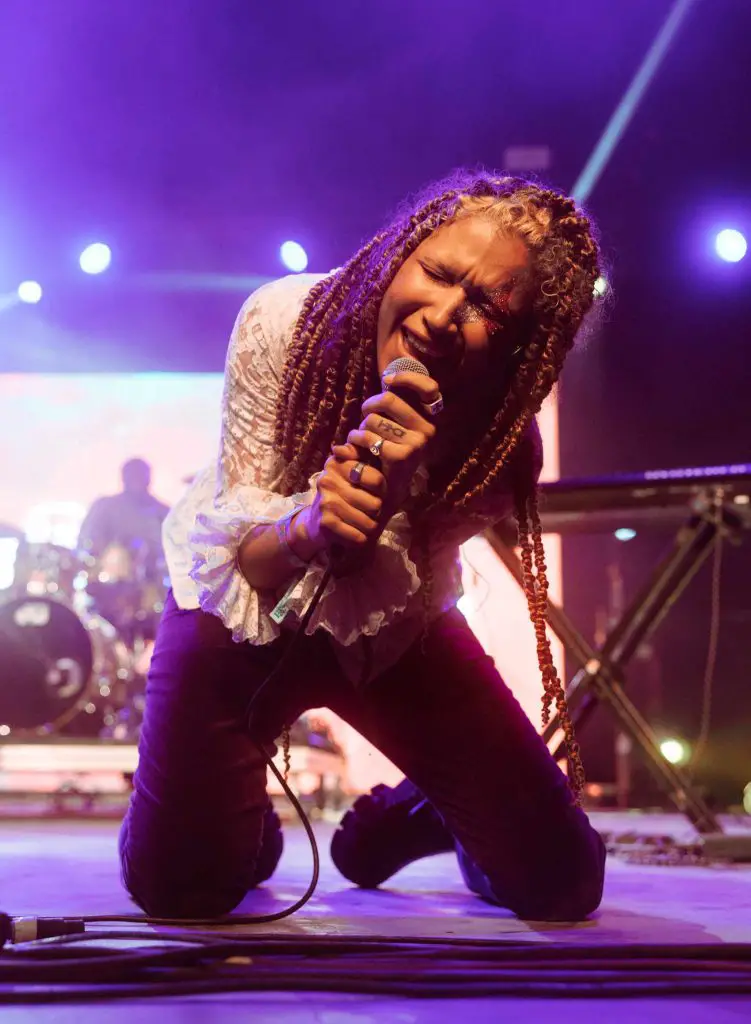 The Californian sun is already beating down hard on the Coachella site, so ducking into the Sonora tent to begin the weekend with Lava La Rue is a great idea for two reasons. First, shade and fans but secondly, and more importantly, the West Londoner's vibrant psychedelic indie sets the bar high for the rest of the performances over the coming days. Biig Piig joins her Nine8 Collective buddy on stage for their first-ever live outing of 'Hi Fidelity'. New song 'Push And Shove' hints at the woozy but bouncy path Lava might take next, while closing song 'Magpie' brings a dubby groove to the Sonora's sanctuary.
Doechii
Next, it's a literal hot foot over to the Coachella stage (that's the big one) for another Coachella debut. This time it's Florida's Doechii who's here to liven up the afternoon with a gaggle of dancers and a top-tier hype woman for a set they're calling Doechella. And why the hell not? Dressed in a hot-pink two-piece, Doechii makes the crowd bounce to tracks like 'Yucky Blucky Fruitcake' and 'Bitch I'm Nice'. She pauses to take a shot of something grimace-inducing, calling for the audience to raise their glasses, before channelling her inner producer and building the beat for explosive set closer 'Persuasive'.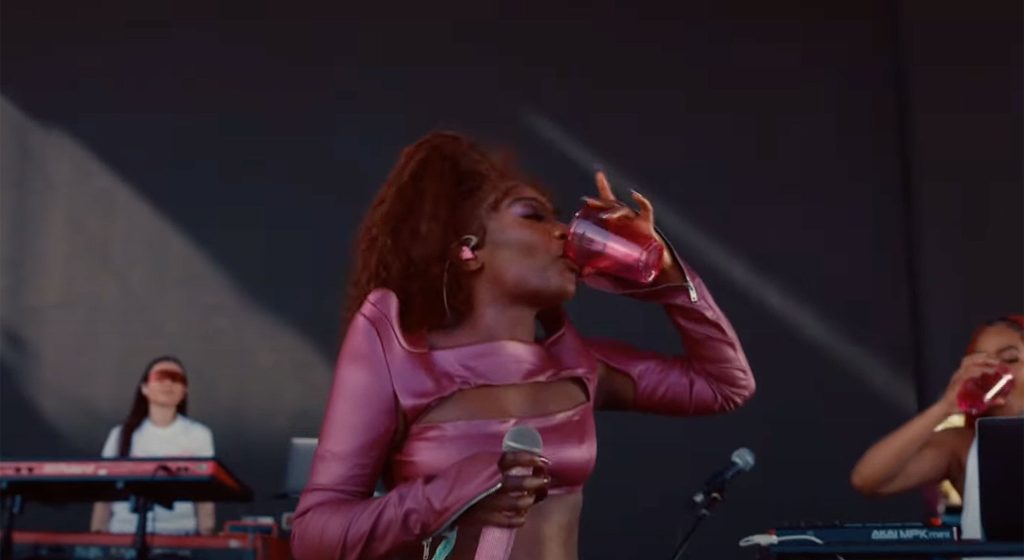 MUNA
"Yeehaw!" Katie Galvin shouts in the middle of MUNA's country song 'Taken' and the crowd that's filled up the Mojave tent delights in "yeehaw"-ing right back at her. It's a moment that's emblematic of the pure joy that radiates from the LA trio's performance, whether that's Galvin darting around the stage in her peak pop star form, dressed in leather gloves, leather bralette and knickers, their reams of "break-up songs you can shake ass to", or the preview of their upcoming single, 'One That Got Away'. The latter is classic MUNA – euphoric synth-pop with lyrics that turn a split into something empowering; the three-piece depicting themselves as the elusive lover, the "kiss you never tasted".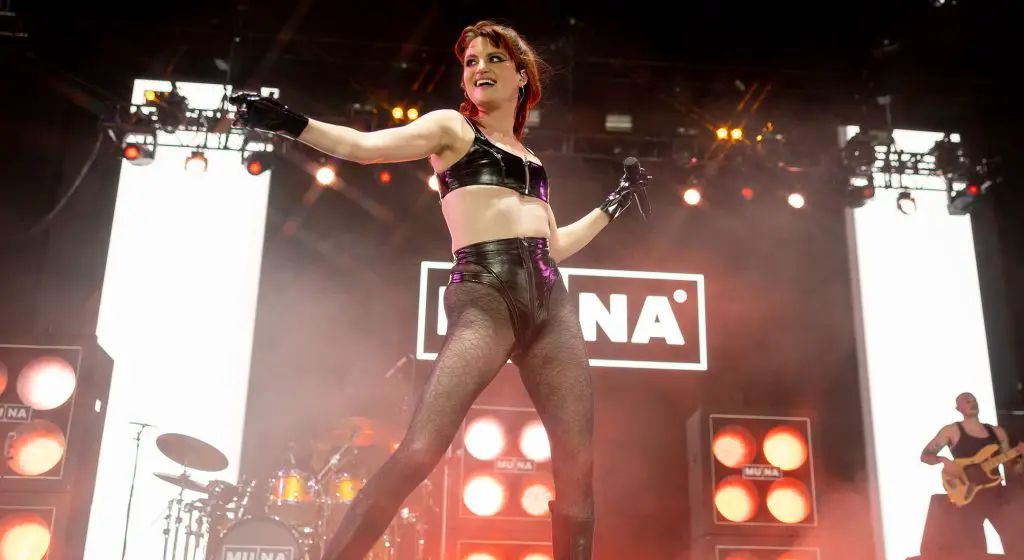 Even when MUNA veer into serious territory when dedicating 'I Know A Place' to their queer and trans fans, joy still persists. Fans down the front wave mini pride flags as the whole tent revels in the accepting embrace of the chorus and, moments later, the good vibes keep flowing with 'Silk Chiffon''s pop perfection – aided by some very special guests. Unannounced, Phoebe Bridgers runs on stage to take over the second verse, joined by her boygenius bandmates Lucy Dacus and Julien Baker in the song's final throes.
Wet Leg
Wet Leg might have spent the last year-and-a-half shrugging off the wild rollercoaster of events they've been on since releasing their debut single 'Chaise Longue', but even the Isle Of Wight duo look a little misty-eyed as they make their debut Coachella appearance. Who can blame them? Before Rhian Teasdale and Hester Chambers began making music together they were feeling disillusioned by the music biz and unsure of their future. Now they're bringing the smart and addictive likes of 'Wet Dream' and 'Oh No' to a festival 5000 miles away from home.
Over the course of the last year of relentless touring, Wet Leg have developed from a promising new band to consummate professionals. Each spin Teasdale and Chambers pull off is synchronised to a tee, while the unreleased 'Obvious' has grown from sparse and minimal to a song that ramps up into howling dynamism. Even the well-worn 'Chaise Longue' sounds fresher and slicker than it ever has.
Kaytranada
As Kaytranada takes to the Outdoor Theatre, a giant model of a man's head hangs behind him. For most of the set, it's a curious backdrop but, once the sun sets, its function becomes clear – to shoot beams of light over the crowd as the Canadian producer and DJ drops big beats and turns the field before him into a pulsating dancefloor. For the most part, he takes on that duty alone but set highlights come when Kali Uchis joins him for '10%' and Aminé links back up with him to air their recent collab '4EVA'.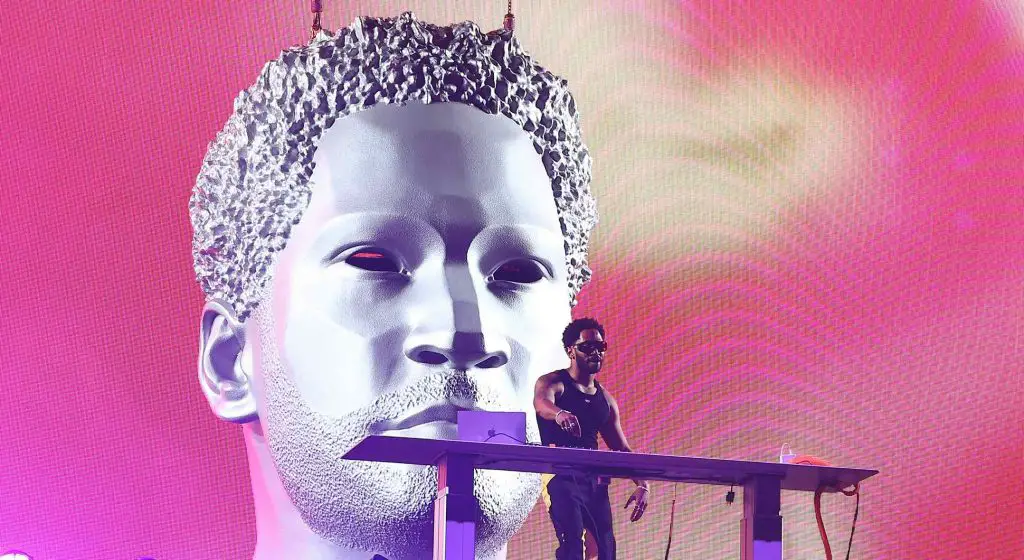 Gorillaz
The guests on deck for Gorillaz's set tonight are lowkey compared to most Coachella guest performers, but what they lack in A-list flash they make up for in presence and prowess. Thundercat brings the groove to 'Cracker Island' and Jamie Principle adds fresh edge to 'Hollywood', but it's Slowthai's appearance that feels the most notable. As he and Albarn shout out the small English town of Northampton and chant about "lovely Rita", faces in the largely American audience look bemused.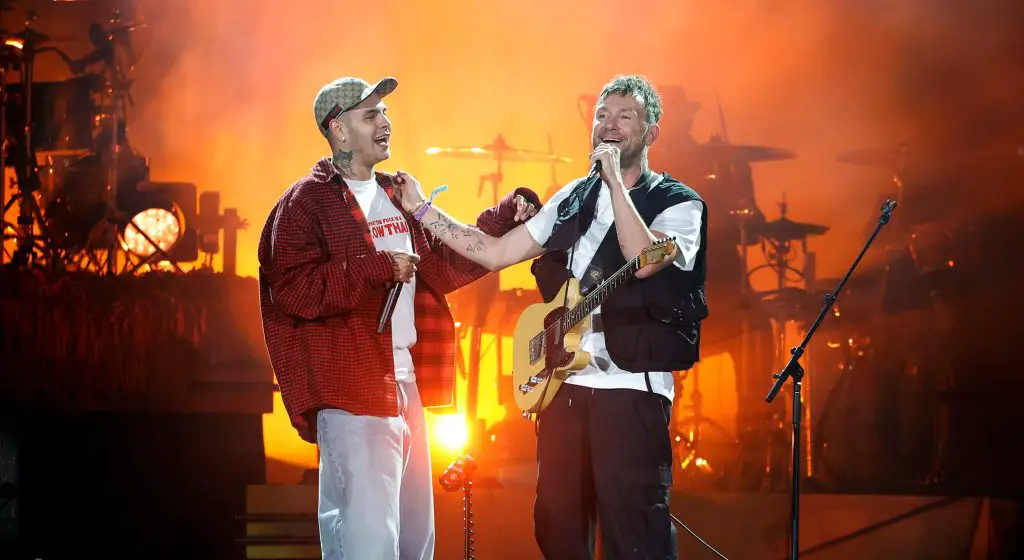 The animated band's performances always feel like a social gathering; Damon Albarn's personal – and public – catch-up with his musical besties. But at Coachella, he includes the whole crowd in the revelry. Barely a song goes by where he isn't clambering onto the barrier between the stage and the audience or wandering down the chasm that splits those watching in two. Those further back get included in singalongs – the most fun of which comes with the penultimate track, the De La Soul-featuring 'Feel Good Inc.'. Posdnuos instructs the crowd to mimic his bandmate Mateo's iconic laugh throughout the song, for which the festival quickly and loudly obliges.
Ashnikko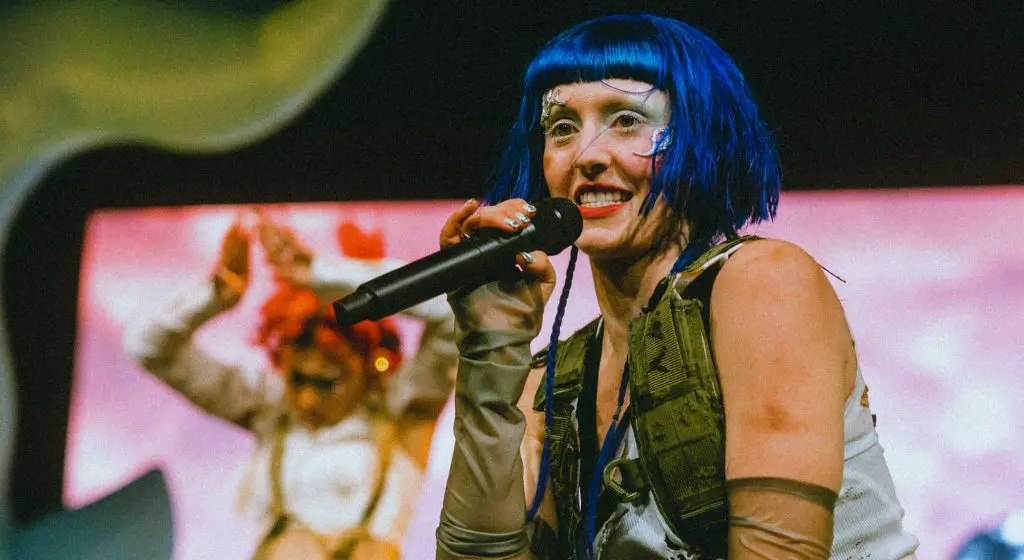 "My name is Ashnikko and me and my cheerleaders are gonna put on a little show," she declares in the Gobi tent, flanked by two dancers shaking blue tinsel pompoms. "Assemble cheer squad!" Ash might be talking to the performers either side of them but she might as well be conducting the whole audience too, given how hard they start dancing to 'Tantrum' immediately afterwards.

The blue-haired American rapper and singer takes Coachella on a journey through her set, from the bratty to the empowered ("I'm a working bitch / Ain't got no time for dick," they sing on the country twang of 'Working Bitch'); the important – a speech about our bodies not being "political chess pieces" – to the nonsensical. The latter comes in the form of a meandering monologue about decomposing in the middle of a forest and, eventually, having worms invade her brain. They pull it back before the end, though, with a ferocious version of 'Slumber Party' and a run-through of her 'Halloweenie' tracks.
Chemical Brothers
As the bumping beats of The Chemical Brothers fade out on the Outdoor Theatre stage, the rush from that stage to the Coachella stage for tonight's headliner begins. On the way, punters pass by the myriad of giant art sculptures – a series of three robots, some oversized purple flowers, and more – taking the time to stop and pose for selfies and pics ready to post on the feed later. Slowly, a sizeable crowd gathers ready for a momentous moment – the first headline set at Coachella from a Latin artist.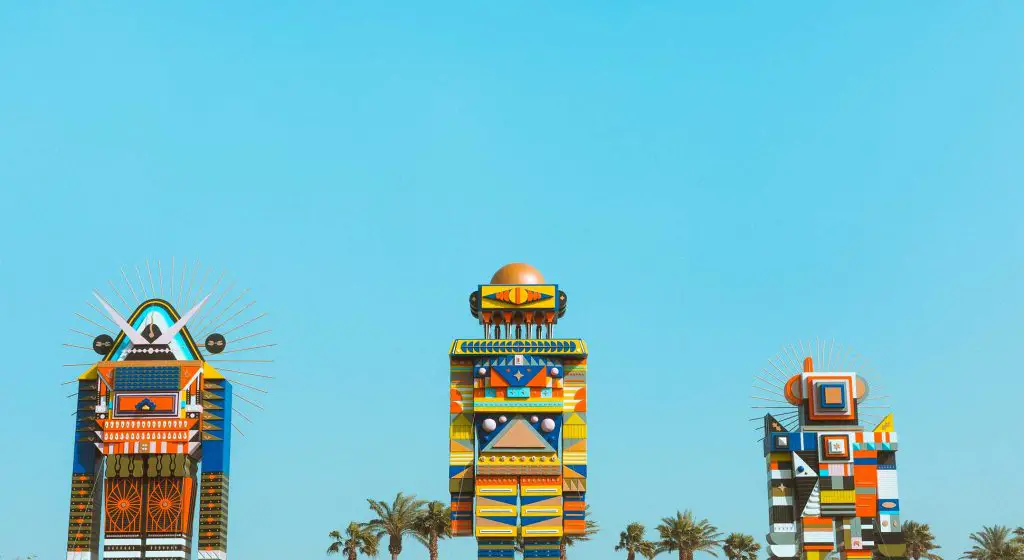 Bad Bunny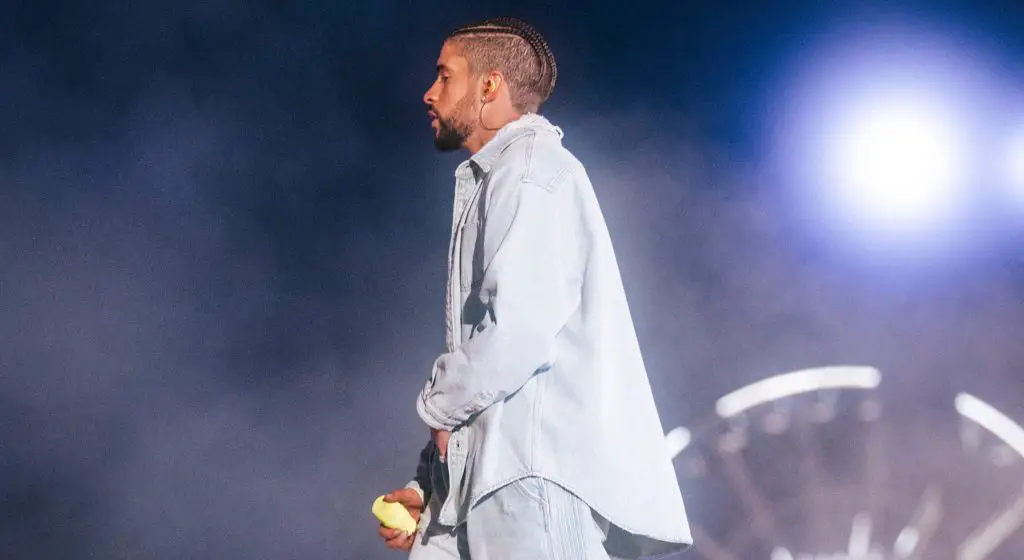 Bad Bunny opens his set with a video entirely in Spanish, which nods to past headliners and acknowledges him taking his place in the lineage of artists like Childish Gambino, Kanye West, and Kendrick Lamar. A few songs into the set, he asks the huge crowd: "What do you prefer, me talking in Spanish or hablando espanol?" The answer is emphatically the latter and so the Puerto Rican reggaeton continues in his native language for the rest of the night.

Before his set, there's been much buzz about who might join him on stage – perhaps J Lo for 'Te Guste' or Cardi B for 'I Like It'? While he might air the latter, Benito goes in different directions. First, he brings out the reggaeton duo Jowell & Randy for the booming 'Safaera' and, towards the end of the set, is joined by the rapper Jhay Cortez for a trio of tracks. In between, Post Malone makes an unexpected appearance to play guitar on 'La canción', but things get awkward when technical issues mean his instrument cuts dissonantly in and out of the PA.

Throughout his set, Bad Bunny gives the Coachella crowd an education, running through the history of Puerto Rican and Latin music, shouting out artists who came before him along the way. The between-song lessons are a nice touch and a subtle reminder that, while Bad Bunny might be teaching us history, he's making it too.
Saturday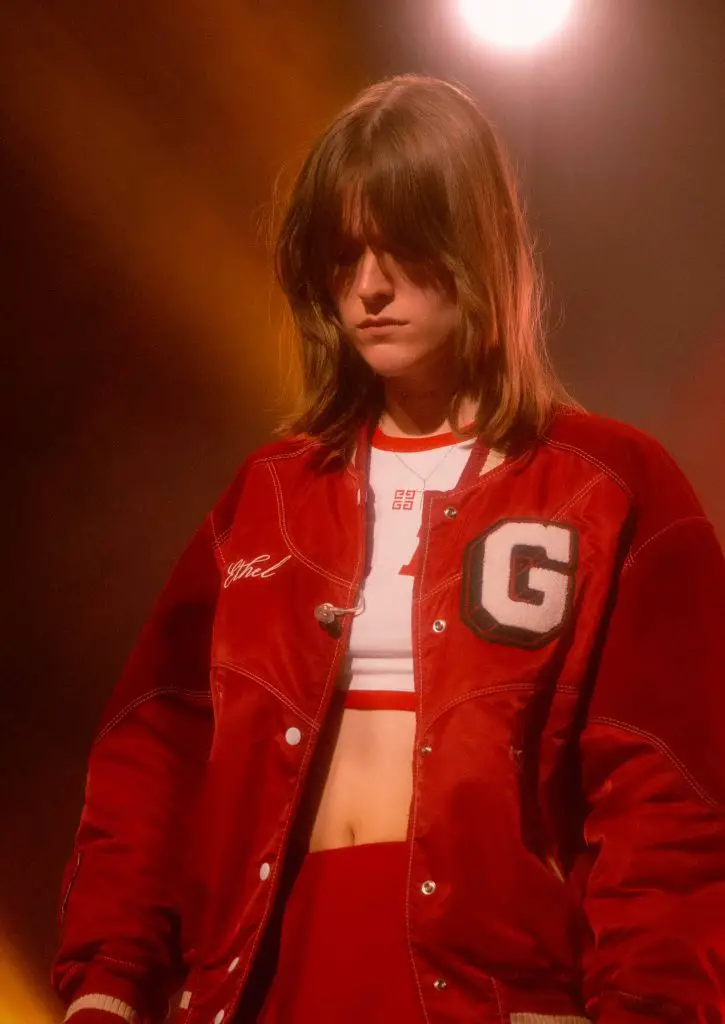 Ethel Cain
As festival goers get going for day two, a queue snakes across the field from the Sonora tent sprawling meters away from the entrance. The indoor venue is playing host to one of alternative music's most-buzzed-about rising stars of the last year, Ethel Cain. The Floridian-born artist has captured the hearts and minds of many with her haunting lo-fi goth-pop, amassing a passionate fanbase who refer to her as "mother".
Many of those fans are here to watch her at Coachella today and they make their presence felt. As Cain paces serenely around the stage, they hold lighters aloft, reach out their hands to her, and even – in the case of one – throw a T-shirt on stage for her. If the singer hadn't already won over everyone before her, this set would do it – a masterful performance that commands your attention, even during the set's longest songs, like the eight-minute 'A House In Nebraska'. Before 'Gibson Girl', she takes off her socks and personalised letterman jacket to show off her all-American cheerleader uniform – a peppy contrast to the sombre and emotional arcs that run through her songs.
"This is my first time at Coachella ever and it's been amazing," she tells the crowd towards the end. "Truly, thank you so much for having us." As she wraps up with 'Sun Bleached Flies' and 'Crush', the audience take their last opportunity to show their appreciation, the front row clamouring to touch Mother Cain for just a moment.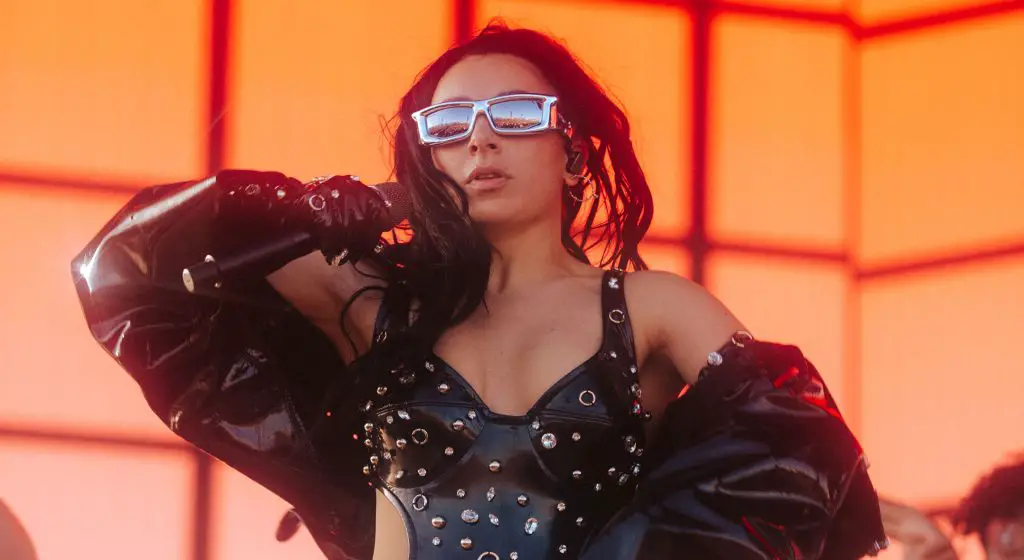 Charli XCX
As golden hour hits Coachella, the field in front of the Coachella Stage and Outdoor Theatre turn into minefields of people trying to snap the perfect festival photo. As they get inventive with their poses – from the candid to the silly – people strutting over to Charli XCX's set on the main stage accidentally interrupt them in their quest to not miss a moment. When the British pop icon appears in front of them, it's worth a million ruined selfies as she delivers one of the weekend's most electric sets so far.
Charli's set is – as you'd expect – wall-to-wall bangers, from opener 'Lightning' to the early appearance of 'I Love It', the humongous anthem she wrote for Icona Pop. Troye Sivan joins her for a bubbly version of '1999' before she airs her and The 1975 drummer George Daniel's remix of Caroline Polachek's 'Welcome To My Island'. From there, the setlist only goes up – 'Boys' dedicated to "all my gay boys out there", a filthily fun take on 'Vroom Vroom' for the "bad girls" and a fiery closing 'Good Ones'.
Sofi Tukker
As day turns to night, Sofi Tukker ignite both a carnival and a competition on the Outdoor Theatre stage, pitting the Coachella audience against a recent crowd in Mexico City. Points are distributed arbitrarily, the duo dishing them out for things like "dat ass", while berating the festival field for not pushing harder to win.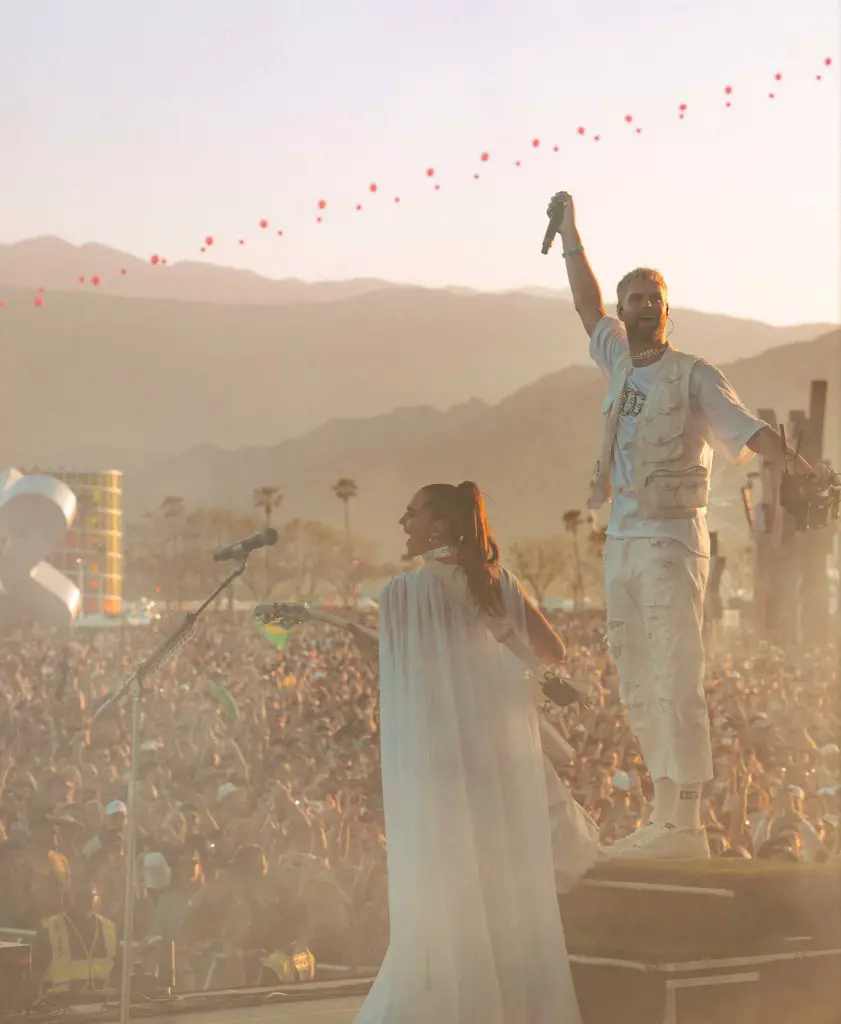 Jai Paul
A stream of people head towards the Mojave tent, foregoing food and the ferris wheel in favour of one of modern music's most enigmatic stars. Londoner Jai Paul is playing a rare set in the tent but he keeps the mystique that surrounds him high by coming on 20 minutes late. When he does appear, he gets off to a shaky start – understandable considering he's been out of the spotlight for aeons. But when he drops 'Jasmine' and 'Btstu', everything is right with the world and the heaving tent is untied in bliss.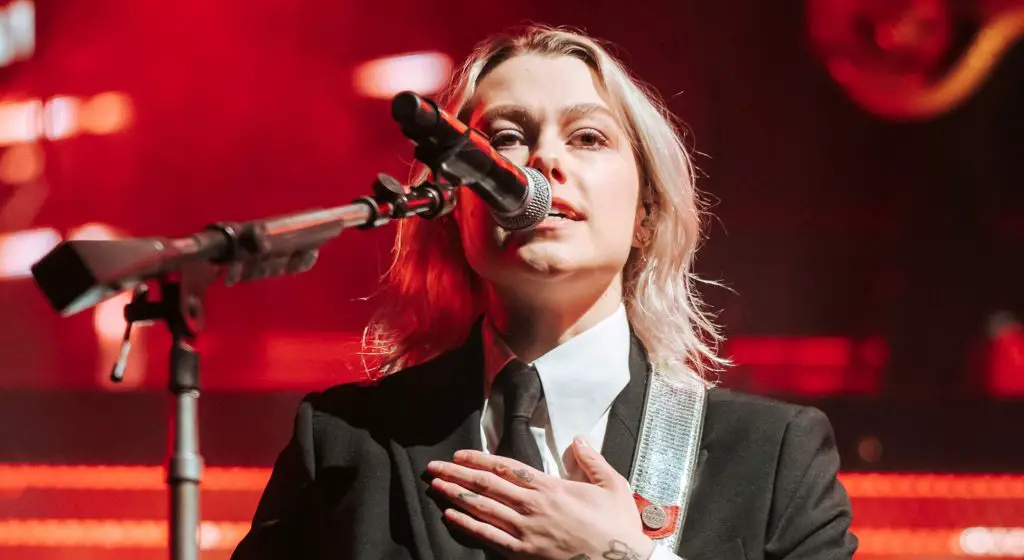 boygenius
Back at the Outdoor Theatre, things are taking a more leisurely path. Festivalgoers lay down on the grass, the fierce heat of the sun gone for the day. That heat is soon replaced by three of the best songwriters around right now as boygenius take to the stage to deliver what they call their "first proper show". Proper it is, with Phoebe Bridgers, Lucy Dacus, and Julien Baker giving the songs from their self-titled EP and last month's album the record ferocious and poignant airings.
Read our full review of boygenius's Coachella set
BLACKPINK
Officially wrapping up the day – although there's still plenty going on til the early hours – K-pop superstars BLACKPINK graduate from their 2019 Sahara set to topping the bill on the Coachella stage. The four ladies themselves seem like they can hardly believe it, but there's no hint of uncertainty in their performance tonight. Instead, they're the most badass, confident and slick version of themselves, whether they're nailing intricate choreography to the likes of 'Pink Venom' and 'Pretty Savage', or taking the spotlight on their own for their solo stages.
They close the performance with the two things they do best – a hard-hitting banger in the form of 'Ddu-du Ddu-du' and something lighter and more sentimental in 'Forever Young'. The latter sees them lifted high above the crowd on a raised stage, giving them the chance to survey the kingdom that is now theirs.
Read our full review of BLACKPINK's Coachella headline set
Sunday
Latto
It's the final stretch and Coachella punters are feeling it. Every inch of shade is utilised, which leads to hilarious scenes of people shrinking themselves into the tiniest shadows across the field. Cramming into the space is something revellers at the Sahara tent know all about when Latto takes to the stage. The rapper-of-the-moment draws a huge crowd for her sex-positive anthems and treats those who've come to see her to a few surprises too. Chief among them is when she brings out Lola Brooke to help her perform 'Don't Play With It', which follows her airing collabs with Megan Thee Stallion and Boosie Badazz, who sadly aren't present. She wraps things up, of course, with her biggest banger thus far – the addictive, hook-filled 'Big Energy', sending her legions of fans new and old back out into the rest of the festival on a high.
Weyes Blood
Things are going at a much different speed over in the Mojave tent, where Weyes Blood is elegantly spinning around the stage in a caped dress. 'Twin Flame' sounds even more stunning under the canvas and, when she starts closing song 'Hearts Aglow', she grabs a bouquet of flowers and starts throwing them out into the front rows, like Coachella's own flower girl. 
Kali Uchis
As the sun starts its slow decline into the horizon, Kali Uchis takes the stage for a set of firsts. Early on – after a brief cameo from Tyler, The Creator – she gives 'Worth The Wait' its live debut, with the assistance of Omar Apollo. After another guest appearance from Don Toliver on 'Fantasy', she airs a brand new song from a new Latin album the Colombian-American star says she's "about to drop". The new cut is beautiful – a theatrical, yearning piece that becomes a highlight of her excellent set. 
Jackson Wang
Beneath Coachella's iconic Ferris wheel, the Sahara tent is filling up in anticipation for Jackson Wang, who's bringing his dramatic Magicman show to the desert today. It's his triumphant return to the festival after making his first appearance here during last year's special 88rising set and he's ready to have a good time. After a cinematic video in which he gets killed by another version of himself, he screams: "Coachella, are you ready? Let's fucking go!' 
With enthralling versions of 'Blow' and 'Champagne Cool' on deck, the crowd has no choice but to follow his instructions – and even less so when he brings out Ciara later in the show. As Wang leaves the stage, the icon breaks into a roof-raising version of 'Level Up' before he returns to join her for '1, 2 Step' and a take on rising girl group XG's 'Left Right'. "I'm so confused right now," one spectator says with a big grin on his face. "But this is lit."
Björk
On the Coachella Stage, the mood is very different as festivalgoers take Björk's stunning performance as a chance for a much-deserved break. The 'Cornucopia' tour has found its way to Indio and it's the ideal way to begin winding down after a long weekend of fun. A drone show mesmerises above the stage as the Icelandic legend and her accompanying musicians deliver the most beautiful performance of the weekend. 
Frank Ocean
It seems, at point, like she might have done too good a job at bringing things closer to a finish. Just over an hour later, fans are waiting eagerly in front of the same stage for Frank Ocean's first live performance in six years – and waiting, and waiting, and waiting… Finally, 57 minutes after his set was supposed to begin, he appears for what is one of the most confusing headline sets in recent memory. First, there are dancers clad in the same outfit pacing in circles around the stage even before Ocean appears and they continue for the first few songs. The beloved star's set-up in the space not filled with an endless cycle of bodies is much like his own studio being plonked into the desert – cool to look at, but not particularly conducive to momentum when he seemingly has to keep getting up after every song to adjust the settings.
Deeper into the set, he stops singing altogether and just starts blasting the tracks out of the PA instead, which could be fun if people had shelled out hundreds of dollars to listen to recorded versions of his songs at a higher volume than they could listen at home. There are moments of brilliance, though. 'Bad Religion' is utterly, devastatingly beautiful and is given the reverence it deserves by the pin-drop quiet crowd. 'White Ferrari', which almost unbelievably has never been played live before, brings crisper atmospherics into the mix with added electronic layers, and the punky thrash of 'Wise Man' is electrifying. A mini "rave mix" in the middle by DJ Crystal Mess is a pulsating breather, too, as Ocean heads off stage.
Sadly, though, the set doesn't end on the high you'd want it to. After covering the Isley Brothers' 'At Your Best (You Are Love)', Ocean wanders out of view again and comes back with bad news. "Guys, I'm being told it's curfew so that's the end of the show, thank you so much," he announces, bringing Coachella 2023 to a strange end.
Watch some main stage highlights below. For more, visit the Coachella YouTube channel.