Every spring, music lovers, pop stars and a gaggle of influencers flock to the Californian desert for one of the most famous music festivals in the world – Coachella.
As one of the earliest music festivals in the season, Coachella has been wiped out by COVID for two years running and as Omicron continues to pose a threat around the world, organisers are once again considering the need to move the festival for the fifth time. While we wait for answers, let's look at what we do know.
Back in 2020, Rage Against The Machine were set to make their long-awaited comeback – complete with Zach de la Rocha behind the mic – but with so many changes since then, fans have been waiting to see how the lineup would evolve and hear when they could finally get back under the blinding desert sun.
With the lineup finally here, here's everything we know about Coachella 2022.
When will Coachella 2022 take place?
15-24 April 2022. Coachella takes place across two weekends in April. The first is typically more popular as all the sets are seen for the first time.
Where is Coachella held?
Coachella takes place at the Empire Polo Club in Indio, California – a small town in the Coachella Valley of the Colorado desert. It's about a three-hour drive from Los Angeles. Most people stay in nearby Palm Springs which has an airport, lots of hotels and a bit more going on than Indio itself. There is also camping on site – regular camping and Lake Eldorado, the glamping area, but be warned, it gets mighty hot.
Who is headlining Coachella 2022?
Harry Styles, Billie Eilish and… The Weeknd and Swedish House Mafia
Rage Against The Machine and Travis Scott were the first two acts to be confirmed to headline in 2022. They were originally down to headline in 2020 before the pandemic forced the festival to cancel. Though since the tragic events at Travis Scott's Astroworld festival, a petition to stop him from playing Coachella reached 60,000 signatures and it was subsequently confirmed that he will no longer be performing at the festival.
On the 6 January, Billboard reported that Rage Against The Machine would also no longer be headlining the festival but that Kanye West and Billie Eilish were in talks to replace them and Scott, reportedly with Ye bringing his Sunday Service to Sunday night.
Frank Ocean was due to be the third headliner for 2020 but festival co-founder Paul Tollett confirmed that Frank would be back topping the bill for 2023, instead of this year. That left one slot free and while early rumours of Taylor Swift or maybe even Cardi B bagging it, on October 22 it was hinted on the Coachella Instagram page that Swedish House Mafia would be the third headliner – or at very least, a significant booking.
On Jan 13 2022, it was confirmed that Harry Styles will be the third headliner joining Billie Eilish and Ye.
But since Kanye West has pulled out of the festival, Swedish House Mafia have been subbed in as the third headliner with the addition of The Weeknd.
Billie Eilish is already booked to headline Glastonbury Festival 2022. She will be the youngest artist to headline both festivals in the same year.
What about the rest of the Coachella lineup for 2022?
The full lineup was released on January 12 2022.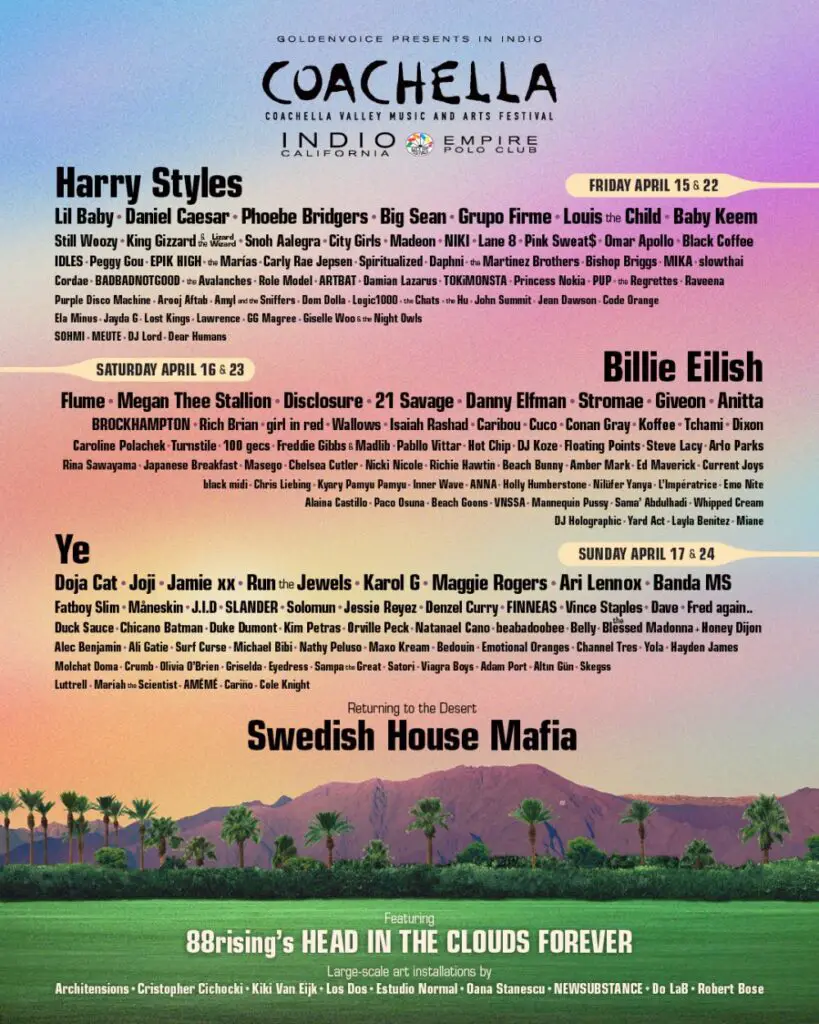 YAY!

Presale for Weekend 2 starts Friday 1/14 at 10am PT. Weekend 1 is sold out. Register now at https://t.co/qujCsdCWkp pic.twitter.com/cEp5iNJY9M

— Coachella (@coachella) January 13, 2022
There have been quite a few changes from the previous lineup. Phoebe Bridgers has been added after the phenomenal success of her 2020 album 'Punisher'. Megan Thee Stallion has moved up the bill as has Doja Cat. Da Baby has been dropped.
Arcade Fire are playing a secret set on Friday at the Mojave stage. Brockhampton will be playing their last ever show on Saturday late afternoon.
With just a day to go, there are still some secret sets to be announced. See here for Coachella's set times in full.
In an interview with the LA Times in 2021, Paul Tollett said: "Right now, it's the Wild West," he says. "I'm just trying to be as fair as I can to artists and to the fans to make sure that eventually, they get to see everyone that we talked about."
However he acknowledged that artists such as Doja Cat and Megan Thee Stallion – who have seen huge chart success since 2019, when the bill was announced – will be bumped up in position. "It's a whole different conversation," Tollett says, "different stage, different timing."
Something to note is Coachella's quite strict radius clause which prevents artists set to appear at Coachella from performing at other venues within North America between December 15 to May 1, unless the event is through AEG and Goldenvoice. After eighteen months with zero touring revenue, this might have put some originally-booked artists off from signing up for 2022. Here is how the lineup looked as of 2020.
Is Coachella 2022 sold-out?
Yes, Coachella is completely sold out.
How much is a Coachella ticket?
There are different passes available. The most basic general access three-day ticket for the 2022 festival is $619. If you also want a shuttle ticket to drop you off at a local hotel, the total is $639. And a VIP ticket is $1229.
If you want to camp and have a car, you and your vehicle can get a preferred spot near the venue for $309 or one slightly further out for $179. If you are without a car, a spot for your tent is $169.
There's also a glamping area called Lake Eldorado which has a combo of pre-pitched tent and small wooden huts to sleep in. Prices for Lake Eldorado (including festival tickets) range from £1239 for a general access ticket and 'Lodge' up to £1512 for a tent and VIP pass. This is based on 2-4 people sharing, so Lake Eldorado is most affordable with friends.
Do I need to be vaccinated to attend Coachella?
No. Coachella Promoters AEG inititally announced that double vaccination status would be mandatory for all ticketholders attending their events – including Coachella – from October 1 2021. But they have now revoked that and said that:
"After seeing first-hand the low transmission data and successful implementation of safety protocols at our other festivals this past month, we feel confident we can update our health policy to allow for:
Negative Covid-19 test taken within 72 hours of the event
OR
Proof of full vaccination."
Is Coachella fun?
Coachella is fun, yes, mainly because of the calibre of artists booked. The site itself isn't that big – for anyone who has been to Glastonbury, it pales in comparison. Alcohol is served in designated drinking areas away from the stages so this does differ from British festivals in that you can't park up with a pint and watch the live music. From experience – and because it's legal in California – many people tend to opt for smoking weed instead although Goldenvoice do say that's against their policy.
READ MORE: Coachella's most memorable reunion shows