"Picture it, it's 2005, I'm in a Two Door Cinema Club crop-top, and I have pink hair," Phoebe Bridgers tells the 9PM Coachella crowd who have gathered to see her set on the Outdoor Theatre. "Don't picture it, actually" she quips.
For the LA native, this set is something of a big deal, having frequented Coachella's fields seven years in a row as a teen. A big deal also, because since the festival last took place – in a pre-COVID universe – Phoebe was still something of an outlier, an indie-folk artist with a small but fervent fan base. The release of her second album, 'Punisher', changed all that – elevating her to a new level of fame, helped by her quick wit, astute lyricism and beautifully sad songs.
Walking on stage to Disturbed's 'Down With The Sickness', dressed in a bedazzled skeleton dress and chunky loafers before thrashing into 'Motion Sickness' – still, arguably, her most famous song – we're reminded of why Bridgers stands out in a sea of singer-songwriters.
The staging is stunning – a twinkling night sky, the perfect backdrop for her skeleton orchestra. But as the tunes roll on as do the visuals, a beautifully illustrated pop-up storybook accompanying each of her well-crafted songs, telling the tales that so many fans have already conjured from her lyrics.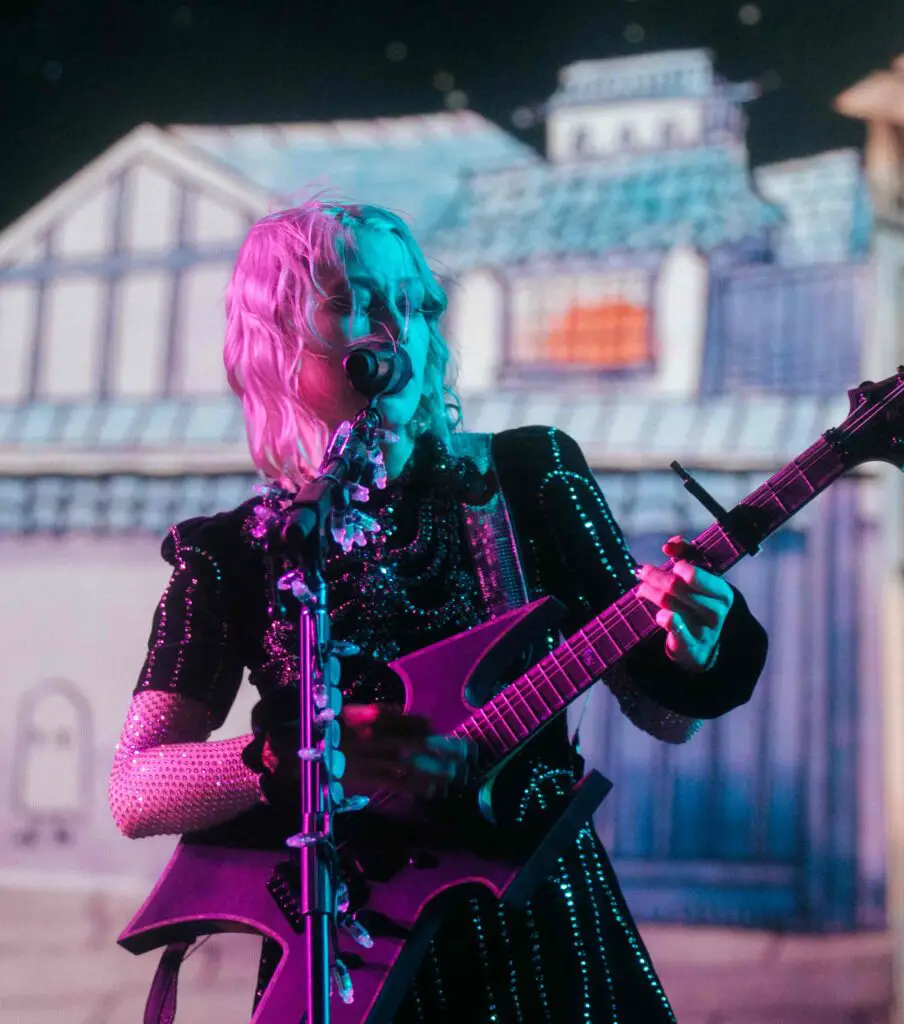 'Kyoto' comes early in the set. Always as somewhat of an upbeat anomaly in a catalogue seeped with emotion, it makes sense. 'Chinese Satellite' and 'I See You' – a song about Bridgers' drummer Marshall – are devastating highs.
"Now is the part of the set where you pretend you want to hear a new song," Bridgers says as she gives an outing to new track 'Sidelines', written for the adaptation of Sally Rooney's Conversations With Friends. It slots in perfectly.
"I'd like to welcome my friend Arlo", she says, ushering Mercury Prize winner Arlo Parks to the stage for the stunning queer love song 'Graceland Too'. And then, as the first notes of Punisher album-closer, 'I Know The End' start to play, the pop-up book we have been communally reading bursts into flames and the band descend into a cacophony of noise, Phoebe's screams, just as on the album, closing the set. Except this time, Coachella screams back with her.
---
READ MORE: all the surprise guests and cameos at this year's Coachella