The gates are open, the tents are pitched, the sun is shining and the main event is about to begin: welcome to Glastonbury 2023.
Team The Forty-Five have been here since Wednesday, getting the lay of the land and settling into festival life. There are a few changes to the site since last year. New stage, The Levels, an "open-air nightclub" in Silver Hayes will be blasting high-tempo, bassline tunes all weekend for people looking for a little rave. Its neon LED aesthetic is seriously impressive and I Jordan and Sherelle back to back were the draw of Thursday night.
Car Henge, an installation by Glasto favourite, Julien Temple (think Stone Henge made of up-ended cars) replaces the William's Green stage this year and the John Peel is renamed Woodsies. Definitely not because of this petition, according to Emily Eavis. Otherwise, the magic and wonder of Glastonbury remains the same, though we are still in search of a dancing fountain that we are 80% sure we did not imagine back in 2019. Where are you mythical water feature? Where are you hiding?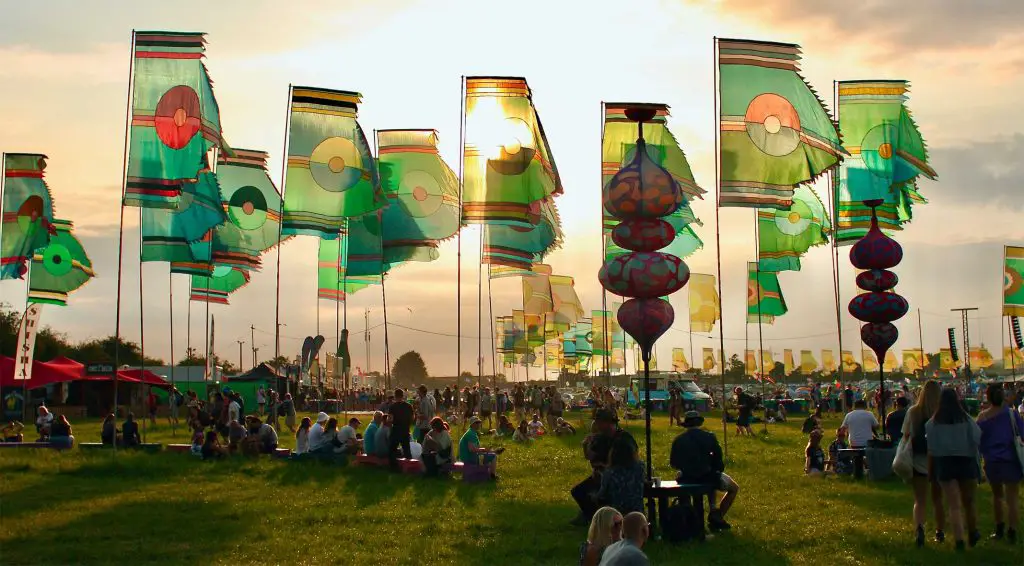 FRIDAY
Maisie Peters
Your first Glastonbury is always a special time, but it must be triply so for Maisie Peters, who opens the Pyramid Stage on the day she releases her new album, 'The Good Witch'. While those are highs only she can really experience, her set brings a bright burst of joy to the festival field to help get the crowd's Worthy Farm encounters off to a bubbly start. As the pop star bounces around the stage to the likes of 'Cate's Brother' and 'Not Another Rockstar', she welcomes us into her world, shouting out "my delusional girls" and sharing stories that romanticise the fantasies we create in our heads. Even when she sings about not getting a Hollywood ending, as in 'John Hughes Movie', Peters still comes out on top. A powerful, positive start to the weekend. Rhian Daly
FLO
FLO bring the harmonies to Woodsies stage, in the early afternoon. "Glastonbury, we didn't think it would be this big!" they yell to the sprawling crowd. The Brits Rising Star winners are giving serious Destiny's Child ('Survivor'-era) energy in matching terracotta outfits as they deliver a ridiculously slick set for their Glasto debut. The choreography is flawless – we love the sexy mid-set chair dance – as are their vocals, the crowd erupting for every high note. This is a band that can seriously sing and dance and already have enough hits to make a high-energy festival set (shout out to 'Fly Girl', 'Cardboard Box' and 'Control Freak'). Paying a nod to a British R&B legend, their cover of Jamelia's 'Superstar' is a perfect afternoon singalong, particularly for the hen party next to us. We spy the Pyramid Stage in their future. Charlotte Gunn.
Carly Rae Jepsen
The vibes on the Other Stage are high and it's all thanks to Carly Rae Jepsen. The Canadian star brings glitter, glamour and incredibly good times to her first Glastonbury appearance as she darts around the stage with the biggest grin seen at Worthy Farm so far (at least in the daytime) on her face. 'Run Away With Me' makes a big impression early on before she subtly segues one of the world's biggest bangers – 'Call Me Maybe' – into the middle of the set. "We never sing this next song alone," she says beforehand, and the crowd prove her right on that, united in screaming every word. Confetti bursts over the audience as 'I Really Like You' reaches its peak, and 'Beach House' brings camp fun via an easy-to-copy choreography. "I don't know what to say," tells Glastonbury before she leaves the stage, smile somehow even brighter now than before. "This is one of those memories that are implanted already. I'll never forget this day." Us neither, Jeppo. Rhian Daly.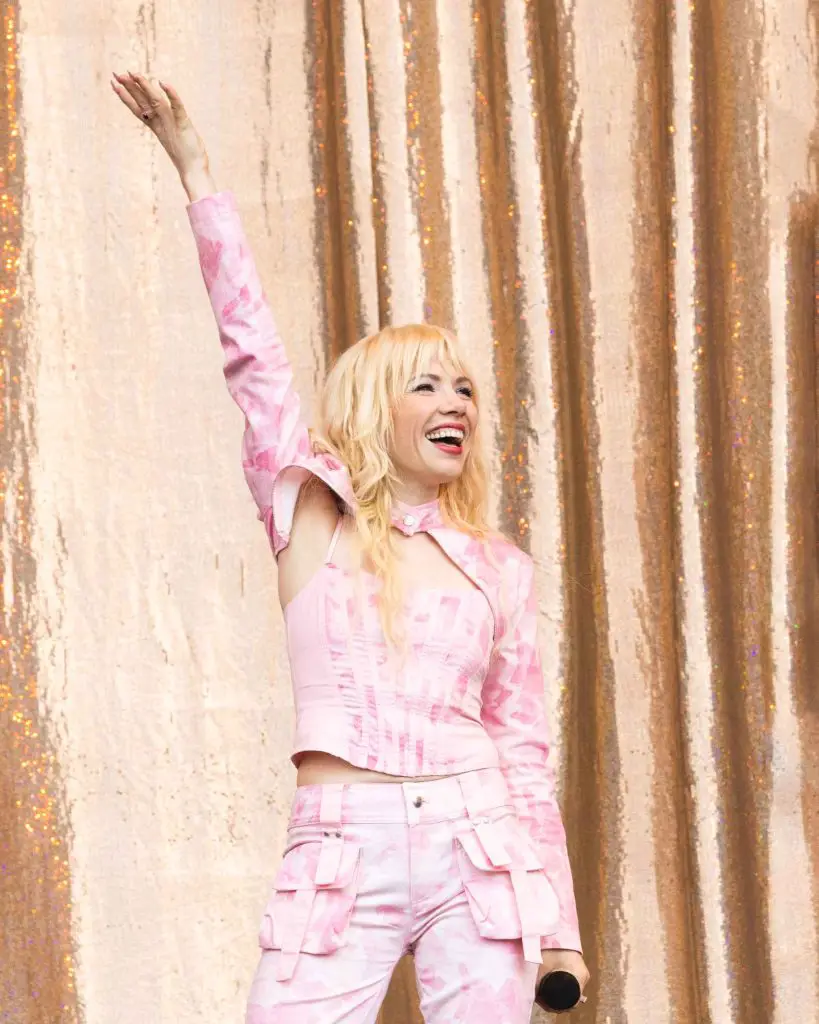 CHVRCHES
While most of the festival is off watching a secret Foo Fighters set – or should we call them The Churnups – on the Other Stage, CHVRCHES are entertaining a much less hectic audience. That doesn't mean there isn't plenty of drama on stage, though. During a dazzling set of sparkling goth-pop that glitters in the slowly setting sunlight, singer Lauren Mayberry brings a touch of elegance to the festival field with a fringed green dress – that is until she runs off stage after 'Asking For A Friend' and returns doused in red paint. Talk about making an impression. Rhian Daly.
Warpaint
Over in Woodsies, a spell is being cast. Warpaint are bringing their dreamy, hazy patchwork of indie to the tent, bewitching everyone present into a gentle rhythmic sway. 'Champion' begins the magic, which then flows into hypnotic versions of 'Undertow' and 'Hard To Tell You'. After celebrating guitarist Theresa Wayman's birthday, they dive into a cover of Fugazi's 'I'm So Tired' before finishing things off in spectacular style with 'Disco//Very'. Rhian Daly.
Saturday
The heat feels punishing as the second day of music begins. Roaming around site, we spot Francis Bourgeois (wearing a London Underground vest), Laura Whitmore, Jo Wiley, Dan from Bastille and Fat Boy Slim within about five minutes of each other – all looking considerably fresher than team The Forty-Five.
The Last Dinner Party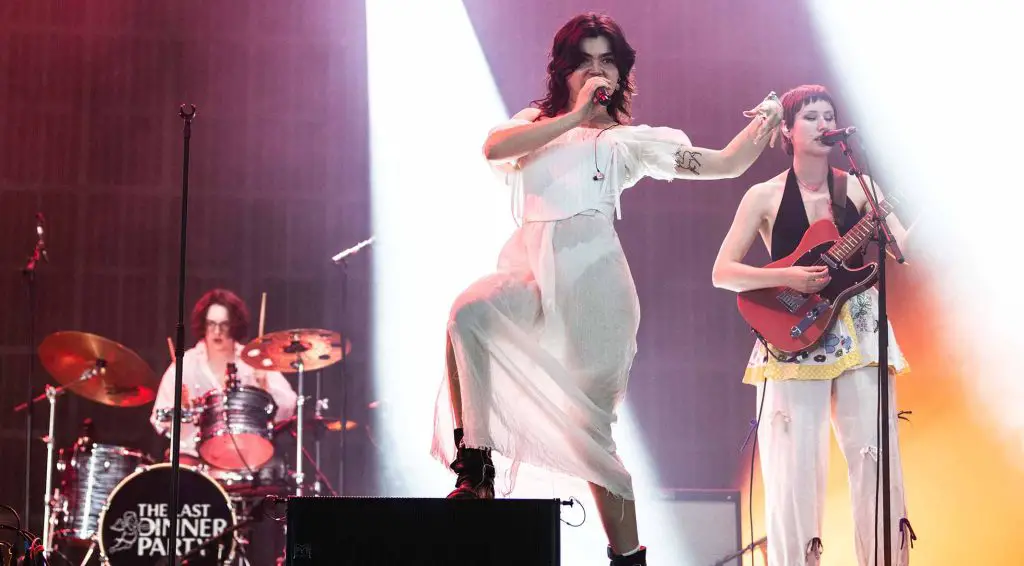 The buzz band of the weekend kick things off to a surprisingly busy Woodsies tent given it's 11:30 on what is for most people, day four of the festival. If you haven't heard of The Last Dinner Party yet, you will soon. Lead singer Abigail prances around the stage in a white corseted gown, flinging her arms with wild abandon to their blend of baroque pop. People have compared her to Kate Bush; her at times, operatic vocal adding some high-drama to the weekend. To date, the Brixton band have only released one song, but at their Glastonbury debut, they prove they've got bags more weird, wonderful music to match. The Last Dinner Party aren't like anyone else around right now. Catch them before they get huge. Charlotte Gunn.
Raye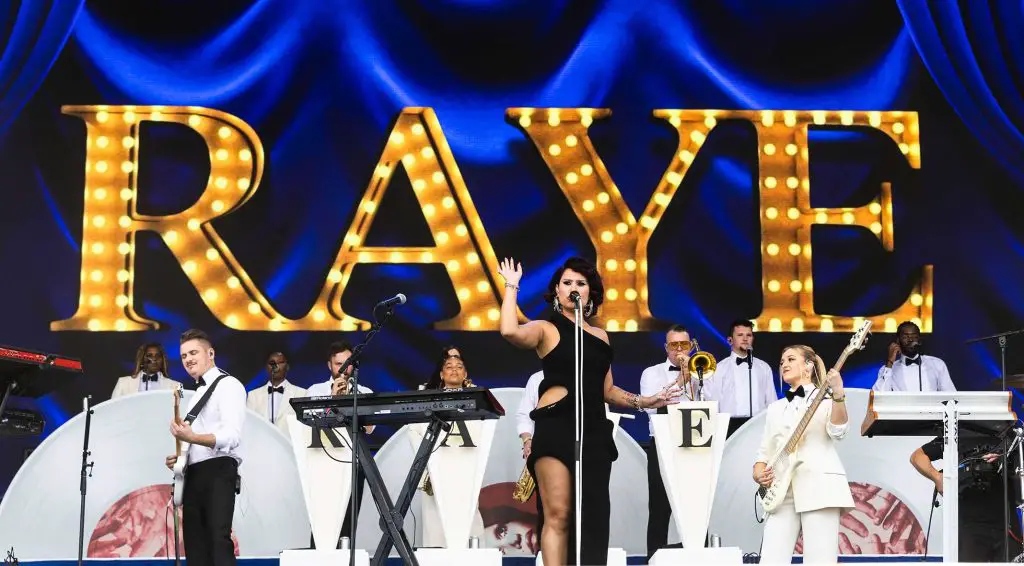 Over on the Pyramid a very chatty Raye is clearly thrilled to be here. "Not that long ago, there were more people on stage than in the crowd", she jokes, clearly in awe of the field of festivalgoers that have braved the heat to see her play. Her back catalogue is eclectic, ranging from Winehouse-esque jazz numbers to the oontz-oontz beats of 'Black Mascara'. Her vocals are flawless, her unfiltered chat, hilarious. We all love an underdog story and to see Raye – a newly independent artist – atop the Pyramid feels very well deserved. Charlotte Gunn.
Maggie Rogers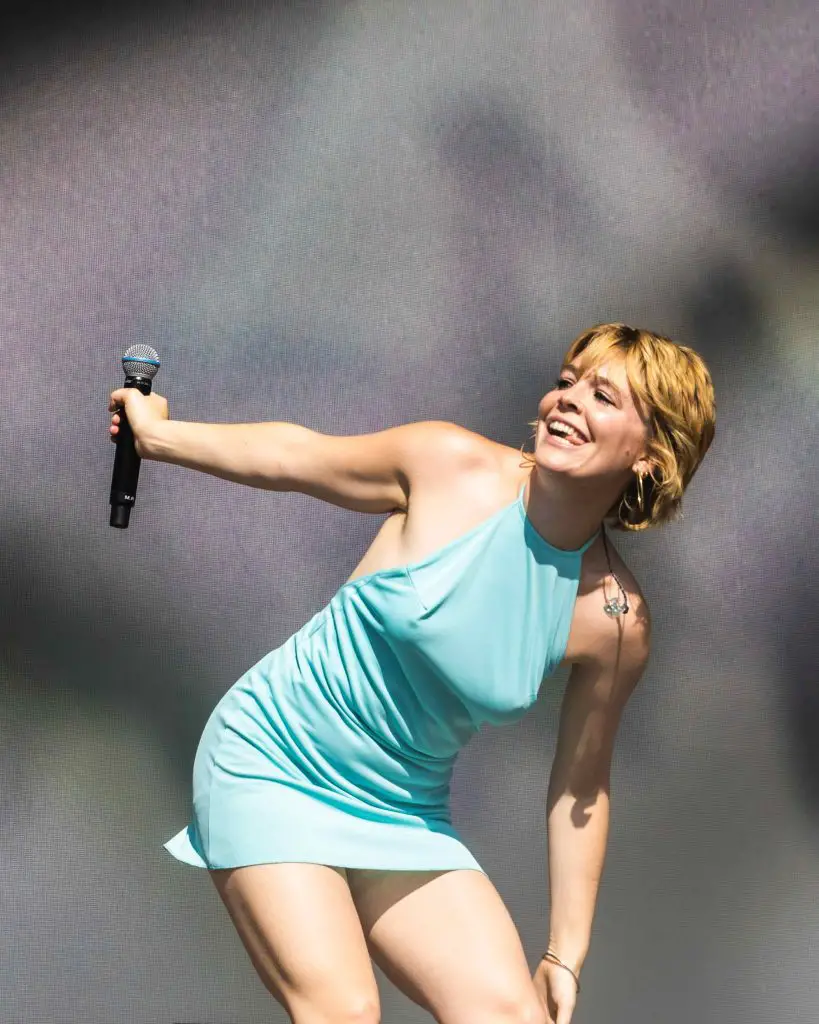 Last year, Maggie Rogers released her second album, 'Surrender', which she'd made not far from Worthy Farm, in Bath. "One day in the studio, we packed up our stuff and came to Glastonbury for some inspiration," she tells the Other Stage crowd today. Rogers' return to Somerset is just as triumphant as that record, with the indie-pop star full of energy and flawless vocals. 'Shatter' takes on new life as a sunnier – but still urgent – call, while 'Alaska' is given a dancier, fuller reworking for the festival stage. A gorgeous 'Retrograde', meanwhile, is punctuated by a flyover from the Red Arrows – an event that draws big cheers from the crowd, but not ones that can rival the love Rogers receives as she prepares to leave the stage. Rhian Daly.
Lizzo
Thank you @glastonbury 💖 pic.twitter.com/JkghZJg8bJ

— FOLLOW @YITTY (@lizzo) June 24, 2023
We're calling today Galstonbury – the ladies are out in force and everyone has flocked to the Pyramid for some feelgood sunset energy from Lizzo. Channelling Ariel with green streaks in her hair, her headline-worthy set boasts three outfit changes (pink latex into a pink boiler suit suggests someone didn't check the weather) and is peppered with empowering affirmations about loving yourself and your body. We have to wait until near the end of the set for a glimpse at Sasha Flute but to everyone's surprise, when Lizzo does pop her out, it's to cover Coldplay's 'Yellow'. Chris Martin is truly, omnipresent. As she closes the set with a stonking trifecta of 'Good As Hell', 'Juice' and 'About Damn Time', she looks out over one of the biggest crowds of the weekend and recalls her first Glastonbury performance back in 2018 where she played "in one of those big ass tents, nobody in there, me and [her DJ] Sophia Eris playing, and now I'm playing in front of you all – I'm so moved." For anyone feeling the Saturday afternoon flag, this set is undeniably the pick-me-up you needed. Charlotte Gunn
Rina Sawayama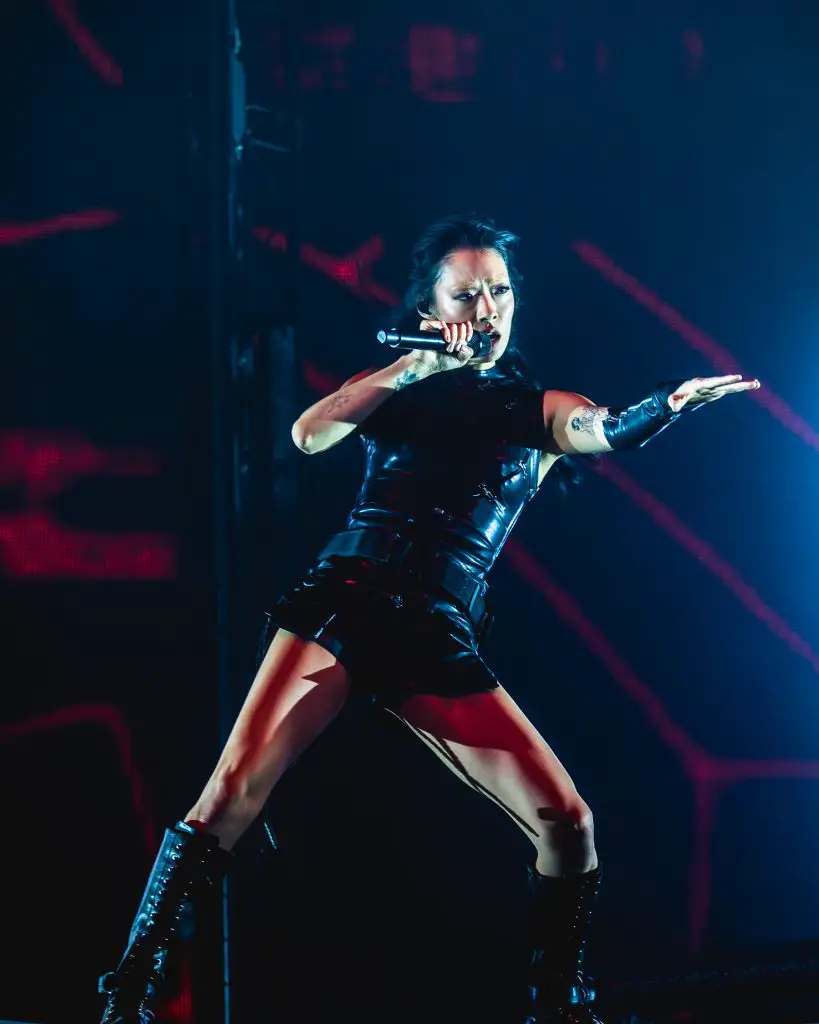 Rina Sawayama isn't headlining Woodsies but, with the show she brings to the stage, she could be – or somewhere even bigger. It's an arena-sized performance from a soon-to-be iconoclast, complete with belting vocals, dramatic staging, outfit changes and poised choreography. 'Hold The Girl' is an arresting opener, while 'Akasaka Sad' ups the ferocity, Sawayama staring down the crowd as a red road map of Tokyo voyages across the screen behind her. If there was any doubt that this is a star who is in complete control – and there wasn't – 'STFU!' puts them to bed. Beforehand, the artist takes a moment to dedicate it to "a white man who watches 'Ghetto Gaggers', mocks Asian people on podcasts [and] owns my masters", aka The 1975's Matty Healy. It's fearless, electrifying and powerful, just like the rest of Sawayama's set. Rhian Daly.
Lana Del Rey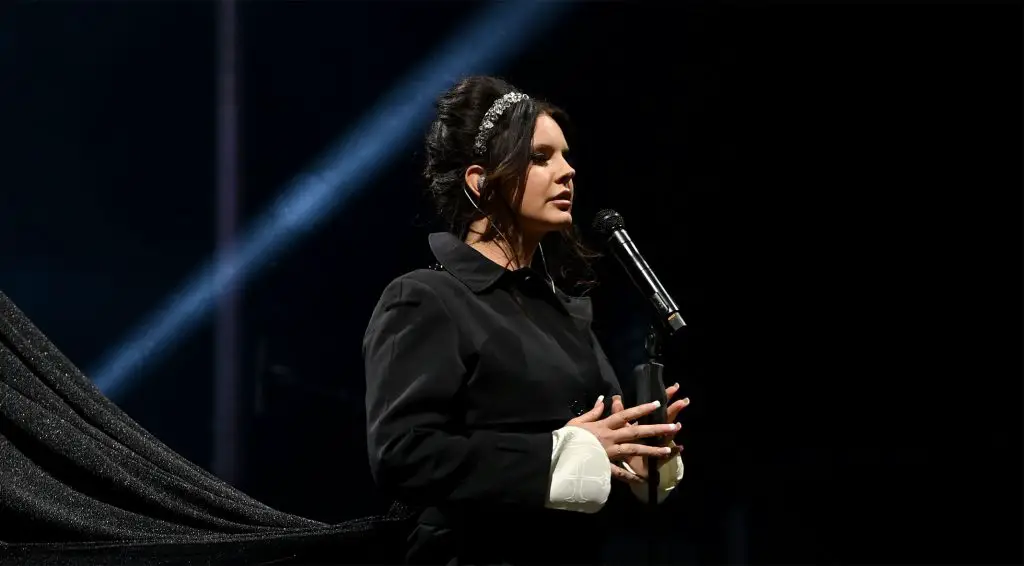 Lana's headline was set to be one of the highlights of the weekend – until it is abruptly cut short by the festival before she gets to play 'Venice Bitch', 'Summertime Sadness' or 'Video Games'. Read our full review of Lana Del Rey at Glastonbury. CG.
As we plan our nighttime activities and grumble about the Lana fiasco, a slightly glum Matty Healy is spotted trudging around backstage. Perhaps news has reached him of Rina's on-stage diss? The Last Dinner Party's Abigail is spotted by the loos bellowing that misogyny is the reason behind Lana's abrupt ending. She has a point – would they have cut Axl Rose off, mid-squawk?
SUNDAY
We're still here guys, still here. It's another scorcher and as we arrive on site we spot Glasto fashion icon Sienna Miller in the interstage area. Rumour has it, the best Spiderman, Andrew Garfield is also roaming around somewhere. We get our fourth Worthy Farm toastie of the weekend (cheese and mushy peas, a revelation) and head over to…
Nova Twins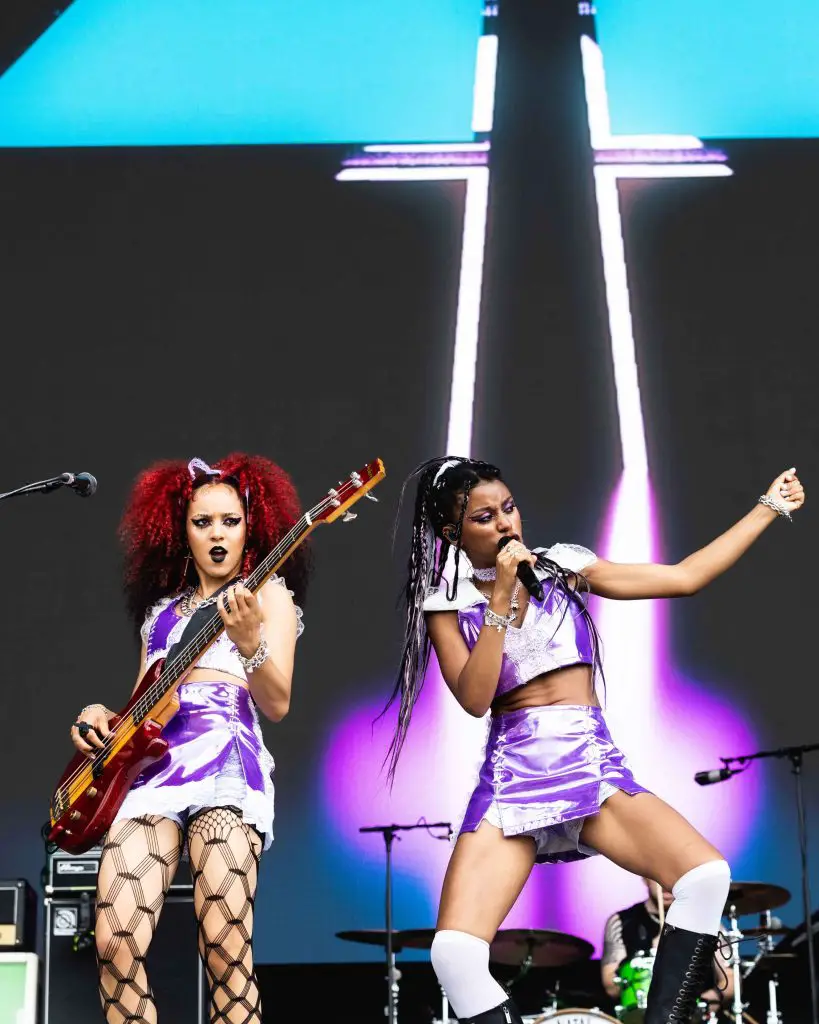 Moshpits aren't a hugely common sighting at Glastonbury but Nova Twins bring them in droves for their Other Stage set today. The London duo wake up the crowd on the final day of the festival with riffs, raw vocals and questions that make you reckon with your self-esteem. "Do we have any boss bitches here tonight?" singer and guitarist Amy Love asks after the blistering opener 'Fire & Ice', while later she dedicates 'K.M.B.' to all those who are feeling themselves. That might feel difficult when you feel like the layer of festival grime you've acquired over the weekend might be permanently a part of you now, but Nova Twins make you feel a little bit closer to achieving it, at least. Rhian Daly.
The Big Moon
It's over to Woodsies for a lunchtime set from everyone's favourite girl gang, The Big Moon. The tent is packed and the band look a little overwhelmed. Frontwoman Jules appears in a giant yellow feathery outfit (it's giving Big Bird on a night out) but ditches it after a few songs because it's still hotter than the sun. The band sound incredible. We've always loved the visible bond between them but when Sophie, Jules and Celia sing an acapella version of 'Formidable' it gives our burnt-to-a-crisp skin chills. Throughout, the indie pop of their early days is perfectly offset with the weightier songs from their most recent record 'Here Is Everything'. Something tells me they'll be back. CG.
Cat Burns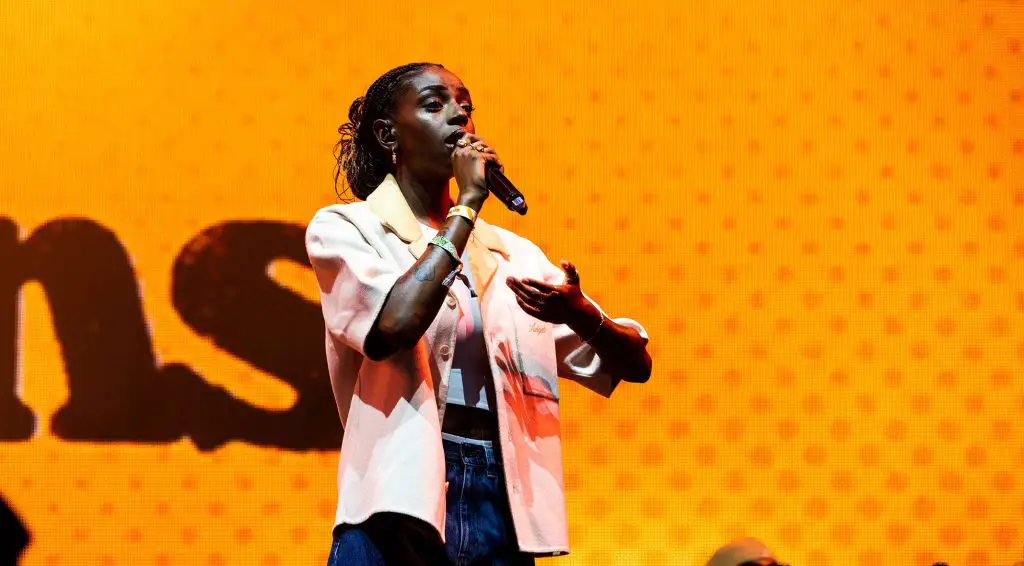 While Cat Stevens is fulfilling the legends slot on the Pyramid Stage, another Cat is drawing a huge crowd in the Woodsies tent – Cat Burns. There, she treats the crowd to a wholesome set of heartfelt songs that encompass everything from friendship break-ups and dealing with anxiety, while also delving into covers territory with snippets of Ed Sheeran's 'A Team' and Justin Bieber's 'Love Yourself'. 'People Pleaser' proves to be just that, whipping up the crowd into an enthusiastic response, while closing song 'Go' brings things to a close triumphantly. Rhian Daly.
Weyes Blood
Up at The Park, Weyes Blood has sympathy for everyone's hangovers – "You look sleepy" – she tells the crowd, but her end-of-the world ballads are here to heal – and they do the job, despite the slight soundclash with the Stonebridge bar's seemingly 24/7 techno. With filmmaker Adam Curtis' visuals accompanying 'God Turn Me Into A Flower', it's a mesmeric set that's well worth trekking up the hill for. CG.
Elton John
What makes someone a hero? According to Steven Sanchez, the relative unknown who Elton John calls on to be one of four special guests in what is reportedly his last-ever show, a hero is always kind. And kindness is certainly present tonight. In the love spreading throughout the genuinely humongous crowd sprawling out from the Pyramid Stage for this momentous moment and from its star, the 76 year-old-man in a head-to-toe gold lamé who is here to put on a show for the books, with a little help from some new pals. Elton could have taken this moment just for himself – he's more than earned it – but instead throughout an utterly captivating rollercoaster of wall-to-wall career hits (much more so than on his Yellow Brick Road tour set), Elton waves farewell to the limelight by shining a light on those who will come after him – Steven Sanchez (apparently), Rina Sawayama, Brandon Flowers and Gabriels: a much more diverse and eclectic mix than the rumoured Britney-Harry-Dua guest spots that didn't materialise and ones that celebrate what's great about music today. You have to feel for Queens of the Stone Age over on The Other Stage, because it seems like not a person in Glastonbury has chosen to miss this set. As farewells go, it's a pretty special one. CG.
READ MORE: Glastonbury 2024: everything we know so far