It's the Friday after Glastonbury but we're ready to go again and this time it's off to Gloucester to a little festival called Barn on the Farm.
It's our first time here but we've heard good things. The 3500-cap festival has been going for a decade and seems to have a knack for both booking the next big thing before they pop off (Lewis Capaldi, Holly Humberstone) and also showing them such a nice time, they come back again and again.
A quick hop and a skip on the train from Paddington and a 10 min cab, we arrive at Over Farm and are greeted by…. ostriches. Loads of 'em! Just strutting around like the majestic and terrifying creatures they are, looking psyched for a weekend watching indie music's finest up-and-comers.
The festival is technically four days long and we've devastatingly missed last night's secret set by total legend (and fan of the festival – really – people seem to love it here) Mahalia. We get settled just in time to watch Dolores Forever on the Outdoor Stage (one of three stages on site). We've said it once and we'll say it again, these gals are gonna be huge. They were both songwriters before forming the band and their utterly infectious indie pop is quite honestly, just a really good time. "That's the last heartbreak song of the set, now we're into existential crisis… but make it party," says Julia Fabrin on stage. Dread at the disco is very much our vibe – it's like she's tapped into our psyche.
A lady is hula-hooping gently next to us. We're feeling good despite some slightly ominous clouds looming overhead.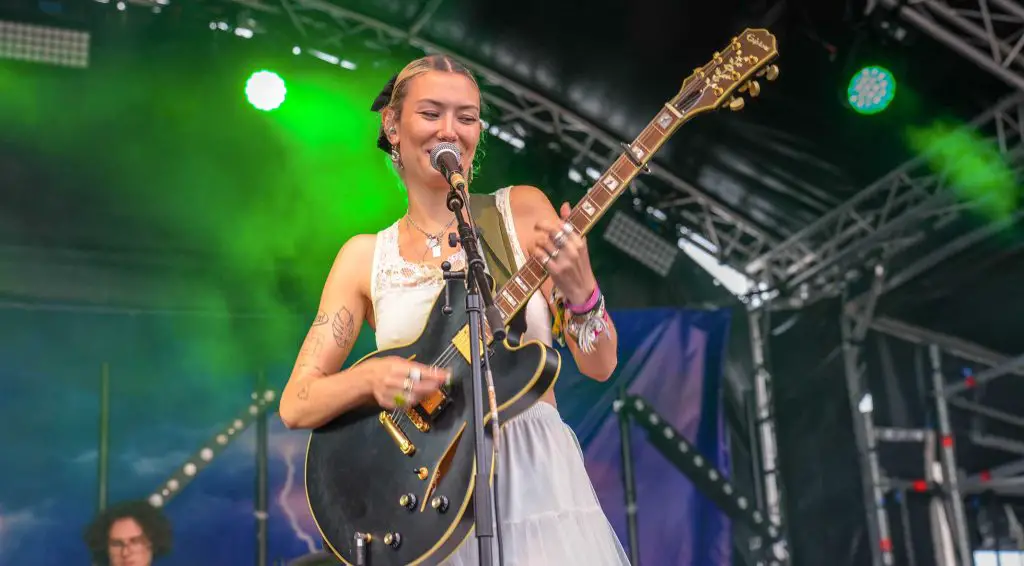 Teenage girls start to gather for Nieve Ella's afternoon slot and proceed to singalong to every word. "It's a dream come true to play this festival," Nieve says when mid-way through her set. "I'm gonna come back here every year!" It's drizzling but nobody seems to care. There's definitely something in the water…
It's over to The Main Stage for Tommy Lefroy – one of our Future Five (aka hot tips) for 2023. The duo formed after discovering a mutual love of boygenius and they're definitely channeling a similar energy this afternoon. A gaggle of people at the barrier are going absolutely bananas, particularly for their hits 'Trashfire' and 'Dog Eat Dog' and a cover of Lana Del Rey's 'Norman Fucking Rockwell'. The duo look chuffed to be here and when we bump into them backstage, they tell us it's also not their first Barn. We're feeling like the new kids at school.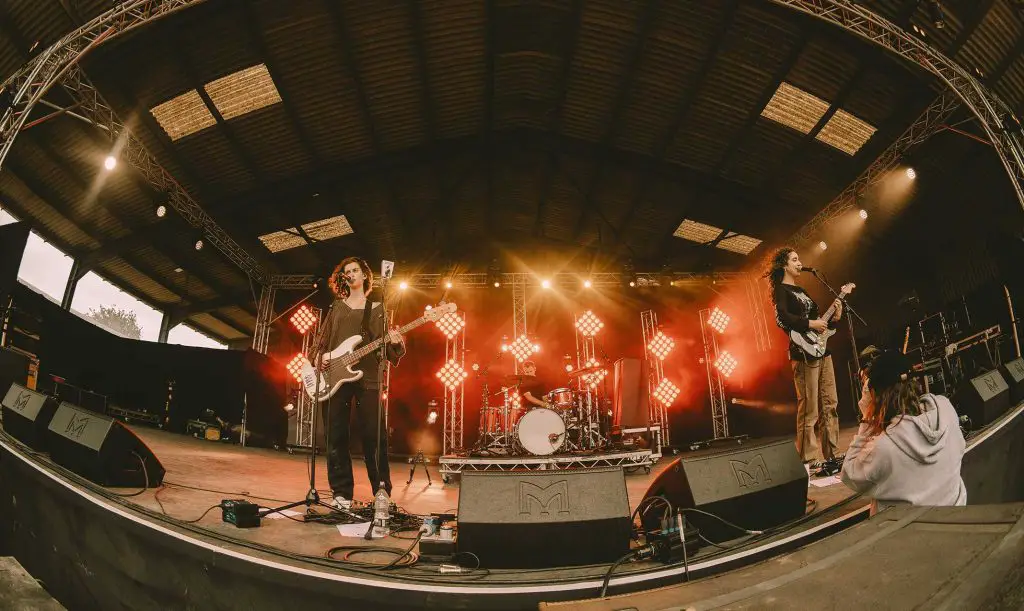 Lewis Capaldi's music echoes around the backstage area but it's not the Scottish troubadour, it's [Phil] Plested, aka the guy who wrote 'Forget Me' with Capaldi along with loads more of your favourite pop hits. We arrive to catch the end of a duet with Gracey before he busts into cover of David Guetta and Bebe Rexha's 'Blue'. Oh wait, he also wrote that one too.
Cam Aspen is billed to be next up on the Main Stage but rumours are swirling that it could be a pseudonym. Low and behold, up pops Sam Ryder looking like Joseph and his Technicolour Dreamcoat, instantly injecting a huge ray of sunshine to everyone's day. "The worry with a fake name is that you won't figure it out and nobody will come," he tells the crowd. "But my worry is that you will figure it out, and still won't come!", he says modestly. Fears allayed, his back-to-back covers of Taylor Swift's 'We Are Never Getting Back Together' and Paramore's 'Misery Business' are like a rocket up our backsides and we're waving our arms in the air and echoing his Freddie Mercury-esque 'Ehhh-Oh' chants with the best of them.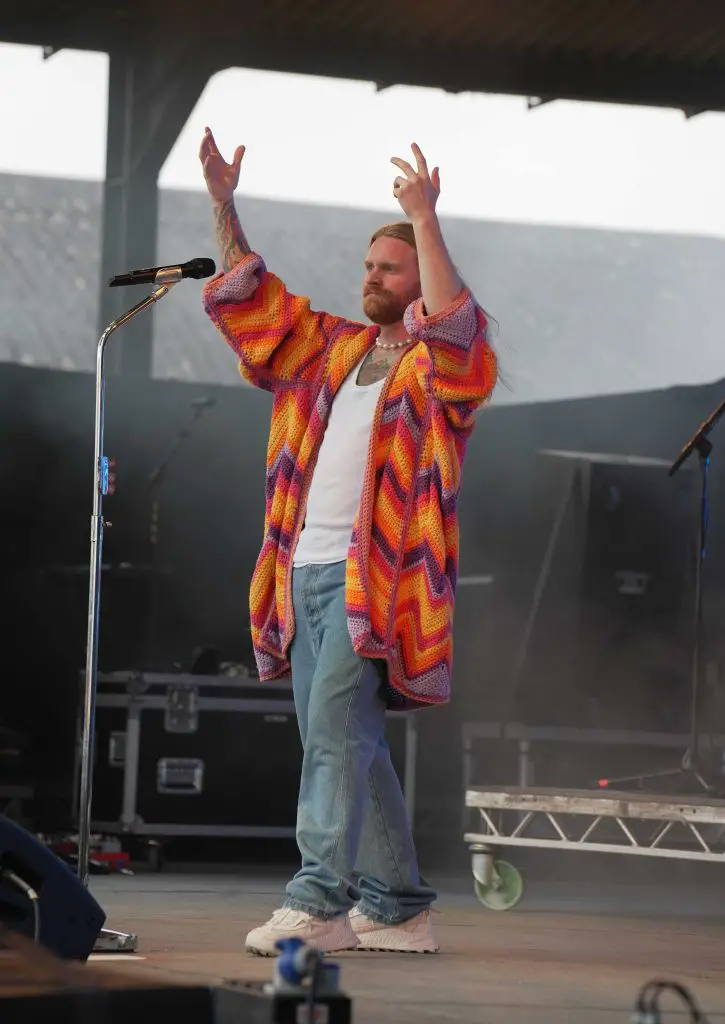 Dylan is ushering in the evening before headliners Gang of Youths finish off the night. "I consider myself a Rock God" she tells the crowd, before thrashing about on her guitar during hits 'Girl Of Your Dreams' and 'No Romeo'. She closes things off with a Harry Styles cover which literally, never fails to get everyone going.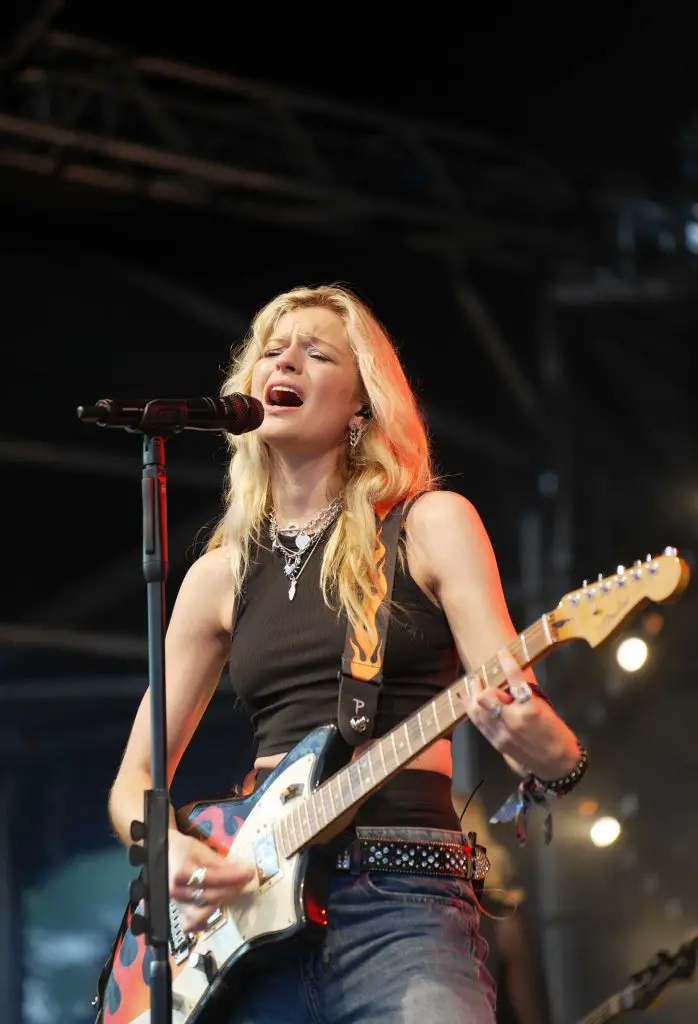 Now, we're off to see what happens after dark at Barn on the Farm. We wouldn't be surprised if it's just loads of people talking about how much they love Barn on the Farm. But d'you know what, we might just join in.
It turns out, what happens after dark at Barn on the Farm is that the entire festival wants a piece of whatever is happening inside the Wooden Barn Stage. Tonight it's Jack Garratt, in a sequined onesie, playing tunes in half-hour slots (then you get turfed out and the next group of late-night funsters are ushered in). He is quite the showman! The last time we saw him play, it was possibly 2015 and he's definitely had a rebrand since then. We are so mesmerised by his DJ booth antics, we forget to dance, and then the Countdown Clock starts to tick and we've missed our chance – our 30 minutes is up. Jack urges us all to join the back of the queue for another half-hour of fun but we decide it's time for bed.
Saturday
There are pretty good food options at Barn on the Farm. We opt for a veggie breakfast which has all the necessary components: crispy hash browns, slab of halloumi. It perks us up and after a little wander about on the hunt for an alpaca we thought we saw on the way in (still unconfirmed), we head over to Rachel Chinouriri's lunchtime set on the Main Stage. We love how she tells a little story before playing each song. Her voice is a soothing tonic and indie-banger 'Ribs' gets everyone singing along.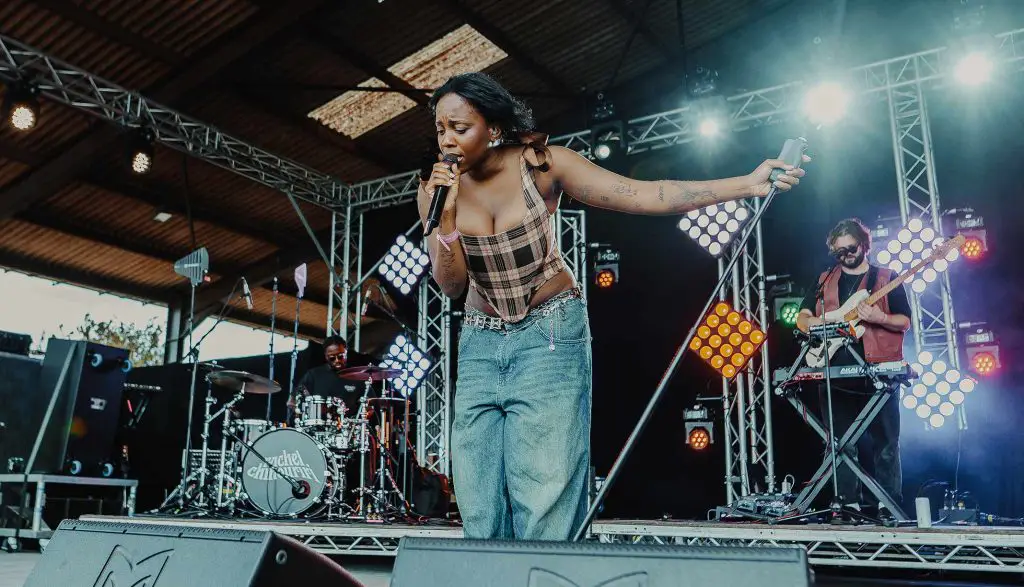 Flowerovlove brings her woozy, summery pop to the Outdoor Stage in the mid-afternoon. The TikTok star was also one of our Future Five for 2023 and we're pleased to say we backed a winner.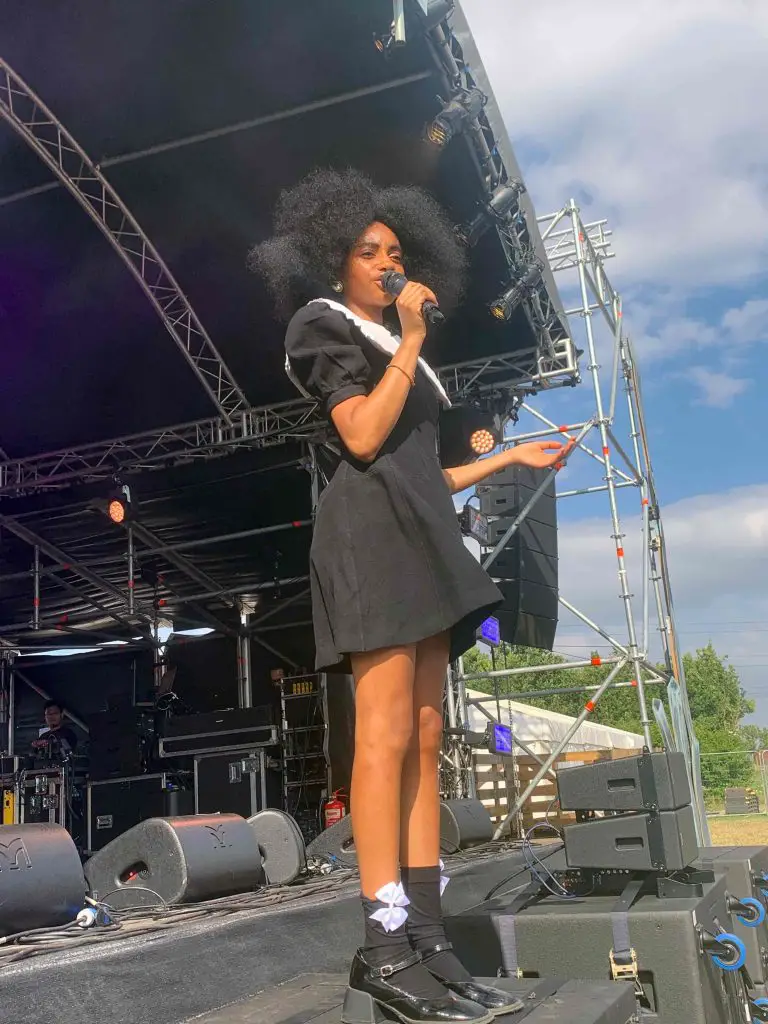 It's our first time seeing Caity Baser live – which is mad, considering how many of her TikToks we've watched. This woman is a born performer. The crowd are loving her on-stage schtick which mostly consists of her telling stories about rubbish boys she's dated and being regretful that she hasn't done more cardio – her songs have a whole lotta lyrics and she runs about the stage to belt them out. "If you've got a problem or an issue right now, just scream! It's free therapy!" she instructs the crowd, who happily oblige. Considering she's already got about eight unbelievably catchy songs, it seems unlikely she'll be on stages this small for long.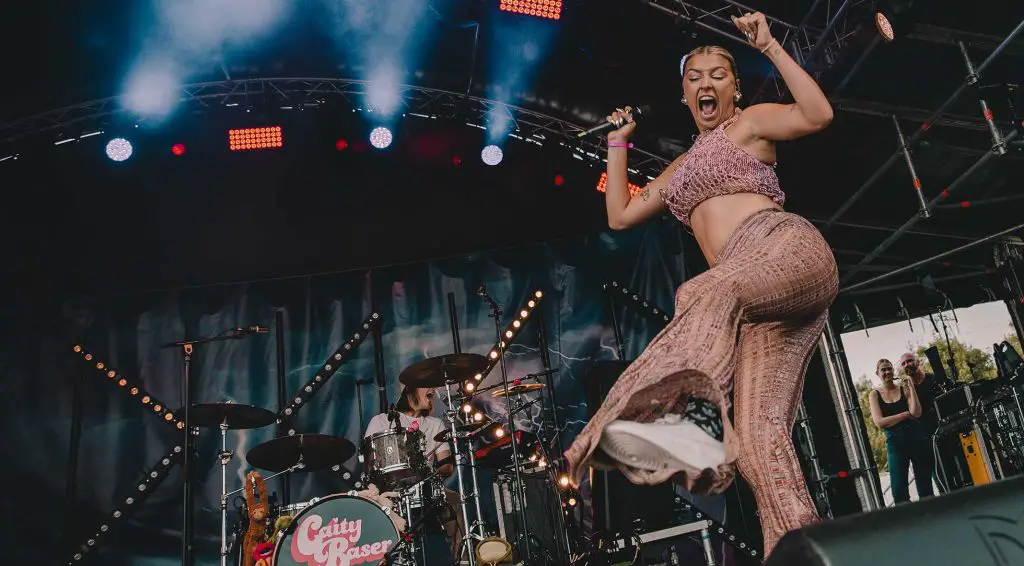 We bother Caity to record a little song for us after her set. It turns out rather well.
The Big Moon deliver a dreamy early-evening set on the Main Stage, opening with 'Wide Eyes' from their most recent album, 'Here Is Everything', the quartet never fail to make us smile. A week ago they were playing to a packed-out Glastonbury Woodsies tent but they seem genuinely delighted to be at Barn. "This is such a nice festival," says frontwoman Jules Jackson. "Thank you Barn for having us on your farm." Their mid-set a cappella version of 'Formidable' makes us a bit weepy but if you don't cry at some point during a three-day festival, are you even human?
Another first for us is seeing Olivia Dean and it's quite possibly, the set of the weekend. The North Londoner has just released her debut album 'Messy', but her set is anything but. Moving with the grace of a 40s lounge singer in a pink satin gown, Olivia Dean's rich, soulful vocals have the whole field moving. A cover of Kelis' 'Millionaire' keep the vibes high and a special moment is when she dedicates track 'Carmen' to her granny. "I wouldn't be standing here if it wasn't for the fact that she got on a plane at age 18 and came here, and had my mum. This song is dedicated to her and the Windrush generation." We've said this a lot – but Dean really is an extraordinary talent and you'll be seeing her on much bigger stages before too long.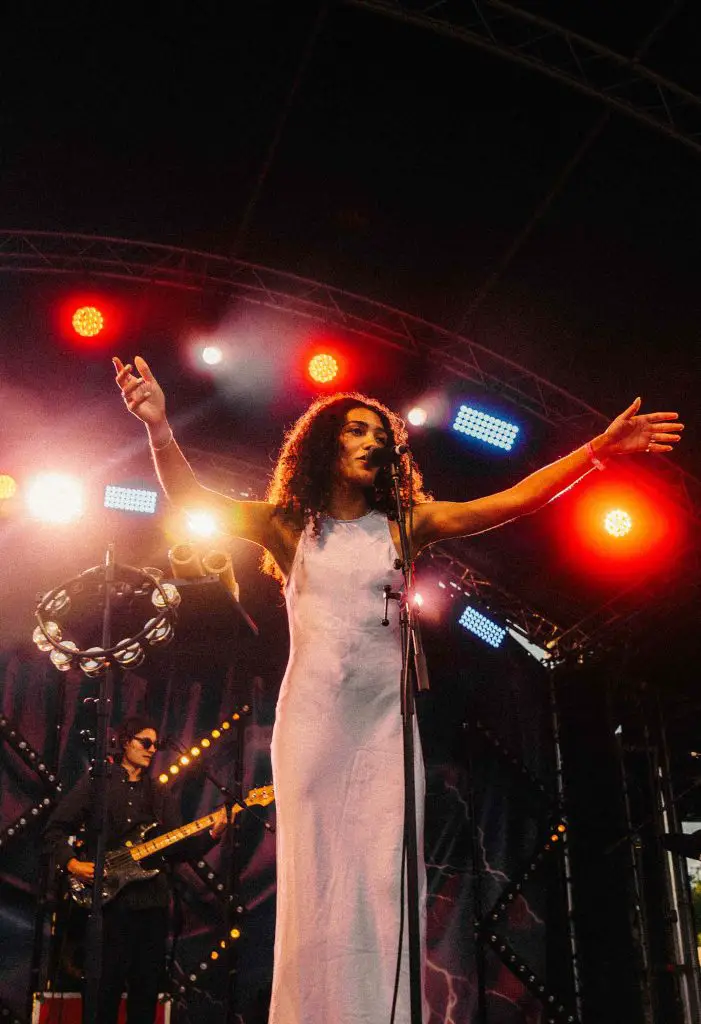 The site is abuzz for the arrival of Jack Antonoff. The backstage area is locked down as the Bleachers frontman and superproducer touches down on the farm. His fiancé the actor Margaret Qualley is spotted milling about. It's Bleachers' first UK festival headline set – were they expecting ostriches?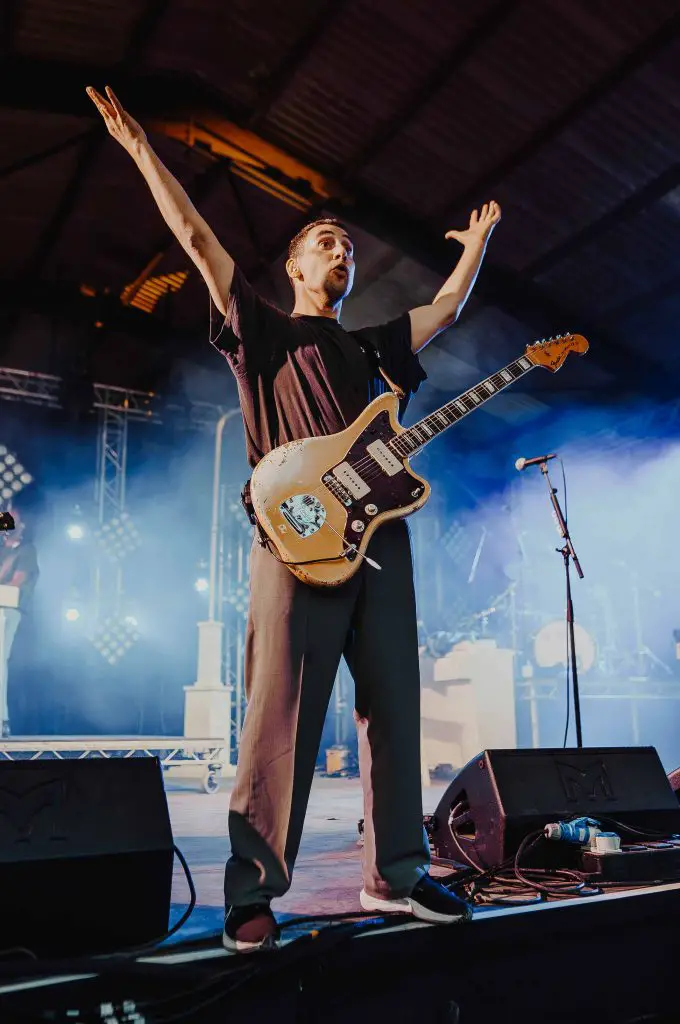 "We're Bleachers and we're from New Jersey" says Antonoff as he takes to the stage, which is about the extent of the banter we get during the first half of the set outside of "Barn!" and "Farm!" We spot his dad, having a lovely time on acoustic guitar for opening track, 'Dream Of Mickey Mantle.' Jack seems… jittery. We can't work out if it's a bit or he's off his head. Either way, it doesn't affect the tunes. In many ways, Bleachers are the perfect festival band, the broad appeal of their rousing Springsteen-esque pop suits the all-ages Barn crowd. We are partial to the odd parp on a sax and this set has plenty of those. In front of us, a dad in a Bleachers hoodie has put his young son in a Jack Antonoff mask and is parading him from his shoulders, trying to get his hero's attention. When Jack spots the boy, he looks terrified and quickly scarpers to the other side of the stage. As the band blast through hits from Bleachers' three albums, there isn't a lull. People get up on shoulders, Jack shouts about Barn being better than Glastonbury and for the set closer 'Stop Making This Hurt', huge inflatable tomatoes – New Jersey's state symbol and Bleachers' unofficial mascot (can a fruit be a mascot?) – are unleashed, bouncing across the crowd. "Merry Christmas Barn. Happy New Year" Antonoff yells before heading off into the night. One for the books.
SUNDAY
We are woken by the sound of Holly Humberstone sound-checking somewhere on-site. Tonight, the Brits Rising Star winner (2022) will headline her first-ever festival and everyone is rather excited.
Sunday is a day of collaboration at Barn. We head over to the Outdoor Stage to catch Ber's set. The Minnesota artist reminds us a bit of Snail Mail, her track 'Boys Who Kiss You In Their Car' is a bonafide grunge-pop bop. "It's always the boys with the beanies" she sings to an enthusiastic crowd. She's right about that.
It's not the last we see of Ber today. The afternoon boasts a Barn tradition – the Barn Band on the Main Stage. This year, the collective is made up of the lads from FLYTE, Billie Marten and Ber. They adopt a sorta writer's circle setup, taking it in turns to play their own songs. It's quite a lovely half hour and then up pops special guest, Sigrid, to sing a gorgeous version of Neil Young's 'Old Man' which then reverberates around our head for the rest of the day.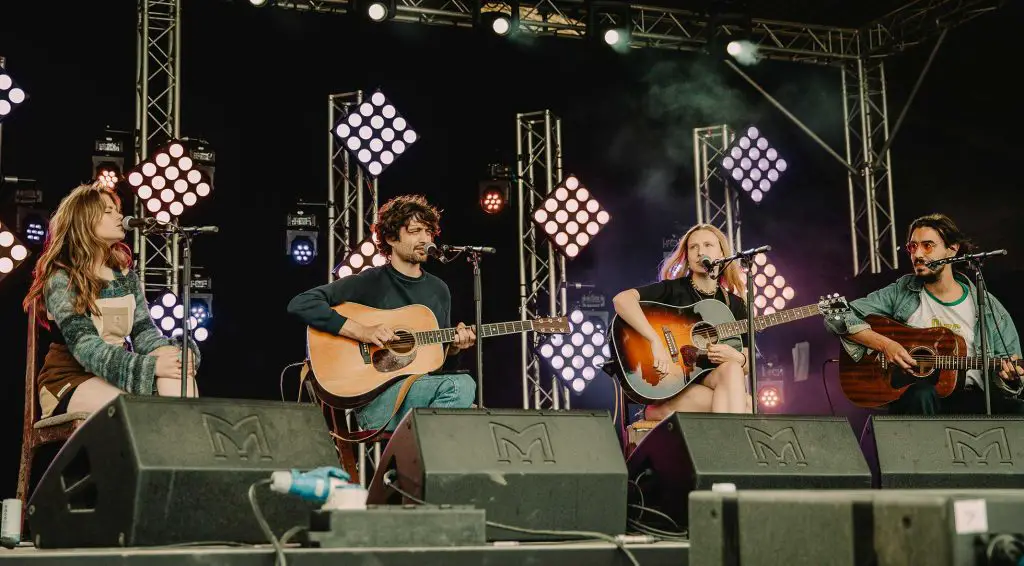 Fizz know all about collaboration, too. The newly-formed band are a supergroup made up of musicians Orla Gartland, Dodie, Greta Isaac and Martin Luke Brown. They bring some serious CBeebies energy to the Main Stage. There's a bubble machine, a hand puppet, lots of wild makeup and multi-coloured garb. They take a bow at the end of the set as if they've just finished their school panto. Reports are, Fizz was born of a desire to make music fun again and distract themselves from the often-depressing nature of modern life. It doesn't seem like writing about your feelings has been working for everyone to date so maybe dressing like a Tweenie has legs?
We spend much of the afternoon with Katie Gregson McLeod and her pal, Ber (Ber is friends with everyone) recording something special that will be dropping on The Forty-Five pretty soon. Katie's set is weighty with emotion but in the flesh she's incredibly chipper! There's definitely a theme of heartbroken girlies at Barn this year which we're all for (the songs, not the heartbreak. Hurt these angels and we'll come for you).
Mid-afternoon, Sigrid pops up again for a stripped-back set in the Over Barn, which is overflowing into the courtyard outside. "This is how I write the songs, on piano, so thank you for listening to them like this with me", she tells us. Considering she is a supermassive popstar, she has an incredibly-endearing awkwardness about her. She announces she's been in the studio, presumably working on album number three, which is big, exciting news, and finishes with a gorgeous version of 'Strangers', at the crowd's request.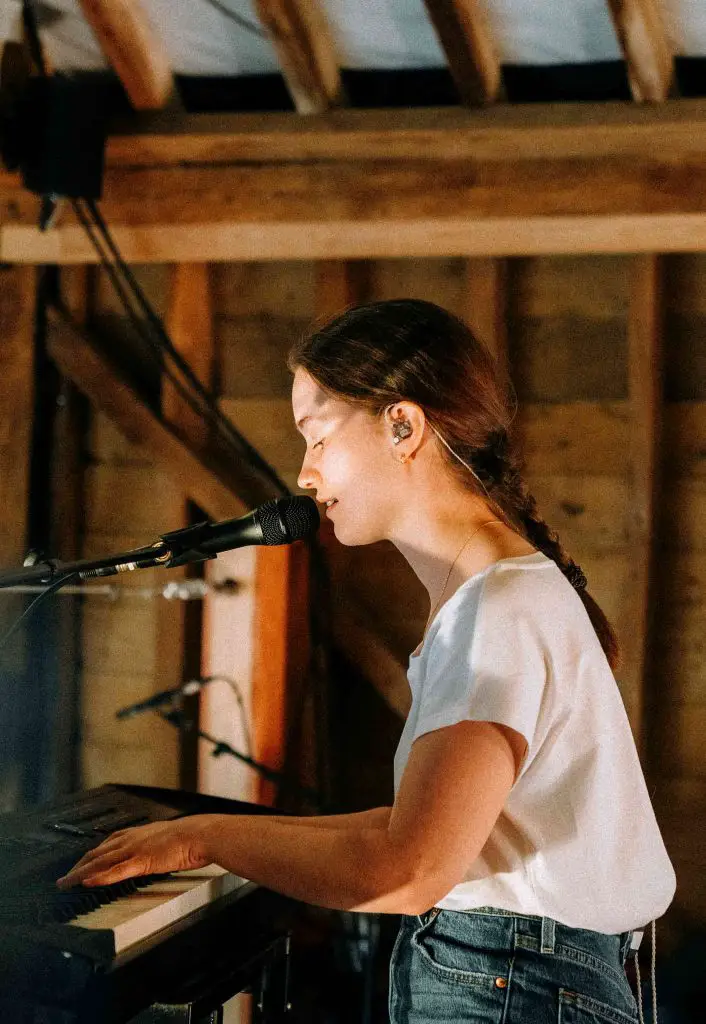 Wunderhorse liven things up over on the Outdoor Stage in the early evening. They're fresh from a tour with Fontaines DC and bring riffs! And choruses! Exactly what we need to spur us on at this point. As lovely as everything has been today, it's been very mellow and we are very sleepy.
On the way to Holly's set, we steal a cig off a boy who performed at the festival (on Thursday – so we missed it). His name is Oliver Pinder. He was very obliging with his (or his friend's) tobacco so you should listen to his music.
Holly Humberstone's manager also organises Barn on the Farm. You may think this is why she got the booking, but the truth is, she's more than ready for it. Opening with 'The Walls Are Way Too Thin', Holly demonstrates her incredible knack for songwriting over a set that contains far too many good songs for someone who has only just announced their debut album. We last saw the Grantham-born musician perform at Coachella in 2022. The leaps she's made since then – not only as a songwriter but as a performer – are huge. We can't wait to see what her first LP has to offer.
As Holly's set draws to a close, we realise there's one part of Barn that we're yet to explore: a little woodshed called Grandma's House which plays some sort of vibey music from within its walls. A shirtless, slightly spangled, Bristolian man with a gold tooth and a plastic flamingo tells us very politely that Grandma's House is a bit full and we'll have to come back later. Our videographer sneaks in, to capture the mayhem but Tent Bed is beckoning and we decide to call it a night.
Thank you Barn, for having us on your Farm. It's a very nice farm and we'd like to Barn again.