Cast your mind back to this time last year. We were easing our way out of the first (of many) lockdowns and 'tinnies in the park' replaced what was set to be an incredible summer of music. As 2020 progressed, the live music industry plunged into an ever-increasing depression and, even at the dawn of 2021, despite the vaccine rollout, there seemed to be no glimmer of hope. 
Imagine the dreamlike state that revellers found themselves in when they arrived at the hallowed grounds of Donington Park for Download Festival 2021. Operating at a tenth of its normal capacity, Download Pilot was organised for the second phase of the Events Research Programme – the first being the Sefton Park Pilot which featured performances by Zuzu, Blossoms and The Lathums – as research into the future of live music and events. The festival followed the same rigorous rules on testing as the BRIT Awards and two club nights in Liverpool, and whilst there were only 15 reported cases out of 58,000 attendees from all of the trials combined, it still seemed as though being allowed to camp in a field with no masks or social distancing rules in place – and especially to be able to mosh for the first time in almost 18 months – was too good to be true. The fact that there were no stage clashes over the weekend simply felt as though someone had to be pulling your leg.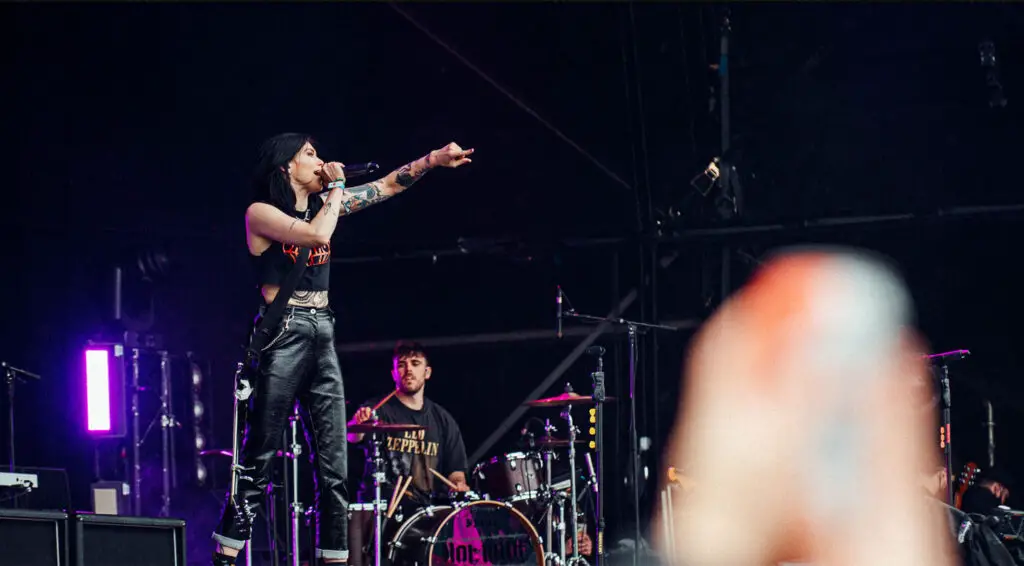 Despite an all-encompassing sense of peculiarity at the situation, festival-goers revelled in the fact that they were a part of history, and this also extended to all of the artists involved. Throughout the weekend there are impassioned speeches of humility and bewilderment at Festival Republic's ability to put on such a monumental event in just six weeks. As Henry Cox, frontman of Boston Manor puts it: "This is nothing short of a miracle and testament to British talent". 
If the global pandemic wasn't bad enough, having to acquire visas has also put a strain on the touring industry. Download Pilot subsequently put its focus on UK artists and, for the first time in its history of almost two decades, the lineup showed some diversity in acts – though notably the hero slots still went to white men. Over the course of three days, 10,000 rock and metal fans were introduced to the likes of Wargasm and Saint Agnes, who both made their Download Festival debuts, and were given the opportunity to see old favourites such as Bullet For My Valentine and Enter Shikari. 
---
---
The common ground for the weekend was its ability to instil a sense of community and real human connection to a world that has been highly digitised. "What's the point of any of this without the feeling of being a part of something? Those moments are everything, full stop," Han Mee, vocalist of Mancunian emo-pop band Hot Milk tells The Forty-Five. It's a sentiment that is also shared by newcomer Cassyette: "Everyone has been so pent up for so long and it has been a very emotional and euphoric experience for everyone to be together and be able to be human again."
There were, of course, high expectations when the lineup was announced just weeks before the event, and whilst Bullet For My Valentine's headline set on Sunday was met with hot anticipation, it fell slightly flat as the band were unable to keep up their momentum. Sleep Token, whose moody, intoxicating electronics which allow Vessel's silken and warbled vocals to take centre stage amongst a backdrop of angular guitar riffs was perfectly timed at dusk on the second stage, but as the warm-up act to Frank Carter & The Rattlesnakes on the first day of the festival, there was less of a spark than you would've hoped for.
In fact, some of the most talked-about sets of the weekend were by the non-male acts who played in the afternoon slots. "Where are all of the women in rock?" people have asked for years. They've always been here, and if you crawled out of your tent early enough at Download Pilot, you would've been able to see them in the flesh. From Hot Milk's blistering set which opened the mainstage on Friday, and Vuvoki's Sunday afternoon assault which arguably harnesses the liveliest pits of the weekend, to the release of sheer carnage that Employed To Serve's delivered onto a still-sleepy crowd, if energy is what festival-goers were looking for over the weekend, then it was more than delivered by acts that typically wouldn't have been welcomed onto the Download bill in previous years.
By making a shift towards the return of real-world interactions, we've come to have a more tangible grasp on change. It's easy to sit behind a computer screen and look at numbers or unverified accounts on the ins and outs of the world, but when you're watching events unfold in real-time, it's much easier to feel their importance. Download Pilot was quite simply dominated by badass women, and most of them were on the main stage. Back in 2019 there was a wide debate surrounding inclusivity on festival lineups. Change has been too slow to come across the board but with a nu-metal and pop-punk revival being dominated by women, people of the LGBTQI+ communities and people of colour, Download finally acknowledged their place.
"[Radio 1 DJ, Jack Saunders] said what is crazy is that Download has never been this diverse and it makes sense because this is where music is going anyway," Cassyette tells us. "People are tearing up the rule books left, right and centre – there should be no boundaries." Cassyette has accepted that there will always be gatekeepers, and whilst she is aware that her Nightwish-meets-Christina-Aguilera-and-Arch-Enemy sound isn't for everyone, "I can tell you right now that I saw the old metal dads standing at the back of my gig nodding along," she laughs, knowing that we're in a state of tipping the balance.
Saint Agnes' Kitty A Austen has often felt like she's in an echo chamber as a musician who has come up from the underground scene, but feels as though change is already underfoot. "It's crazy because women dominate the charts but then you look at festival lineups and think why aren't they being booked? It needs to be the big bookers that make the change because in the underground scene you can shout your head off, but nobody is listening," she says. "You have a certain amount of power but not enough to put on an entire festival. Something like this; it sold out immediately. It just shows that people are interested and people will come."
---
---
Between the visceral death metal of Conjurer, the emotive emo of Holding Absence, and the ragga metal of Skindred there was enough to be excited about and a plethora of ticked boxes for the weekend. Despite the 'big dick energy' that could've been a part of a festival which is known for its archaic history, a big topic of conversation surrounding the festival was its diverse lineup. These acts of camaraderie and support are one of Justine Jones from Employed To Serve's favourite things about the UK rock and metal scene at the moment. "Everyone is just championing each other. There's no competition between bands and everyone is so stoked to see each other." With the recent launch of Church Road Records – which she owns with her husband and fellow guitarist Sammy Urwin – she hopes to able to give a bigger platform for women in music. "I think what I love about music is helping new bands grow as I'm a music fan first and foremost," she says.
What is everyone here, if not a music fan? What inspired these musician fans to want to pick up an instrument in the first place? The answer is simple… "How do you expect change? You can't wait around for other people to do it and expect other people to be the things that you want to see," sighs Milkie Way, bassist and vocalist of nu-metal provocateurs WARGASM as she praises the DIY ethos of the On Wednesdays We Wear Black podcast ran by Sophie K, Alyx Holcombe and Yasmine Summan who discuss alternative culture and their experiences with misogyny and racism in the scene. It is an ethos that is wholly rooted in the inception of WARGASM who met at a gig in London. As the duo bounced off each other on Sunday afternoon, Milkie's tantrum-like screams and co-vocalist/guitarist Sam Matlock's guttural punk attitude created a sense of urgency that was unparalleled in its messy perfection. Its message: something has got to give. 
If it wasn't for gigs, this band wouldn't exist. If it wasn't for this pilot event, who knows what the future of live music looks like. "This festival exists because weirdos picked up guitars," Matlock enthuses, and if you look at the faces of the weirdos who are both dominating the charts and creating history by taking part in Download Pilot, it truly feels as though nature is healing; rock is returning to its roots and there is hope that the future is female.
READ MORE: Sun, sea and safe-spaces: how Primavera became a British festivalgoer's favourite