Bonnaroo 2023 is fast approaching. Whether you're a newbie or a veteran, we round up everything you need to know about the four-day Tennessee music festival.
When is Bonnaroo 2023?
Thursday, June 15, to Sunday, June 18. Although Bonnaroo officially starts on Thursday, gates to enter the festival open Wednesday night at 8 pm.
Where does Bonnaroo take place?
Bonnaroo Farm, located just 60 miles southeast of Nashville in Manchester, Tennessee. The closest airport is Nashville.
Why is Bonnaroo called Bonnaroo?
In the Creole slang of New Orleans, bonnaroo means, roughly, "best on the street.". The festival is thought to take its name from the album, 'Destively Bonnaroo' by New Orleans pianist Dr. John.
How big is Bonnaroo?
Bonnaroo holds about 100,000 revellers on a 650 acre farm.
Who will headline Bonnaroo 2023?
Kendrick Lamar, Odesza and Foo Fighters are the big three for Bonaroo 2023. On Thursday, Zeds Dead and Liquid Stranger will co-headline. It will be one of Foo Fighters' first festival headline slots since the tragic passing of their drummer, Taylor Hawkins in 2022.
Who else is going to be at Bonnaroo 2023?
Elsewhere on the lineup, Bonnaroo boasts some big-name bookings. Paramore will play songs from their excellent new album, 'This Is Why'. New Zealand's The Beths will be in town, touring their perfect blend of indie rock and Girl In Red will stop by to get everyone in their feels. See the full lineup below.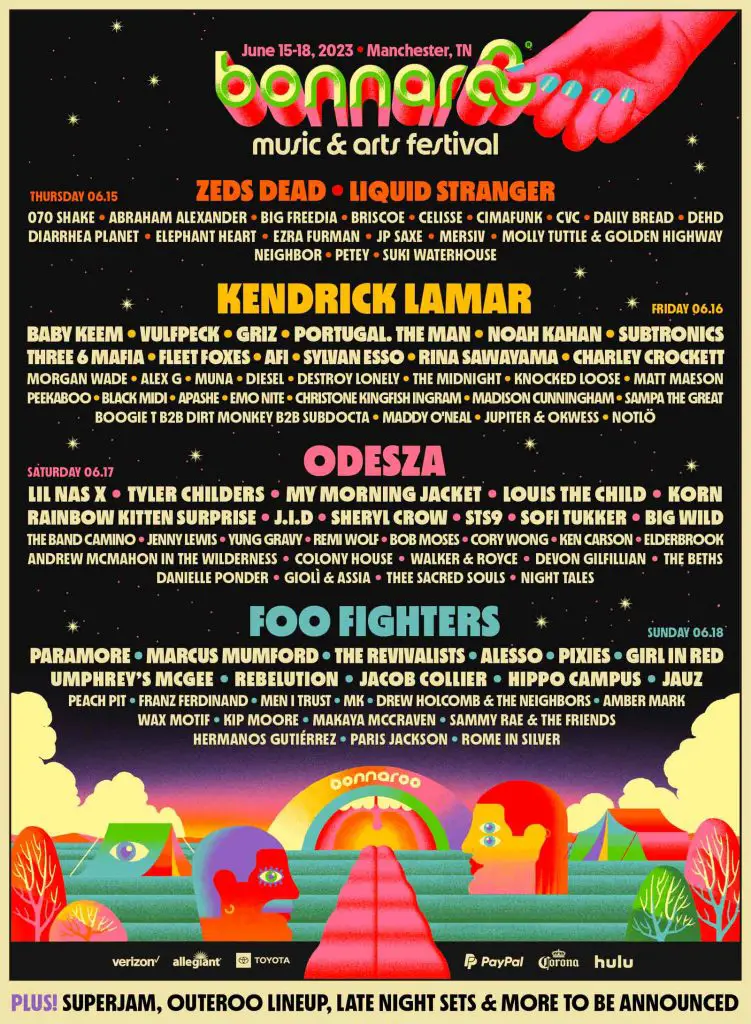 Is Bonnaroo 2023 sold out?
No! You can still bag tickets for Bonnaroo 2023. The festival offers a tiered ticket system, meaning the earlier you buy, the lower the price. At the time of writing, the cheapest available four-day GA pass was $360 ranging up to $3500 for Platinum tickets (which offer free food and drink, golf buggy transport around site and access to special viewing areas amongst other perks).
Is Bonnaroo a camping festival?
Yes. There are lots of ways you can camp at Bonnaroo. You can bring your own tent and pitch it or there are various glamping options available or passes for RVs. This year, camping tickets are sold separately from your Centeroo ticket so make sure you have both if you are planning to camp. Check out the camping options for Bonnaroo 2023.
What is Centeroo?
Centeroo is Bonaroo's main festival area. The party doesn't stop in Centeroo with music being played 24/7 – the dance tents provide the nighttime's entertainment.
What is Outeroo?
Outeroo is the festival's campgrounds – which are a party unto themselves. Each of the camping plazas – such as The Fun House or The Grove – boasts its own lineup and schedule of parties and events.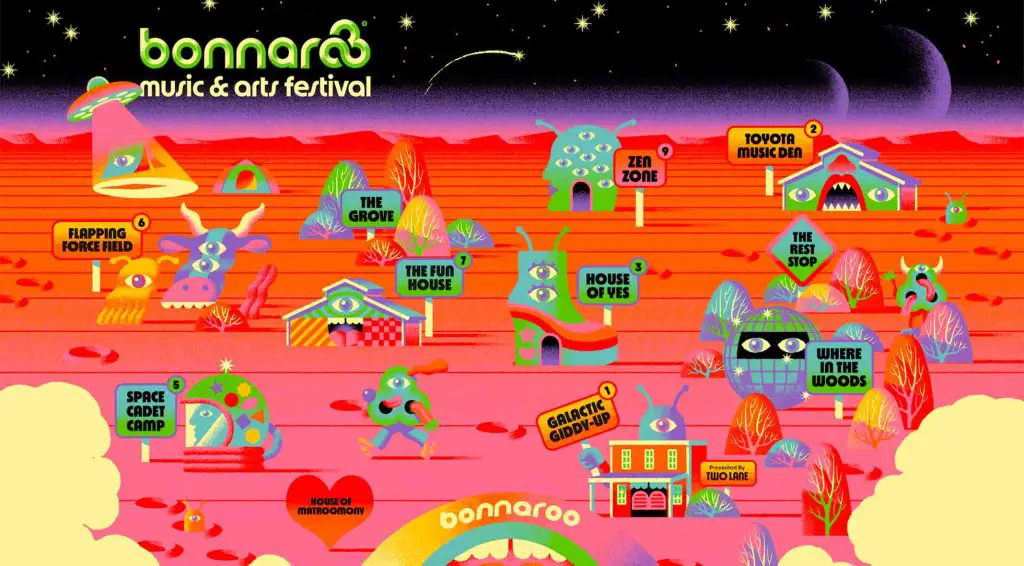 All programming in campground plazas is included with a Centeroo ticket. Activities start in the morning with yoga, art and community, and continue until the wee hours of the morning with some of the best bands and DJs in the world.
Camping at Bonnaroo is hardly "camping" by most definitions of the word – it's an endless adventure of discovery and human connection as well as a key part of the one-of-a-kind Bonnaroo experience. Strategically located and well-lit public places throughout the campgrounds, Bonnaroo's communal areas, known as Plazas, include shade, free public Wi-Fi, showers, activities, charging stations, misting stations, medical, safety stations, information and portable restrooms. 2023's out-of-this-world Campground Plazas lineup features a number of returning favorites along with several all-new experiences and over 80 additional artists not featured on the main festival bill. Headline acts include Alesso (Eclipse), Bob Moses, Zeds Dead, Madison Cunnigham, JP Saxe, Big Freedia, Maya Jane Coles, Ashley Cooke, Hogslop String band, Shiba San.
Bonnaroo 2023 camping plazas schedule
WHERE IN THE WOODS
The "Where In The Woods" stage will feature DJs and surprise sets that rocket into the beyond with cosmic lights and sounds. Headliners include DJ Mel, Maya Jane Coles, Zeds Dead, The Funk Hunters, Shiba San, and Sparkle City Disco.
PLAZA 1: GALACTIC GIDDY UP PRESENTED BY TWO LANE AMERICAN GOLDEN LAGER
Bonnaroo's interplanetary honky tonk offers guests an ice-cold Two Lane beer, late-night karaoke, and live musical performances from the next stars in country music. Headliners include Hogslop String Band, Ashley Cooke, and Myron Elkins.
PLAZA 2: TOYOTA MUSIC DEN
The Toyota Music Den will host intimate performances – at the belly of an otherworldly giant beast by designer Brett Douglas Hunter – from top emerging artists, including paris jackson, JP Saxe, and CVC.
PLAZA 3: HOUSE OF YES
House of Yes, the world-famous nightclub from Brooklyn, returns in 2023 with more rainbow realness and psychedelic sci-fi spectacle than ever before. Highlights will include Dirty Circus shows, Little Cinema immersive movie screenings, signature all-night dance parties, and of course, Bonnaroo's annual Pride Parade (this year featuring Big Freedia and Cimafunk).
PLAZA 5: SPACE CADET CAMP
The Groop plaza will showcase trivia, tournaments, and parties hosted by fellow Roo attendees, along with "Brunchin' at the Barrel," complete with games, tunes, and homestyle brunch bites from Cracker Barrel.
PLAZA 7: THE FUN HOUSE & THE GROVE
A new kaleidoscopic world featuring art by Wade + Leta, creatures by artist Jenny Ollikainen's award-winning Mythic Times, and ambient sounds by dublab.
PLAZA 9: ZEN ZONE
The return of the Zen Zone, a popular new plaza where Bonnaroovians can chill out and recharge.
THE REST STOP
The Rest Stop offers attendees an ideal spot to refuel their mind and body with daily yoga, chats & panels, and a curiosity courtyard experience marketplace.
HOUSE OF MATROOMONY
Bonnaroo's Chapel of Love will daily wedding ceremonies and nightly champagne toasts. Registration info will be announced soon.
Camping Plaza artist lineup
(Alphabetical By Day)
TUESDAY, JUNE 13
DJ Mel
WEDNESDAY, JUNE 14
Briscoe
DJ Mel
Elohim
KENDELL MARVEL'S HONKY TONK EXPERIENCE
Maya Jane Coles
Opiou
TOMI
THURSDAY, JUNE 15
Abby Hamilton
Ashley Cooke
Biicla
Blanke
DJ Mel
Hogslop String Band
Imanu
KENDELL MARVEL'S HONKY TONK EXPERIENCE
Matt Koziol
Myron Elkins
Nolan Taylor
Pride Parade with Big Freedia & Cimafunk, featuring the Human Rights Campaign
Propogation with Celisse
Saka
Sippy
Winona Fighter
Zeds Dead
FRIDAY, JUNE 16
Classixx
CVC
DJ Mel
Harleigh Colt (of Rainbow Kitten Surprise)
Hogslop String Band
JP Saxe
Julianna Riolino
Madison Cunningham
The Funk Hunters
The Midnight (acoustic)
Wyatt Flores
SATURDAY, JUNE 17
Bob Moses (Club Set)
Cecilia Castleman
Devon Gilfillian
GoldFish
Harper O'Neill
JD Clayton
JVNA
Shiba San
paris jackson
The Beths
The Moss
SUNDAY, JUNE 18
Alesso (Eclipse)
Friko
Meg McRee
Red Clay Strays
Sparkle City Disco
yunè pinku
ART & EXPERIENCES
Brett Douglas Hunter,
Calling All Crows
Chuck McGee III Breathwork
Dos Jefes Garments
dublab presents Tonalism
Eda Birthing
EO Studios
Everything Forever Karaoke
Grundle Head
House of Yes
iGRAC
Lennie
Motherfunk
Mythic Times
NASA
Small World Yoga
TN Pride Chamber
The Bottom Knoxville
Twink Trash
Wade & Leta
Is it cold at night in Bonnaroo?
Yes, the days can be real scorchers – it's Tennessee after all – but at night the temperature drops considerably so pack an extra layer in your bag (and invest in a decent sleeping bag if you're camping).
Can I bring alcohol to Bonnaroo?
You can't take alcohol into Centeroo but you can bring alcohol to consume in Outeroo, by your tent. Each person is allowed to bring 2 cases of beer, 1.75 liter of hard liquor (NO GLASS), and 2 boxes of wine.
READ MORE: Glastonbury 2023: everything you need. to know