In 2004, Fall Out Boy were on the brink of an unprecedented level of mainstream fame for four former hardcore kids. Sitting comfortably between the release of the moderately successful 'Take This to Your Grave' in 2003 and the career-making 'From Under the Cork Tree' in 2005, bassist Pete Wentz started to look outwards at the music industry. What he saw was a seismic shift in the scene that his band had in part catalysed, and he wanted to offer space for artists who, like him, had struggled to find a true home.
Wentz joined forces with John Janick – founder of the Fueled By Ramen record label that Fall Out Boy were signed to – to launch an imprint, Decaydance Records, initially taking an interest in alternative hip-hop band Gym Class Heroes. He launched Decaydance officially in 2005 with Panic! at the Disco, a young band whose debut album 'A Fever You Can't Sweat Out' was released later that year. The divisive baroque pop album combined electronic music and classical instruments with Vegas-centric influences alongside burlesque aesthetics, occupying a space far outside anything anyone was doing at the time. They were an overnight success.
Over the next few years, Decaydance would sign the kind of outsider, genre-defying acts that would define the label. Cobra Starship, an electronic project by Gabe Saporta (formerly of punk band Midtown), would come to call Decaydance home, as would indie folk band The Hush Sound, rock band The Cab, and emo acts The Academy Is… and Hey Monday, alongside others. Decaydance launched an independent scene and movement all its own, and over the next couple of years, the label created a family of offbeat, disparate acts that shared an indefinable energy.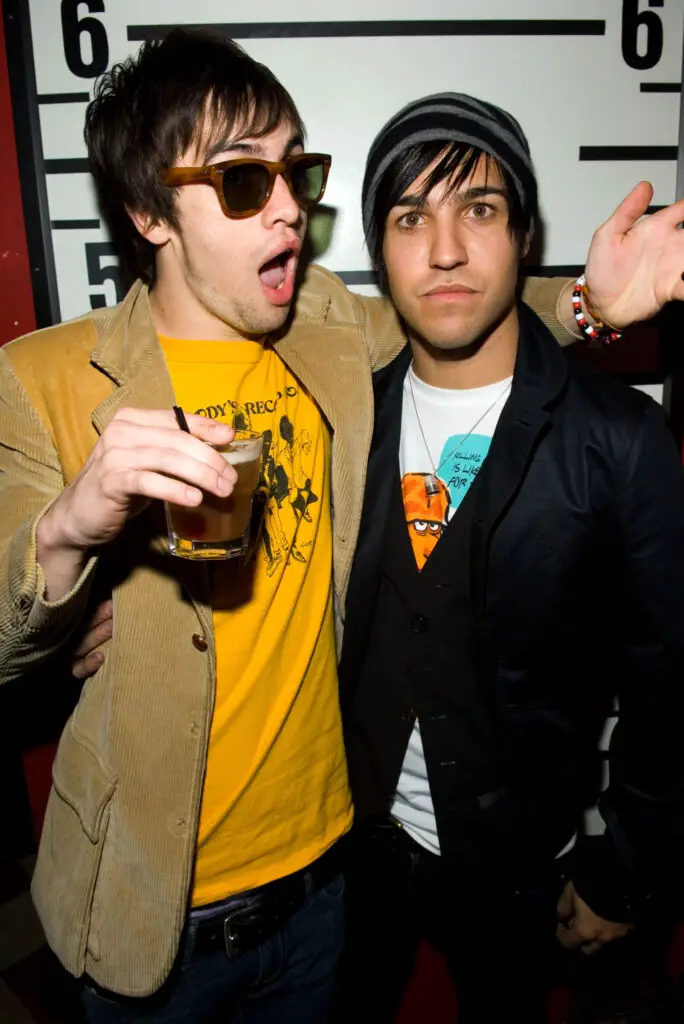 Operating more like a hip-hop collective than an alternative label, with artists touring and collabing together, Decaydance dominated in the mid-00s, with its artists appearing on TV, radio, and movie soundtracks. While the label's relevance would decline over the next few years, in an era of SoundCloud rap and genre-hopping, its impact remains. The foundation Decaydance laid made space for the artists of today who blend hip-hop, electronic music and emo.
In 2014, sensing another shift, Wentz relaunched Decaydance as DCD2. A later signing of emo rapper nothing,nowhere. showed that their ethos remains the same: to source new, genre-defying acts and nurture them. Speaking to Rolling Stone in 2006 on his motives in launching Decaydance, Wentz reportedly said, "people are going to be piggybacking bands off of us. Somebody's going to be pulling those strings, why would it not be me?" The full truth is less cynical. Wentz, as a member of one of the most hard-to-place bands of all time, just wanted to give acts that shared an energy a place to fit in.
To immortalise what made Decaydance unique, we interviewed key figures throughout its history, tracking key moments in its launch, rise and relaunch through stories from the people who lived it:
Pete Wentz [Fall Out Boy]: I never had an aspiration to launch my own label, at all. In late 2004 I remember hearing a Gym Class Heroes song ['Taxi Driver'] that referenced all these emo and pop punk bands and I was like, 'That's strange'. I started talking to John Janick at Fueled By Ramen and I asked him whether we could do a boutique label without the expectation of FBR. Now people would just say it was a little more curated, but at the time it was like creating a clubhouse.
Travie McCoy [Gym Class Heroes]: Gym Class was doing it old school, sending out demos to underground or independent hip-hop labels. They were like, 'It's not what we're looking for', so we started sending them to anyone, and Fueled By Ramen hit us back. We started talking to John Janick [Founder, Fueled By Ramen] and Crush [management company], and we got a call the day that we finished writing and recording 'Cupid's Chokehold', like: 'Yo, Fall Out Boy wants you to play with them in Davenport, Iowa.' We were in Buffalo, New York so it was a three day trek.
Jonathan Daniel [Wentz's manager]: Pete was drawn to hip-hop, especially the lifestyle and the way rappers had a crew of other rappers. That's where the label and [clothing label] Clandestine came from. At the time Fall Out Boy was a pretty small band, relatively speaking. They could headline small clubs, but Decaydance was a bold idea full of wild ambition, which I think is one of Pete's best assets.
Travie McCoy: All those dudes in those bands, they all wanted to be rappers. Then I come around, and they're just like, alright, well at least we got Travie on the team. That was the aim, you got Death Row, you got G-Unit. He wanted the pop punk, emo version of that. I saw the vision and I was completely with it.
---
---
Pete Wentz: John Janick really gave me a lot of autonomy and encouragement. He took the reins off me and let me just go be creative and find these bands. That was really cool of him. It was really empowering, and I'd never had anyone let me do anything like that besides Fall Out Boy. We hit the ground running from there.
Travie McCoy: At the show, I knew we had to impress these motherfuckers. Afterwards, I had a conversation with Pete and he was like: 'Dude, you guys fucking killed it'. We ended up signing with Crush, and eventually we figured out the deal with Fueled By Ramen. We weren't looking for money, we just wanted a van and a trailer and a booking agent. To be on the road. They made that happen. We got a really meagre advance, but it didn't matter, you know? Then Pete got his imprint, and I was like, I'm fully down, let's go.
Pete Wentz: When we signed Gym Class Heroes, it was like, 'Where does this fit? This literally doesn't fit anywhere'. We would play it for alternative radio and they were like: 'This is not alternative, this is hip-hop'. We'd play it for pop or hip-hop radio and they were like, 'This doesn't fit, this is a live band.' In some ways it felt like we were five years early. I felt bad at the time, but then they stumbled upon 'Cupid's Chokehold' and 'Clothes Off!'
Jonathan Daniel: Patrick loved Travie and wanted to help Gym Class, so him jumping on 'Cupid's Chokehold' really was the start of the collabs. It ended up being a #1 song three years later.
Joe Mulherin [nothing,nowhere.]: I remember hearing Gym Class for the first time and being like, 'What? This is a thing?' I grew up making beats for my friends who rap and I was also in bands, so I was like, so there is space for this. They made me believe.
Jonathan Daniel: For Decaydance, we signed whatever Pete is passionate about. I try to play the business devil's advocate but as long as he loves the music, we figure out how to get it done. I think the essence of what he looks for hasn't changed ­– unique vocals, lyrics, star power, ambition – those are the threads through the historical roster.
Gabe Saporta [Cobra Starship]: They were weird kids but there were definitely stars in the mix. Bill Beckett was a star, Travie McCoy was a star, Pete was a star. We definitely had that star quality. I think once you have one, it attracts more and inspires others and everyone trusts you.
Make us it, make us hip, make a scene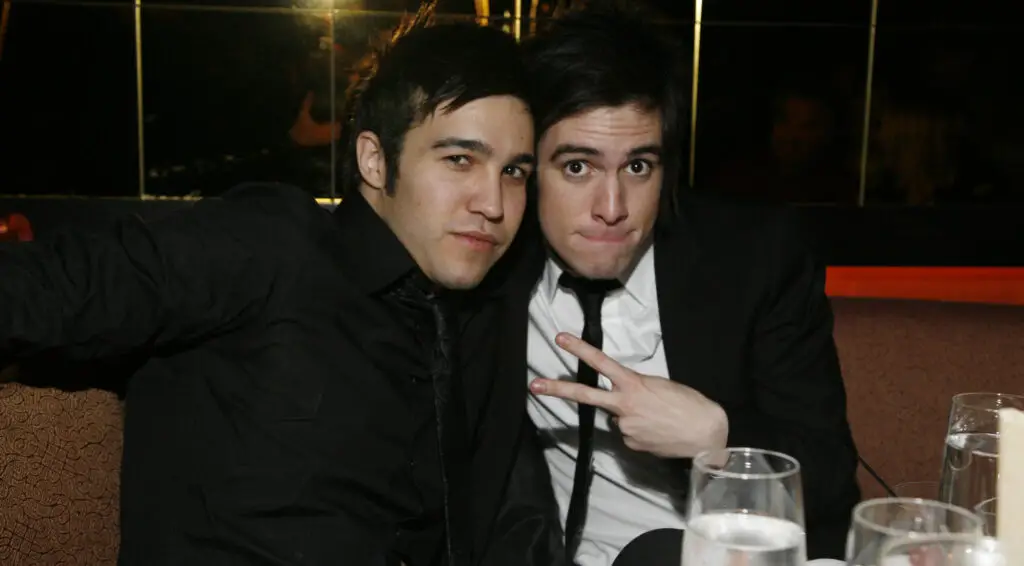 Pete Wentz signed Panic! at the Disco in late 2004, before releasing their debut 'A Fever You Can't Sweat Out' on Decaydance in 2005. They were teenagers, with no viable demos or experience, but that didn't put him off.
Pete Wentz: When I came across Ryan Ross and Panic! At the Disco, that was the real inception. We were like, this needs a home. This is some strange shit. All those original bands were hard to place, and Fall Out Boy had had a lot of experience with submitting our stuff to labels and being told we didn't fit. I thought, if I ever managed a band I would do the opposite of that. You want to water a seed rather than tell it to be a different kind of flower.
Spencer Smith [Panic! at the Disco]: At that time it was within six months of us meeting Brendon. We had three demos that we foresaw being recorded fully with live drums, but we didn't have the ability to do that, so I think Ryan just had GarageBand, which was revolutionary at the time. We put these versions of songs on PureVolume, the SoundCloud of the era, and then we posted that link in Pete's LiveJournal, hoping either fans would click on it or that he would ask us to go on tour. He actually listened to it and used AIM to reach out to Ryan.
Pete Wentz: I drove to Vegas because maybe I was terrified to fly at the time, I can't remember totally, but I met the Panic! guys. They had a practice space and didn't even really know how to totally play the songs. They had all of these electronic elements and they were like, playing them acoustic, but it was clear that there was a thing.
Travie McCoy: I was with Pete when we met them in Vegas and they hadn't even played a show yet. They had to get their shit together real quick.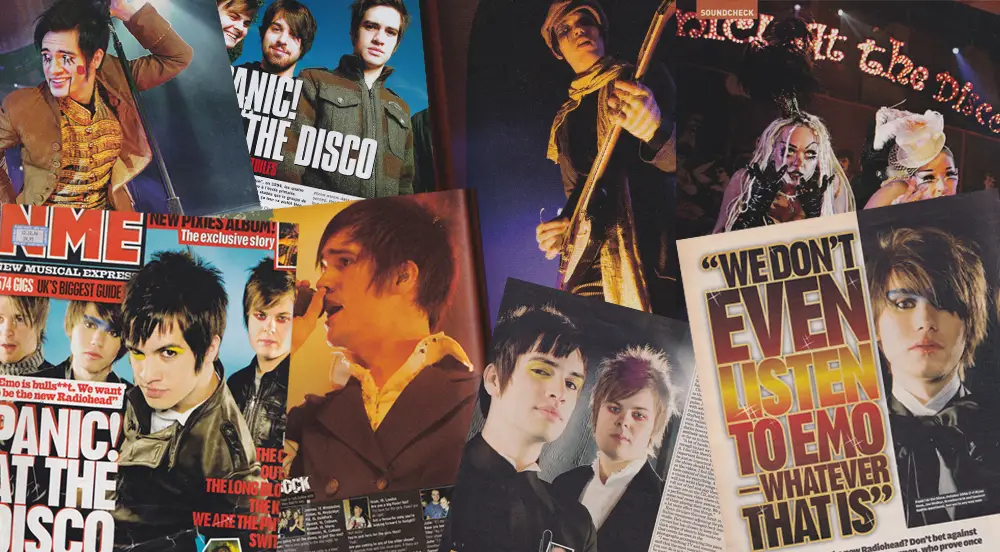 Spencer Smith: It turned out he was wanting to start an imprint or his own label and was looking for an artist to sign. Fall Out Boy was in Los Angeles recording 'Cork Tree' and I was in high school. Fall Out Boy was our favourite band in the scene for a few different reasons, and I remember telling my parents that Pete from Fall Out Boy had reached out and liked these demos and was going to come to the practice space. My parents were like, who is Fall Out Boy?
Pete Wentz: There was always a big outsider energy. We fit in together, but maybe not anywhere else. There were some bands that people in the present didn't get, but when they look back, they're like, "I got that!" I'm like, 'A Fever You Can't Sweat Out' was recorded with no money. It was insane. We didn't have a budget. If people say they got it right away, that would be insane.
Spencer Smith: When Pete came to the rehearsal space we played three songs sitting there with a drum machine and a midi keyboard. Obviously he could hear Brendon's voice which is incredible, but it was more about meeting us. He took us to Del Taco, and it's funny because you hear these stories about major labels winning and dining you, but we got bean and cheese burritos in a questionable part of Las Vegas.
---
---
Travie McCoy: The demo was so fresh and the sound was so new, they were mixing pop punk with all these electronic beats and shit, and I was like: 'Whoa, you need to hop on this for real.' He ended up signing it.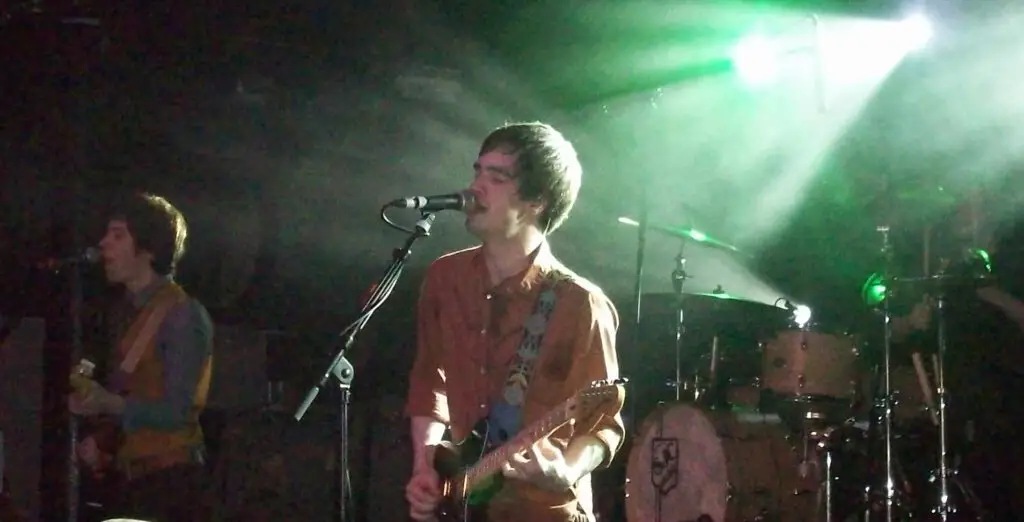 Spencer Smith: We then had to drive to California to a really shitty studio called Love Juice Labs, and it was just horrible, but we recorded an actual version of 'Time to Dance' for a Fueled By Ramen compilation. We spent the back half of my senior year not caring about school and just writing, and the week after I graduated me and Brendon got in a van and drove across the country to record the album.
Jonathan Daniel: I remember Pete being super excited about Panic! even though they only had two songs on PureVolume. Once they made the album, we all got excited and I remember thinking, "this'll probably sell 50,000 copies!". I was only off by about 3 million.
A family of misfits is born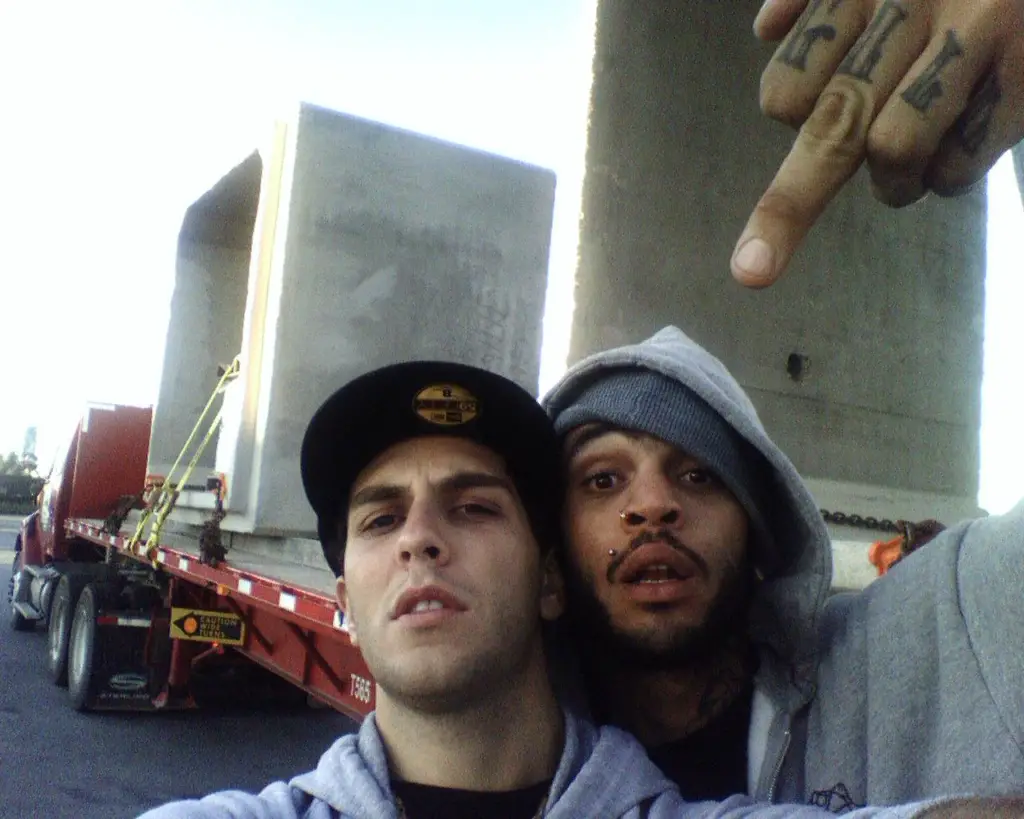 After Panic! took off, Wentz was looking for other artists to sign to the label. He found the type of complicated, misfit artists that would define Decaydance, like Cobra Starship and The Hush Sound.
Gabe Saporta [Cobra Starship]: In 2004, my band [Midtown] was signed to Crush, and so were Fall Out Boy. That was happening a little bit with Midtown and Fall Out Boy were coming up, and there was shit going around at that time that Midtown had an attitude, because we were getting into a lot of drama. It's actually why we got dropped from our first deal and why Jonathan Daniel wanted to manage us. I remember when Pete came to see Armor For Sleep support us in Chicago, he said hi to them and didn't say hi to us, and I was hurt by that. Still, whatever the beef, the last tour Midtown did was supporting Fall Out Boy in 2004 when they started blowing up. I remember the whole tour was fun, and I was like: 'Dude, this is why I got into music in the first place.' At the end of the tour the Fall Out Boy guys pranked us, and me and one other guy thought it was hilarious, but two other guys got pissed off. That was the beginning of the end for Midtown, but Fall Out Boy prevented me from getting jaded, and they reminded me of doing something because you love it. That was the foundation for Cobra Starship on a philosophical level.
Pete Wentz: All the people in the bands were really important to me and I really wanted their vision to be successful. I'd never really been on the other side where I was like: 'Listen, if you do this, these doors will open, but if you do this, these doors will close.' It was cool.
Gabe Saporta: I really was inspired by watching Fall Out Boy have fun and not be so serious but also be real people who came from a scene. That was the beginning of our deeper friendship.
Spencer Smith: The fall that we were writing our record is when 'From Under the Cork Tree' and 'Sugar, We're Goin' Down' came out and took off. That and My Chemical Romance really opened the door for all of our bands, honestly. All of our bands are successful on a big level due to Fall Out Boy and My Chem and those songs breaking on MTV.
Gabe Saporta: When we started, My Chem was the biggest thing in the world and they were so serious and so dramatic. I love My Chem, don't get me wrong, I grew up with those kids, but it's like: 'Hey, smile once in a while!'
---
---
Greta Morgan [The Hush Sound]: When we got signed to Decaydance, I was a diligent student at a Catholic College Prep school in the western suburbs of Chicago, planning to go to college to study Psychology and English. Ryan Ross from Panic! heard our music on either PureVolume or Myspace and sent it to Pete, who signed us.
Spencer Smith: There was a weirdness to The Hush Sound… there was an element where they were just a little bit different. There was one aspect that was a little off, in a good way. Within a couple of years The Hush Sound was opening for us and we were able to take them under our wing the way Fall Out Boy had done for us.
Travie McCoy: I listen to The Hush Sound's first EP to this day, holy shit. Oh, wow. Shout out to Greta, for real. Make sure you print that.
Snakes on a Plane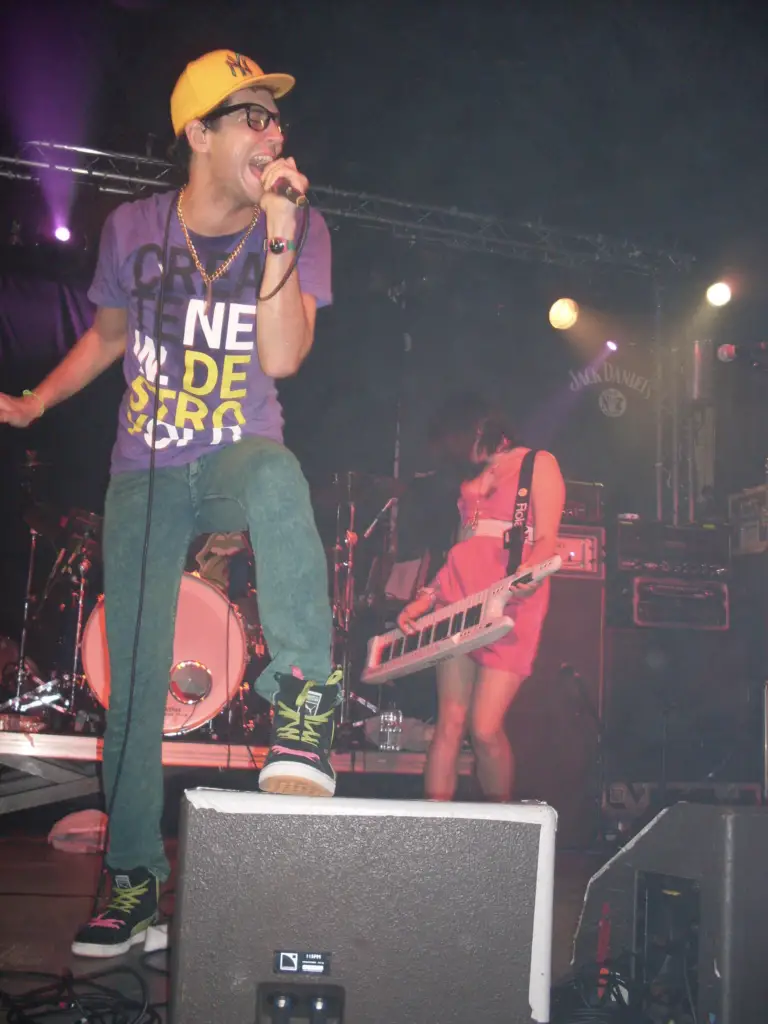 In 2006, Wentz wanted to officially sign Gabe Saporta, formerly of Midtown, but he was trapped in a contract with Columbia. The route in was by featuring Saporta's song 'Bring It' in one of the most controversial movies of the year. There was a catch: it had to be performed by a supergroup of Decaydance artists and rewritten to be about snakes… on a plane.
Pete Wentz: We'd always talked about movie soundtracks. To me, they were really important growing up and it was this weird time pre­-Twilight where they were, for a brief second, not important. I remember JD was like, yo, we could do the soundtrack for Snakes on a Plane. I was like, what is Snakes on a Plane? Then he explained the concept of the movie, and it was like, 'Oh, we have to do this. This movie is insane.'
Jonathan Daniel: Midtown had broken up so Gabe was trying to figure out what he was going to do next. He had a song called 'Bring it' he was working on that had a cool vibe. Sisky from Academy called and said, 'There's a movie called Snakes on a Plane that might be the worst movie of all time. We should try to get our song 'Black Mamba' in it'. A friend of mine was the music supervisor on the movie, so I called him and asked if we could get the song in. He said there weren't going to be songs in the movie, only score, but I convinced him to let us do a soundtrack. We went to Gabe and told him he needed to add some parts to 'Bring it' to be about snakes on a plane. He wasn't super happy with me at the time but he was a team player.
Gabe Saporta: First of all, I think JD is a genius. So after I was like, OK Midtown is done, I was working on these songs for a year and nobody was getting it. I had this music and I had the name Cobra Starship ready, and JD was very smart, because as painful as it was for me, he knew that he needed a platform. It felt divine that this movie came out called Snakes on a Plane and I was using that name already. I got stuck with it.
Jonathan Daniel: Because there wasn't actually a Cobra Starship group then, we decided to make a super group, and that's how William, Travie and The Sounds got involved.
Gabe Saporta: I wasn't signed to Decaydance yet, I had to get out of my deal at Columbia, but I was working with Crush and we were trying to figure out how to do it. With Snakes on a Plane they put Travie and Will together and it was almost like a Decaydance supergroup plus me. JD basically strong armed Columbia to let me go and we signed to Decaydance. I didn't even read the contract, I just signed my name as a peace sign.
Travie McCoy: It was pitched to us like, this movie is going to be the biggest fuckin' thing in the world. It's about these snakes on a motherfuckin' plane, and all this shit. To me, it was another opportunity to make a song with my friends, you know? I'm a huge fan of The Sounds, and obviously William is my man and Gabe is my man. So it was like, alright, cool, let's do it.
Pete Wentz: The way the track itself it all came together, in some ways I think was a preamble to how there's these pop songs that are now created from a patchwork quilt of people, where it's like, oh, this person can do the rap and this person can sing the verse. It was like: 'OK, let's make this Frankenstein of a song.'
Gabe Saporta: We had a hit on the radio without being signed, which is pretty big.
Pete Wentz: Gabe is a visionary. You would call it marketing, but it's actually a cultural wave. He's really, really good at it. From a purple hoodie to Snakes on a Plane to the story of how Cobra Starship happened. He's just very good at that. So he was a really big part of it.
Travie McCoy: We went to a screening of the movie and I was like, this shit is fucking horrible. But the video came out awesome. It was better than the movie, to be honest with you. And I got to meet Samuel L. Jackson. I'm not mad. When the snake bit the dude's dick, I was like, 'I'm out. This shit is trash.' But I had to wait for Sam Jackson to say, "I've had it with these motherfuckin' snakes on this motherfuckin' plane!" After that I went and got wasted with Kelly Osborne.
Jonathan Daniel: The week the movie premiered, we did a concert with all of them in LA and then went to the premiere together. Every station was blasting the song and talking about the movie. It was definitely a highlight week for me.
Pete Wentz: The release party was in LA at The Key Club or something like that, a tiny club, and that song always went off. It was a big moment.
On the road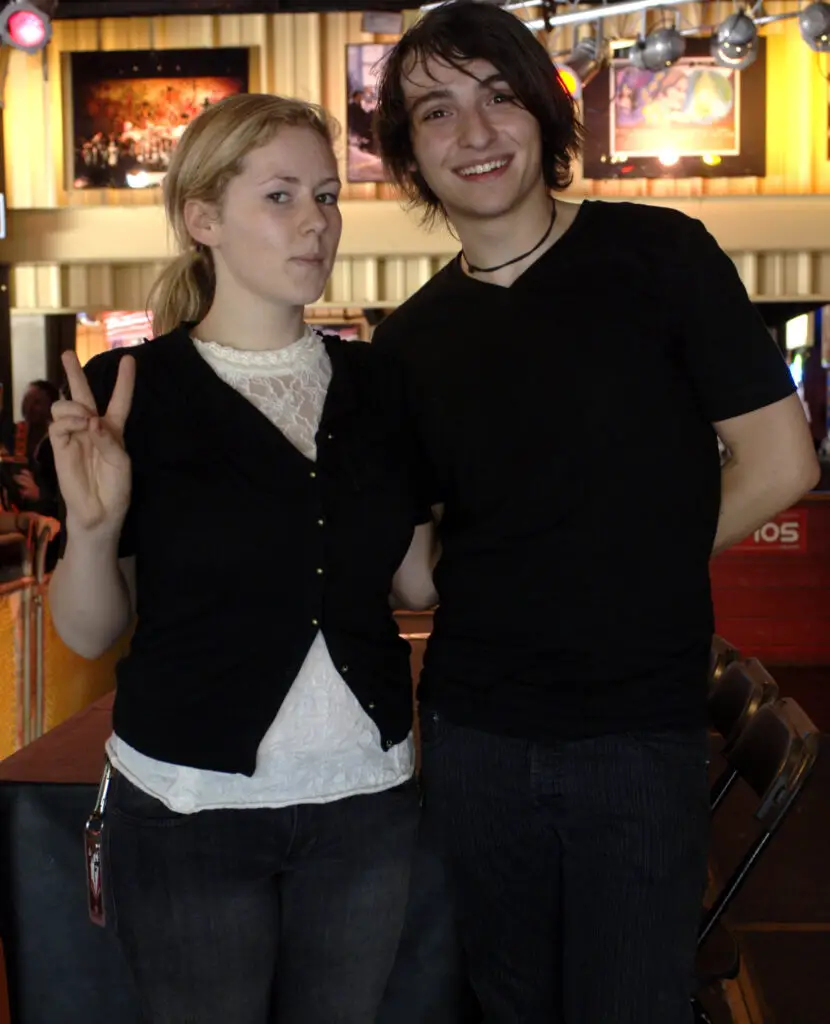 On Decaydance, bands shared not only a label but tracks, buses and stages, collaborating and touring with one another. Early bills saw as many as four or five bands on the same show.
Jonathan Daniel: I loved the camaraderie of the tours. We did Fall Out Boy, Academy Is, Gym Class Heroes and Midtown and it was so much fun. I remember going to Delaware to see the show and taking their money in poker. None of us had any money back then but we had big dreams so it didn't matter.
Greta Morgan: My memory of the earliest tours is that it was like living a double life: during the day, I was trying to keep up with school work and SAT studies in the dressing room on my 2005 Dell laptop and then in the evening, we'd perform on these arena stages before Fall Out Boy or The All American Rejects. We were the only band in a van opening for bands who travelled on buses, so we did brutal overnight drives in our Ford E350 van.
Pete Wentz: I remember the two Decaydance festivals we did – one in London and one in Paris. This wasn't so much a fest as it was one long show, and it was kind of a snapshot because every band was in a different stage in the same trajectory. We all got to be in the same place at the same time and it felt so good to catch up, because at the beginning and end of it all we were a gang.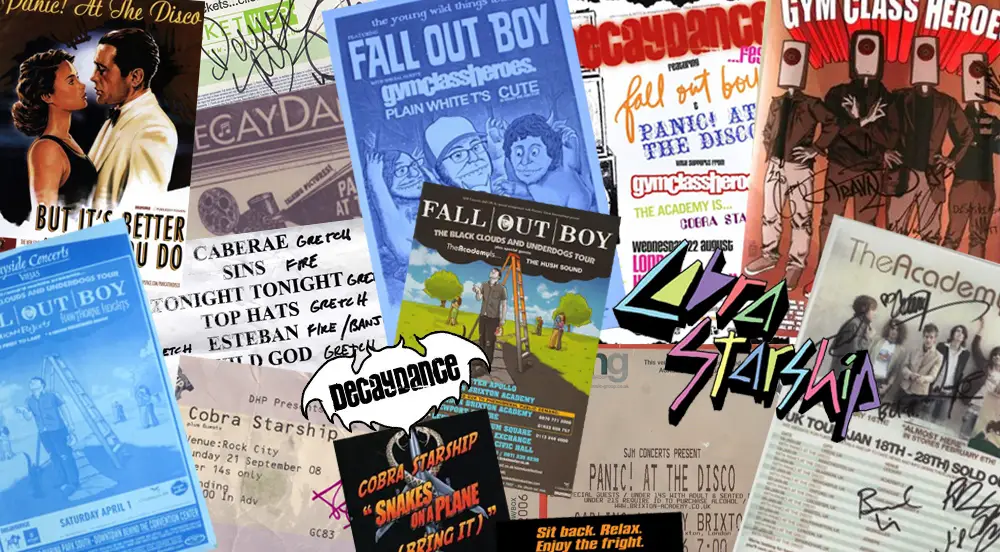 Travie McCoy: It was very incestuous. We'd all be on each other's songs, or Patrick would come out on tour and sing with us. I'd come out and freestyle with them. It was very, very gang-ish. That was our formative years, learning the road and putting our show together and learning how to control a crowd, because they weren't necessarily there to see us. I got pretty good at taking complacent crowds that were frothing at the mouth to see Fall Out Boy but they had to wait half an hour, so I made sure they had a good time. It was just a really dope family kind of vibe.
Spencer Smith: I was 17, Brendon had just turned 18 when we recorded our first album. At the start, we were always the youngest, and at that age, even just a couple of years feels like the difference between high school and college. Early on we hadn't been on tour before, and it was a little bit of getting used to that whole thing. I think it's all in your own head at the time, but I do just remember that, feeling so young showing up to those first tours.
Greta Morgan: On our first tour, the Honda Civic Tour with Fall Out Boy, I remember Sonny Moore, aka Skrillex, back when he was in From First To Last, would sometimes join me at the table while I was doing schoolwork. He told me then, "I want to make music like Aphex Twin. I don't know why I'm singing in a hardcore band." I also remember meeting Hayley from Paramore at Bamboozle festival one year when we were both 15 or 16 and she bemoaned the fact that her parents insisted on touring with her band because they were so young. We had a bonding moment about our gripes with having to keep up with homework on tour.
---
---
Spencer Smith: It was a little intimidating at first instantly being injected into this community of other bands. We went to the UK for the first time with The Academy Is…, we went to Japan for the first time with Gym Class and Academy. We opened for Fall Out Boy, which at that time was an arena tour in the fall of 2005, right after our record had come out. We were the only band that was in a van. Those tours are routed for bus drivers, but we were in a van, and we were just struggling to show up so that we could play for like 20 minutes right as the doors opened.
Greta Morgan: Those were the days before smartphones and GPS and I remember spending a lot of time printing out Mapquest directions to navigate between venues. If a highway was closed, we just had to ask a local for directions.
Spencer Smith: We had experiences early, like, we did some MTV Spring Break show in Florida, which was not an ideal show for us. We had to walk by the line to get backstage, and I remember a girl's boyfriend was making fun of what we were wearing as we were going into the show that they were in line for. A year later they're in the front row singing all the words.
Greta Morgan: I remember feeling incredibly self-conscious on stage as I navigated this new world of performing, not fully confident yet in my musical abilities, but being thrown into this whirlwind of performing all over the world. I remember the four of us sleeping in one hotel room every night, having dumb fights, making up, sharing late night meals, taking the music seriously but laughing about everything else.
Spencer Smith: We didn't make any money on the 'Fever' tour because we had to pay to take the windmill everywhere. There were definitely shows in the middle of America where we couldn't get the windmill through the door.
Welcome to the New Administration
On election day 2008, Fall Out Boy dropped 'Welcome to the New Administration', a viral campaign and mixtape featuring Decaydance artists and friends to tease their upcoming fourth album 'Folie à Deux' and show support for Barack Obama. Hosted by producer Clinton Sparks and featuring everyone from Panic! at the Disco to Seth Green to Ludacris, it captured the energy of the label perfectly: dorky and optimistic, with moments of genuine gold.
Jonathan Daniel: The collaborations were all very natural. Everyone was touring together, so jumping on each other's record just made sense. You can hear that authenticity musically, I think.
Pete Wentz: 'Welcome to the New Administration' was around the time that we were heavily into hip-hop and trying to find ways into it. Hip-hop really influenced a lot of what we were doing at the time, and it was on its journey to become pop music or mainstream, so we were trying to find ways that we could use hip-hop elements without jumping the shark.
Jonathan Daniel: Pete came up with the idea of rolling out 'Folie à Deux' based around the Obama presidential election going on that year.
Pete Wentz: We never wanted to become rappers. It was always about, how can we use these influences and be a part of this thing, so we thought about doing a mixtape and we were talking to Clinton Sparks about it.
Jonathan Daniel: We had a fake campaign called Citizens For Our Betterment. Kids were losing their minds trying to figure out what the hell it was so we kept sending out strange clues to throw them off the scent while we made the mixtape.
Pete Wentz: To me, the thing I loved about Lil Wayne mixtapes and Kanye mixtapes was that they usually contained snippets of ideas that later became different ideas. It was like an alternative take, like seeing a director's cut. To me, 'Welcome to the New Administration' was a chance for us to put a bunch of our ideas that never really made it.
JD: It was a nod to hip-hop mixtapes, obviously. Reading the message board comments and trying to figure out what we were doing felt amazing.
From Decaydance to DCD2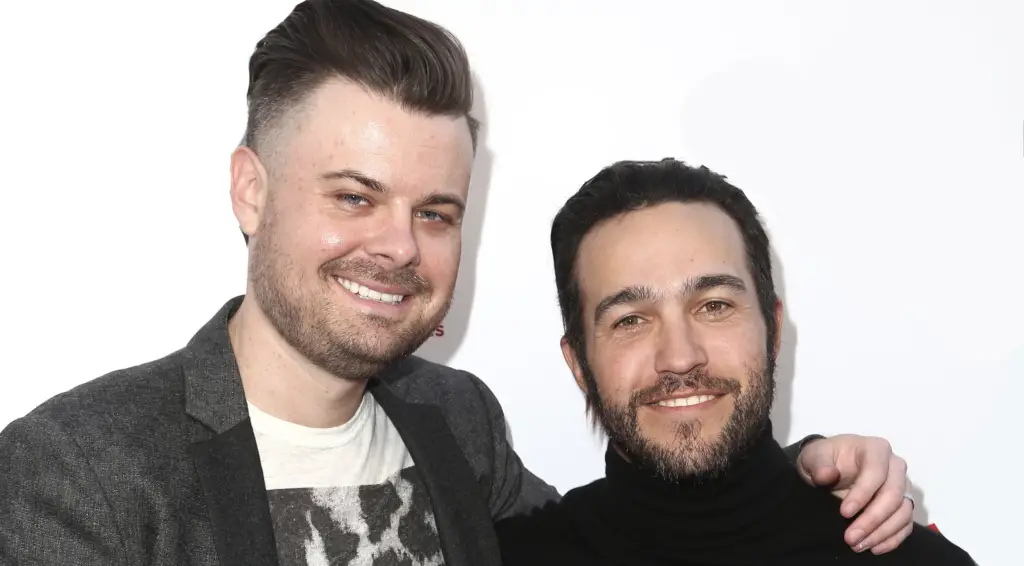 In 2014, sensing another shift in the industry, Wentz relaunched Decaydance as DCD2, keeping on old artists and signing new ones. With the later addition of Panic!'s Spencer Smith as a manager and the signing of emo rapper nothing,nowhere., DCD2 maintain their ethos of supporting artists who don't quite fit anywhere else.
Pete Wentz: Around 2012, there was a big sonic shift and a shift in the way people were listening to music – everything was driven by streaming. All of a sudden, genre wasn't important to anyone anymore, which was a thing we'd been talking about forever. The patchwork quilt way that we made some Gym Class songs, everybody was doing that but doing it in a weird, supersized version. I was like: 'What shall we do?' I think we got a little directionless, and at the same time, the label just worked on autopilot.
Spencer Smith: The music industry was going through a bunch of different changes, whether that was stylistically, the genres that were popular at the time or just the industry in general, from like, 2010. It really felt like there was an opportunity to try and build something with the same spirit and motivation and intention that we had in the very beginning of Decaydance.
Pete Wentz: In the relaunch it was like, where are we now? I remember hearing nothing,nowhere. for the first time and I was like, here's a guy that's looking at the past from a futuristic perspective, not a nostalgic perspective. I thought that was really interesting, because it was infusing elements in the same way early pop punk and emo did in the second or third wave when Fall Out Boy was happening.
Joe Mulherin: I remember being at the skatepark and kids would have Decaydance shirts on and it was just a mainstay and a household name in the alternative music scene that was booming when I was growing up. I grew up a huge Fall Out Boy fan, starting with 'Take This To Your Grave', and I was just a massive fan of Pete and what he does.
Spencer Smith: Around the end of 2016, I was trying to figure out what I wanted to do. I started talking to Pete and he was wanting to start spending a little more of his time focusing on DCD2. It seemed like something that I would be helpful in promoting, developing and getting out into the world, maybe from fans of our bands potentially being fans of artists like nothing.nowhere, At that time he had just started talking to Joe [Mulherin] and that was the first thing that kicked it off.
Joe Mulherin: I wasn't even remotely big at the time. I think he probably heard of me in 2015, early 2016. My manager texted me one day and was like, hey, Pete Wentz heard your music and he really likes it. I was like, what even is that? How is that even a thing? I'd never toured, I never had anything happen to me. So when she was like, Pete's heard your music and he likes it, it was a shock to me. He ended up calling me a month later, and it's kinda like if you got drafted into the NFL playing for your favourite quarterback growing up.
---
---
Spencer Smith: I felt like I would be helpful working with these artists, whether it's stuff on the emo rap side of things or even the bedroom pop stuff which seemed interesting and creative. It was a style of music that I understood and I was a fan of how DIY it was and the amount of innovation that was happening in getting their music heard. That's in a lot of ways a truly revolutionary thing; getting people to pay attention to it is the thing that's easier said than done.
Pete Wentz: I think you can hear in someone's music when something is a texture within their own lives. I thought that with Lil Peep, I remember. The first time I heard him, I thought, wow, this feels familiar but at the same time it's like nothing I've ever actually heard before. I think the same with nothing,nowhere. and a couple of other artists like that that have really reached people in a deep way. There's a sincerity that reaches deep within the people that listen to them.
Joe Mulherin: Pete is just… always on the forefront of it. He's kind of like the ultimate A&R, but I wouldn't call him that. He's just passionate about music and he's smart. He's been in the game long enough and he knows what is viable and what's legit.
Gabe Saporta: Part of the reason I did my own management company was because I'd watched what Crush did and what we did with Decaydance and I was like, that's amazing, I want to do that again. I love to build something out of nothing, I love the problem solving that goes into that. That was my inspiration, watching that and watching it work and really just being contrarian and creating your own world.
Joe Mulherin: Pete's batting 100. He's got a very good track record and he just keeps doing it. Some people just have that innate ability. He just knows good music, that's really what it comes down to.
Teamwork makes the dream work
In the mid-00s, Decaydance was unlike any other alternative label, in part because of how genuinely collaborative it was. Today, DCD2 manages to retain that authenticity.
Spencer Smith: Our top choice of label to be signed to would have been Fueled By Ramen or Decaydance because of Fall Out Boy. It just seemed like they were onto something. Being from Las Vegas and there not really being this local music scene that we were a part of, it seemed like a dream come true. Pete for whatever reason believed that we had the ability to be big, or whatever he thought at the time. Maybe he just thought we were crazy.
Gabe Saporta: It was just a different label. It really felt like you were hanging with your friends, it felt like it was our crew. Everyone really just fucked with each other's music and liked working with each other and being on stage with each other and featuring on each other's songs and writing with each other. It was very seamless. That's really rare, I see it now in the business where people try to force these things all the time. They put artists together who don't know each other and it feels like rent-a-feature.
Spencer Smith: We were weird, you know? We were the black sheep. But it all worked somehow.
---
---
Joe Mulherin: A lot of labels will try and do cash grabs and see who blows up overnight and I think what Pete and Spence do and what DCD2 does is put the people first, and that's what really drew me to them. I think Pete knows how to play the long game and develop an artist, which is dead for a lot of labels.
Travie McCoy: I would text Pete lyrics, he would text me lyrics. We'd give each other input, and I'd be like, that line is cool but you could say it better. He'd be like, that's cool, but you could do it better. It was a brotherhood, you know?
Gabe Saporta: We all hung together, we partied together, we went on tour together. It was just almost like this was just a way to document a certain era and it wasn't a marketing strategy. Pete is a genius marketer, but I think that behind that, the authenticity is the reason why it worked.
Joe Mulherin: It's just like hanging with a homie. The best thing about being on DCD2 is having Pete's experiences and years being in the spotlight. That's invaluable, and it gives me a true north. He can be a lighthouse or a goal at the end of the tunnel, to be like, you can make it through. You can stay sane. You can be compassionate, have a family and surround yourself with good people. It gives me a bullseye for when I get older. I'm going to be alright. That's something that no other label could possibly give you.
Gabe Saporta: It feels like we were part of something that's real and lasting, and that goes to the credit of everybody. Obviously Pete as the head of Decaydance for sure, but everyone working together is really what made it special.
---
READ MORE: The best emo songs of all time
---
Like what we do? Support The Forty-Five's original editorial with a monthly Patreon subscription. It gets you early access to our Cover Story and lots of other goodies – and crucially, helps fund our writers and photographers.
Become a Patron!