THURSDAY
Jolting things into action on Thursday night, I.Jordan brings a giddy blend of thumping hardcore and sherbet-laced Eurotrash to the WOW tent – and where else on Worthy Farm could anybody dream to witness a hulking slab of donk rolling straight into a hefty reworking of Alex Gaudino's sax-laden 'Destination Calabria'. EH
Then it's over to Shangri La's Truth stage to watch Nova Twins' riotous Glastonbury debut. Technical difficulties didn't mar what was a high-energy set from two of rock's most exciting players. With more sets to come over the weekend, catch 'em if you can. CG.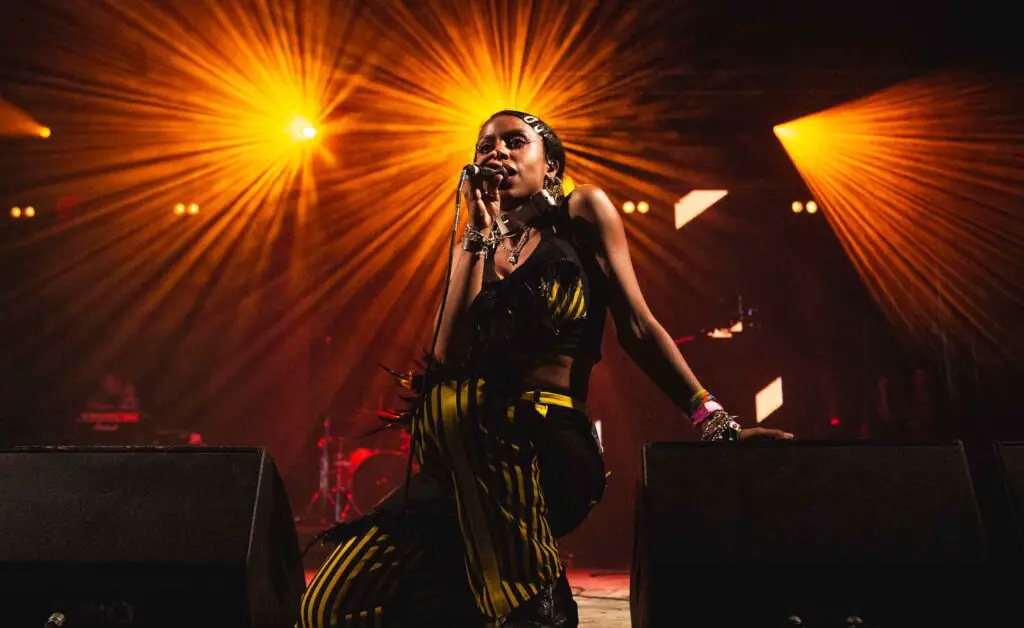 FRIDAY
Shaking knackered punters awake first thing on Friday morning, The Libertines open up proceedings on the Pyramid for the weekend –wholesome on-stage cuddles, a mega drum solo from Gary Powell, and a whacking great final sing-along to 'Don't Look Back Into The Sun' are all present and correct. EH
Later on the Pyramid Stage, Kae Tempest looks visibly taken aback by the huge crowds gathered to watch their genre-blending brand of spoken-word storytelling meets left-field rap. "I can't believe this," they say, lost for words and taking the scene in. And it's a similar story for Griff up at John Peel – between paying tribute to Lorde with a reworked version of 'Heart of Gold' (which interpolates the Kiwi artist's hit 'Royals') and performing flawless choreography alongside a human mirrorball backing dancer, she's frequently speechless. "Oh my lord!" she exclaims after 'One Foot In Front of the Other's rapturous response. EH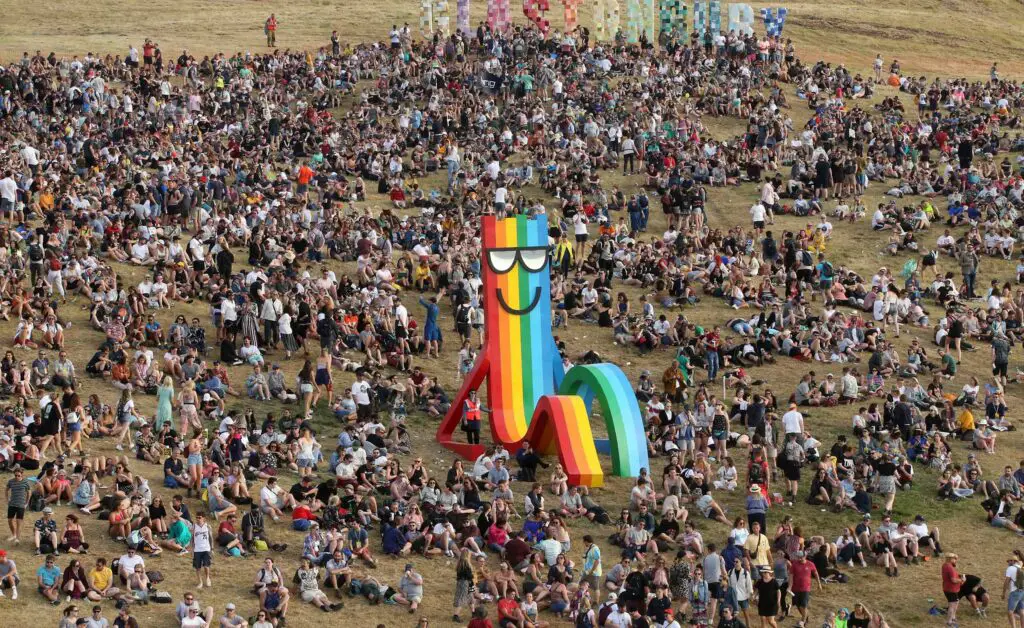 An hour later, Wet Leg almost entirely shut down The Park with their debut Glastonbury set. Britain's buzziest band are a big draw for the weekend, with crowds sprawling all the way up the hill to watch their kooky brand of indie-pop. As the notes of set-closer, 'Chaise Longue', begin, the field erupts into one of those bonafide 'Glastonbury Moments'. CG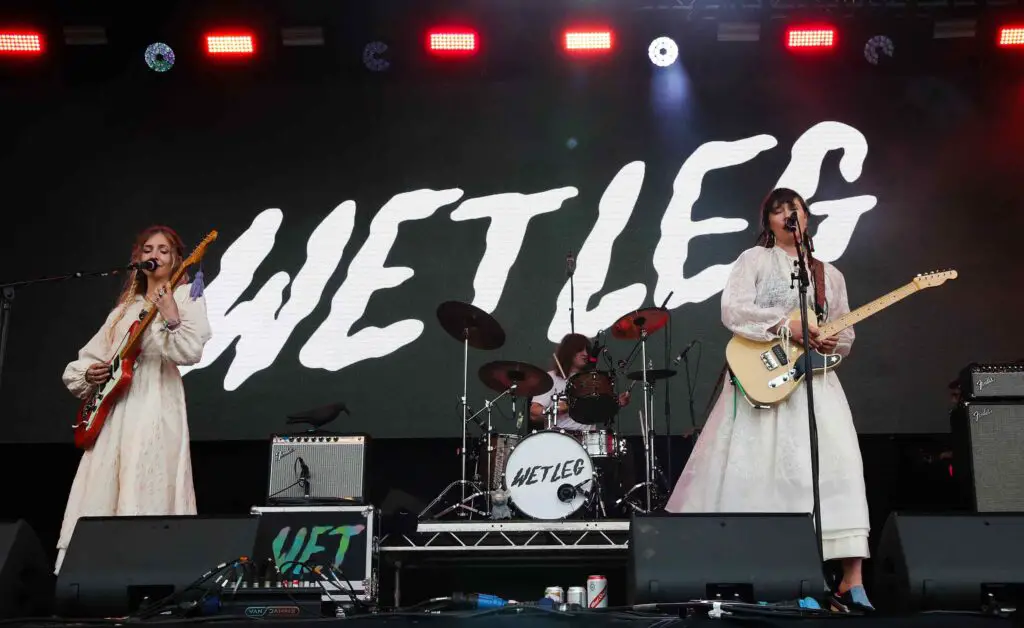 Back at the Pyramid, feel-good rockers Crowded House (along with Neil Finn's grandson on backing vocals) ease in the afternoon, while Saint Etienne throw a drizzle-drenched dance party up at The Park. Sarah Cracknell is on top form, along with their secret weapon of a percussionist. Smashing the living daylights out of a cowbell and providing the mischievous melodic line of 'Only Love Can Break Your Heart', she's the indie-dance group's MVP. EH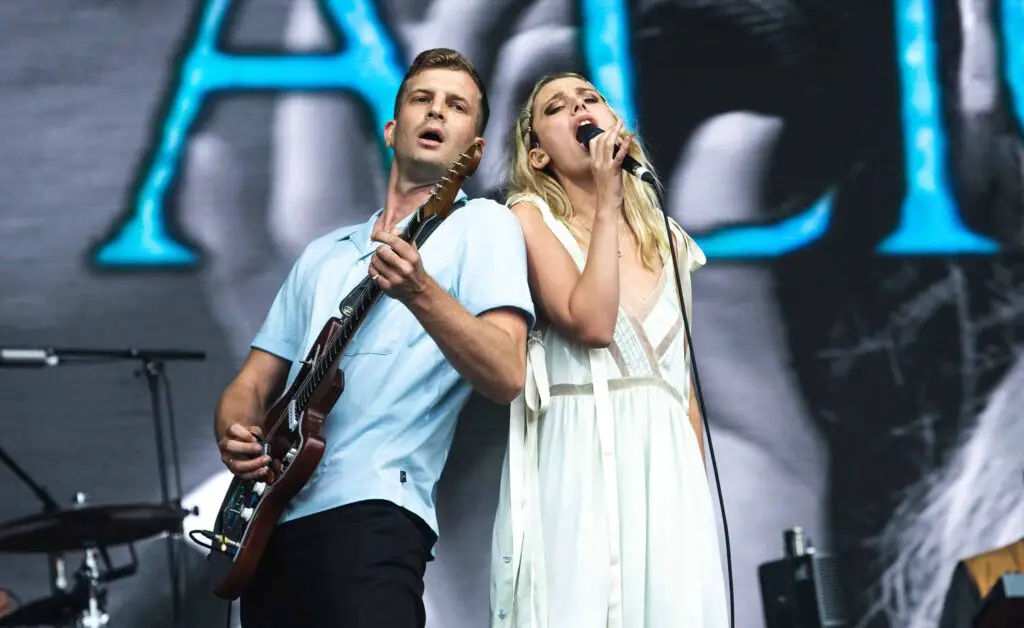 Wolf Alice almost don't make their Pyramid Stage afternoon slot. Stuck in LA until the eleventh hour, any hint of travel stress is left backstage during a magical late-afternoon set. Three albums in, the festival-ready anthems come thick and fast. "You don't even know what we've been through", Ellie Rowsell says laughing. We're very glad they made it. CG
A packed John Peel tent is host to Phoebe Bridgers at 19:30, with beautiful storybook visuals illustrating her autobiographical lyrics. Using her platform to speak passionately about the US Supreme Court ruling that sees abortion no longer viewed as a constitutional right, Bridgers starkly declares: "It's not the darkest day in American history, but it's up there." Later on, pal Arlo Parks joins her for renditions of 'Punisher' tracks, 'Graceland Too' and 'I Know The End' and Bridgers dedicates new loved-up slow-jam, 'Sidelines' to her partner, Paul Mescal. CG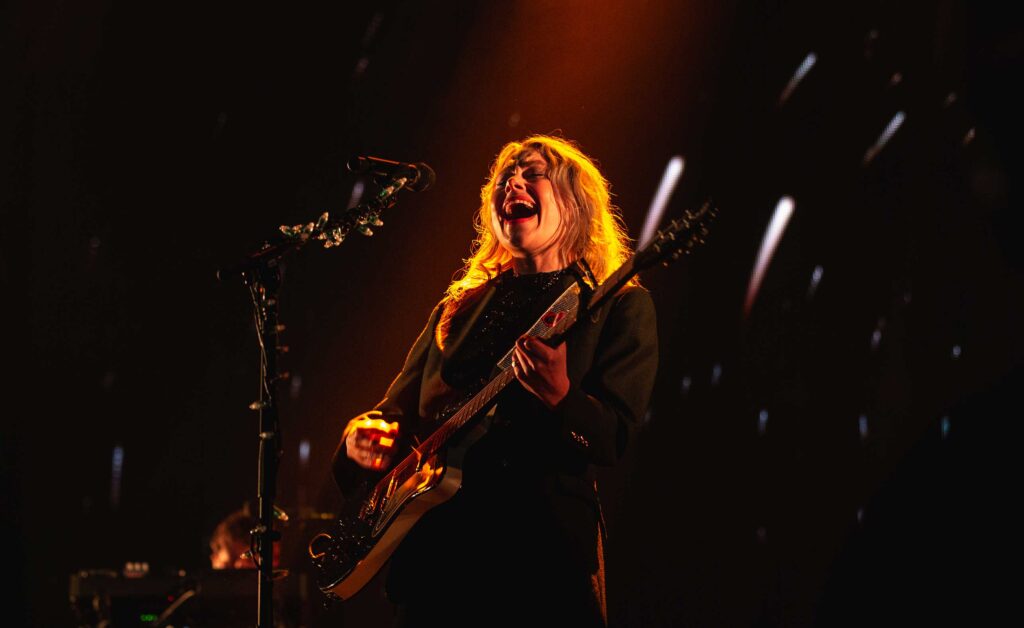 Playing to the evening crowd at The Other Stage, St Vincent cultivates an atmosphere that's part speakeasy, part '70s funk jam. Older songs – like the technological dystopia of 'Digital Witness' get a sleaze-drenched soul makeover – while Clark parades the stage in a tightly-styled bleach blonde wig and a baby-pink jumpsuit. As the show freewheels towards more faithful renditions of early fan favourites like 'Your Lips Are Red' Clark grows wilder and wilder, locking horns with her backing band and throwing herself to the floor to punch the strings of her Ernie Ball guitar. It's exhilarating to watch. EH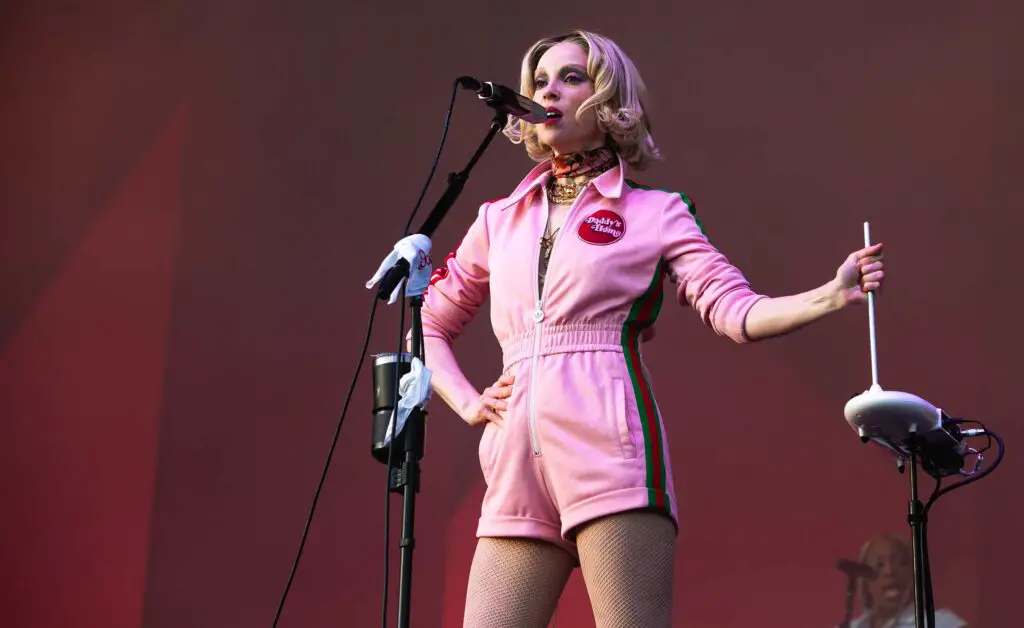 Billie Eilish is the Friday night main event. As Glastonbury's youngest ever headliner, there's a lot of pressure on her young shoulders. We're not sure it's a performance for the books, but the once-in-a-generation artist certainly looks like she belongs on the Pyramid Stage. Read the full review of Billie's headline Glastonbury set.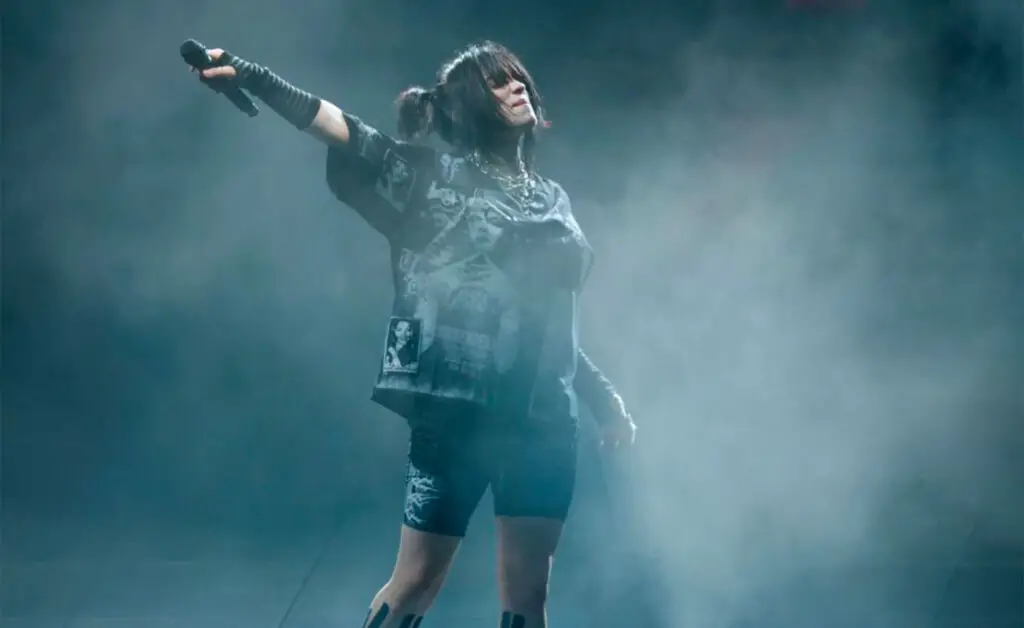 SATURDAY
Shaking awake the bedraggled masses on Saturday morning, IDLES take to a packed BBC introducing – the stage they're also curating that day – to air their furious debut album 'Brutalism' in full for a crowd clutching replenishing smoothies. And providing a stark change in gear shortly afterwards at the John Peel tent Holly Humberstone – who rose to fame during a pandemic, with live music bolted shut – admits to being incredibly nervous as she performs her dreamy indie to one of her biggest crowds yet. "I'm so nervous, I don't know how I'm gonna get through this set," she admits. But when the singer briefly falters during 'Vanilla' the entire field cheers her on, and by the end, Humberstone has fully hit her stride. EH
Next up on the same stage, Self Esteem and her troupe of dancers lounge across chairs posing like subjects of a raunchy renaissance painting. As a 'Prioritise Pleasure' flag flaps away down the front, Rebecca Lucy Taylor showcases much of her phenomenal second album in high-energy style – while wearing a domed bra and matching coat based on the roof of a Sheffield shopping centre. It's one part Madonna's 'Blond Ambition' tour, two parts sheet chaos. 'The 345' meanwhile – a song of sisterhood and uplifting each other – is dedicated to the 36 million women in America who will lose their right to access a safe and legal abortion. "This one's for our sisters in America," she says, adding plainly: "fucking hell" EH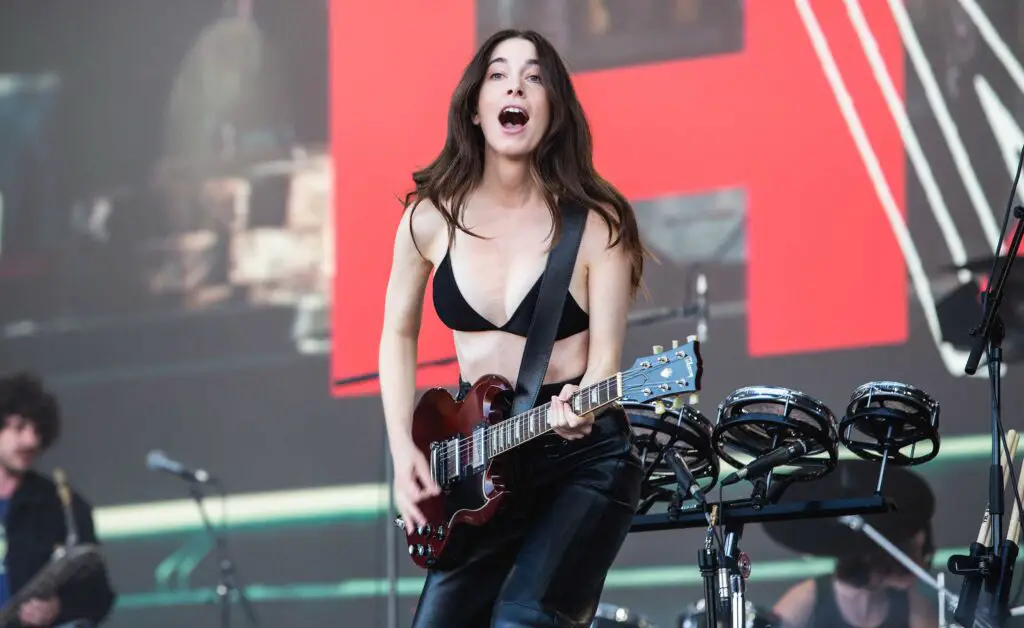 It's Haim's turn on the Pyramid Stage in late afternoon. On after activist, Greta Thunberg, makes a vital address to the Glastonbury crowds about the climate crisis, the sisters Haim fully understand their assignment. Each with their own walk-on moment, kitschy skits that involve Este chatting on the phone to a surfer-bro fuckboy and the type of drum breaks that put Stomp to shame, it's a very polished set from LA's finest. CG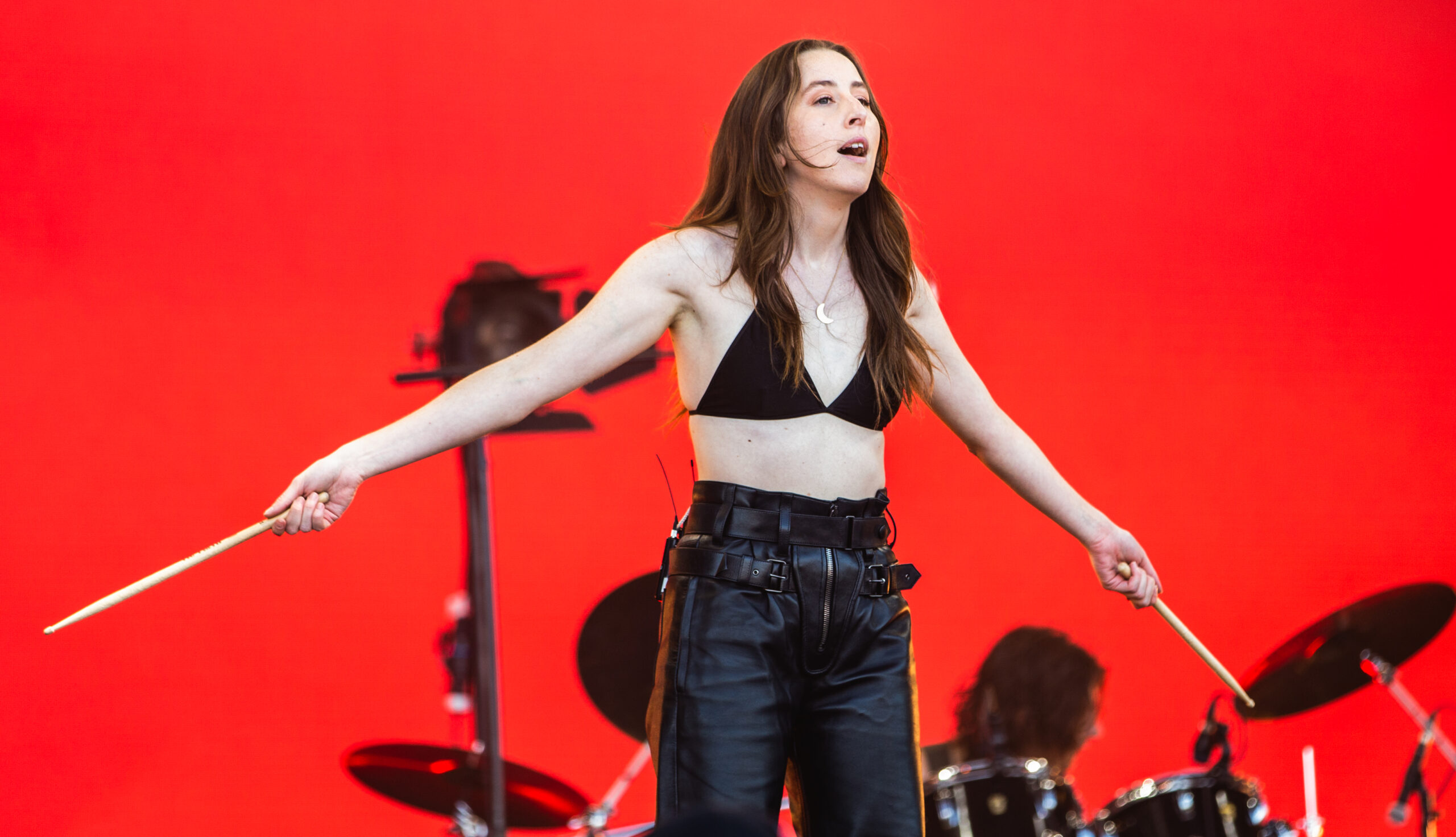 It's time for another one of those Glastonbury Moments as Olivia Rodrigo makes her Other Stage debut. Kicking off with a cover of Avril Lavigne's 'Complicated' the teen queen flawlessly delivers her heartbreak anthems to an absolutely bloody massive crowd. The highlight though, was when Lily Allen appears to sing 'Fuck You', dedicated to the five Supreme Court Justices who overturned Roe Vs Wade. Powerful stuff.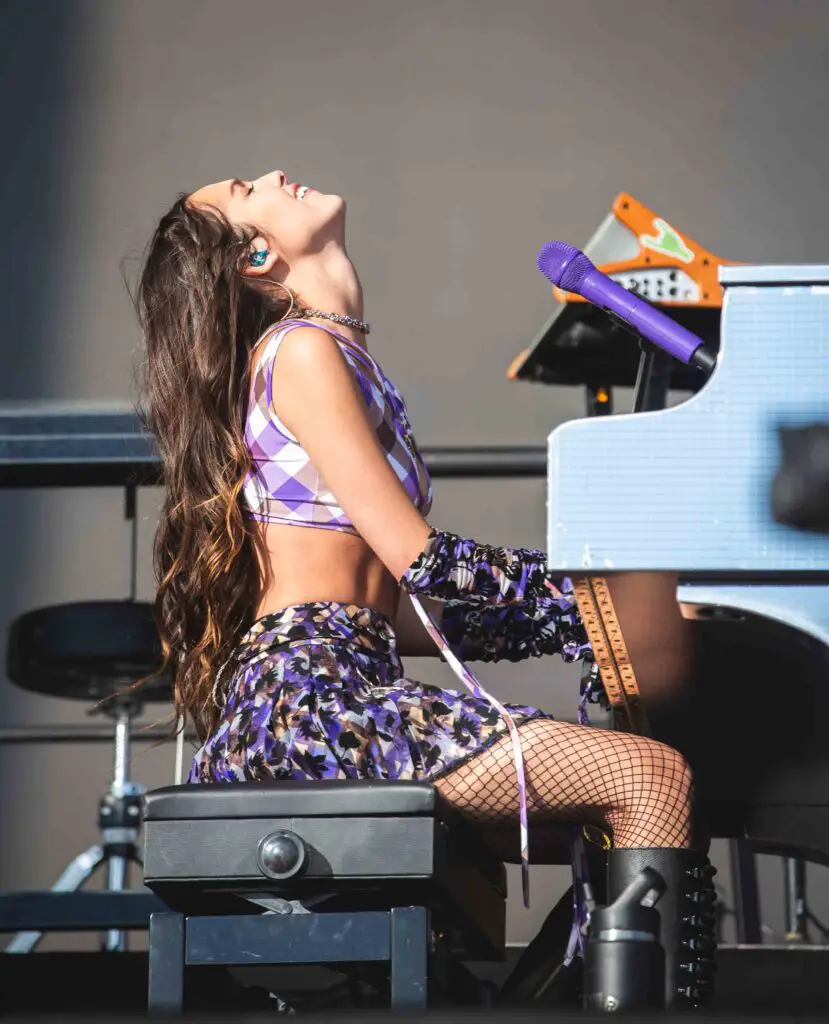 SUNDAY
Such shows of solidarity continue into Sunday, as self-proclaimed feminist punk trio Big Joanie smash their first ever Glastonbury at a sun-drenched park, and frequently make reference to the fractured world outside Worthy Farm. At first, they're watched by largely floor-bound members of the early-doors hangover squad, but drummer Chardine Taylor-Stone soon takes matters into her own hands and hosts a dance competition and leftover floor confetti whips up into a small blizzard – best of all is the uneasy and angular 'Crooked Room'. EH
Taking on Glastonbury's infamous legends slot, Diana Ross starts out strong, striding out onto the Pyramid in a glimmering white kimono and gigantic fascinator, surrounded by a sea of bubbles. From the beginning, she's completely charming between songs, demonstrating her best shimmy, and referring to the pandemic as her "gap year". Getting straight in there with her huge disco smash 'I'm Coming Out' Ross has hits for days – too many to cram into a set, in fact – so it's a shame that staple bangers 'The Boss' 'Remember Me' 'It's My House' and 'You Keep Me Hanging On' are completely passed up in favour of three (admittedly decent) tracks from her upcoming album, and an attempted crowd sing-along for the less ubiquitous 'I'm Still Waiting' which falters and falls flat. Though it's hard to resist the lure of the Motown legend covering Gloria Gaynor's 'I Will Survive' as the euphoric closer, it also feels like an odd parting choice. EH
Caroline Polachek brings her otherworldly vocals and aesthetic to The Park as the afternoon beds in. "This is my first Glastonbury. In my mind, it was always the festival of festivals", she tells the crowd. "I've been here all weekend and what I didn't expect was how it makes you tenderised but also fortified at the same time". Really working the blustery day to her advantage, it's all hair tosses into the wind, her Elfin-like dress billowing behind her. Fans receive a sneak peek of a new Latin-infused single 'Sunset' midway through the set but it's Corrs cover, 'Breathless', and mega-pop-banger, 'So Hot You're Hurting My Feelings', that really go off. CG.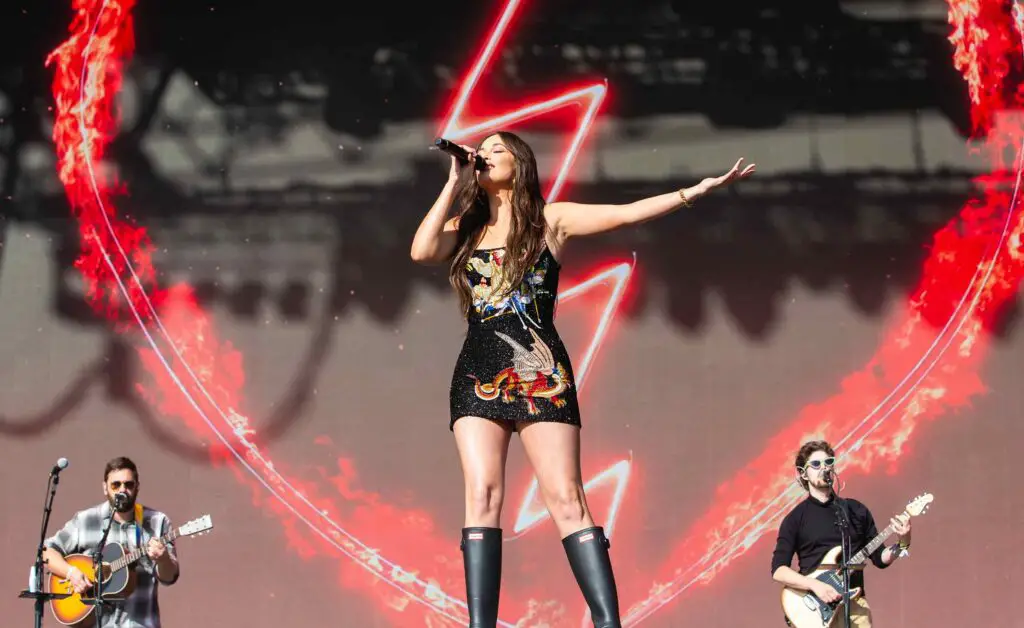 Kacey Musgraves has the energy our feeble little bodies need on a Sunday afternoon. She's done her homework and arrives wearing a pair of obligatory Hunter wellies – too bad it's blazing sunshine. "I know y'all know how to yee'haw out here", she says before kicking into country dance bop, 'High Horse'. "Now it's time for some Kacey-oke". The crowd are buzzed to see lyrics to Fleetwood Mac's 'Dreams' appear on the big screens, to accompany her [very lovely] rendition. More of this cowgirl spirit today, please. It's infectious. CG.
Topping the bill is a challenge left to Compton rapper Kendrick Lamar – who puts on a concept-heavy spectacle of jaw-dropping proportions. Poised and serious, he wears a diamond-encrusted crown of thorns, and moves through a stark set filled with two regimented troupes of dancers with an intense focus – occasionally addressing his huge Pyramid Stage crowd with an approving "right?! Lamar's intricate wordplay and razor-sharp delivery tonight is truly astonishing to witness, the artist nimbly dipping away from some of his snappiest lines to let his roaring crowd take the wheel, and condensing the narrative 'Bitch Don't Kill My Vibe' to a single alternative verse. "They wanna fit in with the popular, what's my problem?" he raps, subtly reappraising the narratives in 'good kid, m.A.A.d city's biggest breakthrough hits.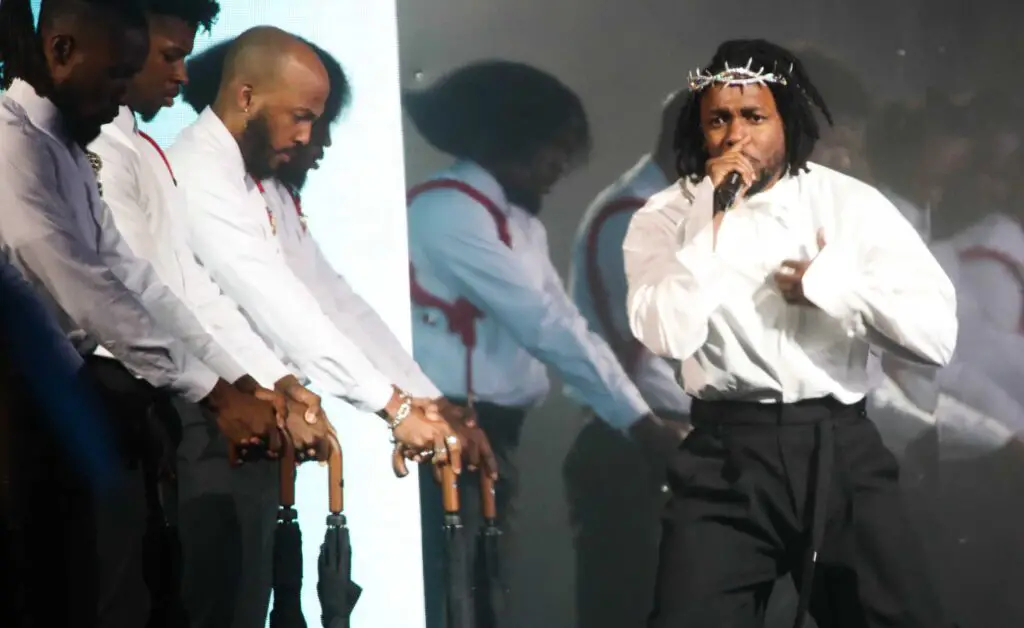 Running through his rich back catalogue in largely chronological order gives the show a grand theatrical feel, and Lamar makes sure to cram in as much as possible by shortening many of his breakthrough hits. It's evident that he's hungry to make every second of this milestone moment count, and every single aspect of this ridiculously detailed show has clearly been considered meticulously. By the time his phenomenally powerful closer 'Savior' comes around, blood pours down Lamar's face and stains his pristine white shirt. As his closer reaches a furious crescendo, he makes a timely demand that's impossible to look away from – "They judge you, they judge Christ, Godspeed for women's rights". Uniting devout faith and an urgent plea for women's liberation, it's a staggeringly powerful moment that eventually overwhelms Lamar – his voice growing hoarser with every cry. Swerving clear of a gratuitous encore or one final crowd-pleaser, Lamar instead leaves Glastonbury with a more thought-provoking cliff-edge, slamming his microphone to the floor, and hurriedly leaving with his head low. You'd expect nothing less from one of the most creative and dexterous rappers in the world: "Kendrick made you think about it, but he is not your savior". This is one for the history books alright. EH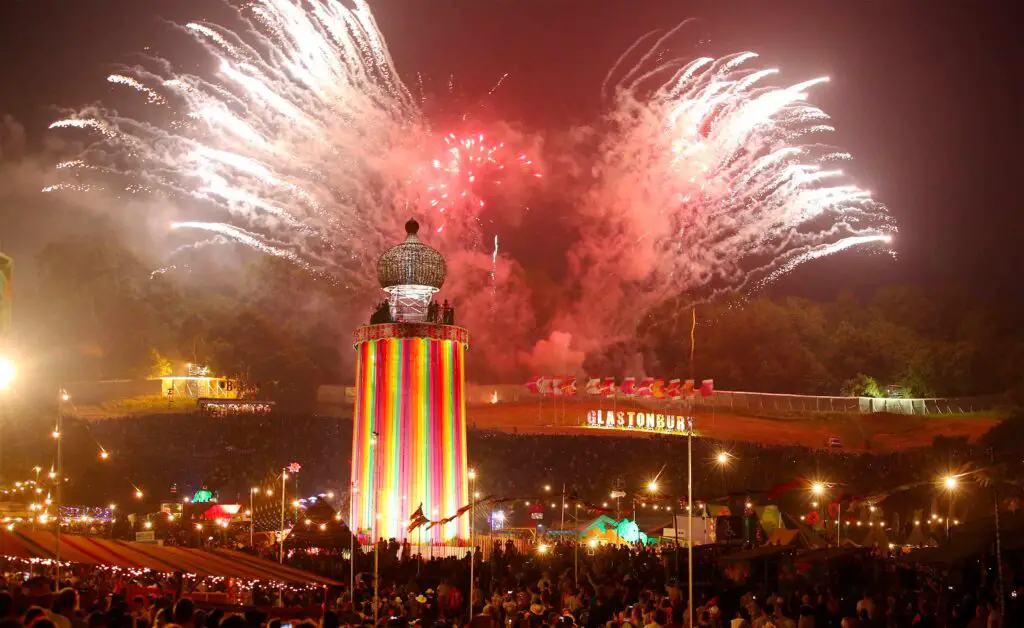 READ MORE: Go backstage at Glastonbury 2022 with these exclusive photos