Taylor Swift might be standing on stage in the middle of a sold-out American football stadium, but, for the briefest moment, she sounds like any typical girl-next-door – sunny, warm and unassuming. After she explains that, although the songs on tonight's (May 12) setlist "started out as songs about something that happened in my life or a character I made up in my imagination", she has one goal for the evening. "By the end of tonight, [I want them to be] about us." As the crowd roars, she adds humbly: "I'll be your host tonight, my name is Taylor."
The pop icon and her 'The Eras' tour, of course, need no introduction. Even before the dates kicked off, the mammoth run of stadium shows was making headlines – albeit for Ticketmaster's shady antics screwing over fans. When the run got underway in Glendale, Arizona, in March, it wowed critics and Swifties alike, while each stop since has brought its own unique charms to the mix. In Nashville, just prior to her Pennsylvania dates, a biblical storm looked like it would cancel one of the city's three shows – instead, Swift delayed her start time by hours and ended up performing in the rain until 2 am.
Philadelphia might not have torrential downpours, but it does have something no other city can lay claim to – being the star's true hometown show. "I grew up just down the road from here," she reminds the audience early on, reminiscing about watching Eagles games on TV with her dad and her head being populated with big dreams. "None of them were quite as dreamy as playing a sold-out Eagles stadium," she grins.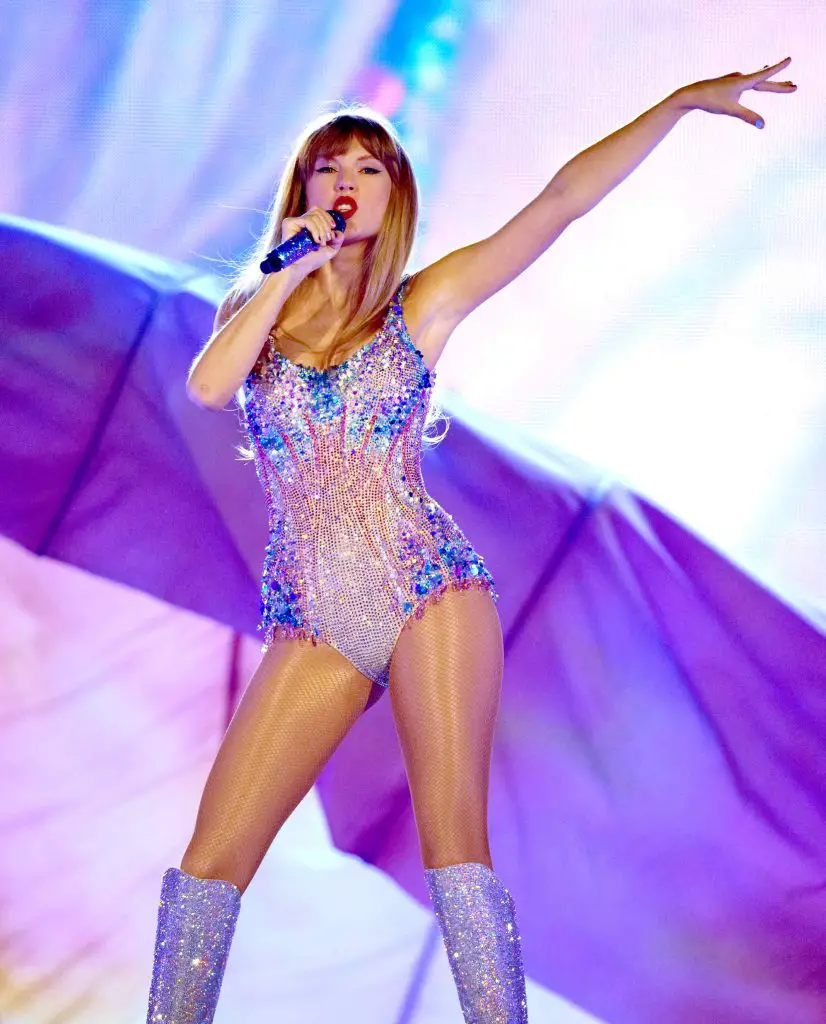 Tonight might have been too much for even the ambitious budding musician to consider being in her future but, decades later, she's not only made it a reality but completely dominates it too. Things get off to a dramatic start with a clock on the screens at the back of the stage counting down the seconds to the superstar's arrival and, then, dancers wearing billowing, dappled pink drapes that catch the wind and soar up high above them walking onto stage. They stand in the middle, material fluttering together until – all of a sudden – Swift emerges from the centre of the pack, like a butterfly breaking free of her cocoon.
'The Eras' tour is a document to growth, change and experimentation; a testament to all Swift has achieved in her life and career so far. It begins with the singer landing in her 2019 album 'Lover', a pastel-hued real filled with secret romances ('Cruel Summer') and self-acceptance ('You Need To Calm Down'). Despite its pretty presentation, it's also an era that's tough – as evidenced in 'The Man', which sees the star flexing a bicep at the crowd before donning a sparkling blazer and kicking her feet up on a desk. "[You're] making me feel like I could do anything," she tells the stadium beforehand, something the rest of the night more than proves she's capable of.
Next, she flies back to 2009 and 'Fearless', inviting the crowd to "go back to high school with me" for peppy versions of 'You Belong With Me' and 'Love Story'. Later, she'll dip back into her teenage years for a singular song from the 'Speak Now' era with a magical, poised take on 'Enchanted', Swift elegantly gliding across the stage in a lavender gown.
The setlist might be full of personal stories regardless of which city she's performing in, but some of those tales are heightened in Philadelphia. Emotions run high during the 'evermore' segment of the night, as the crowd lights up the venue with its phones during 'Marjorie', a devastatingly poignant song about Swift's late grandma. "That was really nice of you," she tells them afterwards, eyes sparkling with tears. "Pennsylvania is where my childhood happened and that's also where all my memories of my grandma happened so just thank you."
The dewy eyes continue for a stunning rendition of 'Champagne Problems', which Swift performs on a moss-covered piano under an arch of weathered trees. If the whole stadium wasn't already on its feet, the response to the song would be a standing ovation, and as it is fans roar with approval for minutes, their star looking back at them on the verge of tears again.
In one moment during the 'Red' segment, Swift references her re-recording project and the battles she's faced in the music industry. If that ambitious undertaking is her reclaiming her creations, then this tour could also be seen as some kind of redemption for her less popular work. 'Reputation', her combative 2017 record, might be her most maligned album but, wearing a glittery black jumpsuit emblazoned with a red snake as her armour, the star goes to bat for it again. '…Ready For It?' revs things up perfectly, while the seamless segue between 'Don't Blame Me' and a fierce 'Look What You Made Me Do' are stunning in the extreme.
If sharing the personal stories of her youth and beyond is one constant of this leg of the tour, then another is Phoebe Bridgers. The LA singer-songwriter is, alongside Gayle, one of the support acts tonight and she joins Swift in the 'Red' era to duet on the acoustic ballad 'Nothing New' for only the second time. Later, when Swift is performing her two surprise songs for the evening, she reveals one of them has been requested by Bridgers. "Of course I'd play it, I'd do anything for her," Swift grins before sitting at a piano and performing 'Red''s 'Come Back…Be Here'. In the moments before, she returns to the 'evermore' era for an acoustic guitar take on 'gold rush', fumbling it slightly but quickly recovering with a smile.
Different tales emerge as we enter 'folklore', our guide for the night lying on the roof of a log cabin as we do so. In this era, characters are key, Swift explaining imagining herself in this nature-filled other world was a coping mechanism and form of escapism for her during the pandemic. That album's performances are full of drama, from the theatrical interpretation of 'the last great American dynasty' to the eerie stillness of 'My Tears Ricochet', which soon crumbles and sends Swift to her knees.
Night one in Philly might be an emotional one, but at its end, it also becomes celebratory. '1989''s section is packed with pop anthems – 'Style', 'Blank Space', 'Shake It Off', 'Wildest Dreams' and 'Bad Blood' bringing some additional sparkle to the night. Finally, we return to the present to elevate that gleam even more with 'Midnights', the whole stadium united in screaming, "It's me, hi / I'm the problem, it's me" and immersing themselves in Swift's revenge fantasy in 'Vigilante Shit'. As 'Karma', the vibrant final song of the night, explodes across the venue like the fireworks now lighting up the sky, Swift achieves her goal – in her hometown, her stories find new meaning, expanding to encapsulate the rush of feelings and fun that the star has shared with the audience tonight.
READ MORE: Taylor Swift's most underrated songs