"Saddest Factory Records Corporate Retreat (Q1) invite all SFR "employees" for a day of team building, bonding and togetherness," reads a mocked-up email announcing the SXSW showcase for Phoebe Bridgers' record label. Tonight (March 16) at Austin's Mohawk, the CEO and her growing group of musical staff showed that a united spirit is already in abundance at the company.
Bridgers' vision for Saddest Factory is straightforward enough: "good songs, regardless of genre," she explained when announcing the imprint in 2020. The through-line of each set tonight is just that, with each artist occupying their own space within the indie/alt-leaning sphere and bringing their own unique spark to the event.
Charlie Hickey, an old friend of Bridgers', opens the night with a set of emotional indie-rock, not too dissimilar to his boss' own music. 'Nervous At Night' is a yearning tumble through a relationship, the Californian singer-songwriter following up his admission that he's "pretty sure I could live without you" with "I'd rather just stay home, talk about you." A new song he describes as being about "long-distance relationships and public transport" is more chiming indie for when you're going through it, Hickey sighing "I don't think I'm gonna get what I want."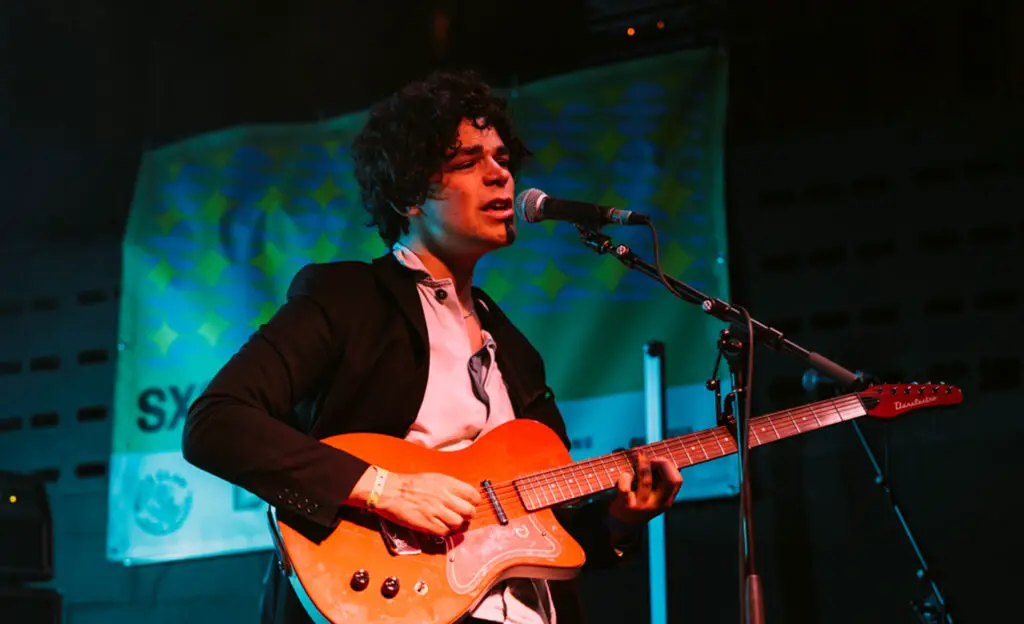 "I know you all came to see me, but there's a lot of great bands on tonight," he jokes towards the end of his set. "I'm going to bring the boss of the whole operation out now." Bridgers, dressed fittingly in a grey power suit and space buns, leaps on stage to lend her vocals to 'No Good At Lying' and 'Ten Feet Tall', hers and Hickey's voices melding gorgeously on the sentimental songs.
As Sloppy Jane set up, it's immediately clear that their segment of the night is not going to be like anything else on the bill – or at the rest of the festival. A group of string players and a glockenspiel player squeeze into one corner of the stage, while bassist Raina Bock mounts her perch of a grey plastic garden chair, from where she plays for most of the set. When the time comes for the band – which many moons ago featured Bridgers herself on bass – to start, frontwoman Haley Dahl appears in a blue crushed velvet suit, boots and cape and begins to conduct her bandmates through a dissonant cacophony, her taking on the role of high priestess of discordance.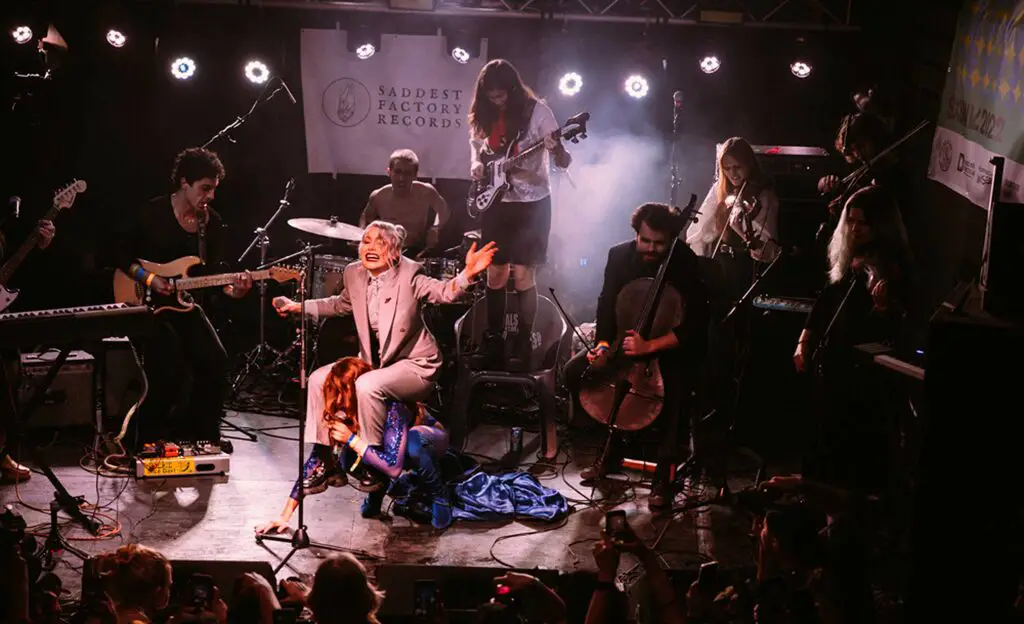 But when the opening 'Overture' subsides, its replaced with the melodious, harmonious 'Party Anthem', with more than a whisper of David Bowie's grandest tunes to it. It's a balancing act that Dahl perfects throughout – one minute nailing lush, rich pop, the other eliciting Velvet Underground noise-rock from her bandmates. This is punk performance art at its most thrilling, each song accompanied by a new twist from the singer. On 'Jesus And Your Living Room Floor', she turns away from the crowd and spins back with rivers of glittery tears streaked down her cheeks; 'Judy's Bedroom' finds her shrugging off her jacket and trousers to perform in a blue glittery crop top and knickers. It's unpredictable and truly brilliant, not least when Bridgers reclaims her spot in the band for one song, her and Dahl theatrically screaming through the chaos of 'Where's My Wife?', both spending a good chunk of the song entangled in a heap on the floor.
Survivor's 'Eye Of The Tiger' runs through the PA and the green-haired Claud bounds up onto the stage, punching the air and pogoing along. A fan in the front row brandishes a vinyl copy of their debut album 'Super Monster' and a pen, and Claud dutifully signs it before launching into a set of the songs that have made them into a relatable hero for a section of Gen Z. 'That's Mr. Bitch To You' is a pop-punk anthem, performed with middle fingers raised and attitude high, while 'In Or In-Between' is dreamier and full of gentle desire. It's the stripped-back penultimate song, 2020's 'Wish You Were Gay', that inspires one of the biggest singalongs of their set, a tender and strikingly simple ode to wanting someone whose sexuality likely precludes you from them wanting you back. But it's the closing track 'Soft Spot' that gets the crowd joining in the loudest, them and Claud aided by Bridgers for a beautiful moment that makes everything feel still.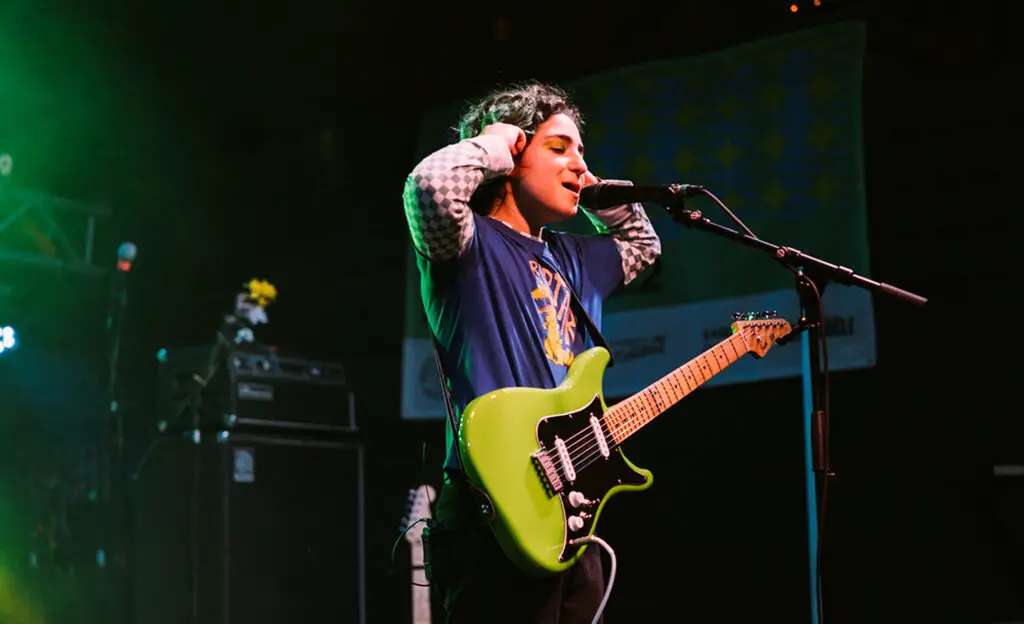 MUNA are the latest act to join the Saddest Factory roster and the last to perform tonight, bringing pop sparkle and euphoric energy to the early hours of the morning. "It's way past our bedtime," jokes singer Katie Gavin, but the trio bounce through their set with the energy of a band fully in their stride. 'Number One Fan' opens the show, an empowering anthem that encourages you to stan yourself. Unsurprisingly, it's bellowed back at the group, its positivity thrillingly infectious.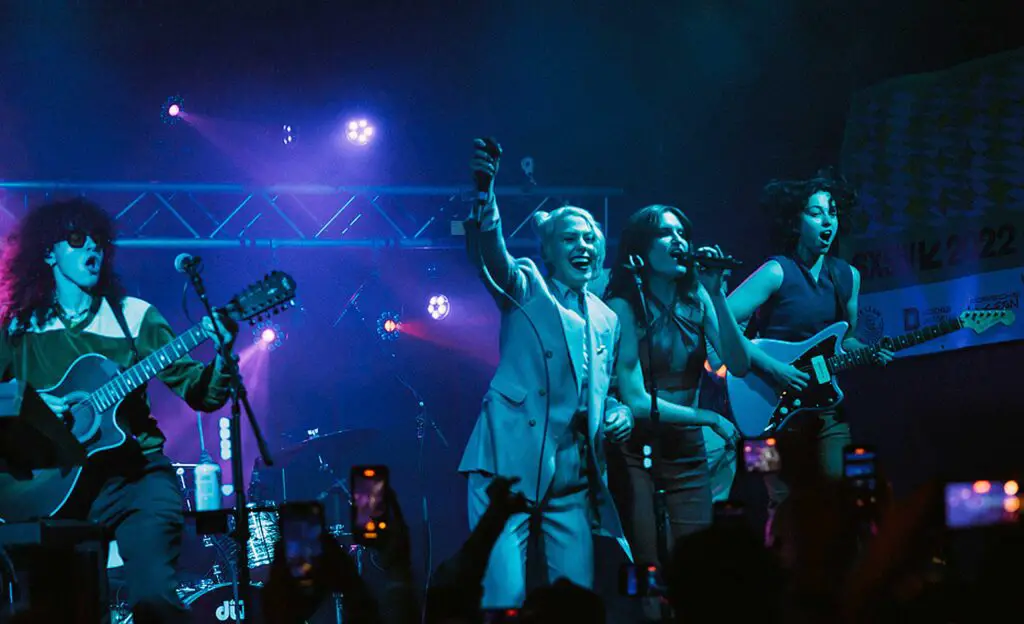 That attitude continues throughout the LA group's set, like when they cheekily dedicate 'Everything' to their new boss ("Everything's about you to me," goes the chorus) or on an unreleased country-tinged song Gavin says is about "being relieved that you can change for the better". 'I Know A Place' offers an invitation to a sanctuary that MUNA say they once needed to create where they could be themselves – a similar sanctuary to the one that feels like it's been created at SXSW tonight. With the night's joy at a giddy peak, it's time for things to go out on a high, namely a jubilant version of 'Silk Chiffon', with an appearance from a grinning Bridgers. "Life's so fun, life's so fun," they sing on the chorus and the Saddest Factory showcase is proof of that.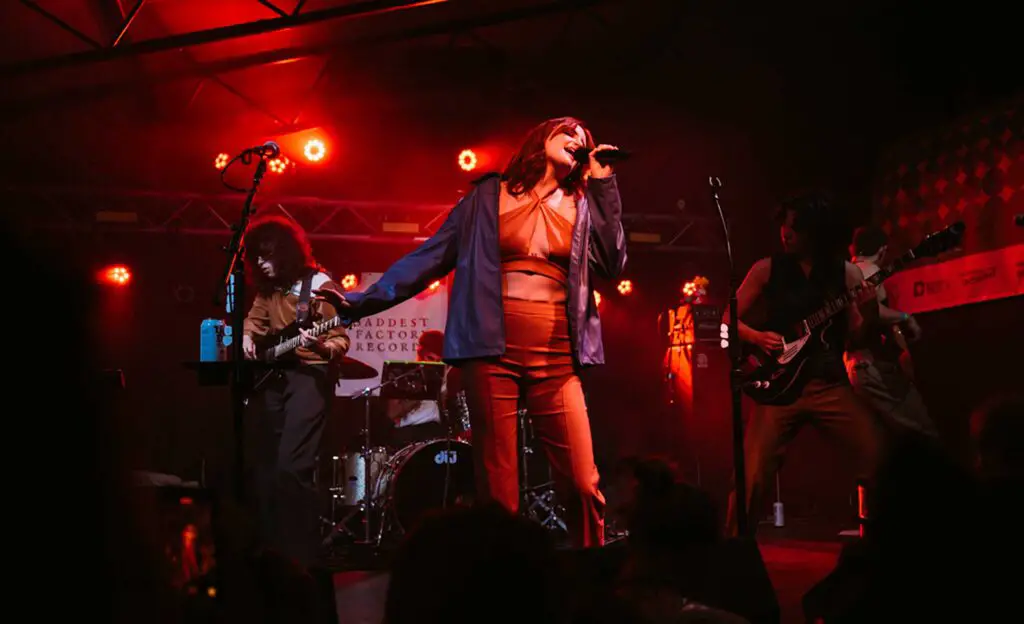 READ MORE: An interview with Claud: "I feel love really intensely"