Claud Mintz is a life-long romantic. Growing up in Chicago, they recall pining for a much older girl at school, and taking up songwriting aged 14, specifically to impress her. "I thought she was, like, super cool," they smile, still doe-eyed at the memory, regardless of the fact that the crush went unrequited.
The tenacity with which Claud has held onto their wide-eyed wonder about relationships – despite the inevitable disappointments that come with finding your feet romantically – feels genuinely quite radical in this day and age. Rather than cowering behind the protective shield of cynicism, their excellent debut, 'Super Monster', is a guileless, coming-of-age classic, celebrating both the exultant highs and excruciating lows of falling in and out of love and lust. In doing so, it's testament to the uplifting power of allowing oneself to be vulnerable emotionally, though today the 21-year-old is quick to downplay the achievement with the droll understatement, "I just think I feel love really intensely."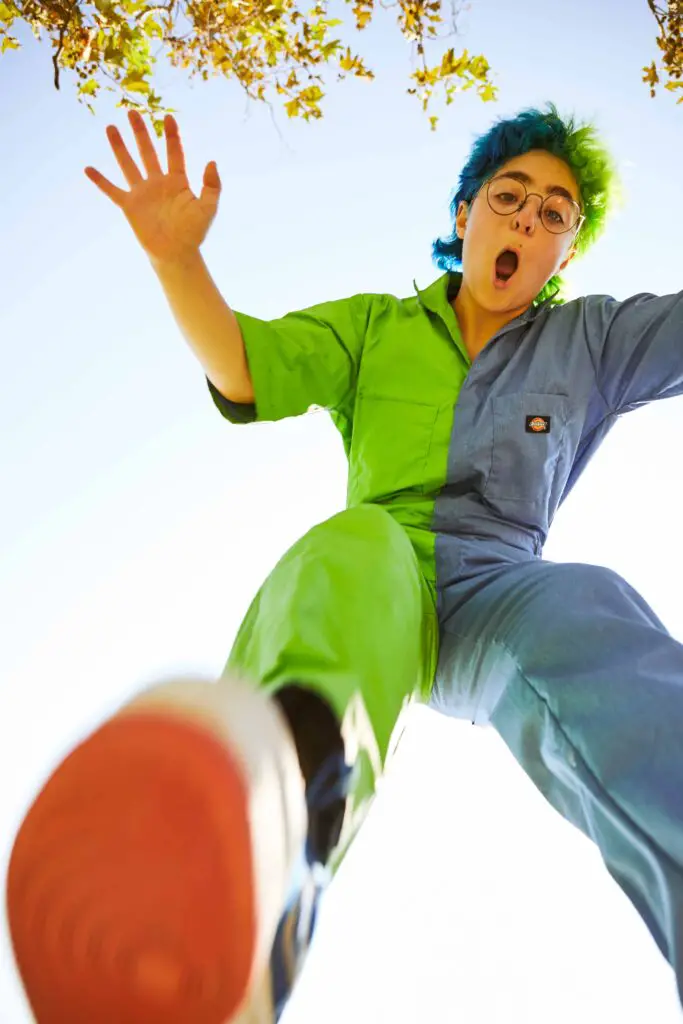 When we speak just before Christmas, Claud is quarantining near family in L.A. For the singer-songwriter, who normally resides in New York, 2020 was a year of distinctly mixed emotions, with unprecedented career highs swiftly chastened with doses of lockdown-related disappointment and vice versa.
For example, in early March, Claud was thrilled to be announced as support on Tegan and Sara's North American tour. But as COVID took its toll on the live industry and all shows were cancelled, Claud's summer was actually spent bingeing box sets of 'Big Mouth' and 'PEN15' and – like the rest of us – "learning to be alone a bit better." Somewhere along the way, Claud recalls making peace with it being a pretty low-key year, only for everything to explode in November, with the announcement they'd signed to Phoebe Bridgers' new label, Saddest Factory Records.
While a co-sign from one of the most critically-acclaimed artists of 2020 certainly couldn't hurt anyone's career progression, Claud has deserved every ounce of the attention they've received thus far. In fact, they've been building up to this moment since school, when they'd take part in 'School Of Rock'-style band camps and skip football games to obsess over Tom Petty, Carole King and Nirvana with pals in the parking lot.
Claud's first notable musical project was Toast with Josh Mehling. Having met in 2017, in their first term studying music at Syracuse University in upstate New York, the dream-pop duo's self-titled EP came out in 2018 via Terrible Records (Dev Hynes, Moses Sumney). Though Claud officially went solo shortly after, Mehling remains a close collaborator and was a sounding board throughout the making of 'Super Monster',
Listeners' first proper introduction to Claud's musical universe came in 2019, with the lo-fi indie-pop on eight-track collection 'Sideline Star'. Its standout moment remains 'Wish You Were Gay', a wonderfully witty yet tender track which arrived accompanied by a video queering the famous 'Expectations vs Reality' scene from 2009 romcom 500 Days Of Summer.
It was reportedly around this time that Saddest Factory's parent label Dead Oceans first started circling, but Claud held off signing with anyone until 2020, when Phoebe Bridgers became involved. Explaining the change of heart, they say, "I had all the parts in my head of what I wanted [the album] to be, and I was finally ready to have a team [behind me] of people that believed in it."
Claud couldn't have hoped for a better ally in Bridgers. The polar opposite of the megalomaniacal label boss persona she's been parodying in public, Bridgers has been supportive rather than overbearing, offering Claud both the benefit of her experience and access to her platform, and acting more like an A&R than a CEO. "She's really smart, and has a really good knack for marketing," Claud confirms. "It's definitely very cool to have her on my team."
---
---
Likewise, it isn't difficult to see what it is about Claud's debut that drew Bridgers in. Stuffed to the brim with brilliantly bittersweet, often synth-embellished alt-pop, 'Super Monster' is a beautifully candid exploration of love from a genderqueer perspective, from the, "It's been a pleasure to be your man," refrain of 'Ana' to the intimacy of scenes like, "Pull the covers over our short hair / Pretend like the city wasn't there," in 'Soft Spot'. Even more brazen is 'That's Mr Bitch To You', an enjoyably vengeful blast of pop-punk which finds Claud tearing down misogynistic language and transphobic attitudes.
The record also features a rich seam of the sort of self-lacerating humour that wouldn't seem out of place on 'Punisher', the most memorable moment coming in the opening line of 'Pepsi': "I hate how you told me to masturbate instead of coming over." "Um, that happened," Claud winces when we quote the lyric. "I had feelings for somebody and they were jokingly kind of mean to me about it. It's like, OK get it: you don't like me back. And that's fine. But, like, ow – it still hurts, you know?"
For Claud, the process of honestly sharing experiences, however painful, proved revelatory. "I've learned so much. I learned that it's a lot easier to just forgive somebody, let things go and move on. But I think the main thing I learned is that relationships don't just end.
"A lot of the time when I'm writing a song about somebody, I think that this is how my relationship is going to be with this person for the rest of our lives. I don't think I ever would have realised how much my relationships with other people as well as myself have changed over time if I didn't literally write it down."
This idea of identity being mutable or nebulous feeds into the choice of name for the collection too, which was inspired by a Daniel Johnston drawing called 'Claud and the Supermonster'. "I really love the themes of his work," Claud explains. "And I loved the juxtaposition of super monster because to me it's almost contradictory, combining the ideas of superheroes and monsters. I liked the idea that nobody's just a good person or bad person: everybody's just doing their best.'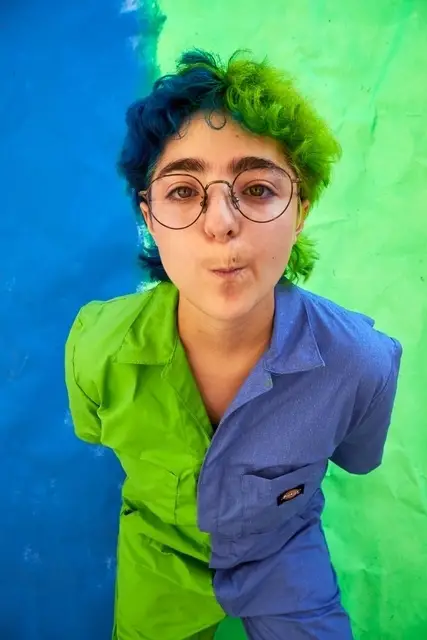 ---
---
In a world that often operates on snap judgements and binary logic, this empathetic, nuanced approach feels especially refreshing. So too is Claud's willingness to address the impact of the modern world on their mental health. "In my head I hang on by a thread," they sing on 'Falling In The Rain', a deceptively euphoric album-closer featuring Shelly, the band Claud plays in with Mehling, alongside their other Syracuse University friends Clairo and Noa Getzug.
Bright melodies aside, it's this balance of realism and idealism that makes 'Super Monster' such a captivating debut, and Claud such a compelling storyteller. As they explain, this outlook is very much empirical.
"I feel like at college I actually learned how to write and understand music. But it was only once I left there and experienced more in life, that I became like more of an artist." So, with a lifetime of romantic experiences still to come, 'Super Monster' is just the tip of the iceberg for Claud as a songwriter. Lucky us.
Super Monster is out on 12 Feb 2021 via Saddest Factory.