We're pretty big Pharbs here at The Forty-Five and we like to know what makes our beloved artist tick. From her favourite book to the music that got her through lockdown, here are some of Phoebe Bridgers' favourite things.
Listen to Grouper
Grouper was top of Phoebe's Spotify most-listened-to artists list for 2020. In a chat with Adam Buxton, she described the US ambient indie artist as making "classical music for people who like indie rock" and "the perfect record for listening to when you don't want something to affect your mood 100%. It's some very cool background music".
Get cozy in these bed sheets
A couple of years ago, Phoebe spent a lot of time in these bedsheets. They're still available, as one eagle-eyed Redditter spotted, at garnethill.com.
Read Her Body and Other Parties, by Carmen Maria Machado
Phoebe describes the book as possibly her favourite of all time. The collection of short stories is Machado's debut but gained much critical acclaim with its focus on women's experiences told through the mediums of horror, science fiction and fairytale.
Buy a copy of Her Body and Other Parties.
Get stuck in at your local thrift store
Phoebe loves thrifting at charity shops like St. Vincent De Paul which has branches in LA and Long Beach. "I buy a suit for $8 and then spend $150 on the alterations," she said in one interview.
Relax to these ASMR videos
Phoebe said that ASMR videos – and in particular, those by vlogger itsblitzzz on YouTube – influenced the making of her album 'Punisher'. Itsblitzzz and Phoebe then teamed up to create one of their own.
Get coffee at Gelson's
It's a supermarket chain in LA, but also where Elliot Smith (and Phoebe) regularly picked up coffee.
Buy this float for the pool
We know this one, because we actually bought it for Phoebe for this iconic The Forty-Five photoshoot, in her mom's backyard. Buy your own pout-y duck.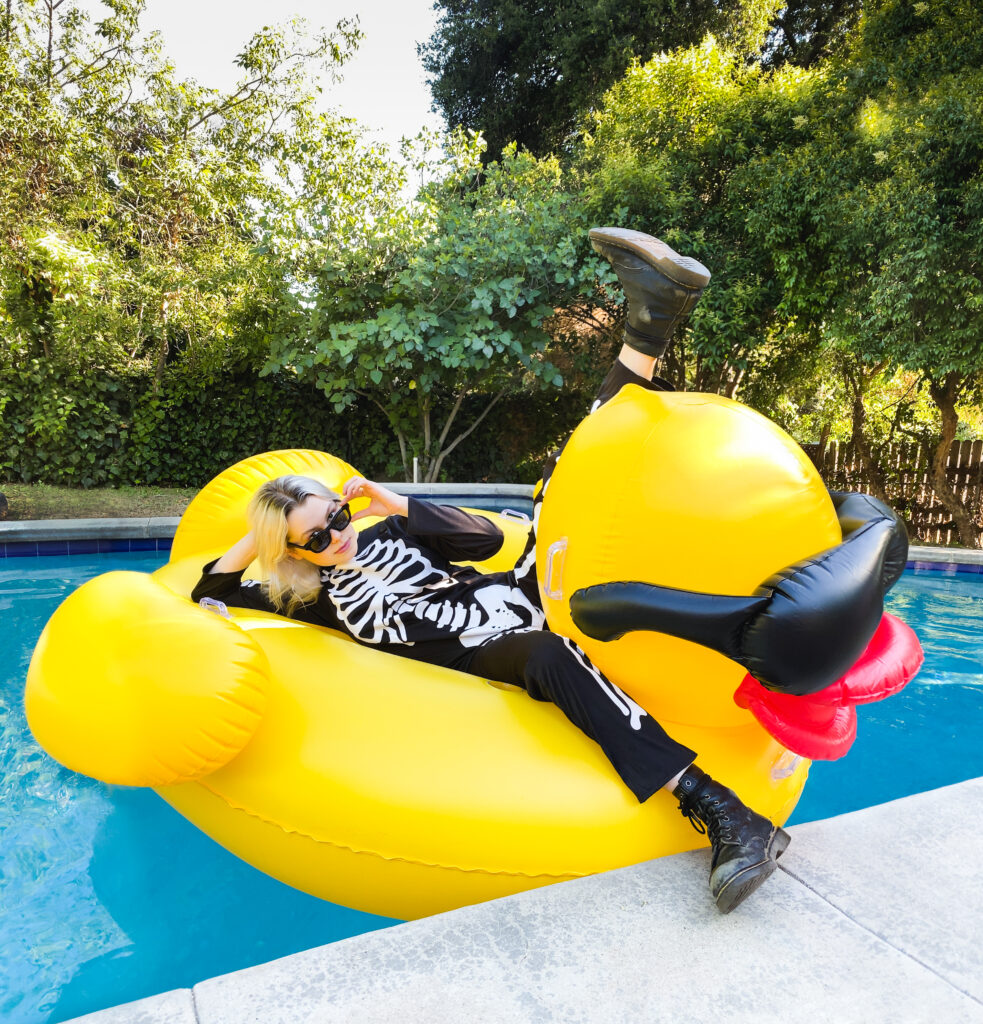 Binge watch British comedies
Phoebe has spoken about being a big fan of British comedies such as This Country and Stath Lets Flats. The latter was introduced to her by The 1975 as its creator, Jamie Demetriou, is a friend of the band.
Get yourself a partner who stans you as much as you stan them
As far as we can tell, Paul Mescal and Phoebe's first meeting was over this Instagram Live chat for Wonderland magazine.
In it, Paul reveals he's a huge fan of Phoebe's debut album, 'Stranger In The Alps'. Whereas, Phoebe had already laid some groundwork while watching Paul's breakout TV show Normal People. A love story for the internet age, if ever we saw one.
---
READ MORE: Phoebe Bridgers' saddest songs