The release of Phoebe Bridgers' 2017 debut album, 'Stranger in the Alps', confirmed what cult fans already knew: that she is already one of the wisest, funniest, most cuttingly insightful songwriters we have. After that, things took off quickly. In 2018, she and Julien Baker and Lucy Bacus formed boygenius, releasing an EP of the same name. Not long after that, Bridgers caught the attention of Bright Eyes' Conor Oberst, and the pair joined forces to form supergroup Better Oblivion Community Center, releasing an album in 2019 that combined their folky, melancholic sensibilities.
With all those accolades to her name and an endorsement by some of her favourite artists, Bridgers has every reason to be feeling pretty smug but, at 25, she's got humour and self-deprecation down to a fine art. Tweeting jokes like "eating ass and taking names" while writing the most heartbreaking songs of a generation, Bridgers' jokes don't end at her Twitter page. Her songs are funny, too, and the release of second full-length 'Punisher' this month adds to the canon of her uniquely dark humour.
Bridgers' lyrics are incisive, with a clarity that grounds them in reality even when they aren't necessarily reflections of her life. In a recent interview with Rolling Stone, she joked that she "never even googled" whether they have pay-phones in Kyoto despite penning a lyric in one of her newest tracks to suggest as much: "I totally made that up," she laughed.
To celebrate the release of 'Punisher', we've put together a guide to the most "Phoebe Bridgers" Phoebe Bridgers songs and their lyrics: devastating in their specificity, songs about grief, heartbreak, childhood homes and growing older that cut to the heart of things we all feel.
1. 'Funeral'
'Funeral', the final single released from 2017's 'Stranger in the Alps', is evidently about the death of a friend. In boiling down that grief, Bridgers examines her feelings in forensic detail: not just her despondence and perpetual blueness, but her disappointment at her own self pity when "someone's kid is dead". It brings the emotions and images of our 20s and our first real griefs into sharp focus, childhood bedrooms and all.
2. 'Garden Song'
On 'Punisher', Bridgers turns outward, exploring her childhood and home. Growing up in Pasadena, she currently lives in Los Angeles, a true child of California. "Garden Song" is full of magic tricks, complete scenes with stories and punchlines all their own crammed into just one perfect line or two: when I grow up, I'm gonna look up from my phone and see my life.
3. 'Scott Street'
Getting older is hard, but there aren't many artists focused on the in-between moments between adolescence and truly growing up. Bridgers fills the gap for confused, ageing children in their 20s, and on 'Scott Street', she pinpoints in just a few words how it feels to realise you are getting older, but not necessarily changing.
4. 'I Know the End'
'Punisher' is full of strong, quietly devastating tracks, but closer 'I Know the End' is far from quiet. Starting slowly, 'I Know the End' builds to a crescendo of feeling (with Nate Walcott on horns) that's less complete thoughts than images of dusty, Texan Americana: A slaughterhouse, an outlet mall/slot machines, fear of God. It's a strange, ghostly dust swirl of emotion.
---
READ THE FORTY-FIVE'S FIRST EVER COVER INTERVIEW WITH PHOEBE BRIDGERS
---
5. 'Killer'
The phrase old soul doesn't quite do Phoebe Bridgers justice, but it goes some of the way to explaining her preoccupations. At just 25, she's already obsessed with death and dying. On piano ballad 'Killer', Bridgers reckons with her own perceived coldness and toxicity while wrestling with a fear of abandonment and death.
---
READ MORE: 45 SAD SONGS FOR SAD BOYS AND GIRLS
---
6. 'Moon Song'
On 'Moon Song', which dissects a complex love, Phoebe is stripped back to what she's best at: breathy vocals, strings, and gut punches that are both funny and devastating at once. Its raw ruminations on dependence, sex and love are grounded in the absolute realities of birthday parties, fights and conversations: lines like "We hate 'Tears In Heaven'/but it's sad that his baby died" are jarring, and that's the point.
7. 'Smoke Signals'
'Smoke Signals' is a complicated love song for an ex-boyfriend. In parts she references the death of heroes like David Bowie, but the most gut-wrenching line is this one, where she hints at the after effects of her partner's traumatic past.
8. 'I See You'
Unlike many of Bridgers' songs, 'I See You' is deceptively upbeat, with tinkling synths and a singable chorus. But it's also sharply funny, with the surprising moments that 'Punisher' is full of: a cruel punchline about someone's mum in the same song as bleak and revealing admissions like, "whenever I feel good/it'll be the last time".
9. 'Chelsea'
Bridgers' fears of aging and dying are scattered throughout her work, sometimes less subtle than others. 'Chelsea', which is about Nancy Spungen's death at the Chelsea Hotel, was born from a teenaged poem and Bridgers' obsession with the idea that someone could take another's life.
10. 'Kyoto'
The video for 'Kyoto', filmed in lockdown, shows a skeleton onesie-clad Bridgers flying around Japan with a little green screen magic. It's deceptively whimsical, and the song is, too, featuring horns by Bright Eyes' Nate Walcott. The lyrics, however, are hot with spite, a gentle reminder not to fuck with anyone who can write something this beautiful about it.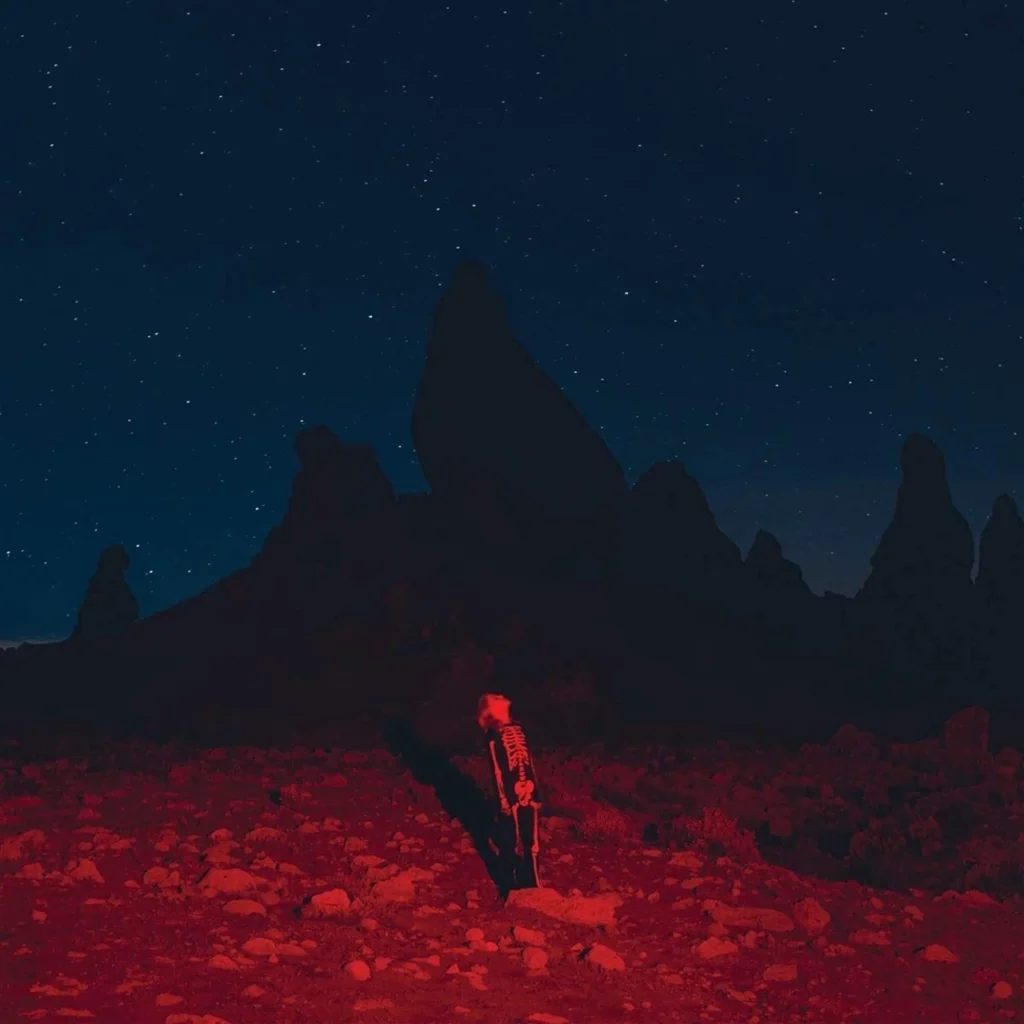 ---
Like what we do? Support The Forty-Five's original editorial with a monthly Patreon subscription. It gets you early access to our Cover Story and lots of other goodies – and crucially, helps fund our writers and photographers.
Become a Patron!