A half century on from Merry Clayton's stunning self-titled album – the cover of which sees her with her arms outstretched, mid glorious croon – one of the most overlooked voices in pop is back. A soaring selection of gospel tunes, complete with a song written for her by über fan Coldplay's Chris Martin, 'Beautiful Scars' is the sound of a woman who has been through some utterly harrowing experiences – both her legs were amputated after a 2014 car accident – but still sings with nothing less than utter joy. 
Born in New Orleans on Christmas Day, hence her festive first name, Merry has been honing a voice five times the size of her own body since she was a kid. First singing with a local gospel choir in New Orleans, and basking in the glow of her father's friend, the gospel great Mahalia Jackson, she went pro at 14 when the family moved to Los Angeles. Her recorded debut was a duet with smooth crooner Bobby Darin and her own solo single would come two years later in 1964, in the shape of the very first recording of 'The Shoop Shoop Song (It's in His Kiss)'. Though the track would become a hit the following year for Betty Everett (and Cher would take it to the top of the charts another 25 years later), Merry's version failed to chart. But she wasn't put off. Merry became a member of Ray Charles' backing group The Raelettes and fell into some seriously high profile session work, contributing to songs by everyone from Burt Bacharach and Joe Cocker to Carole King and Linda Ronstadt.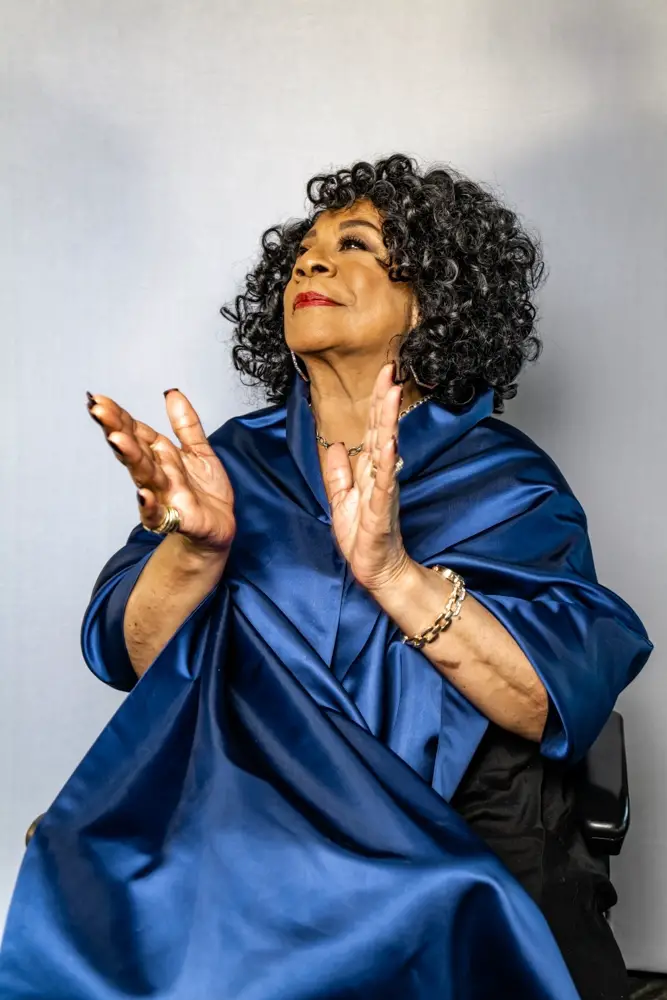 Merry also sang on a number of tracks on Neil Young's 1968 solo debut album, which is how she met producer Jack Nitzsche. It was Jack who'd bring in Merry for her most infamous session job. Despite being heavily pregnant and having no idea who the Rolling Stones were, Merry had driven to the studio at midnight before delivering a majestic performance, her voice cracking with passion and fire. "We randomly phoned up this poor lady in the middle of the night, and she arrived in her curlers and proceeded to do that in one or two takes, which is pretty amazing," remembered Mick Jagger of Merry's soaring turn on 'Gimme Shelter'. 
"I had to sit on a stool because I was a little heavy in my belly. I mean, it was a sight to behold," she later said. "And then we went in the booth to listen, and I saw them hooting and hollering while I was singing, but I didn't know what they were hooting and hollering about."
The hooting and hollering was down to her pitch perfect take, but they did a couple more just because, then sent Merry back home. Tragically, upon leaving the studio, Merry suffered a miscarriage, long thought to be due to the intensity of her singing. "We lost a little girl. It took me years and years and years to get over that. You had all this success with 'Gimme Shelter' and you had the heartbreak with this song," she recently told The Guardian. "It left a dark taste in my mouth. It was a rough, rough time." On the original release of the Rolling Stones' track, Merry's name was also misspelled as Mary. She righted that wrong the following year when she released her own version of the track, which headed up her incendiary debut solo album, which also featured fabulously full-throttle versions of James Taylor's 'Country Road' and Simon & Garfunkel's 'Bridge Over Troubled Water'.  
More incredible albums followed throughout the 1970s, but it was her session work that sustained her and as a singer she became confined to the shadows. She finally got the chance to show her side of things in the 2013 Oscar-winning documentary '20 Feet From Stardom', which shone a light on some of the music industry's greatest ever backing singers. With 'Beautiful Scars' – her first album in 27 years – Merry Clayton can now tell even more of her incredible story.  
---
READ MORE: The Unsung is a weekly series. Get to know the stories of more musical heroes.
---
Like what we do? Support The Forty-Five's original editorial with a monthly Patreon subscription. It gets you early access to our Cover Story and lots of other goodies – and crucially, helps fund our writers and photographers.
Become a Patron!