Within the first hour of Leeds Festival, it is clear that we are in the midst of a very 2022 kind of youthquake. Girls in neon mesh daub messages across each other's chests while topless boys puff elf bars, sneaking in Capri Sun pouches of vodka in the pockets of their low-slung shorts. Everyone moves in huge groups and chat about how 'mashed' they're going to get, but also take note of meeting points and water stations, balancing the carnage with some semblance of care.
If any of the above sounds sneering, it isn't meant to. Every generation has its defining characteristics, and with so many celebrating their GCSE or A-Level results, R&L's bank holiday weekend has become something of an unofficial teen break, one last chance to go buck wild before the responsibilities of whatever lays next kick in. As we begin to move out of the pandemic, these are the teenagers who have lived under formative years of uncertainty, and with a noticeable more diverse line-up than usual, there are greater possibilities than ever on offer this weekend to let loose in the way that best represents you. 
FRIDAY
Australian singer-rapper Mallrat is first up on Main Stage East, guiding us through the highlights of 'Butterfly Blue', which she describes as 'honestly, one of the best albums of the year.' She has every reason to be confident; with minimal staging, she holds the crowd's attention with bedroom-pop ease, dedicating her song 'Charli' to clear inspiration Charli XCX. She is followed up by near-age mate Willow, clearly enjoying her first experience of the fresh Yorkshire air as she declares her love of performing outside. Sporting a bunny-ear hat not dissimilar to The 1975's 'Sincerity Is Scary' look, she romps around the stage with total confidence, wading into the crowd on 'Lipstick' without missing a single soaring note. Breakout anthem 'Transparent Soul' and new single 'Hover Like A Goddess' obviously go off, but it's TikTok sensation 'Meet Me At Our Spot' that secures the first big singalong of the day, leaving good vibes lingering long after she's left the stage.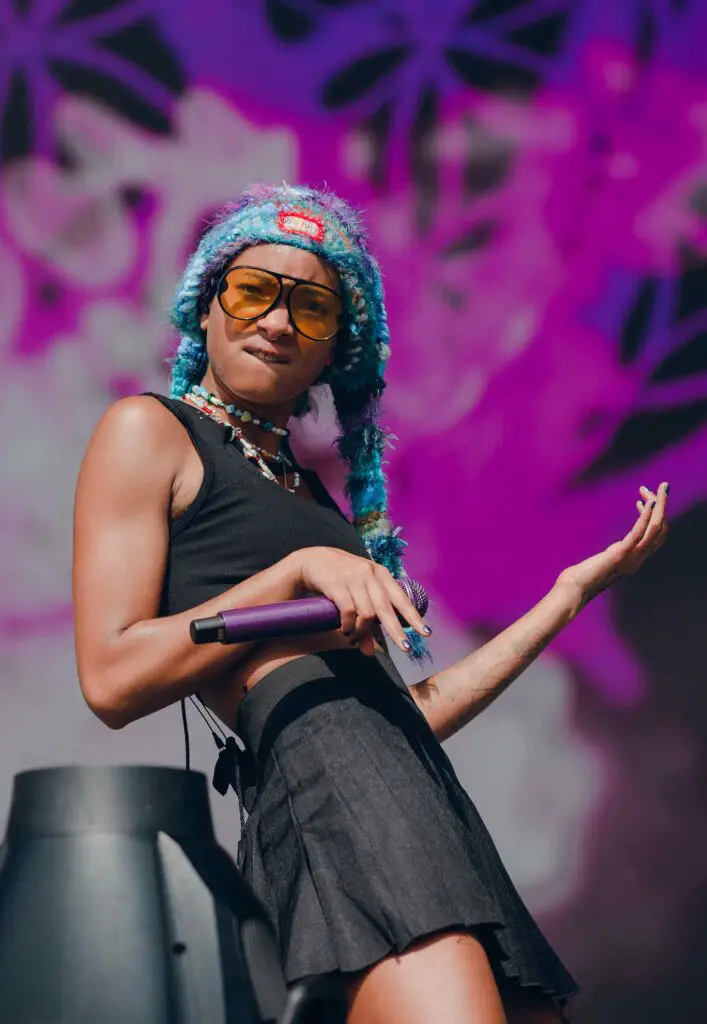 With notable improvements to the sound quality on the main stage this year, Pale Waves also get the full stadium treatment. As they shapeshift across shades of rock, country-emo and the noughties American Pie of album title track 'Unwanted', it is clear just how far Heather Baron Gracie has come as a vocalist, crowds flocking in with intrigue. "Have we got any queers out there?" she asks, striking up the chords of 'She's My Religion'. "Because in case you didn't know, we're a very queer band." To represent proudly like this on the main stage clearly means a lot, carving out an identity that defines them against their inspirators.
Drafted in at the last minute to replace Måneskin, Charli XCX confesses to feeling nervous, but from the opening crack of 'Lightning', she gives a performance that is anything but. Flanked by her abundantly enthusiastic dancers Grant and Nathan, hers is a polish to be admired, without compromising on a genuine connection with its crowd. A rare outing of 'Boom Clap' thrills the more casual attendees further back, but the stans in the front row really get going during 'Boys', perfectly coordinated with a blast of peachy late afternoon sun.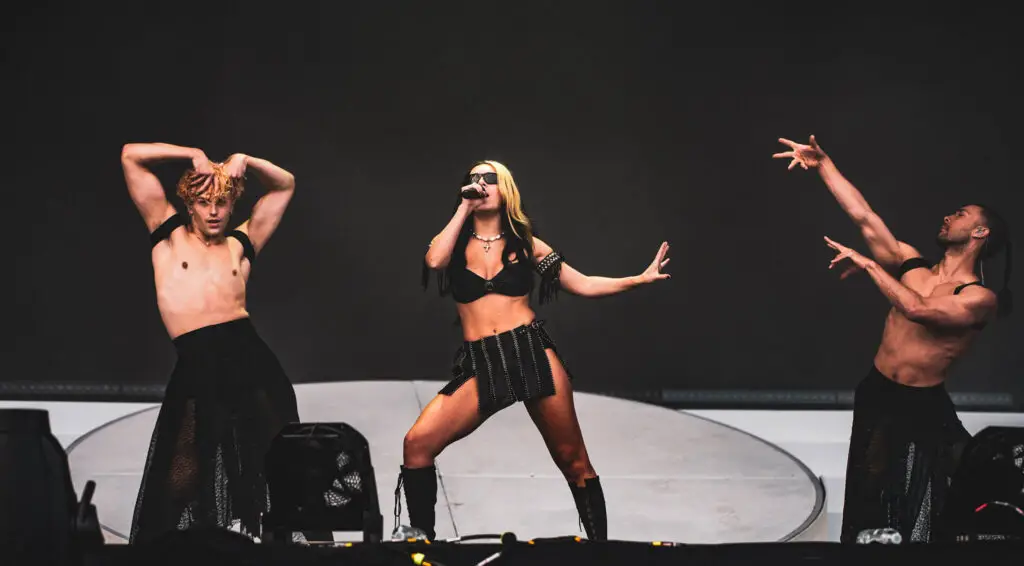 Over on Main Stage west, tonight's co-headliner Halsey is setting a very different tone. Beaming pro-choice footage from protests, they begin with 'Nightmare', a fire-and-ire chorus that perfectly introduces the evening's emotional journey. 'Easier Than Lying' recalls the thrashing spirit of Paramore's 'Let The Flames Begin', while 'Castle' sees them tease the crowd, playing with classic rabble-rousing tropes; "That was pretty good, but I thought this was the North?" Struggling with what she describes as a pretty gnarly bout of food poisoning, they falter only rarely, crafting a set that is rich in masterful, macabre sexuality.
Closing things out for Friday come The 1975, who after being booked last minute to replace Rage Against The Machine, decide not to begin their new era just yet. "It's just bangers Leeds", beams Matty Healy, delivering on every inch of his word. 'Chocolate' leads into a blissful 'Me And You Together Song' and a two-stepping 'TOOTIMETOOTIMETOOTIME", while the three-song punch of 'I Always Wanna Die (Sometimes)', 'Love It If We Made It' and 'People' is so fan-favourite intense than it feels like simply showing off. On 'It's Not Living (If It's Not With You), he laughs lovingly as the crowd booms the now-iconic "selling petrol" punchline; "you total idiots!".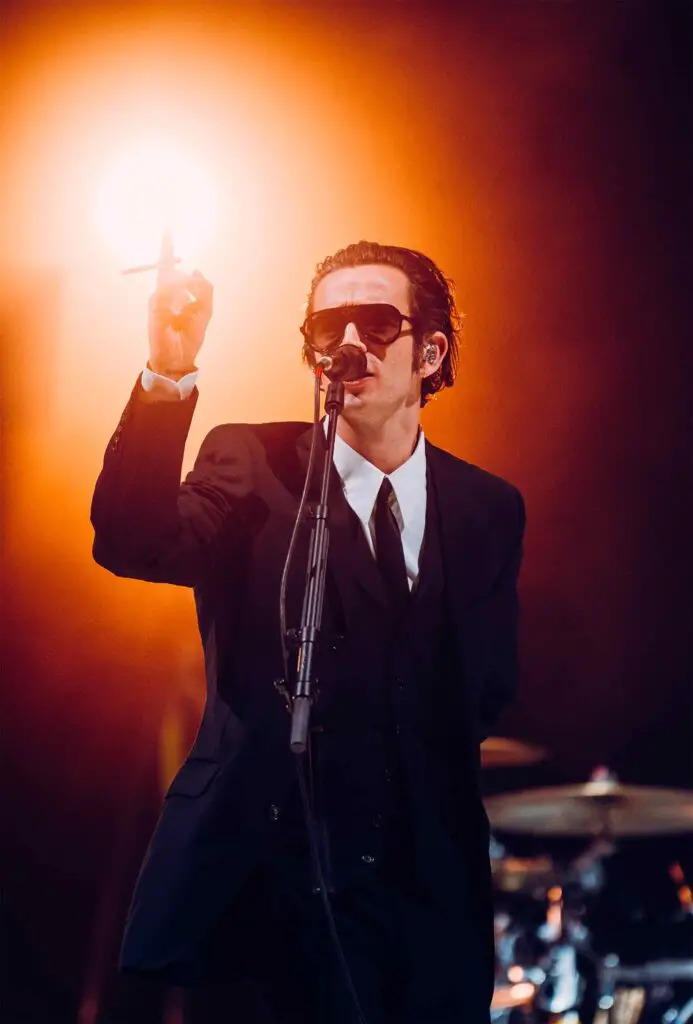 Even as Healy gestures for the soundman to turn his volume up, he couldn't look happier; this is the field that raised him, and he's clearly delirious to be back, cigarette perched between finger and mic with familial ease. "Seventeen of the past twenty years I've been stood with you'…The 1975 and Arctic Monkeys in the same weekend? Get your Doc Martens out, your fishnets, your Tumblr aesthetics…" A couple of sassy quips about Rage Against The Machine fall a bit flat, but with his fan-centric chatter and an arsenal of formidable singles, their superstardom becomes almost impossible to deny.
SATURDAY
Day two of Leeds begins even warmer than the day before, but luckily, Piri and Tommy come armed with enough super soaker drum'n'bass bops to douse us all down. New single 'Kiss You' floats along on a Disclosure-esque breeze, while 'Words' fully pops off: the duo seemingly quite touched by the reaction as they leap offstage to slap hands. For one reason or another, they clamber back onstage toting a large inflatable frog, gifted to them by the crowd. "That was fun," grins Piri, "that's the first time we've ever done that!" It certainly won't be the last.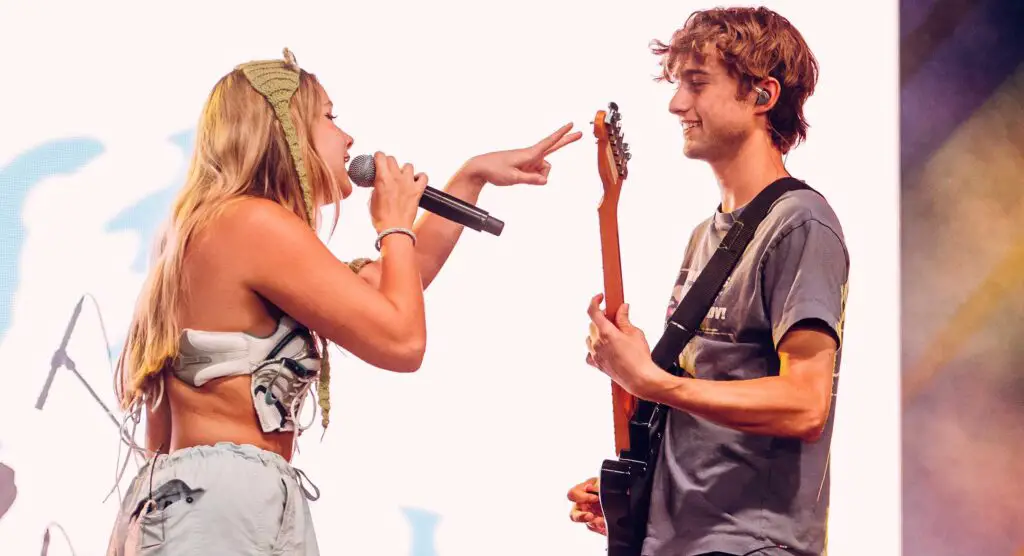 Out on the BBC Introducing Stage, flowerovlove is an artist whose unrufflable cool would survive even the most pressing of climate crises. Unafraid to make eye contact with her intimate audience, she is already iconic to the die-hards who gather early and chant faithfully through, fulfilling her requests to jump during its head-bobbing chorus.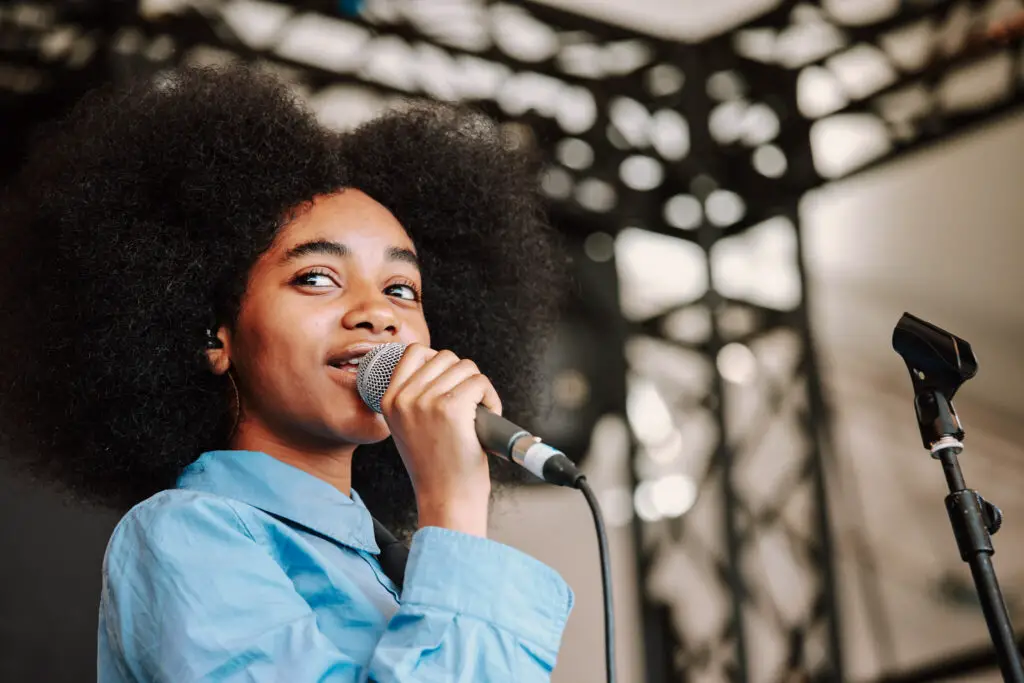 The desert conditions perfectly suit the Tarantino rock of Black Honey out on the main stage, dedicating song 'Corinne' to "every girl who has never felt underestimated their whole lives.' For a band who've been coming for years as punters, it feels like a real coming-of-age, the perfect opportunity to turn casual sunbathers into dedicated fans.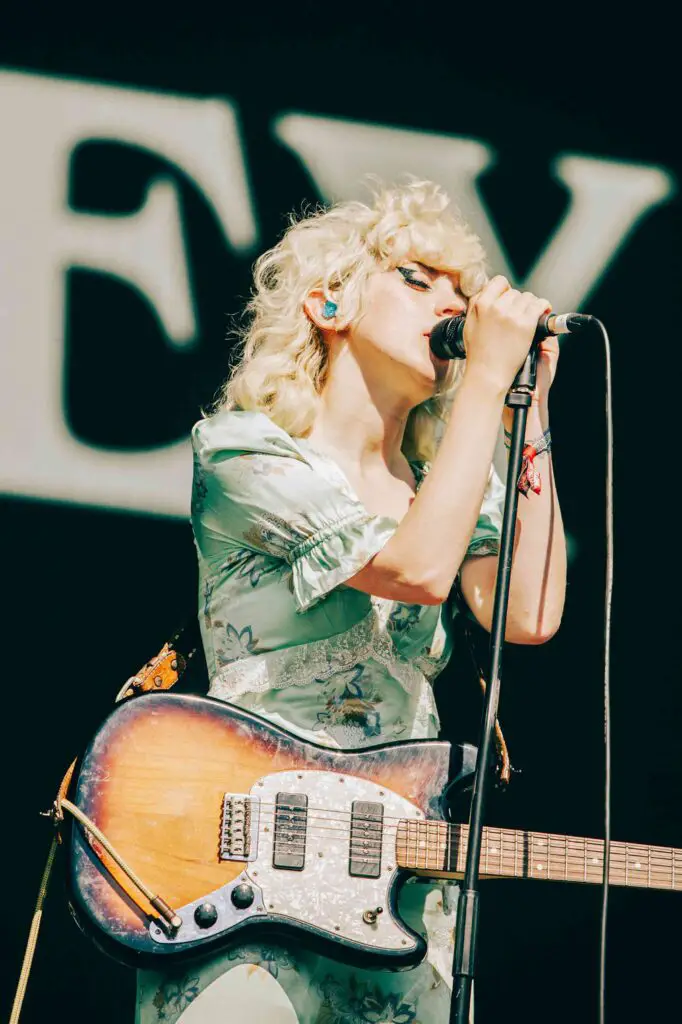 As the unexposed sun gets a little too much however, Griff perhaps misses out on the size of crowd she might have had, a little bit lost in the main stage's mix of rock and rap. Nonetheless, her heartfelt choruses still shine, with 'Heart on Fire' drawing the biggest cheers.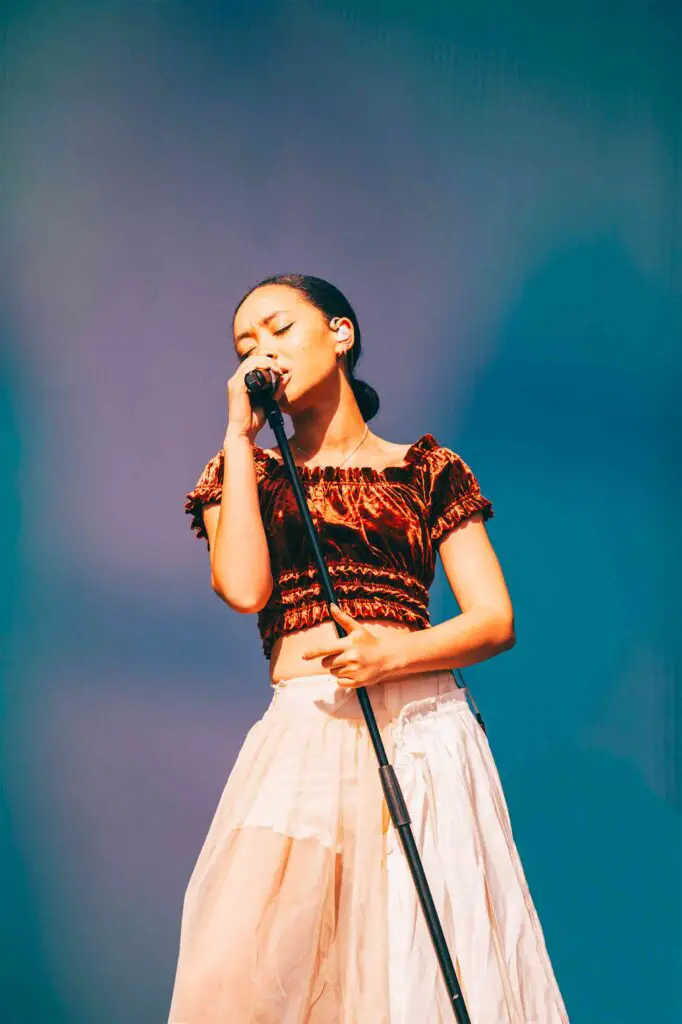 In stark contrast, the Dance tent is absolutely overflowing a good 20 minutes before PinkPantheress' much-hyped set. Much chattier than one might expect from her reasonably-elusive rise, she instantly presents as the quick, funny 19-year-old that her genre-splicing music hints at, playfully jibing at a request for marriage that has come from the crowd; "if you're still using Snapchat I definitely can't marry you, soz". Garage hit 'Passion' sends things feral, but the slower pace of '19' also holds attention, leaning into the nostalgic side of her emo influence. Things have to be temporarily halted with a fan attempts to climb the scaffolding; it's deeply unrecommended fan behaviour for sure, but also one of those undeniable Reading & Leeds signs that a star is on the rise.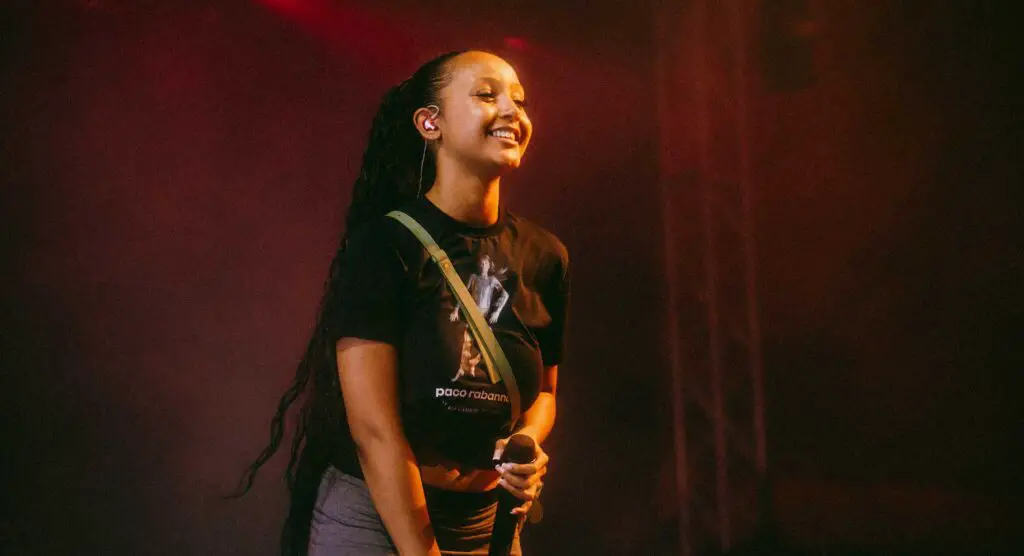 When the horns of 'Introvert' boom out, you can make no mistake that Little Simz has arrived. A short and efficient set, she keeps things loose and playful, skilfully leaving the punchline of 'Two Worlds Apart' for fans to complete and hopping into the audience for a joyful romp through '101FM'. As she showcases her versatility on the hip-winding 'Point & Kill' and the break-neck grime of 'Venom', she paves the perfect ground for tonight's headliners, and offers herself up as a future one — a booking that is surely within grasping distance.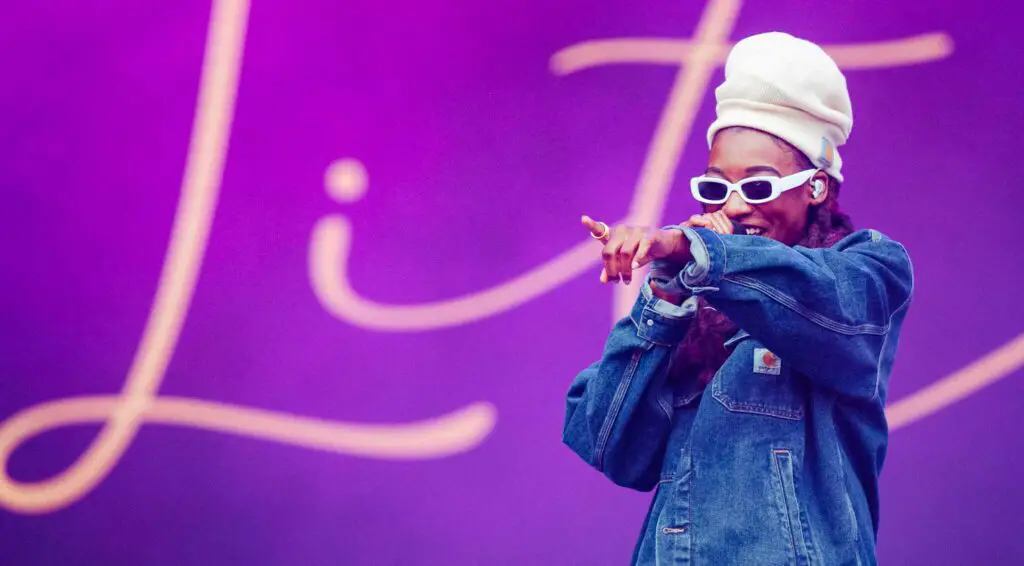 If the hot girl hashtags and lewd signs are anything to go by, there is only one Houston hottie who could truly satisfy Leeds's randy masses. Eschewing the heavier moments of new album 'Traumazine' in favour of the hits, the screams that greet Megan Thee Stallion's every twerk are Beatles-esque, the lingering camerawork only driving the hysteria. When she plays 'Simon Says', one fan behind The Forty-Five shrieks that she is having "so much fun I might kill myself", her friends hollering with glee.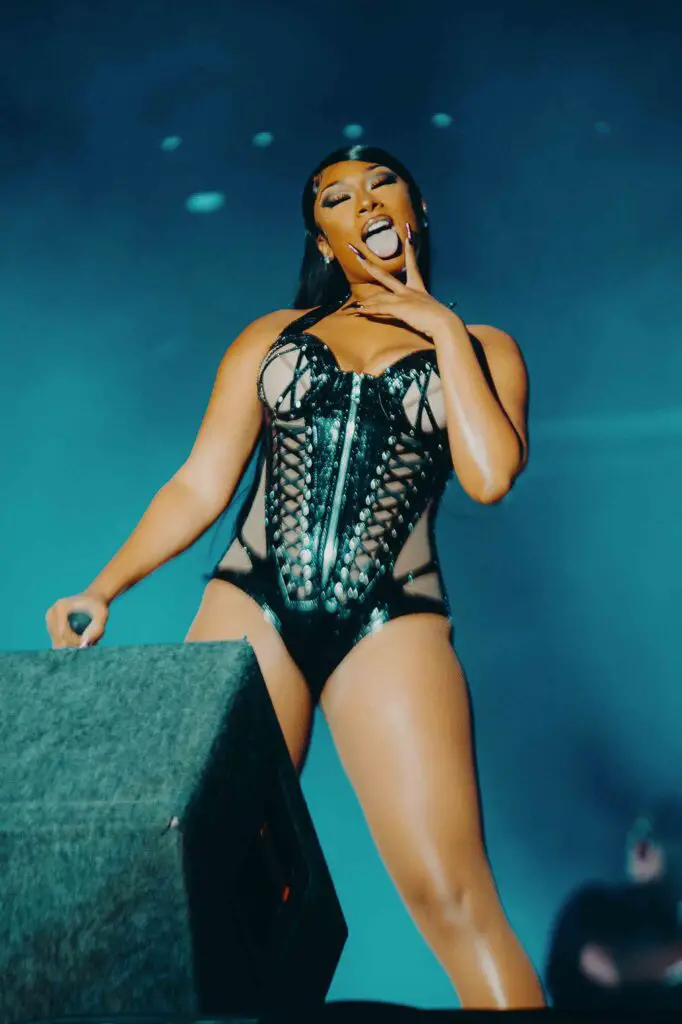 Stan melodrama aside, Meg offers an abundance of treats for OG and newbie hotties alike, displaying the enviable rap talent and southern hospitality that bolsters her upfront lyricism. There is of course an irresistible performance of 'WAP' ("I KNOW they're ain't no dry ass pussies up in here tonight'), but there is also 'Big Ol' Freak' and a furious rendition of 'Plan B', holding its own with an old-school 90's flow. She pulls a selection of fans up onstage on two separate occasions, encouraging them to dance and twerk and let themselves be free. During 'Gift & A Curse', one girl in bra and flares performs a routine that she has surely been preparing most of her young-adult life, truly seizing the moment. Seemingly running over time, we sadly miss out on 'Savage', but the female-heavy crowd are left pleased, empowered and potentially, more than a little bi-curious.
SUNDAY
If Megan Thee Stallion has set out her sexy stall, then Madison Beer is keen to pick up where things left off. Opening with the R&B-inspired 'Baby', she performs to just as many lads with their mouths hanging open as she does young girls, stalking the stage with pop princess command; "I can turn you on, on, on/ Why your clothes still on, on?" Still so early in her career, her easy control of the audience hints at very big things.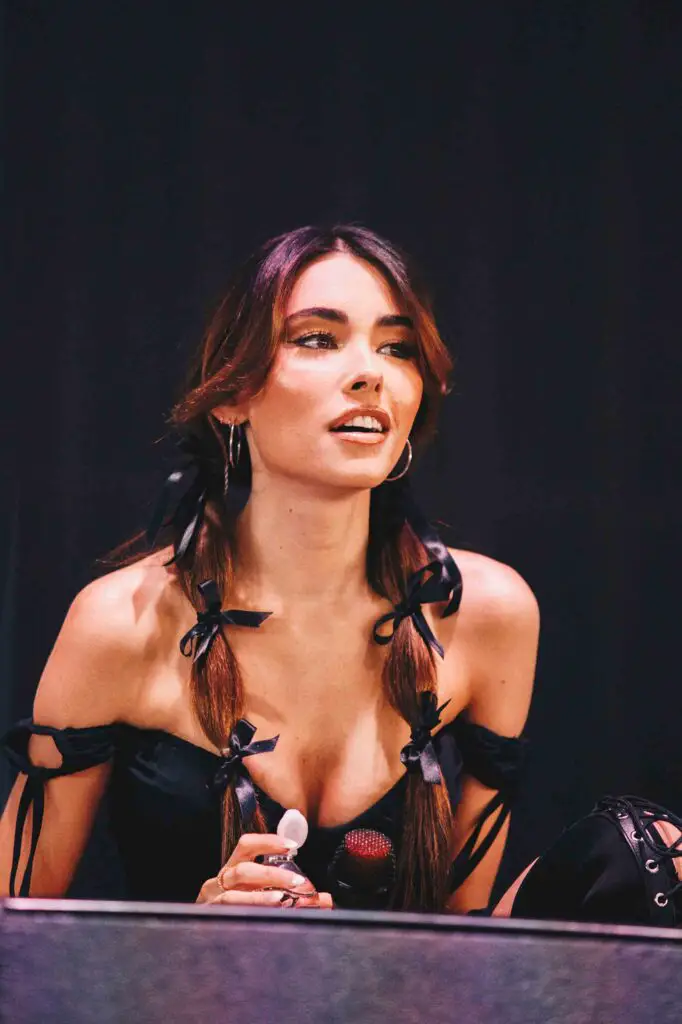 Over on Main stage West, passers-by are a little more confounded by Poppy. The juxtaposition between her sweet speaking voice and theatrical My Chemical Romance/SGT Pepper metal is still unlike anything anybody else is doing, but on the grinding, industrial beats of 'X' and 'Bite Your Teeth', it really works. "I would like to see some movement on this next song please; can you do that for me?" she asks sweetly before 'Scary Mask'; as a brutal moshpit unfurls, she stands stock still with a gentile smile, watching the dust-swirling carnage like some form of regal dictator. Whether she leaves you a little frightened or not, she is one hell of a performer.
Riding off the high of a European tour with Harry Styles, Wolf Alice have never been more limber, or more vital to the fabric of British music. Elevated to a place where they can afford to have a little fun with staging, they trail a comedy VT of them riding motorbikes to get to stage, before knocking things back into shape with 'Smile', a no-nonsense banger that stares down any residual sexist stereotypes of what a mainstage Leeds Fest act should be; "I am what I am and I'm good at it/ If you don't like me well that isn't fucking relevant." There are a few mishaps – 'Play The Greatest Hits' goes so hard that the top of Ellie's mic falls off, and there are a couple of mistimed guitar cues, but with the glorious four-part harmony of 'Safe From Heartbreak (If You Never Fall In Love)" and the ever-brilliant closer of 'Don't Delete The Kisses', it hardly matters; this is a band who belong here.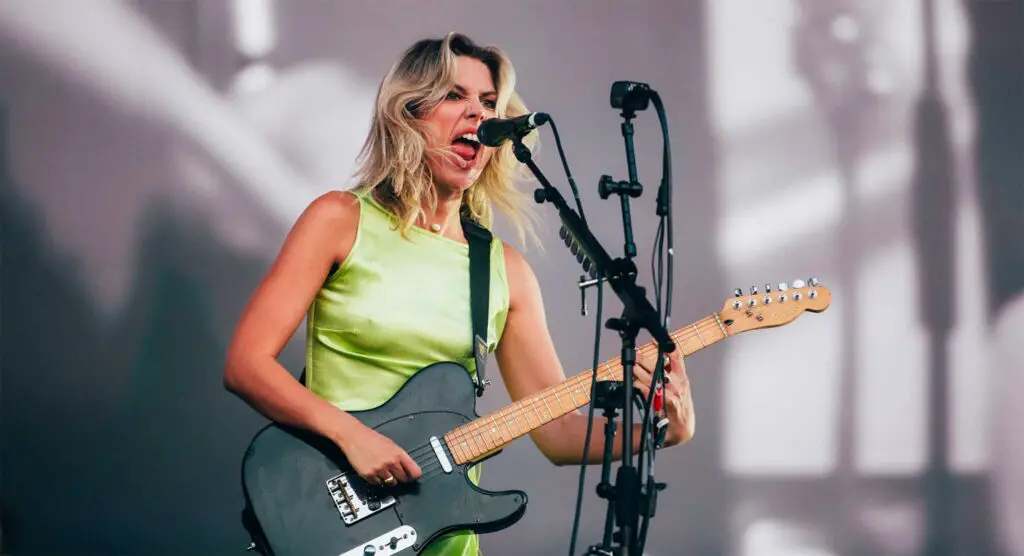 In closing spirits, the Yorkshire-soil return of Arctic Monkeys may well turn out to be one of the best-attended headline sets in R&L history. On a stage seemingly styled upon iconic Sheffield venue The Crucible, Alex Turner returns with trademark swagger and minimal chat ("Leeds, you're looking well'), but quickly rolls up his sleeves and gets to work on a breathless, career-spanning set that hits hard and fast. Promising that they had "shuffled the deck" of their back catalogue, we are treated to old-school favourites likes 'From The Ritz To The Rubble' and 'Teddy Picker', but also 'That's Where You're Wrong' and 'Potion Approaching', lovingly selected from albums past.
The groove of new song 'I Ain't Quite Where I Think I Am' hints excellently at the imminent new album, while 'I Bet You Look Good On The Dancefloor' takes things all the way back, released the year that many of this year's attendees were born. Tonight, that age gap hardly matters; by the time they get to a tear-jerking '505', there can be no doubt that is a homecoming for the ages, with clear parallels to The 1975 in its pre-album greatest hits approach. A celebration of endings and new beginnings, it's the kind of rock'n'roll certainty that the next generation can hold onto; wherever they go next, this weekend will always be theirs.