A few years ago, declaring that a festival felt "normal" might have sounded like a bit of a dig. If anything, UK music festivals pride themselves on tapping into something altogether unnatural, a utopia of overpriced food trucks and all your favourite music in one place. But the knack to a really excellent festival is convincing everyone that this is, in fact, normal. A can of Thatchers for breakfast? Socially acceptable. Crochet frog bucket hats? Actively encouraged as the fashion statement of the weekend. A group of grown men dressed as orangutans in suits? No need to even bat an eye.
To its credit, Green Man Festival, set against the magical backdrop of the Welsh Black Mountains, does feel normal, and blissfully so. That's not in spite of proper COVID precautions – proof of a second vaccination or negative lateral flow test is mandatory before entering, hand sanitiser is as plentiful as the craft ales – but the festival makes it dangerously easy to forget what a novelty this is. Considering that the COVID restrictions in Wales were only relaxed four weeks ago, it's a complete miracle that the event is even going ahead.
With its 20,000 attendees, Green Man is considerably smaller than its counterparts but is certainly not without its devotees – selling out in fifteen minutes back in May before the lineup had even been announced. The largest independent music festival in Wales has developed a reputation as a Baby Glastonbury, with kids carted around in converted luggage trolleys as hippies (and more fair-weather Berghaus hippies) mill around with teenagers and Radio 6 dads alike. Revellers can even spend the entire week on the site with the Settler's Pass and early arrivals on Thursday are treated to a full day of new music, namely an afternoon set from Next Big Thing: Wet Leg.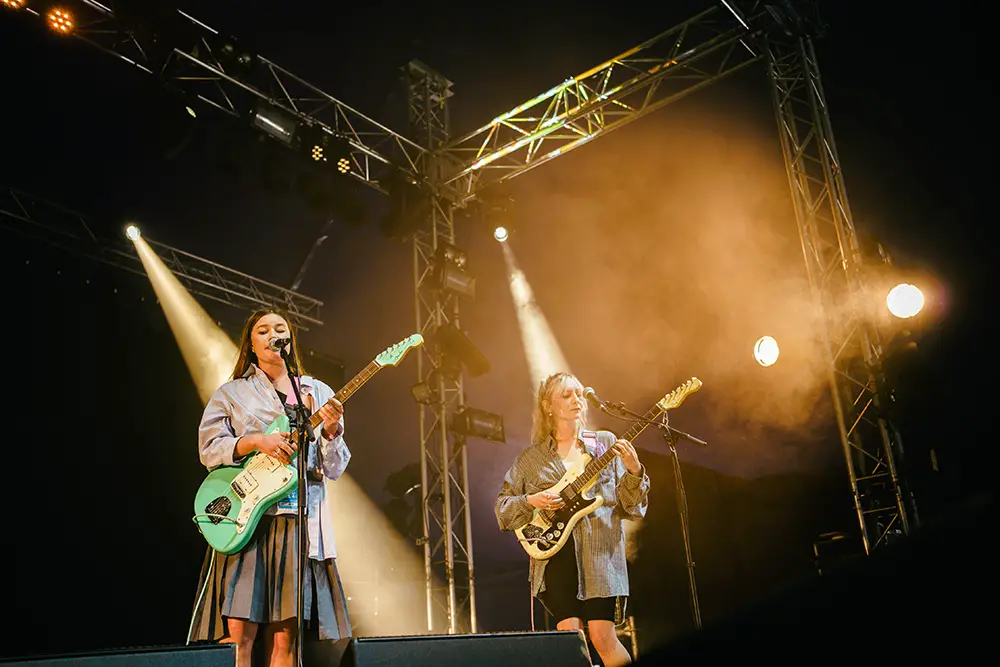 For those blessed with a little less annual leave, it's the less enviable prospect of arriving in the Welsh countryside later to attempt to pitch a tent in the pitch black, but this is where Green Man's smaller scale comes into its own. Everything from the free station shuttle to the helpful volunteers at the gate makes everything as smooth as it possibly can be. Green Man is so much more than Baby Glasto and it's about to prove it.
GREEN MAN FESTIVAL: DAY ONE
Over at the Walled Garden stage, Fenne Lily provides a vibrant start to the weekend. Lily sprinkles charming anecdotes in between songs from latest record 'BREACH' and debut 'On Hold': she wrote one of the tracks in the car park of Green Man (aptly titled 'Car Park'), there's a song titled 'Elliott' about her dad who is actually called Mark, and she has a big group of home friends supporting her in the crowd. Less than ten rows from the front, one woman resolutely sleeps on a picnic rug while everyone gently bops around her.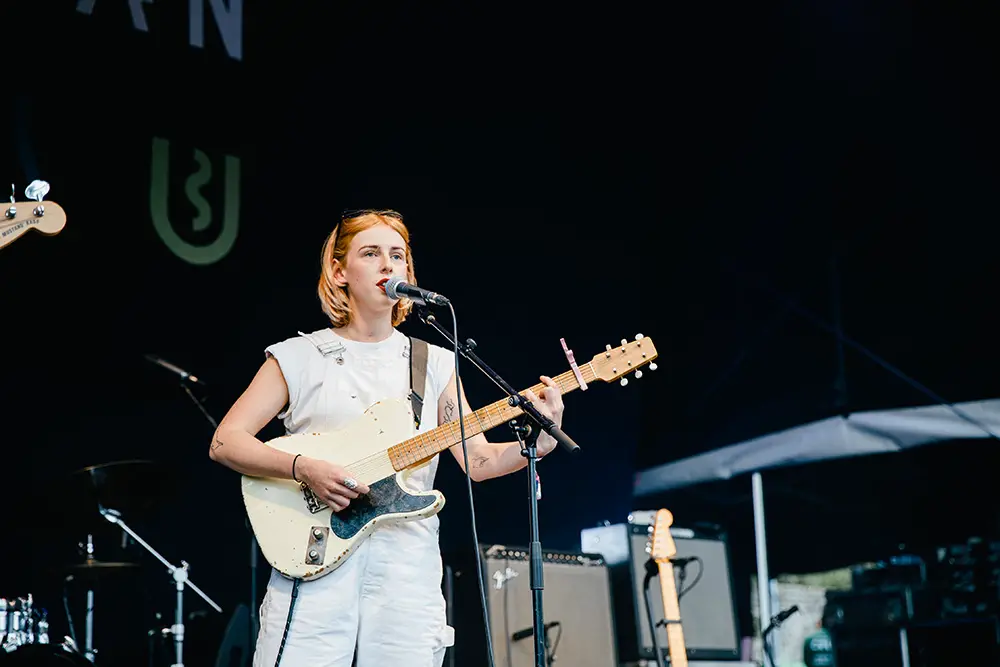 Then it's off to the main Mountain Stage (so-called for its position at the foot of the glorious Black Mountains) for Big Joanie, who shake away the afternoon haze with their powerful slice of Black feminist punk rock, as Audre Lorde meets Bikini Kill. When they preface one song with how our heternormative society is not in the right place, they earn many a depressed holler of agreement from the scattered crowd.
A string of post-punk sets in the Far Out tent are next on the agenda with Los Bitchos followed by a cracking set from Goat Girl, culminating in more than a couple of shirts being thrown into the air. But that's not before a quick stop in legendary Bristol venue Chai Wallahs' tent for a Usain Bolt-themed cocktail and the Beatles Dub Club, which is exactly what it sounds like.
The first true highlight of the weekend comes from Georgia. Fresh off a Mercury Prize nom for debut album 'Seeking Thrills', the drummer, singer and producer stands at 5 foot nothing yet she totally dominates the stage, playing both the frontwoman and her own hypewoman. Album highlights '24 Hours' and 'About Work The Dancefloor' fill the tent with a euphoric glow and when she rounds them off with a killer cover of Kate Bush's 'Running Up That Hill', barely anyone leaves without a spring in their step.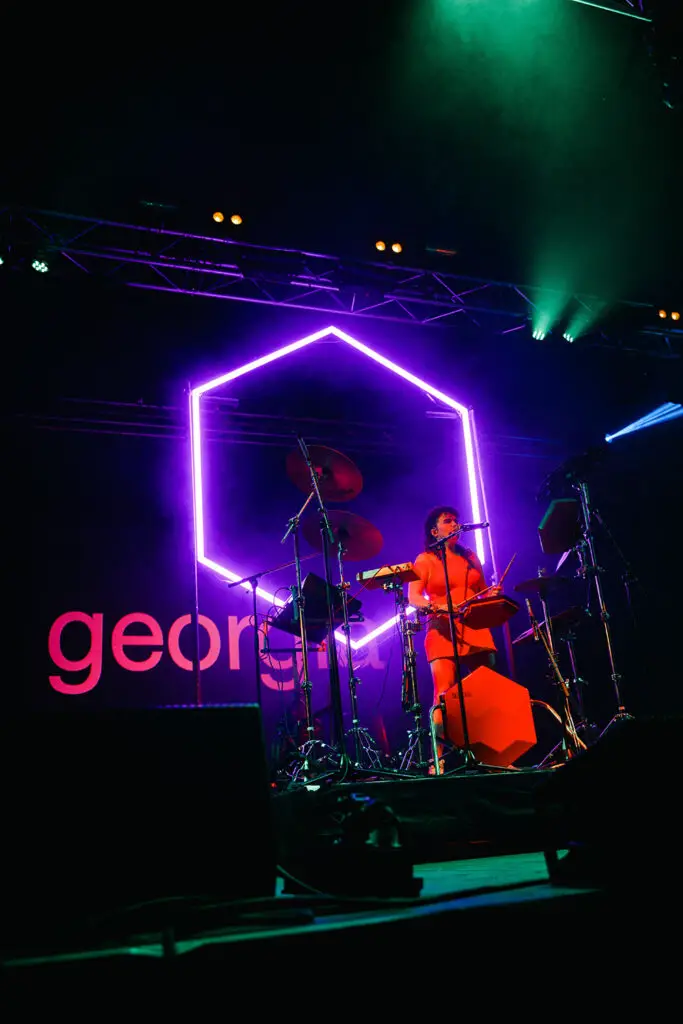 This evening of electronica continues on the main stages, with Canada's Caribou headlining Mountain Stage. But what would Green Man be without showcasing the best Welsh talent and tonight, it's a home gig for Kelly Lee Owens and the live debut of critically acclaimed, 'Inner Song'. After a tantalising start, a MIDI emergency sends Owens back off-stage for almost 20 minutes: "It's been two years and I want to put on the best show for you guys", she says as she lets her tech guys fix the glitches. When Owens returns, it's utterly triumphant.
Those leaving the Far Out tent in a post-Kelly Lee Owens haze are soon greeted with something a little different: an operatic rendition of the E.T. theme tune. It turns out that if enough glorious Welsh music is played at the same time, Charlotte Church will simply manifest. This time it's with her 'Late Night Pop Dungeon' and Church and her band follow up E.T. with a medley of Destiny's Child and Justin Timberlake. "Put your hands up if you're a dank dungeon bitch!" she calls out, leaving you with that eternal question as you trundle back to your tent: am I a dank dungeon bitch?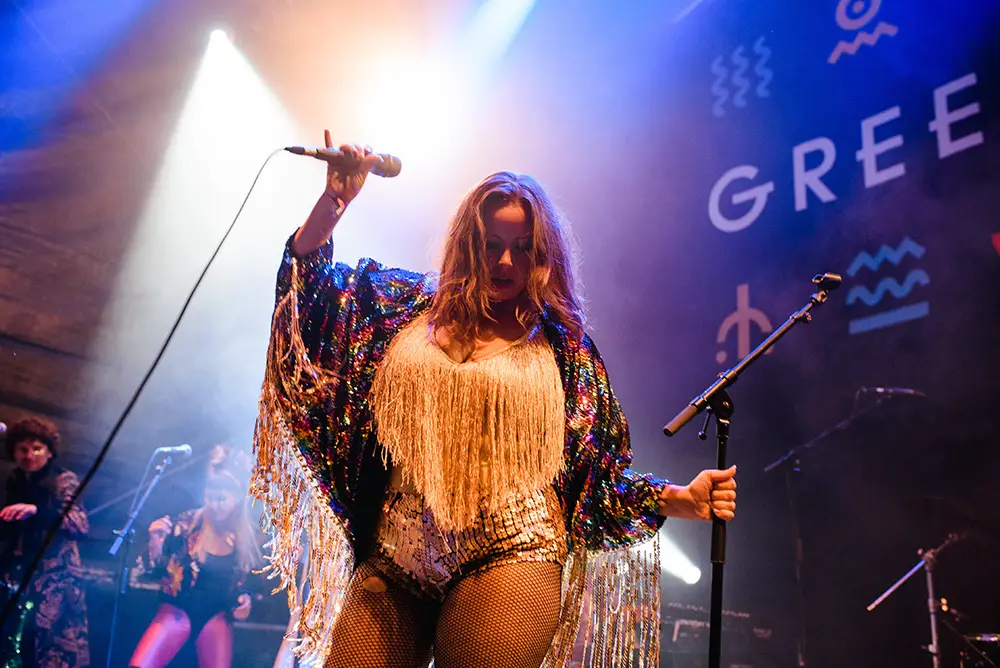 GREEN MAN FESTIVAL: DAY TWO
Day two and there's no time to nurse your pop dungeon hangover because at 9:30 am, the dulcet tones of Toto's 'Africa' boom out from somewhere on the site. Sure enough, we're soon blessing the rains down in Crickhowell as the promised storm begins and the all-too-familiar squelch of wellies in fresh mud provides today's bassline. A few brave souls try and make a quick dash to the loos wearing only flip flops, only to realise their hubris when they see the state of the queue. Considering the social distancing of it all, queues are in miraculously short supply, and you can even pop to the bar for a pint of 'Last Mango in Powys' right before a set starts and make it back in time for a good spot.
Emma-Jean Thackray provides more than simple shelter from the storm with her intricately orchestrated jazz, featuring a delightful cameo from a sousaphone and the raddest of all instrument solos by a percussionist wielding the triangle.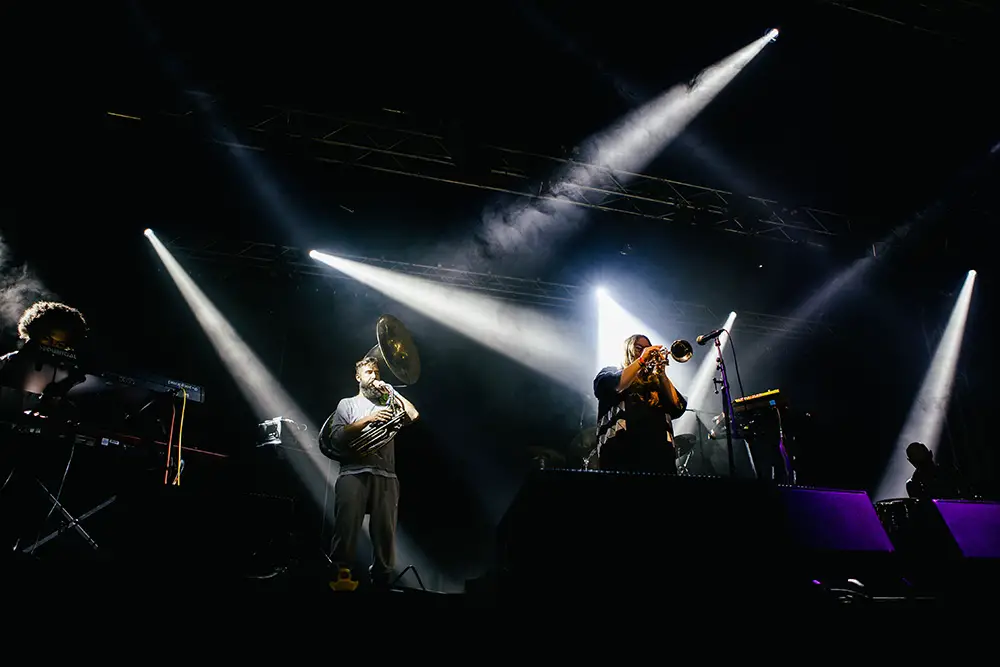 For those with optimism (or roomier backpacks), there is a Green Man Records on site where you can peruse and purchase vinyl, but the pokey record tent also plays host to a number of semi-secret acoustic performances throughout the weekend, the most special coming from Laura Marling, who played a short set including 'Held Down' and fan favourite, 'Rambling Man'. Marling later takes to the Far Out stage alongside Tunng's Mike Lindsay for an altogether different vibe as the pair perform tracks as side-project LUMP.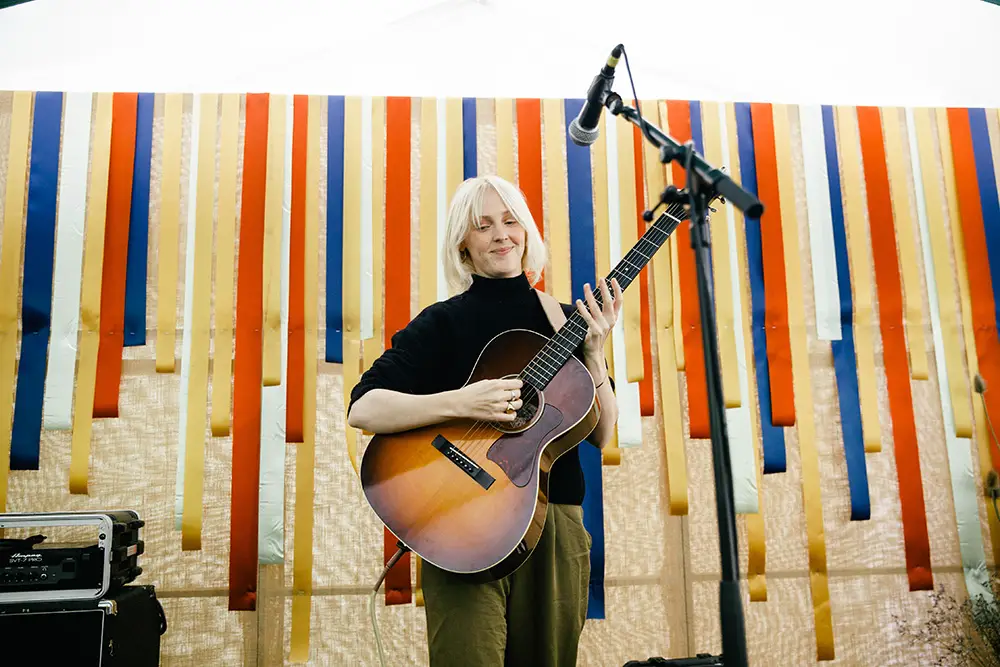 At the same time as Marling's secret set is another hot ticket in the form of Limerick's Sinead O'Brien. O'Brien's Sprechgesang punk is magnificent, evoking Patti Smith's poetry and Danielle Haim's laidback charisma. She's an electric presence without ever needing to resort to theatrics – standing to the far right of the stage and performing in a stylish white suit, but you're never in any danger of taking your eyes off her.
In front of us, someone does take their eyes off her long enough to drop some acid on mate's tongue but gives him a bit too much. "Oops." They go back to dancing to 'A Thing You Call Joy' anyway.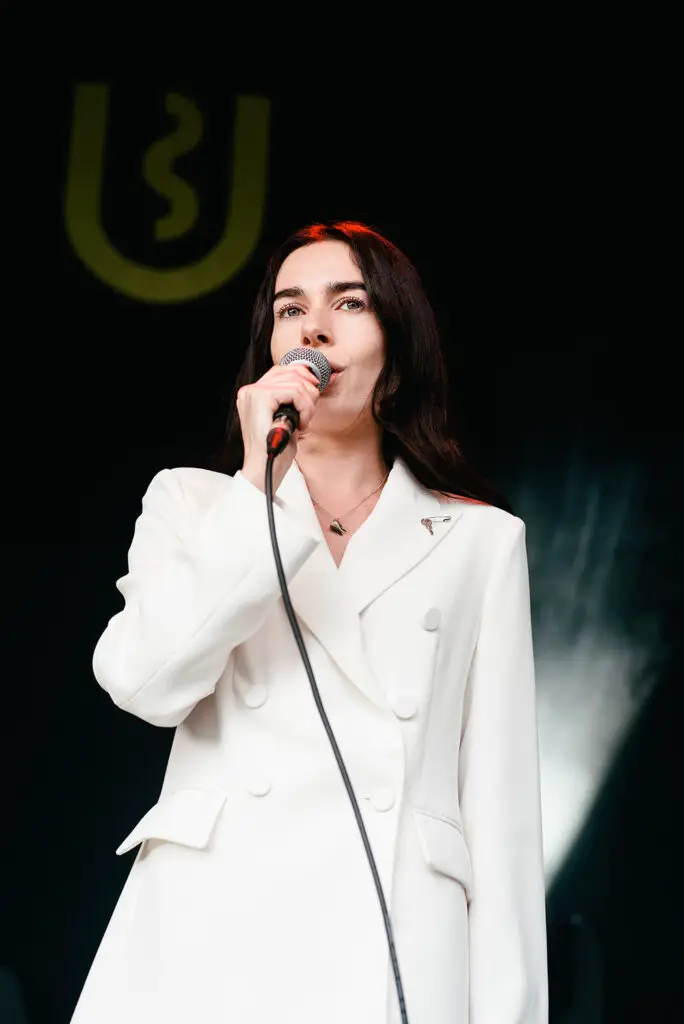 As legendary Scots Mogwai finish up Saturday's proceedings on Mountain, we opt for José González's enchanting brand of indie-folk. One man, a guitar, and a spotlight is a risky pick for 11pm on tired legs but González makes it more than worth it.
GREEN MAN FESTIVAL: DAY THREE
Sunday thankfully rolls around without a Toto-themed wake-up call and the sun does its bit too, coming out of retirement to brighten us all up. Festival Sundays often have the lethargic 'last day of the holiday' vibe, when everyone's feet are feeling the rub of wellies a bit too much. But this isn't the case for 2021's Green Man, as they pull out all the stops for the final day, ensuring a rip-roaring send-off.
Kicking things off on Mountain Stage is the winner of the festival's emerging band competition, Green Man Rising: Wales' own Teddy Hunter who pairs dreamy synth loops with Marika Hackman style vocals.
Billie Marten, who missed out on Latitude last month thanks to everyone's favourite 'pingdemic', has better luck with Green Man and she's next up on Mountain Stage, asking the audience if they are ready to rock. "Well, you are in the wrong place," she quickly follows up, dryly. Marten refuses to let the mountain swallow her up, playing a number of highlights from new record 'Flora Fauna', including an ode to the one-legged pigeons of London.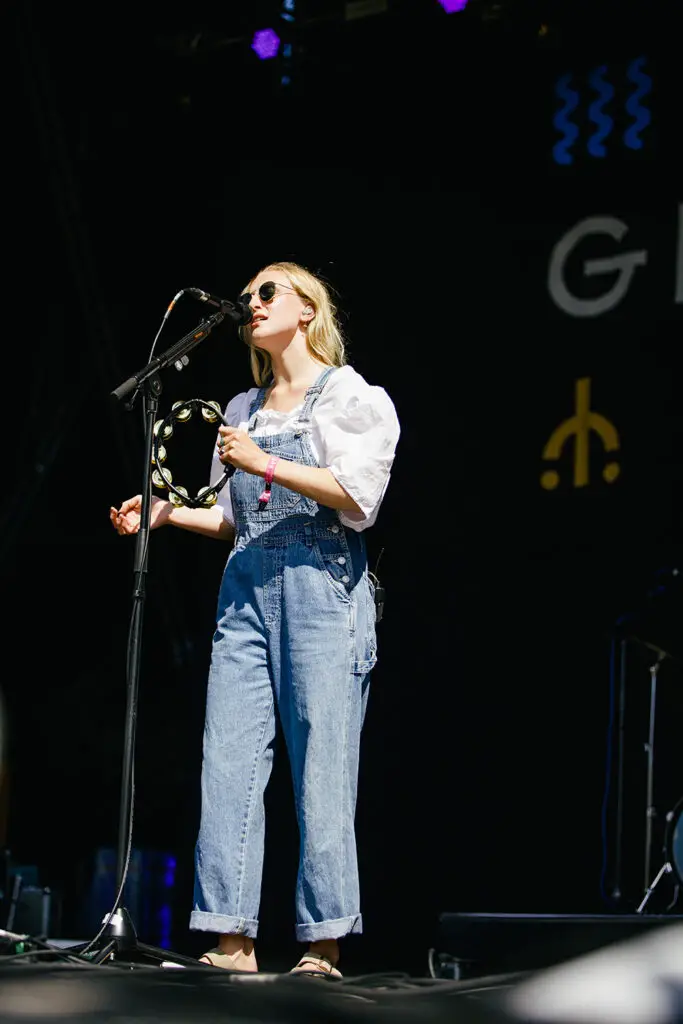 In another festival highlight, Porridge Radio's set is an absolute scorcher and might well be the best they've ever sounded. Dana Margolin's repeated snarl of "she will love me when she meets me" is pure catharsis. Meanwhile, an amped-up version of The Staves take to the Mountain Stage at golden hour, with Jess rocking a pair of sunglasses Kurt Cobain would envy. The Staveley-Taylors' harmonies are always a dream to hear live and today is no different but with third sister Emily still on maternity leave, they opt for their louder, more boisterous numbers, 'Black and White' and 'Tired as Fuck'.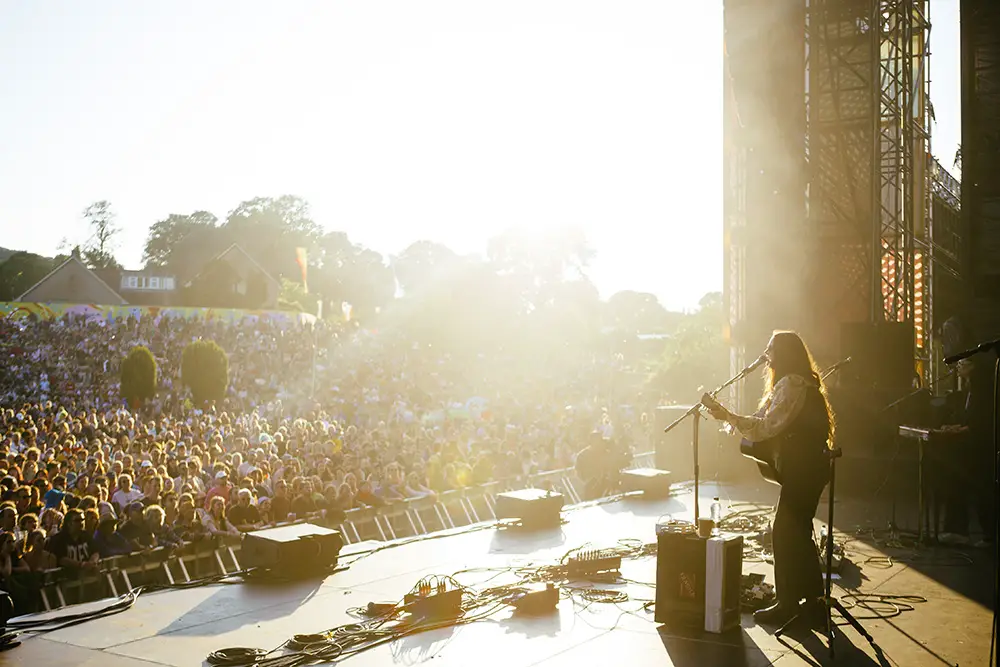 But Sunday, and indeed the festival itself, truly belongs to Self Esteem. Rebecca Lucy Taylor's genre-shift from her Slow Club days has never been more evident than here, with girlband-ready choreography and huge pop tunes. Taylor debuts a number of new tracks from upcoming record 'Prioritise Pleasure,' with one particular highlight coming during her introduction: "this one's called 'Moody' and it's about how I'm such a moody cow" before immediately launching into her dance moves.
Prioritising pleasure has felt like a taboo for as long as many of us can remember – and for very good reason. But sets like Self Esteem's in the Far Out tent are a testament to it when the time is right. Entertainers are far from immune to the effects of the pandemic and as she launches into arguably the song of the year, 'I Do This All The Time', you can feel the emotional thread from both sides of the mic. The tent belts along with the anthemic "I'll take care…I'll sing again", the lights go down and RLT stays still, embracing her dancers and visibly crying. She's already won the crowd twice over in the first five minutes, but this moment of genuine catharsis is something else. You can feel how much it means to finally perform live again and it's quite impossible not to get all verklempt.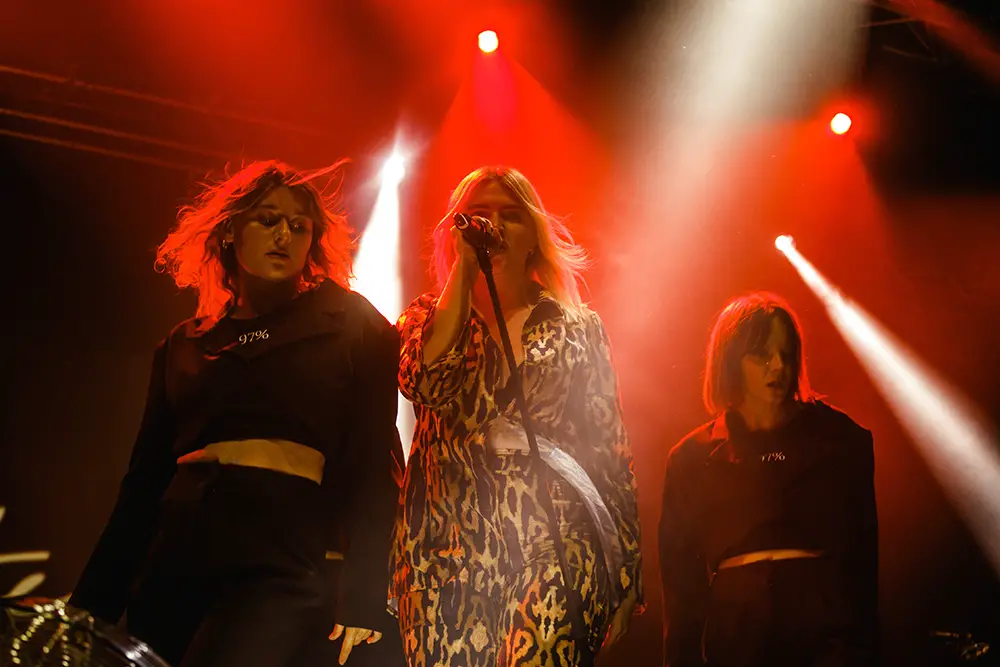 Of the three Mountain Stage headliners, Fontaines D.C. look born to be there and their closing set under a full moon is a blistering one. As Fontaines and Teenage Fanclub close out their respective headline sets, it's time for the ritualistic burning of the Green Man, in case all the animal paraphernalia wasn't enough to make it feel a bit like The Wicker Man. There's some waiting around, which prompts the crowd to launch into Erasure's 'Respect', Cher's 'Believe' and – inevitably – Bohemian Rhapsody. Blessedly, the professionals soon take over, singing a gorgeous folk song as the Green Man is set alight, until the crowd take the baton back to launch into something a little rowdier: "Green Man's on fire, mind and senses purified!" It's an amazing and amusing spectacle to round off the weekend, the firework display inspiring all the classic 'oohs' and 'aaahs' from the crowd.
In lieu of Charlotte Church's pop dungeon, popheads looking for one last boogie need not wander far, as the party tent, Round The Twist, is blasting Abba's 'Gimme Gimme Gimme' while the crowd disperses around the Green Man's charred remains. It feels like the party is winding down and the prospect of taking down a tent in the Monday morning drizzle and squishing onto a well-worn two-carriage train looms ever closer, but until that comes, you're left with the overwhelming sense that 2020 didn't leave us hopeless. Quite the opposite.
---
READ MORE: Latitude Festival 2021: Wolf Alice triumph and Wet Leg are the ones to watch