Fun, in its most hedonistic form, has been banned since early March 2020. A necessary evil, to combat one much bigger, but boy, has it been missed.
Given the state of the country, the pingdemic and the rapid rise in coronavirus cases, it is a miracle that Latitude festival is taking place. As the first full capacity live music event to happen this summer, everyone is a little unsure of what to expect – and whether they'll hyperventilate the first time they feel the swell of a crowd.
Ahead of arriving at the festival, ticket-holders are asked to upload a photograph of themselves with a negative lateral flow test. It's a process that feels a little lax to the 'rona-fearful amongst us – easily forgeable, should you be that way inclined, and using a testing system that many have already questioned the veracity of.
That said, in a post Freedom Day and pre Party Passport window, legally, the festival has more than fulfilled its obligations.
Arrival on-site is quick and easy, the only extra pandemic step, a wristband to acknowledge receipt of your #latitudeflow selfie.
The camping fields have ample space so a quick pop-up of our tents and we're off to the main arena. The site is lovely – a lake, a woodland party area, a village of food and stalls hawking typical festival wares. It's been so long even the tie-die trousers look inviting. The vibes are high and the sun is shining. We might just be in for a great weekend.
Latitude Festival: Day One
Heading to the BBC Sounds tent, Dream Wife kick off with an explosive energy that makes it hard to stifle a smile. Lead singer Rakel Mjöll has spent the entirety of the pandemic in her native Iceland, so being in a very sweaty tent in Suffolk must be something of a shock. If that's true though, it doesn't show. The trio go full pelt with a set comprising of guitar battles, mosh pits and big singalongs. "It's an honour and a privilege to be here", says Rakel. We feel the same.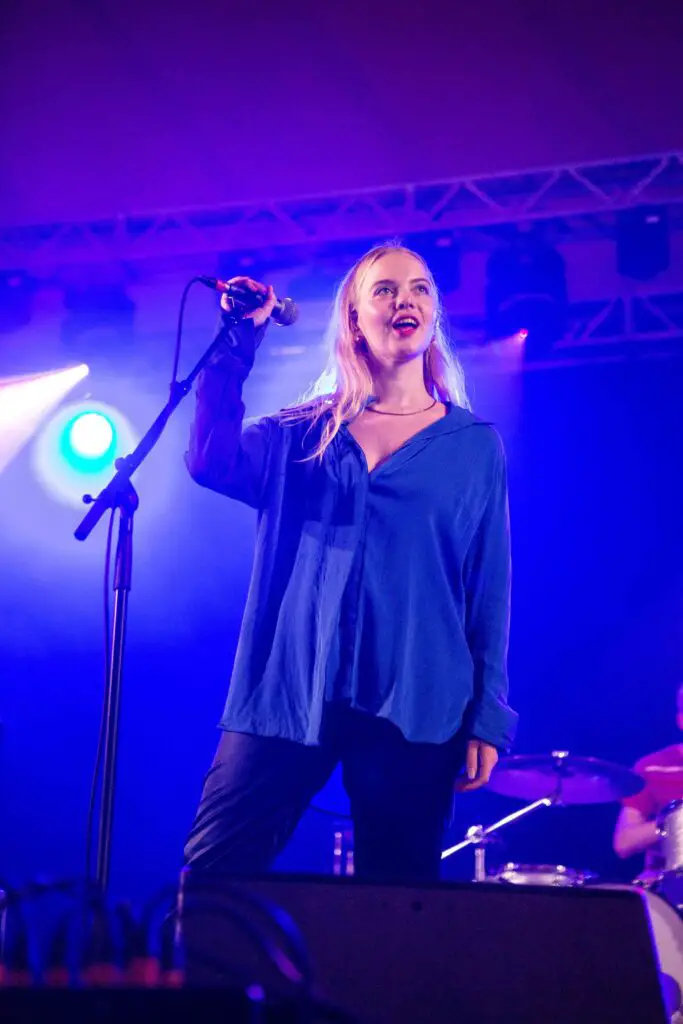 Beabadoobee takes to the Obelisk stage just as the afternoon sun puts its hat on. The nerves perhaps show a little, the softness of her voice not quite commanding the main stage, but it's a sweet set, the crowd "Shoop-doo-badooping" along with recent single 'The Last Day On Earth'.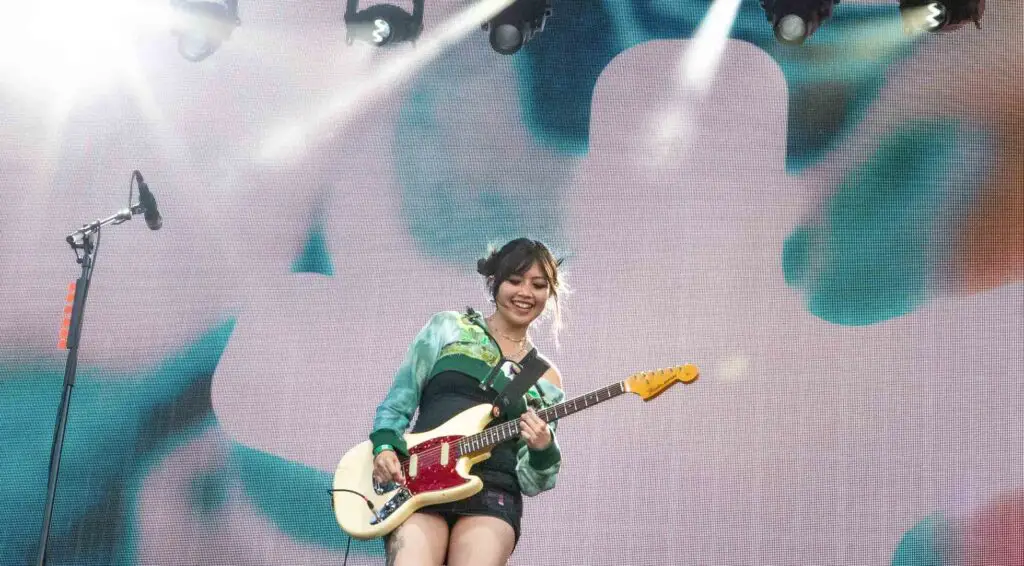 If there's a hot ticket for Friday evening, it's Wet Leg. With just one single, booking them for the smaller Alcove tent, should have been a safe bet but 20 minutes before start time and it's already bursting at the seams. As the Isle of Wight duo finish their soundcheck in front of an impatient crowd, you can see them exchanging nervous glances. This has to be one of their first ever gigs, let alone festival performances but with 6 Music playlisting catchy single, 'Chaise Longue', the Dad brigade are out in full force. Luckily, they are way more than a one-song band, nervously rattling through a 30-minute set that cements them as the UK's most exciting indie group right now. It is a special moment to witness and feels like the start of something big.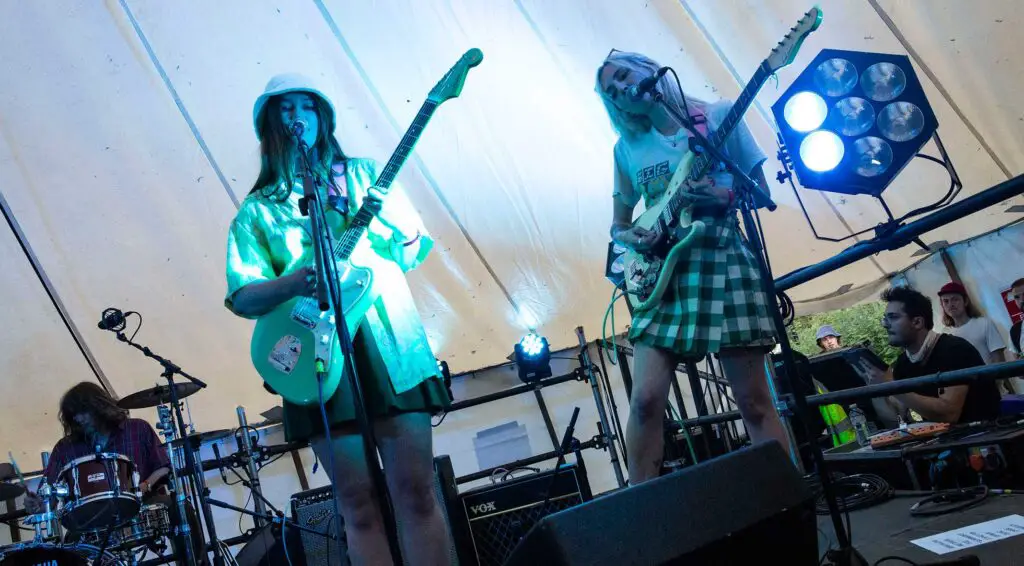 The overall mood on site is one of elation as we approach the main stage final act and Wolf Alice's first time topping the bill at a major festival. This band have been around for a decade and "future headliner" has been bandied around in festival reviews since the early days. Now, it's time to prove their chops.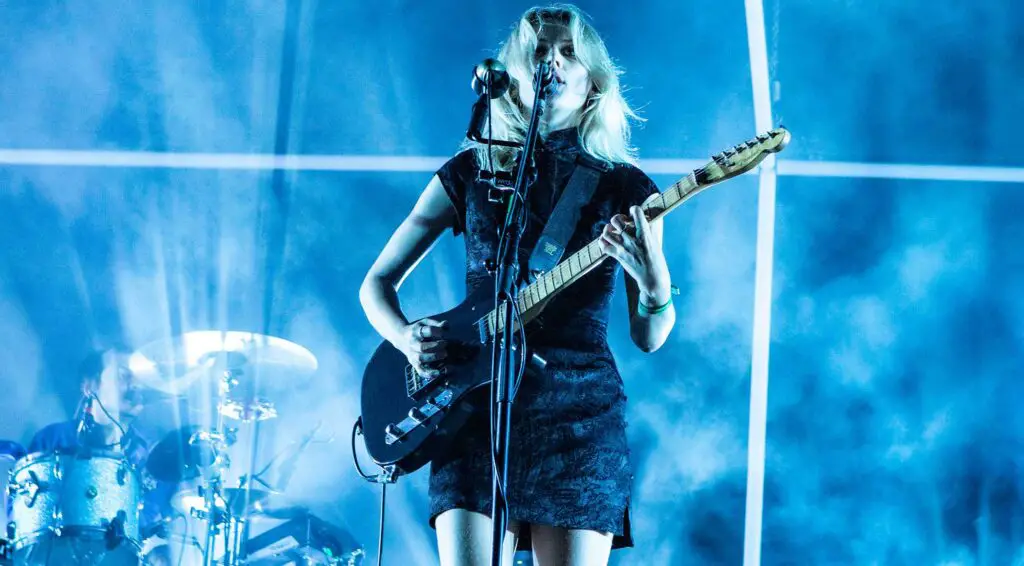 'Smile' from their chart-topping third album, kicks things off with a statement of intent, "I am what I am and I'm good at it/" snarls Ellie Rowsell, "If you don't like me well that isn't fucking relevant"
Luckily, that's not a problem Wolf Alice have tonight, playing to a festival field full of people who want them to win. They are a band with many layers – much of what makes them so interesting – so it is a joy to see how they weave the in-part, more muted songs from 'Blue Weekend' in with earlier stomping favourites such as 'Giant Peach'. But even the weep-worthy, 'Safe From Heartbreak' is a beautiful grab-your-friends-and-sway-with-them moment before the drums kick back in for 'Space and Time'. They are a band of few words, but the confidence radiates out from them tonight. They have worked tirelessly to get here, playing thousands of shows and endless festivals. It is a triumphant and faultless set that will undoubtedly edge them another step closer to topping the Pyramid Stage one day very, very soon.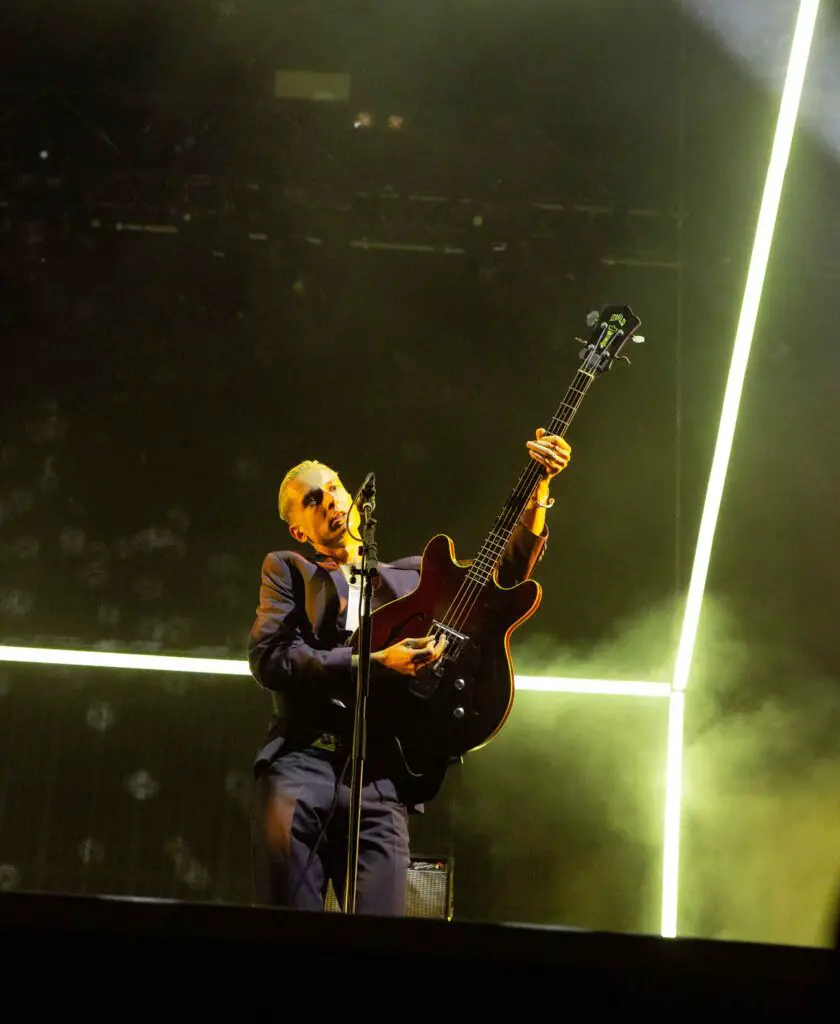 For what is in normaltimes thought of as one of the more genteel festivals, the late-night woodland zone of Latitude sounds like you've stumbled into Room 1 at Fabric. Perhaps, even Radio 4 listeners are in search of a pinger and a party after the eighteen months we've all had. With revellers throwing shapes long into the night, it's a magnificent reminder of just how special a UK festival can be.
Latitude Festival: Day Two
The morning's hangover cure is delivered by Adam Buxton, doing a dramatic reading of Supergrass' 'Alright'. The joke is that frontman, Gaz Coombes, has COVID. Mostly, the crowd believe him due to the numerous acts already wiped out by the plague or at least, an app ping (Arlo Parks, Billie Marten, Fontaine's DC), but then the band appear behind him mid-way through and blast into a greatest hits set more extensive than we'd remembered they could deliver.
Irish country queen, CMAT, plays the woodland Sunrise Arena in the early afternoon, "I wanna be a cowboy, baby" echoing through the trees as families picnic under their branches.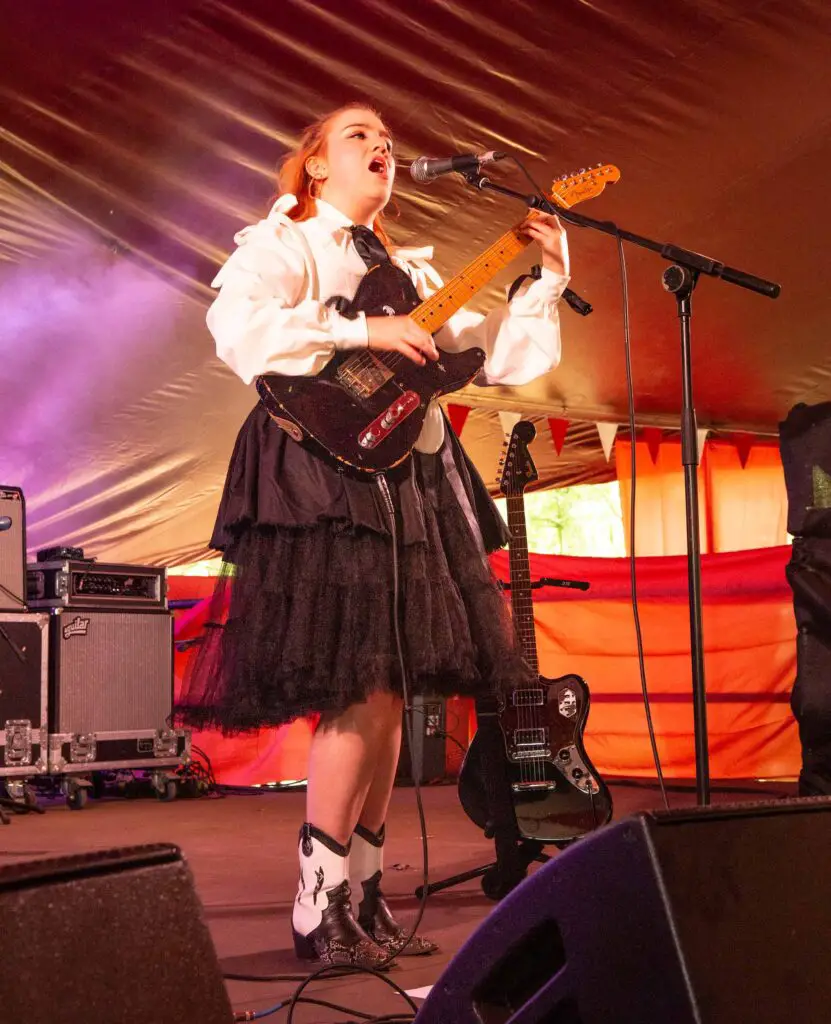 Orla Gartland is another afternoon highlight in the woods, her hooky pop songs washing away last night's scaries. Lava La Rue also plays a confident set of woozy rap and R&B, sporting a very excellent cowboy hat.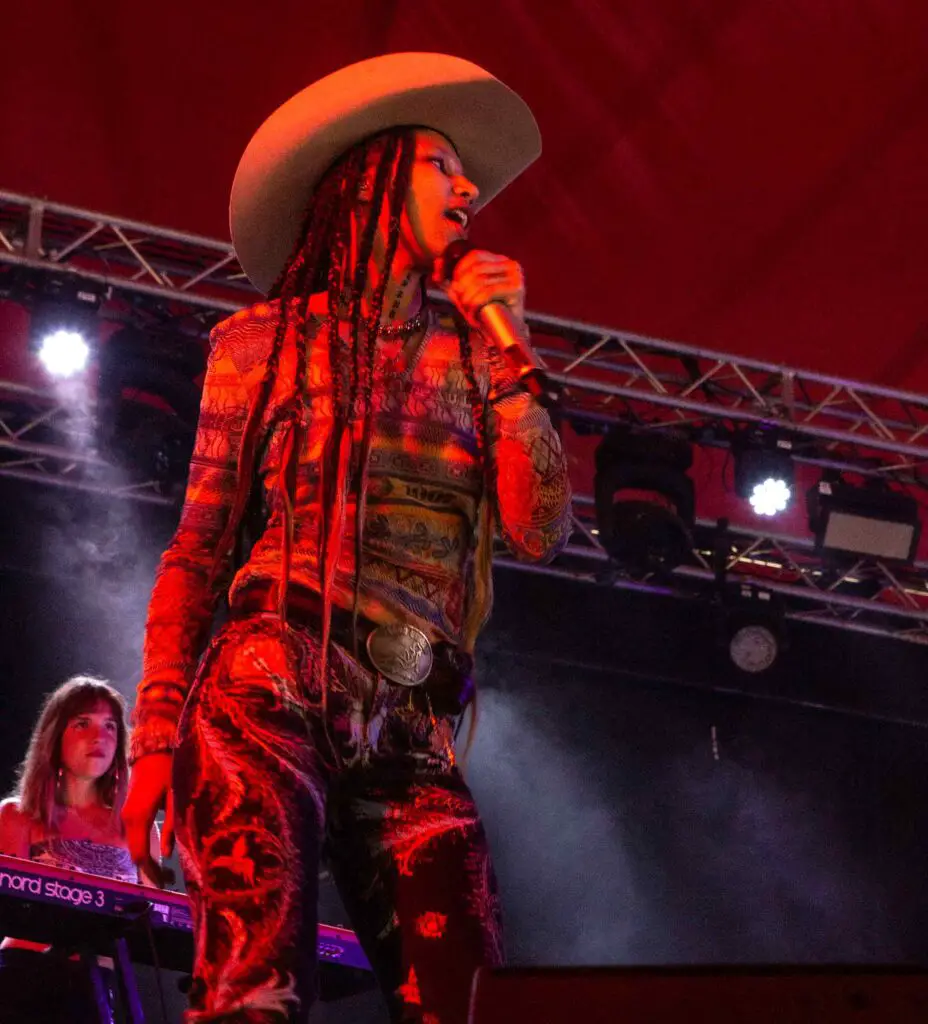 It's back to the BBC Sounds tent for a gorgeous late afternoon set from newcomer, Holly Humberstone. Considering that, again, this must be something of a festival first for the 21-year-old she talks confidently to the crowd between songs, explaining their meaning with a sweet naivety – (the sadness she felt when her parents moved out of their childhood home, tales of first love). Upbeat 'Overkill' is a highlight, as is seeing a ten year old down the front bellowing "A couple more tequilas". Bonus points for Holly's No Doubt T-shirt, too.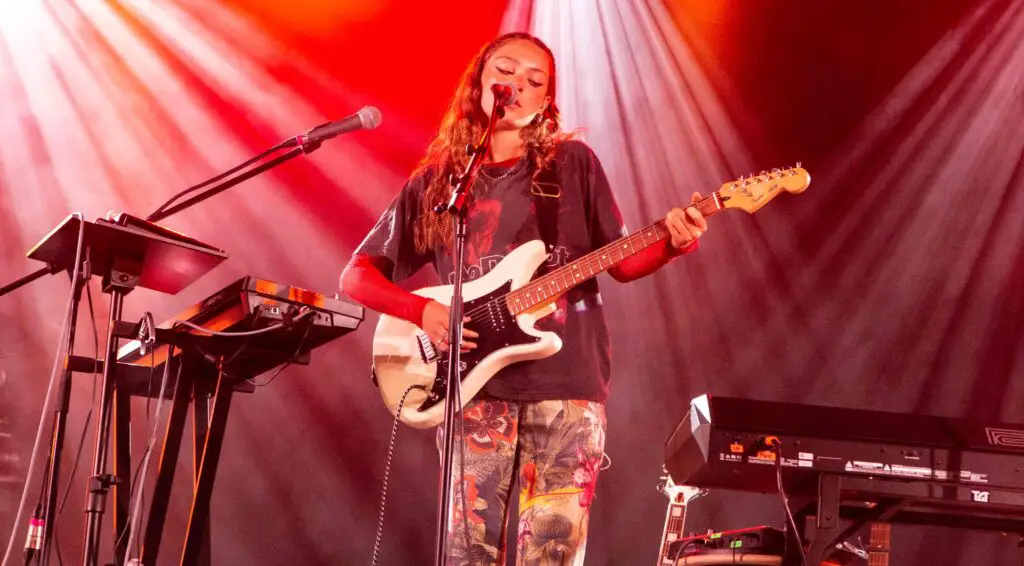 Damon Albarn playing on the lake sounds so idyllic, the whole damn festival tries to get a spot on the banks, including some very gnarly and persistent mosquitos. As Damon arrives via gondola waving at the crowd, it's all a bit too lovely. He's joined on stage by The Verve's Simon Tong on guitar and Femi Kuti on drums. It's a melancholy, serene evening set – a little drowned out by Rudimental on the main stage who are absolutely having it, but it's beautiful nonetheless. Tributes are paid to Albarn's friend and collaborator, drummer Tony Allen, who died last year and the set is closed with renditions of Blur's 'Out of Time' and 'This Is A Low'.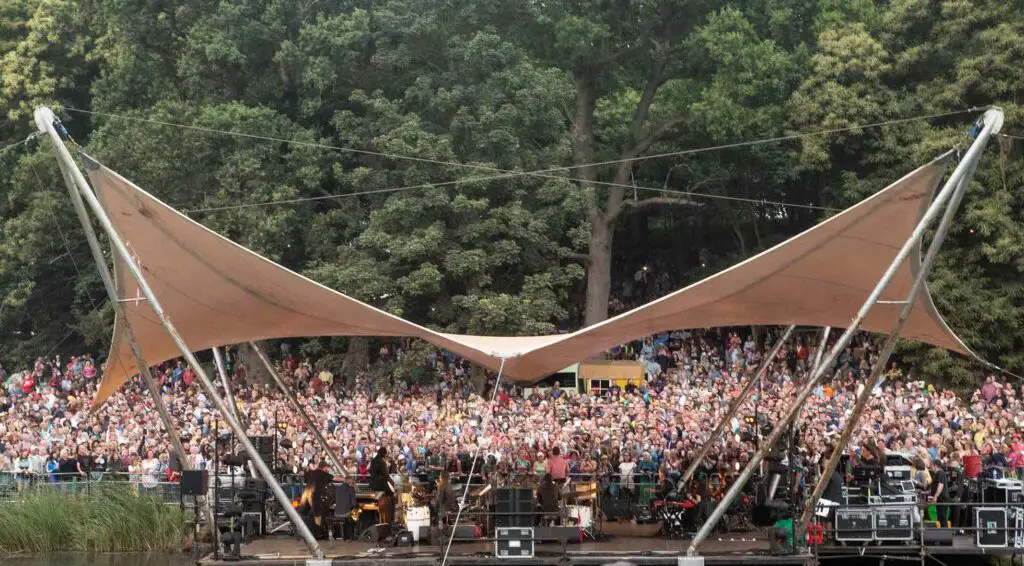 Now it's time to seriously crank things up as Chemical Brothers headline the main stage. With hindsight, Rudimental might have been the better aperitif. Marcus Lyall and Adam Smith's visuals are the stars here, not The Dust Brothers – we have sexy Mummys, dancing robots and masked men. The Chems play a relentless set that traverses their 30 years at the forefront of dance music but just one question though lads, did you forget to pack the drops?
If there's one thing guaranteed to confuse slightly wavy partygoers after a two-hour Chemical Brothers set it's stumbling into the woods and finding Rick Astley singing Foo Fighters and swearing a lot in what looks like a disused trailer park. Was it a fever dream? We're still not entirely sure.
Latitude Festival: Day Three
By some miracle, the festival Gods have spared Latitude from the flooding that has swamped most of the UK and it's another punishingly hot day.
Big Joanie kick things off with their brand of Black feminist punk. It's a rousing start to our Sunday. Next, it's over to the main stage for a last-minute sub of Self Esteem, in for a Coviddy Billie Marten. We love Billie Marten but Self Esteem's hella sexy dance moves are the energy we need for day three. "Keep Lyrics Uncomfortable" is blazoned on the kick drum and never is this more true than during 'I Do This All The Time'. "Don't be intimidated by all the babies they have/ Don't be embarrassed that all you've had is fun" prompts cheers from a group of women nearby.
Brits Critics' Choice winner Griff's up next with big smiles and an even bigger voice. She bounces around the stage like a proper pop star. Later, she'll appear with Dan from Bastille during their headline set, unfazed by the thousands of faces staring back at her.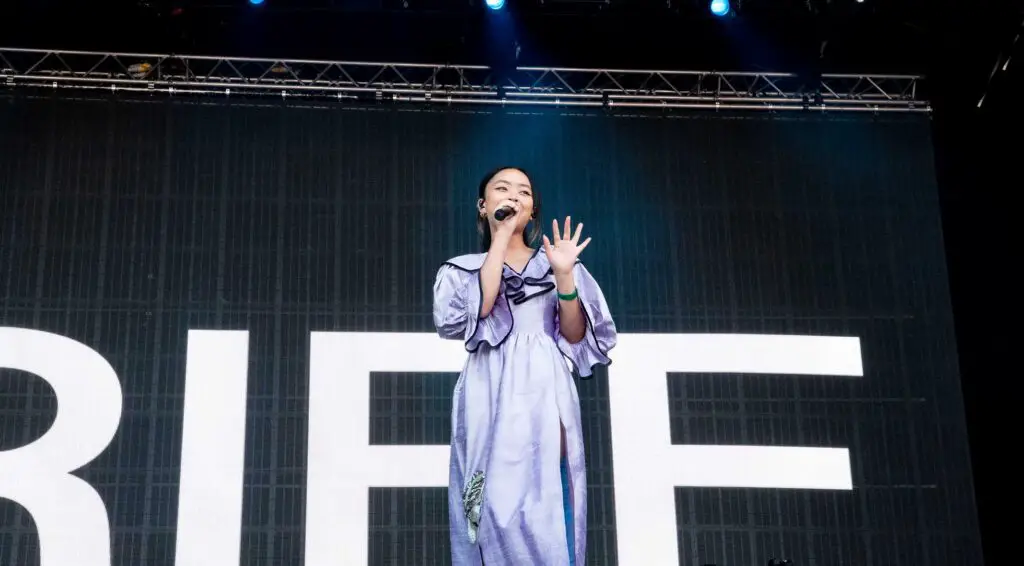 Surprise! In what could only be called the aptest 2021 secret set, The Vaccines have snuck into the BBC Sounds tent and are about to get things rowdy. Justin Young has spent lockdown perfecting his crazy eyes and lunge-and-point dance moves in the mirror. Bassist Árni Árnason is muddling through with a broken foot but the band sound tight and appreciative as they blast through their greatest hits and a few newbies, too.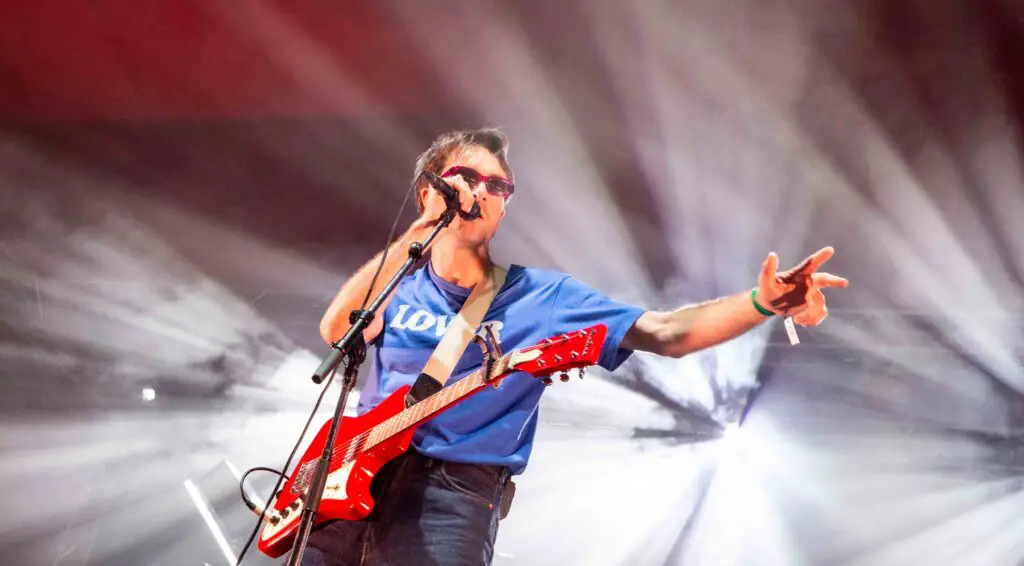 Swiss-Tamil dance-pop newbie, Priya Ragu, is the late afternoon hype master with her housey single 'Good Love 2.0' particularly going off.
Shame, fresh from a Saturday slot at Standon Calling (despite being spotted wandering around Latitude in the early hours of Saturday morning), are on fighting form. A topless Charlie Steen mixes menace with a merciless delivery. The pit opens and he gets amongst it.
The choice for a closing act is between Bastille Re:Orchestrated, Greentea Peng or Sons of Kemet. We opt for Peng, who delivers a groovy psychedelic set, that is a long way from her humble beginnings singing Arctic Monkeys karaoke to Mexican holidaymakers.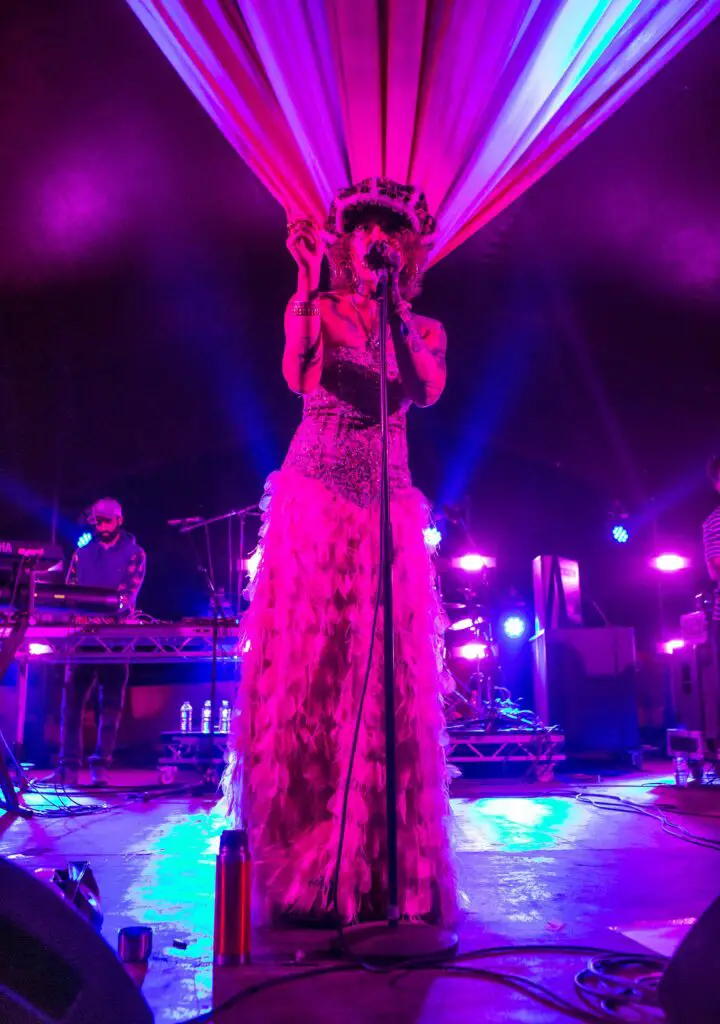 As the night moseys on, into the woods for even more drum n' bass, thoughts turn to what a magical and cathartic weekend it has been. An eclectic lineup has brought together all manner of music lovers, united in their joy for being able to do this again. It's also been proof of something else – that the UK music scene is stronger than ever and in testing times, artists have created some truly stunning work.
Time will tell whether we've been able to be together safely but if Latitude is to be our only festival in a while, it really was a special one.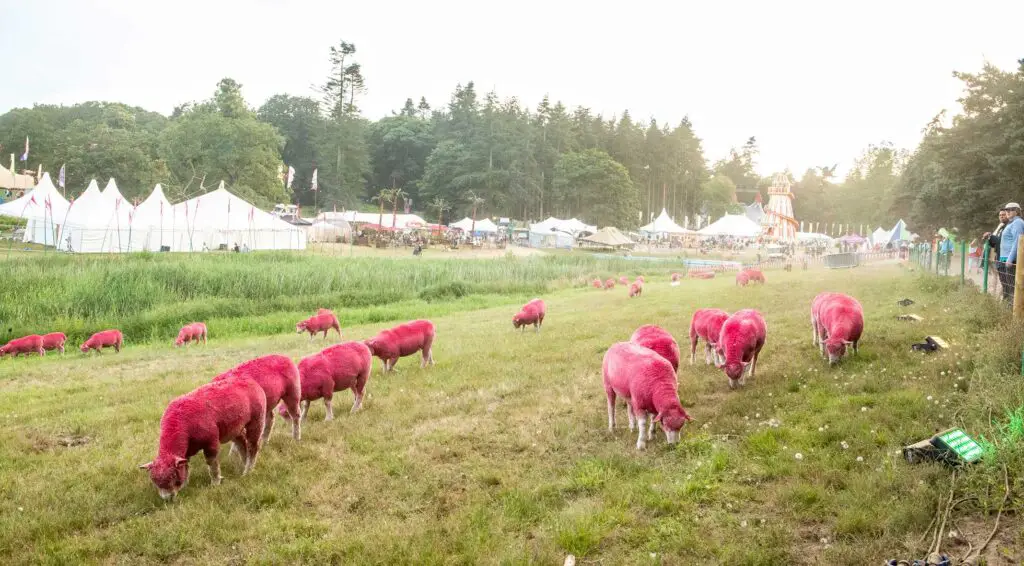 READ MORE: Glastonbury 2022 – everything we know so far