Barn on the Farm festival in Gloucestershire has announced that Holly Humberstone will be headlining the festival in 2023, its twelfth year.
It will be Humberstone's first-ever headline slot. Of the honour, she said: "Barn has a special place in my heart and I've made so many precious memories with amazing people there over the past few years. Last year I was part of the Farm Band and performed a few songs with Flyte, Dylan Fraser, Maisie Peters and my producer Rob Milton came out of studio hiding and played guitar for our newly formed band! It was the most fun and I am so so excited to headline the festival next year – it'll be my first!! Can't wait to see you there next summer"
Humberstone returns to the farm alongside a stellar 'Music Of Tomorrow' lineup that includes rising pop acts Dylan, Flowerovlove, Katie Gregson-MacLeod and Tommy Lefroy to name but a few.
This year, Barn is set to welcome its biggest number of festival goers in its history. The festival is known for its on-site collaborations with the "Farm Band". Getting six artists together to reimagine and rearrange their songs, last year Holly Humberstone, Dylan Fraser, Flyte, Maisie Peters, JP Saxe and Rob Milton collaborated for a surprise performance on The Wooden Barn Stage.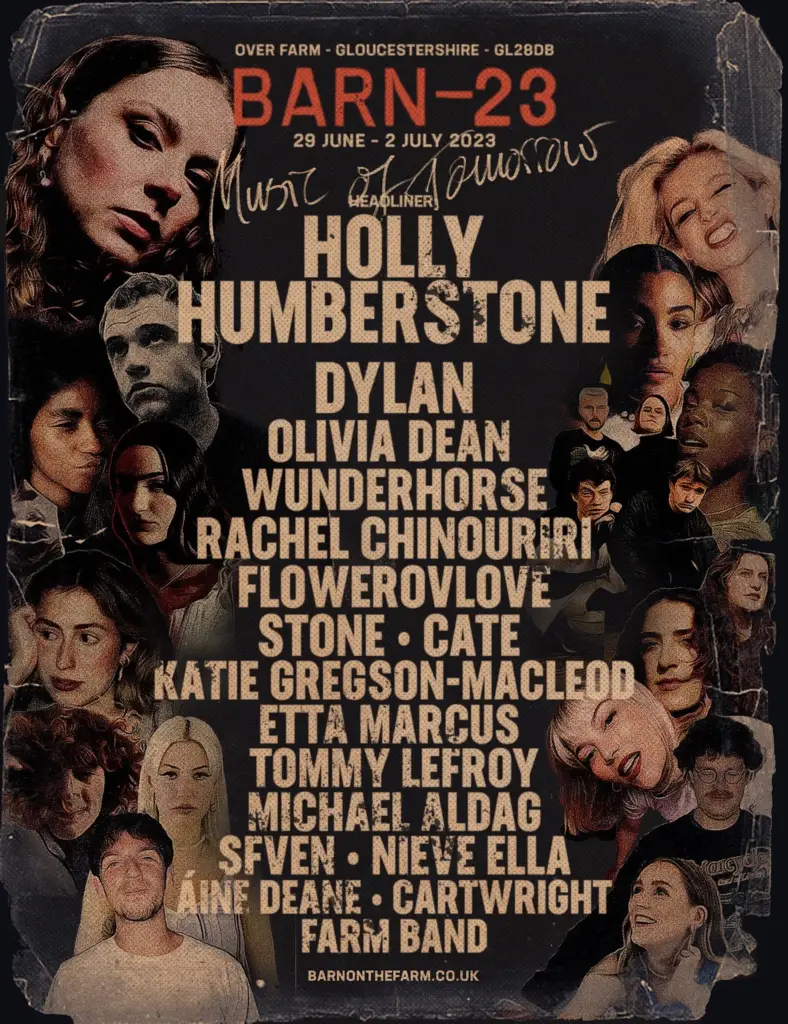 Founder of Barn On the Farm, Josh Sanger, says of this recent lineup announcement:
"BARN or Barn on the Farm, whatever you know it as, is our tribute to music that really matters. We are a festival that started as a hobby and whilst we've grown in scale, it is still 100% independent and a total passion project for all of us involved, led by our belief in building a real physical culture around new music (much to our own pain & suffering financially haha). We have one rule – only champion artists that are fearless, timeless in their approach and creating from a totally unique perspective. Barn 23 and our Music of Tomorrow tips list is exactly that. The best new music that you may not have heard yet but will blow your mind and will be hitting your radios & playlists in the not-so-distant future.
Barn 23 is your festival. It's a space for you to let go, be a part of our family and give yourself to the music. We are a small event and demand is high, we want you there so please join us nice & early and build Barn 23 with us."
Music Of Tomorrow Lineup
AINE DEANE
CARTWRIGHT
CATE
DYLAN
ETTA MARCUS
FARM BAND
FLOWEROVLOVE
KATIE GREGSON-MACLEOD
MICHAEL ALDAG
NIEVE ELLA
OLIVIA DEAN
RACHEL CHINOURIRI
SFVEN
STONE
TOMMY LEFROY
WUNDERHORSE
Barn On the Farm takes place at Over Farm, Over, Gloucester on 29 June to 2 July 2023. Day splits and running orders will be announced early next year. With intimate Thursday tickets selling out back in August, the remaining tickets back on sale consist of Friday, Saturday and Sunday entry, and include newly released Saturday and Sunday Day Tickets. There are also the last remaining Glamping packages back on sale. 
Barn on the Farm tickets are on sale now
READ MORE: Holly Humberstone interviewed: "Some days I feel like I own the place but others I feel like an imposter"