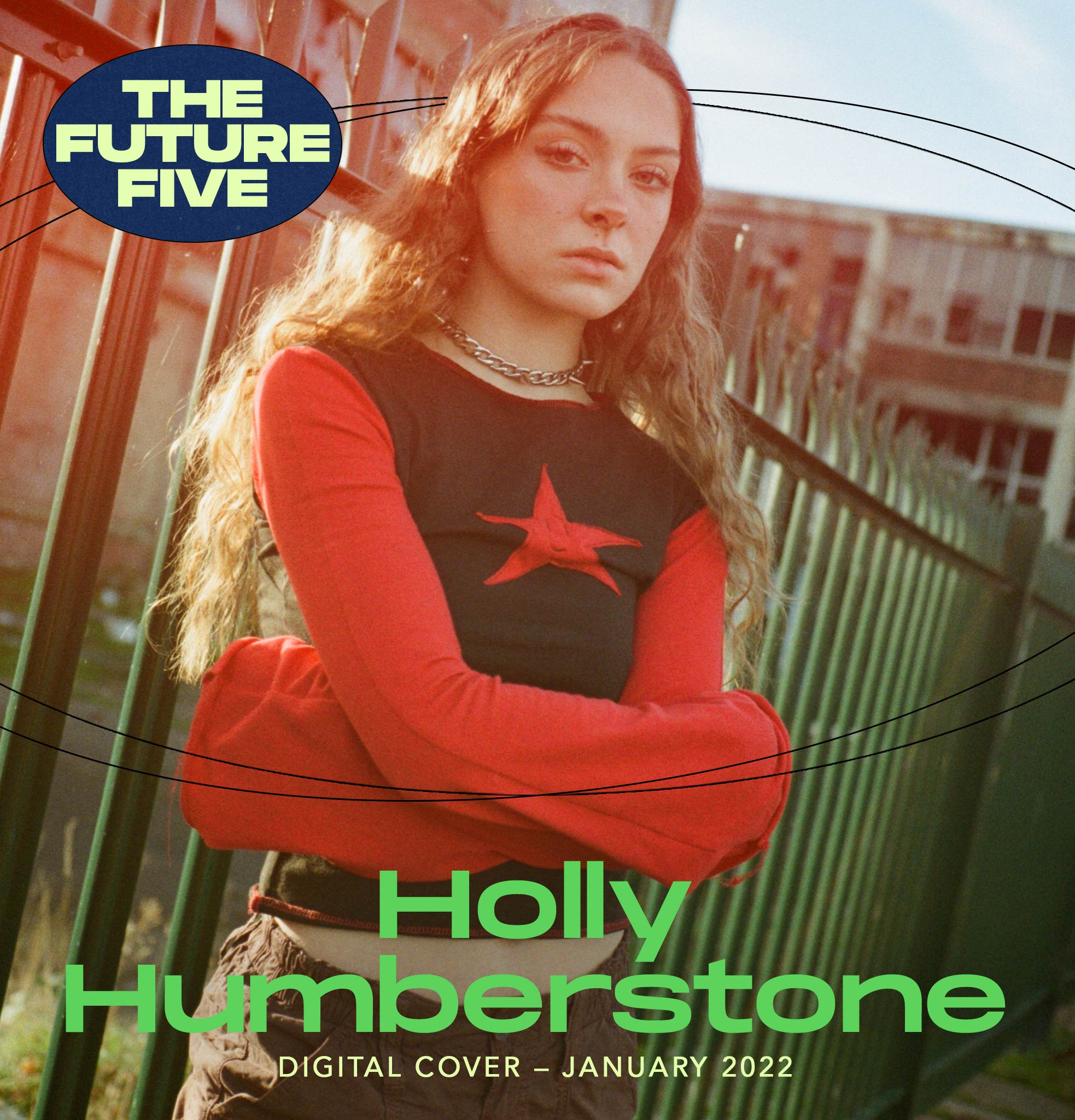 HOLLY HUMBERSTONE: OFF THE DEEP END
---
Every now and then a new artist comes along who really connects with people. Emerging from lockdown with a raft of beautifully vulnerable songs, Holly Humberstone has already amassed fans all around the world. As part of our Future Five series, Rhian Daly gets to know one of 2022's brightest talents. PHOTOS: Phoebe Fox
---
"It's really hard for me to accept that I'm actually an adult now and I have to live in a big scary city," Holly Humberstone explains over the phone from her flat in said terrifying metropolis, London. When we speak, it's a week before her new single 'London Is Lonely' is set to arrive – a beautiful lament on the isolation of the capital – which was written back in 2020 when the young musician first upped sticks from her home in Grantham and into the house share immortalised on 2021's 'The Walls Are Way Too Thin'.
Although the track is now two years old, its lyrics still ring true for the 22-year-old, even as she concedes she is slowly adjusting to life down south. "I'm very lucky that I'm so busy and I get to travel and see different places – the more and more that I've been away, the more it's made me yearn for it," she says. "It does feel more like home and I do want to come back here [when I'm away] and just go to a nice pub. I don't really know how I feel about it – some days I feel like I own the place and others I just feel like an imposter."
Often you have to leave somewhere and return to it for it to feel more like home, a back-and-forth Holly has been doing a lot recently. 'London Is Lonely' began life when she was on one of those outward-bound trips, back at her childhood home in Lincolnshire. "I had loads of feelings about the relief of coming back home," she says and the song captured how she had been feeling all by herself – and experiencing the tailspin that her life was becoming as her career began to take off.
"Started feeling like I'm living in the upside down," she sings on the single's first line. It's an arresting opening image – one that references Stranger Things' Demogorgon-filled alternate dimension which, geographically speaking, looks like Earth but is entangled in ash-flecked darkness. The song continues the nocturnal feeling that has coloured a lot of Humberstone's work so far, their contents shared like secrets that feel easier to say out loud in the still of the night, away from the interrogation lamp of the sun. It's simple but powerful – gently thudding beats and lightly bubbling electronics layering up over the cyclical piano melody that underpins the whole thing.
"I felt like a bit of an alien, really," Humberstone says of the period in her life that inspired it. "I was living in this tiny flat in an area I'd never really known before and I didn't have many friends. I just shut myself in my room because the outside was so chaotic – I felt like I couldn't really deal with it and process it."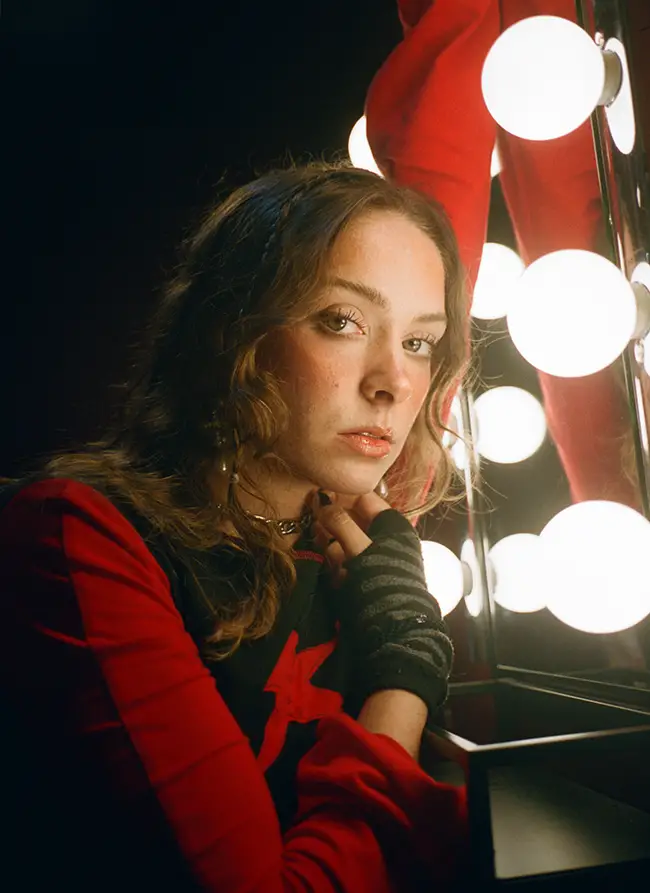 She might still reckon that London – particularly in the cold and bleak winter – can be the "loneliest, most depressing place to be", but the city did gift her a full-circle moment with this song last year. In the opening song of her encore at London's O2 Shepherd's Bush Empire in November (her biggest headline gig to date), she sat at a piano and treated the 2,000-capacity venue to its live debut. "I'd never played it to anyone before and it was so nice to be able to play it stripped back like that, just the way I wrote it," she notes. Finally being able to share it with her fans also peeled away some of the solitude in the track: "It's called 'London Is Lonely' but there were so many people there that were enjoying it."
The number of people enjoying her music looks set to grow exponentially this year – from the already not-very-modest 2.4 million monthly Spotify listeners. Since emerging into the new music landscape in 2020, Humberstone has become one of British music's most hotly-tipped acts, a status that comes laced with plenty of expectation and anticipation. Now, 2022 feels like it will be her big crossover year, her star set to shift out of the orbit of promising newcomers and into that of bona fide big artists. She's already got a BRITs Rising Star Award (previously won by the likes of Adele, Celeste and Florence & The Machine), a sold-out show at London's O2 Forum Kentish Town – which doesn't actually take place for another six months, and a support slot on Olivia Rodrigo's sell-out tour – propelling her forward. By December, they will no doubt be just a few of countless other achievements the Grantham singer-songwriter has racked up.
"I'm making sure to keep a diary and record everything as I go along so I don't forget everything because it has been a bit of a weird whirlwind," she says. Even though we're only a handful of days into the year, that whirlwind is still spinning – our conversation takes place during a rare break between promo for the upcoming BRIT Awards and a writing session with her frequent collaborator Rob Milton. Despite the chaos that seems to constantly surround her, she sounds relaxed, happy and enjoying the ride.
On the minimal, emotional 'Livewire' – one of the stunning songs on her 2020 EP 'Falling Asleep At The Wheel', which kickstarted this whole journey – she sighs: "Life can't always be one giant firework display." But from the outside, her own life over the last 12 months has seemed to contradict that assessment; the bits of Holly's day-to-day existence the public have been privy to punctuated by bright explosions of excitement and giddy wonder.
"That is accurate," she laughs at that analysis. "It has been really, really cool and very strange and kind of weird – in a good way." Along the way, she's had to stop herself from getting sucked into the vortex of letting things pass her by as she "focuses on getting the next thing, bettering myself and beating the achievements". "You can get caught up and forget to take time to reflect and be proud of what you've [already] achieved," she says, but one recent event has proved more grounding than you might assume. "I think [winning] the BRIT has forced me to do that and to reflect and feel proud of myself."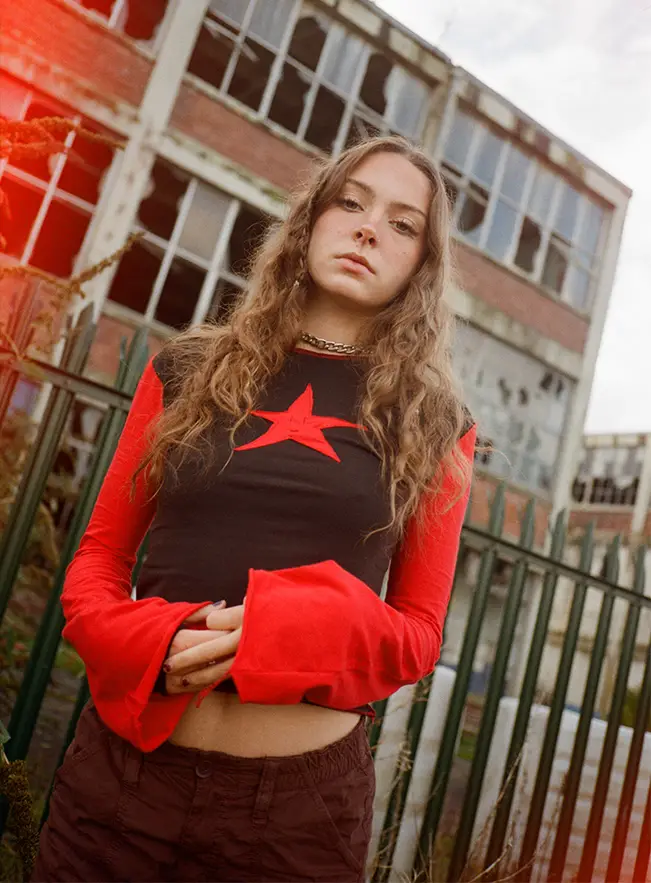 Burgeoning fame and the intensifying gaze of attention haven't come without their challenges for the 22-year-old. Writing has long been a way for her to process the things she's going through at any given time – her 2021 EP 'The Walls Are Way Too Thin' was her way of trying to figure out all the changes happening in her life as she moved to London, got the news her childhood home would soon be inhabitable, and lost a close relative.
But being a super in-demand rising star often means you don't have time to sit down and write for hours like you used to, before many people knew your name. When you do get that chance, having been so focused on doing everything required of you can have left your life's pool of inspiration suffering a drought – and it feels indulgent to write about your experience in the spotlight. "I have no social life because I'm just doing music the whole time and playing shows and touring," Humberstone explains. "It's obviously so cool and I'm very grateful, but then when I have a designated period to be creative, I have no ideas."
One of the things all of this has brought up is imposter syndrome. "I'm sure a lot of people have a lot of that and a lot of self-doubt," she rationalises, "but this all feels too crazy to even believe." Her self-worth, too, has become linked to her creative output: "My whole opinion of myself and whether it's good or really bad is based on whether I've been writing good songs."
---
---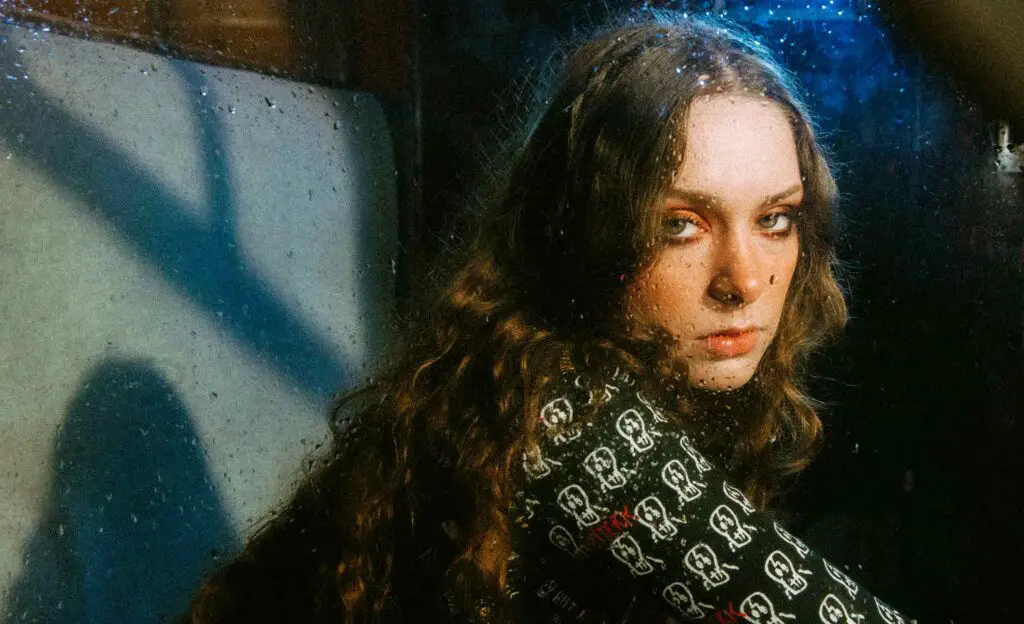 The transition into adulthood has also thrown her off a little, as she hinted earlier. She currently feels like she's got one foot in it and the other still planted in adolescence. "It's strange going on stage and being able to play in front of thousands of people and then coming home and not knowing how to pay my council tax and basic stuff like that," she says, clearly bemused at the situation she finds herself in. Being an artist with a whole team whose livelihoods at least in part depend on her has forced her to grow up a bit quicker – mostly. "I still come home from work and sit in bed and eat sweets and watch Frozen," she laughs.
When she talks, the artist often brings herself back round to a positive point, carefully leaving each topic back in equilibrium before she moves on. It's something that sometimes creeps into her songs too – towards the end of 'Haunted House', she reassures, "In a couple years it'll be alright", while 'Scarlett' finishes on a position of strength: "I don't need you now." She does the same when talking about the trials of pop stardom, circling back to the idea that any time in the studio is "very grounding" and that her job now is to stick to one guiding principle. "It's taken a while for me to understand that people just want to hear real music and I just have to be honest and open," she notes. "It's definitely taking a bit of adjusting but I'm really enjoying it."
---
---
Humberstone has had to adapt in multiple ways – subtle and less so – since entering the music industry, not least in getting used to the male-dominated nature of the business. She grew up at home as one of four daughters and went to an all-girls school, but now finds herself surrounded by men who are older than her on the regular, something she's found uncomfortable at times. More women being involved in "every area of the industry" is one change she'd like to see in the future to help remedy this. "There was so much female energy in my house growing up and I really valued that," she says.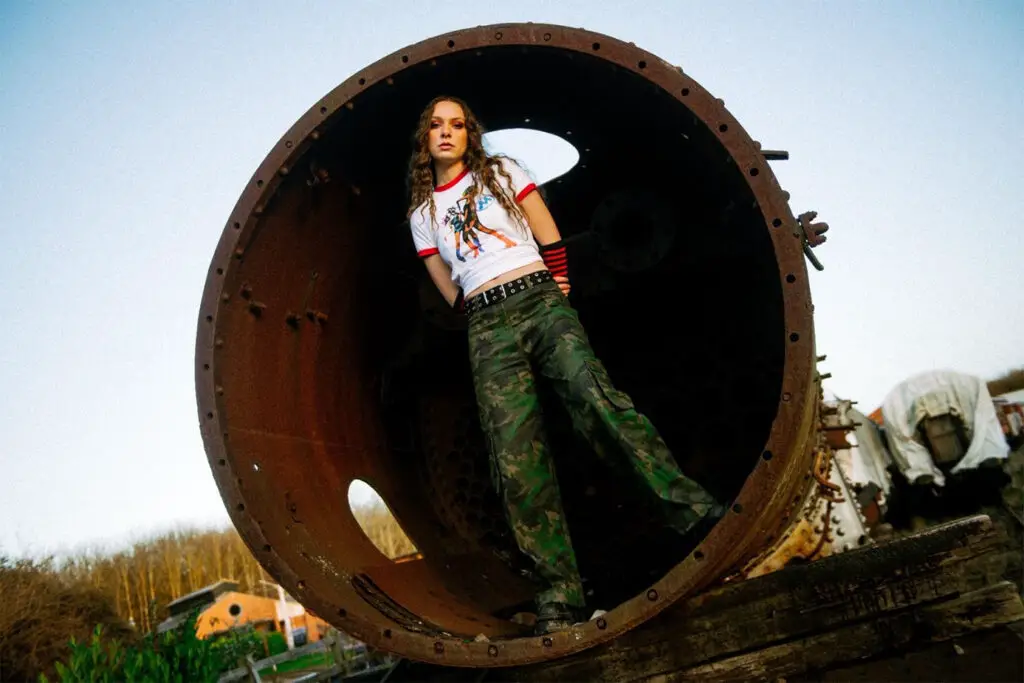 That's not to say that the musician doesn't appreciate and cherish the contributions of two men who have become close collaborators – Milton, previously of Nottingham band Dog Is Dead, and The 1975's Matty Healy, who worked with Humberstone on the gorgeously gloomy and glitchy pop of 'Please Don't Leave Just Yet' and an upcoming new song that's yet to be revealed. "Someone once asked me if I've ever been starstruck and I was with Rob when we first worked together as I was such a huge fan of Dog Is Dead," she recalls.
The 1975, too, were an important band for her before she got to work with their frontman, but she says it's not so much the fan-artist connection she had with Milton and Healy in her head that has made their sessions together click. "When you work with another artist there is definitely a deeper understanding of the total experience and you support each other," she says. "And in terms of the studio, it's just chemistry – you know when it's going to work."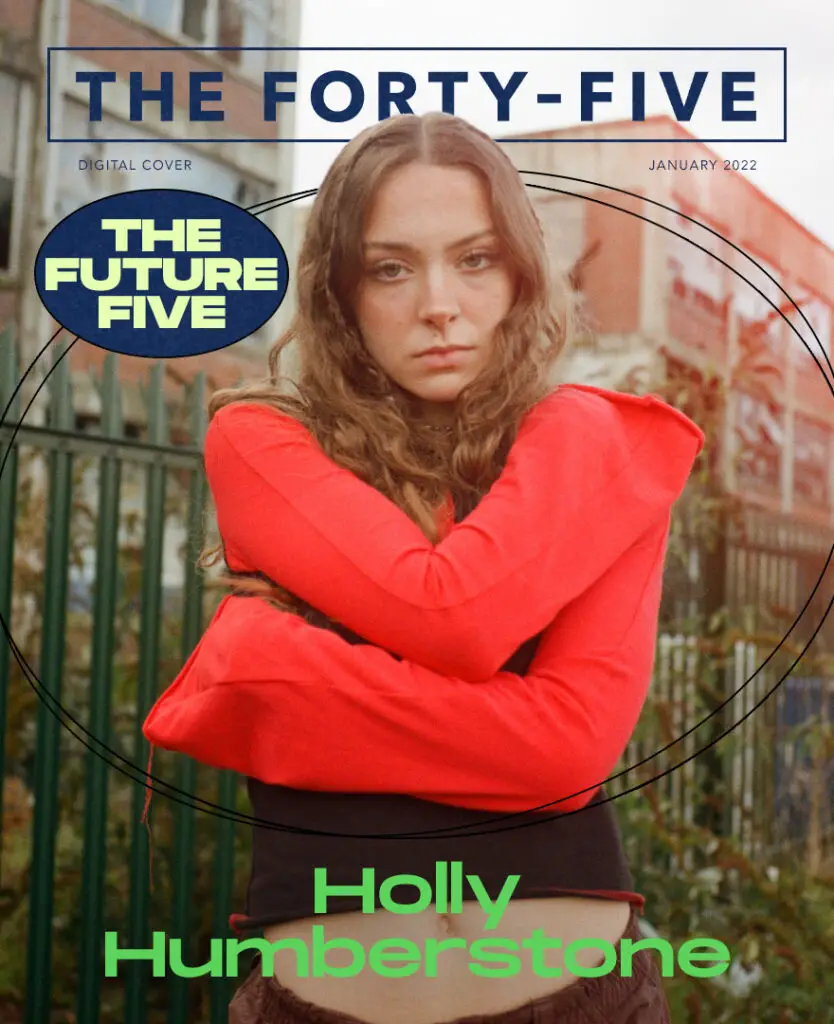 Aided by these fruitful relationships but led by her creative ingenuity, Humberstone is now looking ahead to her highly anticipated debut album. She shared the artwork for it late last year, but that doesn't mean its release is imminent – in fact, the songs that will make up the record are very much still in the works. "At the moment I've got enough songs I really love for an album, but I just want to keep writing at the moment and keep trying to beat the songs I've already got," she says, acknowledging her perfectionist streak. "In a couple of months, someone will have to tell me to stop writing and tell me the album's done."
Despite wanting to continue to better herself, she's in the process of "trying to pull everything together" and getting excited about finally being able to play the songs she's been working on live. As for the record as a whole? "I'm also very terrified!" she admits. If she keeps doing what she's been doing, though, there'll be no need for fear where Holly's headed – straight to the top, one beautifully still, soft song at a time.
---
Like what we do? Support The Forty-Five's original editorial with a monthly Patreon subscription from just £2 a month. It gets you early access to our Cover Story and lots of other goodies – and crucially, helps fund our writers and photographers.
Become a Patron!