Billie Eilish is almost an adjective. Far beyond simply embodying the cultural zeitgeist, the 19-year-old has established herself as pop's appointed antichrist. She delights in subverting every long-held expectation of the genre: hers is a far sharper, meaner incarnation, which effortlessly exceeds her maximalist counterparts. I've taken my time to look at Eilish under a magnifying glass and trying to understand what, exactly, is that Billie Eilish vibe we all know, but struggle to put into words. The best of her music – and believe me, the bar she sets herself is staggeringly high – shows the complexity of being not only a female musician, but a young woman, as prone to bouts of joy and despair, laughter and sincerity, as any other.
1. 'bury a friend'
It feels almost reductive to call 'bury a friend' a track – far more than that, it's a cinematic experience that captures Eilish at the peak of her powers. An experiment in fear, she is the monster under your bed: a manifestation of the darkest corners of our subconscious. Eilish smudges vowels and crumbles consonants in her mouth, delighting in turning comfort into a crawlspace. She holds her listener by the collar from beginning to end, with her sleepy, serpentine hissings narrating our journey through a curdled dreamscape of textures. When Eilish sings "step on the glass", you hear it shattering; when she sings 'staple your tongue', there is a shock of a staple gun. A blade is drawn, someone screams – who else is there, you find yourself asking, as the voices multiply. You trip and tumble over a beat you can't predict, as she playfully shape-shifts into a different nightmare. The rule book has been burned.
2. 'bad guy'
'bad guy' is the anthem of anti-pop, cementing Eilish's rightful place as the ultimate iconoclast. Rolling her bored, listless eyes at the maximalist efforts of what has come before, 'bad guy' runs in the other direction, holding its own with the rest of them as if she'd hardly tried. Her litany of whispered taunts ("I'm that bad type/ Make your mama sad type / Make your girlfriend mad tight / Might seduce your dad type") over a grisly electro beat is as infectious as it's unsettling. She's bored of you; she's bored of everyone. When a tectonic dubstep bass drop catches you off guard at the end, which was originally written as a completely different song, it becomes clear that Billie Eilish is the sonic anarchist we've been waiting for.
3. 'My Future'
Billie is at her best in this all-too-radical ode to her future. The song is an underlining of self-worth; her voice slips into a low purr as she glides through the song, unwrapping every word with care and cradling them for a moment, like the greatest gift she'd ever had was one she could only give to herself.
4. 'my strange addiction'
'my strange addiction' is what crawled out from an alternate universe where Pop Princesses was on dark mode, with lowkey eyeliner and a blithely gothic aura. Her feather-light delivery is slow and indulgent, like a cat arching its back, as she delves into a world of obsession – which of course, for Eilish, is The Office which she samples in the song. It's a shining example of her tongue-in-cheek sense of humour, where nothing is ever quite as it seems.
5. 'COPYCAT'
Few songs capture Eilish's boundless range like 'COPYCAT'. Confessional yet playful; sensitive yet sneering, it captures a spectrum of contradictions that mystify us, and draw us further into her gothic world. While she shows us she can play nicely, with her a measured cadence over twinkling piano keys, she is just as capable of snarling, "Watch your back when you can't watch mine" over a threatening beat that groans like a rusty switchblade. "Sorry, sorry, I'm sorry, sorry / Sike", she whispers, which you can't help but think was a precursor for Eilish's signature irreverence that would come to be immortalised by 'bad guy' ("Duh").
6. 'Getting Older'
When Billie sang, "Things I once enjoyed just keep me employed now", for many of us, it hit way too close to home. It's this kind of deft, razor-sharp wit that is both universal and hyper-specific that has elevated her to the generation-defining voice she has become. Over a beat that creeps through from the darkness, for the first time inching towards the light, Billie's quiet confessions and vulnerability about her experience with abuse and the trappings of fame sees her courageously cling, despite it all, to her belief in better days to come.
7. 'Overheated'
With grab-you-by-the-collar intensity, this warped, RnB-indebted beat, paired with Billie's own hypnotic voice, gets right under your skin in all the best ways. It's too close for comfort – so close it feels like she's standing right behind you – and is the perfect distillation of Billie's gift for catchiness and left-field experimentation.
8. 'everything i wanted'
'everything i wanted' is a song of unconditional love. Co-written and, of course, produced by her brother, it's an ode to the bond between them, proving as an antidote to the world-weary confessions of his sister. It takes the weight from her shoulders, so they can bear it together. It's a stunning portrait of the pair's emotional and collaborative connection, daring to confront a dark place, but refusing to let go of each other's hand until the end.
9. 'I Didn't Change My Number'
Despite 'Happier Than Ever' being a record that sees Billie share with us her fears, hopes and vulnerabilities like never before, "I Didn't Change My Number" proves that she hasn't forgotten her bite. Finneas' production is slick, restless and deliberate, which, towards the end, is punctuated by livewire, laser-like shocks. "I didn't change my number / I only changed who I reply to", she shrugs – and that attitude is exactly what we signed up for. (And is that a cameo from Billie's dog Shark we hear at the beginning? Enough said.)
10. 'NDA'
We never thought we'd see the day Billie would add autotune into her repertoire, but honestly, it works. It brings this glacial, nocturnal and spectacularly odd track to life. The ticking metronome and the Eastern-influenced strings create a disorientating, otherworldly sound that we fell in love with Billie for in the first place.
11. 'Lost Cause'
Possibly the grooviest Billie has ever been, 'Lost Cause' sees her oh-so-casually stick it to the man. "I know you think you're such an outlaw / But you got no job / You ain't nothing but a lost cause", she purrs, delivering the perfectly reasonable death blow. With a bassline that good and lyrics like that, wouldn't wanna be them.
12. '&burn' (with Vince Staples)
'Watch' walked so that '&burn' could run. While they are lyrically the same, '&burn' is a far more nuanced piece of work, with a much-needed injection of hip-hop. Playing with movement and inertia, it's a masterful work in atmosphere, where trap hi-hats are accentuated by the sound of a match striking, built upon a beat made from the blowing out of a candle. Calling on a cameo from Vince Staples, his verse solidified the song's status as sharp and resolute.
13. 'Halley's Comet'
Likening her caution for falling in love to a cosmic phenomenon that only happens once or twice in a lifetime, 'Halley's Comet' has Billie so close to the microphone that you almost feel very breath, like her lips are brushing against your ear. The song dissolves into woozy distortion like your drink has been spiked as the piano takes on a more sinister shape – because it wouldn't be Billie if the song wasn't just a little bit dark, would it?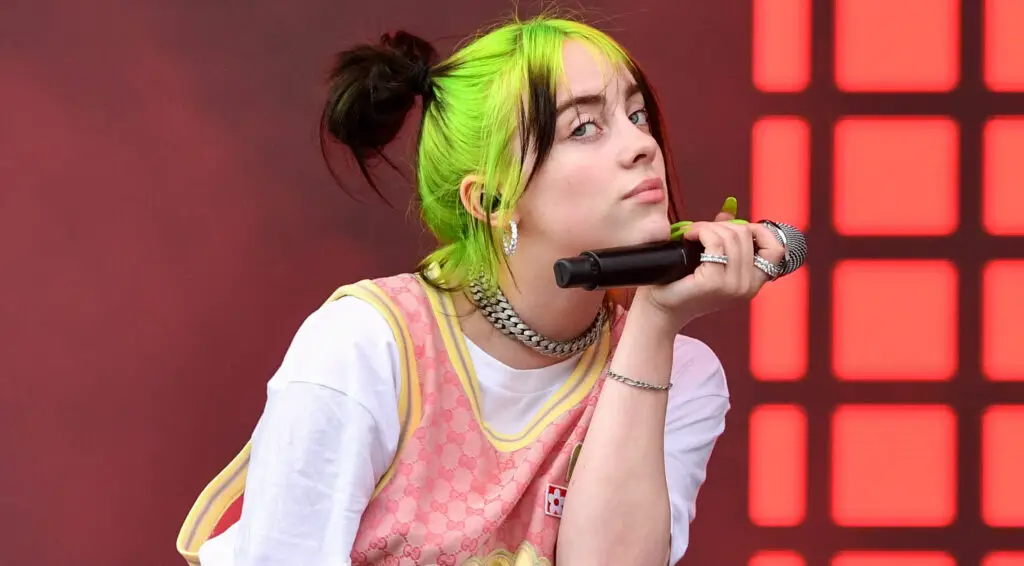 14. 'my boy '
You want attitude? You've got it. 'my boy' is deliciously snarky in a way that only a teenager would know how to execute. Hammered piano keys and trilling hi-hats blur the boundaries of pop and jazz: it's the concrete ready to meet her boyfriend after relentless lyrical body slams.
15. 'you should see me in a crown'
With attitude her sceptre and atmosphere her crown, this is Eilish's coronation. She keeps her subjects at her feet with this trap-influenced, electronic headrush; she arrests with her militaristic, vocoder-style distortion. Of course, our leader makes only the choicest of references, drawing on a quote from Moriarty, the psychopathic adversary of the BBC's Sherlock. It's a dangerous statement of intent, which makes it all the more exciting.
16. 'Therefore I Am'
The best Finneas beats are the ones that make you feel like you're trapped in a nightmarish video game, and 'Therefore I Am' is a perfect example of that. Billie is snarky, a side that rarely appears on 'Happier Than Ever', so when that side of her steps into the light it's all the better. "I don't want press to put your name next to mine / We're on different lines" – so stay in your lane.
17. 'Billie Bossa Nova'
This one is quite a curveball, for Billie – not least of all because it's a bossa nova track, but because if this song was dressed any other way, it could easily be the territory of a golden-age pop princess. It's not hard to imagine the likes of Britney working wonders with this. It's one of the first times Billie has embraced her saucier side, and this girl can stay. 
18. 'Oxytocin'
Wrapping tension around her little finger, 'Oxytocin' has a fizzy, cutting beat that walks the line between unsettling and anthemic. It sounds like a pop song that has curdled, and is easily one of the most interesting prospects on 'Happier Than Ever', hands down.
19. 'Happier Than Ever'
Ok yes, the second half of this song is where it's at. Who hasn't felt the irrepressible need to scream, "You make me hate this city" until your lungs are raw at least once? It's a moment of glorious, completely unbeatable, guitar-led catharsis – so why is it such a dull journey to get there? It rewards a patient listener, for sure, but you can't help but wonder what might have happened if the track was built entirely from the good bit.
20. 'GOLDWING'
With a chopped-up choir that sounds like it's falling in reverse, 'GOLDWING' carries the energy of a fallen angel. If 'No Time to Die' is Bond's theme, then 'GOLDWING' is its equal and opposite, the score of a nemesis. It's an interesting experiment with cinematic ambition, but it leaves you wanting a little more imagination.
21. 'Male Fantasy'
Picking apart the way she's both defiant against and yet entrapped by men and what they want, 'Male Fantasy' is the only moment Billie waves the white flag and learns to let go on 'Happier Than Ever'. It's heartbreak at its ugliest, but it's here that she gives up on hatred and reaches the final stage of acceptance: "I know I should but I could never hate you."
22. 'Everybody Dies'
This track is dark: like the blackest black that is not a colour or a tone, anymore, but a vacuum that sucks in all the light. Billie mourns the world she once knew – the one she can't get back – as she feels trapped in a game she can't escape. It's one of her most confessional songs to date, but it's far from a track you'd want for your daily commute.
23. 'Your Power'
Billie strips it back all the way with 'Your Power': just her and her acoustic guitar. It's simple, and that's deliberate: it's a communion between herself and universal abusers. She leaves it on a sharply resonant truth before ending it mid-breath: "You might not wanna lose your power / But power isn't pain."
24. 'xanny'
Eilish's heavy-lidded social observations, daring to cover her ears to the echo chamber, makes her pop's greatest non-conformist. Her voice starts off clear, before slumping into a narcotised haze, mirroring the 'xanny' experience that her friends are addicted to. "Don't give me a xanny now or ever," she warns, preferring to carry on sipping her can of coke than "dying by mistake".
25. 'lovely' (with Khalid)
As finely-spun as a spider's web, 'lovely' is an intimate vocal duet with tender harmonies from Khalid. Coiling the tension with the thrill of violins and tip-toeing piano, it's easily one of Eilish's most cinematic efforts.
26. 'Bellyache'
This is just another of Eilish's little games: how could a song with such an up-tempo, Mediterranean feel be about murdering your friends and leaving your lover's body in the gutter? Playing with the idea of alter egos, taking a leaf from the book of her much-adored Tyler, The Creator, both sonically and narratively this is a snapshot of Eilish's wild contradictions.
27. 'Bored'
Built upon the foundations of Eilish's gossamer harmonies, she finds the strength to leave behind a relationship going nowhere and set herself free. It's at once mournful of a love lost, yet defiant, as she remembers exactly who she is.
28. 'ilomilo'
It's impossible not to be won over by the origin story behind 'ilomilo': the track was inspired by her favourite XBox game of the same name, in which two characters, Ilo and Milo are separated but try to find each other. When they are reunited, they hug. A sonic rendering of the game's lullaby-like gameplay soundtrack almost distracts from Eilish's confessions about the anxiety of being separated: "And I don't wanna be lonely / So show me the way home / I can't lose another life."
29. 'i love you'
A fragmented, acoustic fever dream, 'i love you' is a serene admittance of defeat. Helpless in the face of love, this slow-melting song is what the most guarded part of our hearts would sound like.
30. 'bitches broken hearts'
'bitches broken hearts' harks back to how it all started for Eilish and O'Connell: their bedrooms. The lo-fi production is a dream. Layered levels of simplicity foreshadow their combined talent to create great pictures with the most minimal brushstrokes.
31. 'Hostage'
Daring to drop the mask, Eilish is willing to admit to her toxic tendencies in this song about the blurred lines between love and problematic possession. Stripped-back, slow and intent, Eilish and O'Connell's gentle harmonising is almost at the exclusion of all else, with only the shy plucking of a guitar and an undercurrent of bass to carry them through. Their vocals quite literally hold all the elements of this song hostage, just as Eilish desires to do with her lover.
32. 'listen before i go'
A deep inhale and an even longer exhale, 'listen before i go' is a quivering admission of vulnerability. Capturing the debilitating effects of mental illness with a kind of bravery and dignity rarely seen, this is perhaps the darkest corner of Eilish's mind we've ever been permitted to see: "Taste me, these salty tears on my cheeks /That's what a year-long headache does to you."
33. 'ocean eyes'
Comparing her lover's gaze to napalm skies, 'ocean eyes' is a work of pop noir, echoing the languorous sighs of Lana Del Rey's West Coast dreams. It's an incredible stand-alone track, but this sound and this voice feels distinctly un-Eilish in the light of how we've come to know her today.
34. 'WHEN I WAS OLDER'
"When I was older, I used to be a sailor, but I drowned in a storm", were the words of Marco Graf's character in Netflix's 2018 film Roma, which ignited the inspiration that brought about 'WHEN I WAS OLDER'. This haunting lullaby, with its pied-piper melodies and throbbing basslines, is caught up between a time that is both far away and familiar. Sounds of the ocean, rustling trees, dogs barking and student protests are used as percussive rhythms, letting O'Connell cut his teeth with creative production choices which came on leaps and bounds since.
35. 'all the good girls go to hell'
Eilish defiantly turns her back on the pearly gates, opting instead for eternal damnation. It's not exactly a hot take from an artist who prides herself on not following the crowd. Hell has been quite a fashionable destination for a while now. With a distorted organ that sounds as if it's fresh out of The Addams Family, "all the good girls go to hell" is almost a plasticky Halloween decoration, to be taken out and dusted off once a year, no more.
36. 'watch'
Paling in comparison to its reloaded version, '&burn' featuring Vince Staples, 'watch' is nevertheless a panoramic slice of pop which douses a toxic relationship in lighter fluid, setting ablaze not only that, but the person Eilish became while she was in it.
37. 'when the party's over'
Taking minimalism to a whole new level, this hymnal ballad was only one of two songs Eilish did not help her brother write on the album. Her voice flutters, singing a relational eulogy for every lover that got away.
38. 'goodbye'
'goodbye' is a final flourish; the last of a trio of songs on 'When We Fall Asleep, Where Do We Go?' Together, they form the sentence: 'Listen, before I go, I love you, goodbye.' When taken out of this wider picture, it doesn't quite stand. Its sleepy pace lets you drift off – the nightmare is over. For this exact reason, 'goodbye' has a time and a place.
39. 'party favor'
Please, just put down the ukulele. While the nauseatingly sweet, Tumblr-girl-circa-2013 instrumental is a mask for Eilish's derisive remark, "It's not you, it's me' and all that other bullshit / You know that's bullshit / Don'tcha', babe?" – it's subversive in the most predictable way.
40. 'No Time To Die'
Being the youngest artist in history to record a Bond theme song, 'No Time To Die' was a track Eilish and O'Connell did not take lightly. With butterflies-inducing depth and detail, this sweeping piece undoubtedly fits the brief. What we're getting is a facet of Eilish, a particular shade, rather than the spectrum her more celebrated songs contain.
41. 'Idontwannabeyouanymore'
Channelling the mournful trill of pop progenitor Lorde, 'idontwannabeyouanymore' would fit beautifully in a dimly lit jazz lounge. But perhaps that setting might just be a little too stiff for pop's appointed antichrist.
42. 'wish you were gay'
Billie Eilish often seems wise beyond her years, but 'wish you were gay' is a jarring reminder that she's a teenager, and just as prone to clumsy outbursts of angst as any other. Coming to terms with unrequited love, Eilish scrambles to save face, pleading, "Just say that I'm not your preferred sexual orientation / I'm so selfish / But you make me feel so helpless". The backlash from the LGBT+ community accusing Eilish of queerbating no doubt gave her vertigo, as she looked down and realised the scale of the platform she'd been put on. "wish you were gay" couldn't be saved: this, paired with tepid production choices doesn't make the podium on an album full of champions.
43. '8'
The hammock-swinging plod of this beat sets your mind adrift for all the wrong reasons. Her occasionally pitched vocals are a rude interruption in a song that seems to throw itself in different directions and yet commits to none of them. We know that Eilish has better toys in the box to play with than these.
44. 'come out and play'
If you're looking for the Billie Eilish experience, this isn't the right place to find it. While her gentle, quivering voice is whispering words of self-empowerment ("You don't have to keep it quiet / And I know it makes you nervous / But I promise you, it's worth it / To show 'em everything you kept inside / Don't hide, don't hide"), you can't help but get the impression that Eilish is restrained. Having been approached to write the song by Apple for the 2018 'Share Your Gifts' Christmas campaign, it comes as little surprise that Eilish doesn't quite hit the same when she's commercially diluted.
45. 'Six Feet Under'
Despite being earliest official release, 'Six Feet Under' is still an encapsulation of the incredible fragility of Eilish's voice, which though enough for many, now pales in the face of what she has become.
46. 'Not My Responsibility'
More a spoken-word monologue than a track in its own right, Billie delves into body-shaming and the vulture-like way the world has sexualised her body even as a teenager, which she deliberately hid beneath loud, oversized outfits. "So while I feel your stares, your disapproval or your sigh of relief," she murmurs, "If I lived by them, I'd never be able to move." Though the message of this track is important in the wider context of 'Happier Than Ever', it's impossible to pit it against any other track when it exists in a lane of its own.