In many ways Billie Eilish has never left. Between Bond themes, a documentary and a stack of Grammy Awards, the 19-year-old has gone from strength to strength since her 2019's critically acclaimed debut LP, 'When We All Fall Asleep, Where Do We Go?'. But there's a new era on the horizon: here's everything we know about 'Happier Than Ever' so far.
WHEN'S BILLIE EILISH'S NEW ALBUM RELEASED?
On April 27, Eilish confirmed via her social media channels that the title of her second album is 'Happier Than Ever', which is set to land on July 30.
"Happier Than Ever OUT JULY 30TH! this is my favorite thing i've ever created and i am so excited and nervous and EAGER for you to hear it," Eilish wrote on Instagram.
"i can't even tell you. i've never felt so much love for a project than i do for this one. hope you feel what i feel." You can see the post in full below.
News of the highly-anticipated 'Happier Than Ever' came a day after she posted a 15-second clip of the title track, in which she's heard singing: "When I'm away from you / I'm happier than ever…"
Prior to the official announcement, Eilish teased that a new record was on its way. On April 20, the LA teenager showed off new platinum blonde look by sharing a candid selfie to Instagram, with the caption: "Things are comingggg." Fans immediately interpreted the post to be a hint at forthcoming material.
HAVE WE HEARD ANY SONGS FROM 'HAPPIER THAN EVER'?
'Happier Than Ever' will contain 16 tracks, including the latest single 'Lost Cause', remarkable ballad 'Your Power', and previous releases 'my future' and 'Therefore I Am'. You can view the tracklist in full below.
1. 'Getting Older'
2. I Didn't Change My Number
3. 'Billie Bossa Nova'
4. 'my future'
5. 'Oxytocin'
6. 'GOLDWING'
7. 'Lost Cause'
8. 'Halley's Comet'
9. 'Not My Responsibility'
10. 'OverHeated'
11. 'Everybody Dies'
12. 'Your Power'
13. 'NDA'
14. 'Therefore I Am'
15. 'Happier Than Ever'
16. 'Male Fantasy'
WHAT'S THE REST OF THE RECORD GOING TO SOUND LIKE?
According to a press release, 'Happier Than Ever' "features no outside songwriters or producers", meaning that the album was written and produced entirely by Eilish and her older brother, FINNEAS. The pair also had full creative control over her debut LP.
In her recent, groundbreaking British Vogue cover feature, Eilish confirmed that the siblings recorded the new album in the basement studio of FINNEAS' new house throughout quarantine. She also explained that making 'Happier Than Ever' made her fall in love with songwriting once again, and that she recently learned to engineer: I've grown so much and gotten so much better in my voice, it's crazy to think about," she said. "I think change is one of the best gifts in the world."
In that very same interview, Eilish revealed that one song off the album ends with her screaming. "It was very satisfying to scream," she said. "Because I was very angry. There's so much anger in those songs – anger and disappointment and frustration."
Earlier this year, Eilish told Stephen Colbert that the downtime afforded by the ongoing coronavirus pandemic enabled her to get back in the studio sooner than anticipated; she was originally supposed to spend summer 2020 touring the world. "I don't think I would've made the same album, or even the album at all, if it weren't for COVID," she told the US television presenter.
"That doesn't mean it's about COVID at all, it's just that, when things are different in your life, you're different. That's just how it is."
Later on in the video interview, Colbert asked Eilish if the new album had allowed her to stretch the capabilities of her vocals, to which she responded: "There's a couple of moments on this album where I pull some tricks out. It's really just about what I feel like sounds good."
WHEN'S BILLIE EILISH GOING ON TOUR?
On May 21, Eilish announced a 'Happier Than Ever' World Tour and (COVID restrictions permitting), Eilish will be heading to the UK in June 2022 including trips to Belfast, Dublin, London, Glasgow and Birmingham. Tickets are available to buy here.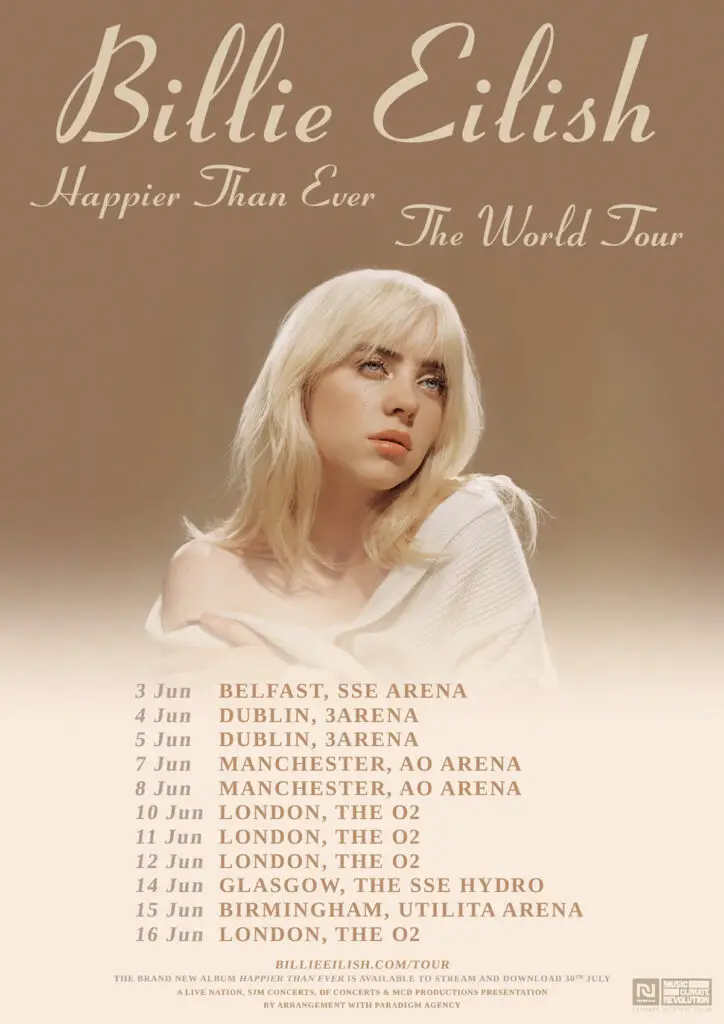 Bookmark this page for more info on Billie Eilish's new album, as we have it.