Lounging in the tour bus ahead of her closing night performance at Standon Calling festival in Hertfordshire, we catch Mercury Prize nominee Self Esteem, preparing herself for her fourth festival slot of the weekend.
Welcome to Standon Calling! You're the closing night's headliner on the all-female and non-binary lineup at the Laundry Meadows stage today. How are you feeling about it?
It's great, isn't it! I mean hope one day for it not to have to be a specified thing, but we're not in that world yet. So, I mean it's the bare minimum to try and improve the gender split. I'm very passionate about women and non-binary musicians in a world which is still very sausage-heavy.
Absolutely, it raises a dichotomy that we now need to dedicate a whole stage exclusively to a certain type of artist.
Exactly, because some men are good at music and I don't mind them being allowed to play! My first instinct is, urgh, why does it have to be an all-female lineup, but then I remember that it's better than nothing and I should be grateful to have that.
On the topic of lineups and festivals, what's your schedule looking like for the summer?
So we've played four festivals this weekend – Secret Garden Party, Latitude, Tramlines and now Standon Calling – so you do not get me at my best!
But again it's money, if someone is offering me a slot at a festival and it's enough to break even or make a little bit of money, I will say yes and run myself into the ground to be able to make a living. Even at my level, when you google it and it seems like everything is going great.
Touring incessantly must be difficult! How do you power on through? And, is there anything you've missed about being on the road?
Thank God my band is such a joy to be around and we do find a way through, [one] which is full of love, because I think the pandemic really showed me how to stay in one place for ages and how nice that is.
I should have never allowed that to happen to me because I'm now obsessed with not going anywhere. But the way my audience is growing and the way people accept my music and are so loving towards it, is worth any great big leak in a bus or no shower for two days.
I love to work with the band, a lot of full belly-laughing happens in the way that it used to at school or on school trips. For some reason, when you put yourself in this environment everything is hilarious. We always have this joke, when people come on the tour bus and say, "Ohh, it's got a telly!" And we think, yeah but do you know where there's a better telly? My house…and a bed!
I'm 35 and in a way, I think at 25 I would have found touring a bit easier but I also refuse to give in to that. I can handle anything, I can do anything. I tell myself that it's not that hard, it's just playing songs. But [ultimately] it is difficult.
Like I said, the pandemic made me see how nice it is to be in one place with all of your things and your routine. Not that I'm wishing for another global crisis anytime soon!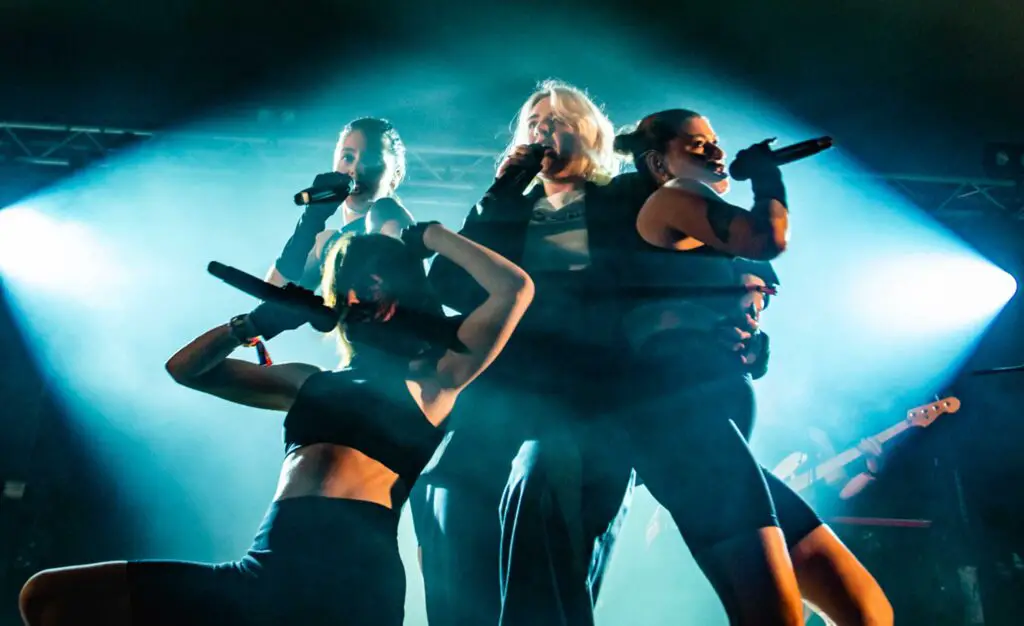 It's definitely a busy time for you, what other projects have you got on your radar at the moment?
So I'm touring the last record and I've got another tour in March. I think that will be the end to the 'Prioritise Pleasure' journey and then I'll start writing the next record.
I'm working on a few other projects; I'm writing a book that's a collection of essays and I also wrote the music for a play that's going to broadway. It's called Prima Facie featuring Jodie Comer, and it did really well in the West End. So, now it's going to Broadway.
There's not much work left to do there, I just get to go and enjoy the compliments, so that's nice. I'm really insisting that "I must have a week in the theatre to refine my work" when I actually don't need it. I wouldn't have it any other way.
That's a full schedule! Are you working on it on the road?
No, not really. I thought I could but then I realised that my brain has to be [focused] on one thing and then park that and move on to the next, which is good to find out. Before I had any sort of success at all I was bored a lot and fun for me was working on something. Whereas now, I have a really tangible job and I actually crave relaxing for the first time in my life! I can't believe it.
It wasn't relaxing, before I didn't have a reason to relax, if that makes sense? I've always wanted to do so much creatively and I've always had so much in me, but now they're tiring me out with my main job. But I'm hoping for some downtime in September until Christmas. I'm praying that I have some great ideas for something new!
READ MORE: The big Standon Calling festival review 2022