Friday
Strewn across the Hertfordshire countryside, in the grounds of private residence Standon Lordship, a string of yellow lights pepper the walkways leading to the heart of the festival, where you're met with the whirl of fluorescent red, green and blue dodgems, waltzers and swings. From the festival's layout, which leads you through a flurry of food stalls, wellbeing activities and the occasional dance tent, it's reminiscent of the walk from the Pyramid to the Other Stage at Glastonbury, only at a much smaller scale. And, as a dog-friendly festival, there are furry friends everywhere.  
The first full day of Standon Calling sees Bournemouth and Bristol-based Billy Nomates stomp onstage to Laundry Meadows with her deadpan, vocally-delicate punk offerings. Arguably, Billy Nomates' lyrical content is her biggest strength, with creative expression exploring societal inequality, class and power imbalance.
Billy Nomates exudes a positive and collective force, both lyrically and sonically driving and empowering as she delves into the pessimistic fields of the human experience with grace and tangible narratives.
Later on, the mellow musings of Porij pour out into the afternoon, the four-piece delivering their trademark, breezy indie pop with delicate vocals, delivered with assurance and grace to The Dive Bar.
On their first reunion tour since the noughties, I didn't expect to be dancing along to Sugababes' 'Push the Button' with a drooling mastiff and a whippet sporting a fleece in amongst the crowd.
Kicking off nostalgia-fuelled set with one of their finest, it's evident that the original trio – Mutya Buena, Keisha Buchanan and Siobhán Donaghy – haven't lost an ounce of their harmonic prowess, serving as a strong reminder of the trio's capabilities, restoring a sense of the 2000s. Sugababes proceed to drift between their iconic discography before bringing the tone to a more intimate level, traversing the softer side of their vocal abilities in 'Stronger'.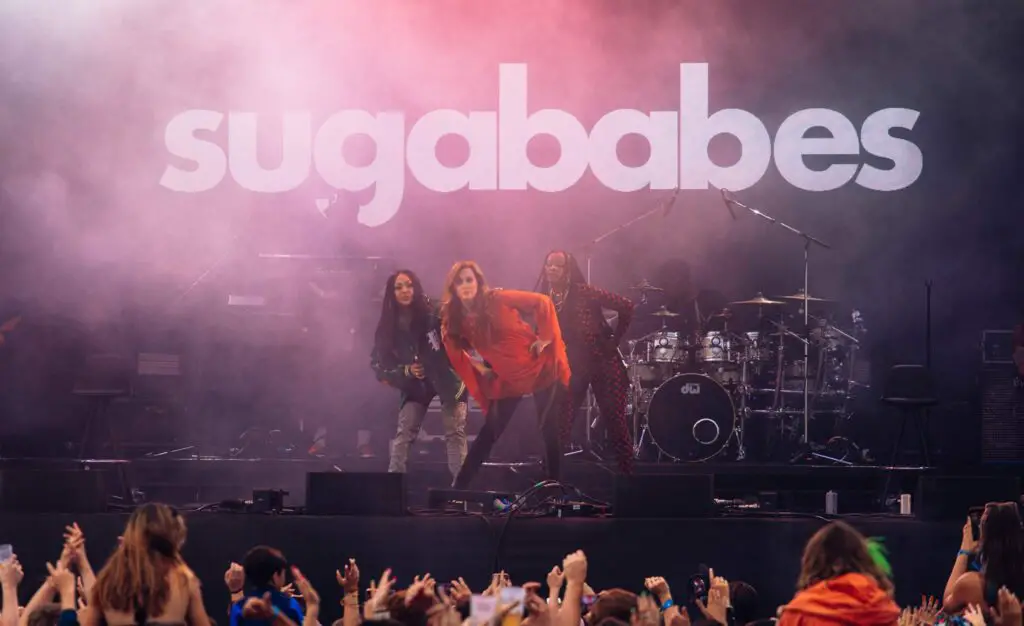 Like Keisha's thigh-high glittery boots, the set sparkles with emblems of their career – Buena boasting her unfaltering vocal ability most notably in 'Too Lost in You'. As the trio strut circles around microphones in synchronised choreography, they launch into a euphoric rendition of Sweet Female Attitude's garage sensation, 'Flowers'. 'About You Now' and 'Round Round' draw the set to a vivacious end. "Are you ready to party?", screams Buchanan, as the skulking bassline of 'Freak Like Me' erupts into the evening air.
Drawing Friday's events to a close with a wholesome set on the Main Stage, despite being seemingly dedicated wholly "to bad exes", Anne-Marie baptises her headline slot with the dancehall-inspired 'Ciao Adios' and 'Rockabye'.
Anne-Marie's grounded demeanour translates through to her lyricism and her stage presence, while her setlist delivers euphoric melodies with tracks such as '2002'. On stage, she's joined by a giant inflatable teddy bear who proves to be a joyful and comforting wingman.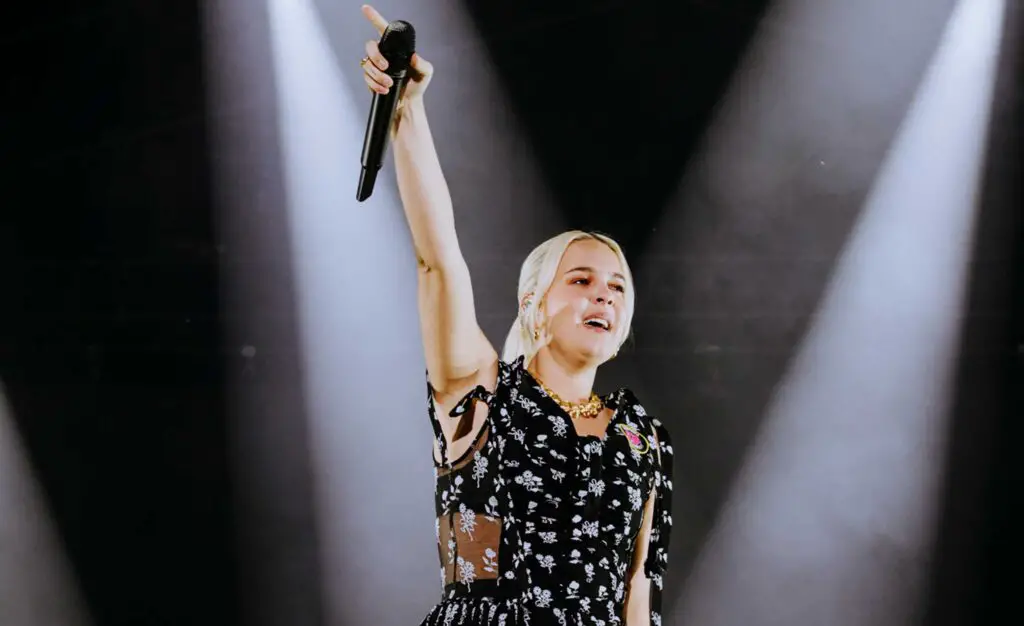 But it's not all sugar-coated: Anne Marie celebrates the end of unfavourable exes and dedicates 'Beautiful' to bad memories of old flames. The set pays homage to Britney Spears and Jay-Z, dipping into a remix of 'One More Time' and '99 Problems', before rounding off the night with 'Tell Your Girlfriend' from second album 'Therapy'. As bubblegum pink confetti rains down to close the set, Anne-Marie cements herself as a champion of delivering feel-good pop, with an ingrained down-to-earth and captivating energy. 
Saturday
A red kite soars overhead as Saturday morning's events slowly grind into gear. Erupting onto the Main Stage with attitude and capability, Watford's Connie Constance adorns the morning with a refreshing set reminiscent of feminist punk revival. Intensifying the energy of her vocal performance, the set navigates some trials and tribulations of gender equality and the sheer power of women, to uptempo, gritty guitar lines.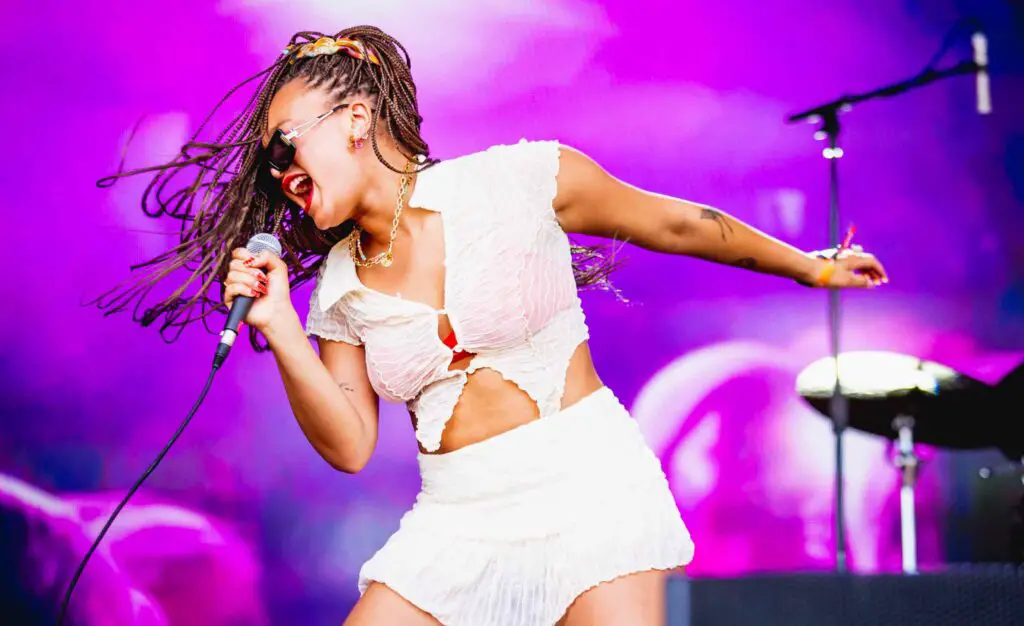 Bringing grungy, moody soundscapes to the Main Stage, Liverpudlian outfit The Mysterines offer their own brand of brazen, haunting rock that meshes classic riffs with revitalised with modern production.
A few hours after, it's over to Laundry Meadows and Connie Constance and her band are bunched in the audience for hip-hop/R&B singer-songwriter ENNY. This year's talent have some things in common: realness, raw lyricism and a freshness in attitude. Enny is no exception. "F this nine to five", she laughs, before rolling through into glossy hip-hop track 'Same Old', her voice boasting a gentle husky quality over laid-back drums and twinkling guitar lines.
Ending Saturday's events over at Laundry Meadows, Kelly Lee Owens' hypnotic grooves feel like an intoxicant drifting into the night. The Welsh electronic musician and producer introduces the mesmerising trance of 'More Than a Woman' and 'Throwing Lines', before snapping out of the haze to an almost 00's club beat, which then dips back into her usual trance-like sound.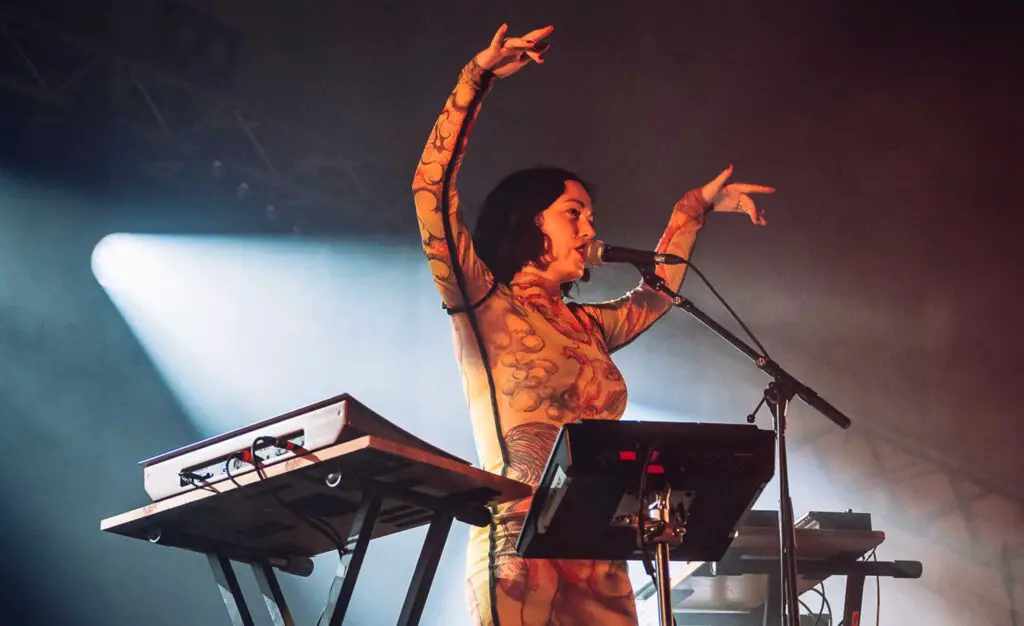 Sunday
At Laundry Meadows, the heat intensifies as four-piece Lime Garden grace the stage, with an offering perfect for hazy days in the melting sun. Their sound wanders from indie rock, to synth-pop and folk, as whimsical skirts and leather waistcoats sway with the beat.
"I know we're all a bit jaded by Sunday", lead vocalist Chloe Howard calls to the crowd. "Or maybe that's just me", she laughs. Bringing Eastern-inspired melodic guitar solos that wind and twist with dissonance to the midday sun, Lime Garden are undoubtedly ones to watch as their set winds to a close with moody 'Clockwork', featuring groove-laden basslines in their last track, complete with an 80s synth-pop melody, syncopated beat.
"I'm gonna sing Cher Lloyd by Cher Lloyd" blasts out of the speakers before Shania Twain's 'I Feel Like a Woman' accompanies CMAT bounding onstage. CMAT takes a sip from a can. "Global warming has happened and some of us are ginger", she prefaces as she raises her eyebrows to the crowd. This really sets the tone for the rest of the set; tongue-in-cheek lyricism and unrelenting energy, all served with a slice of humour and dance moves that suggest nobody's watching.
Over at the Main Stage, Sigrid calls out to the audience: "The best part of my day was meeting all the dogs!", she laughs. This is entirely fitting as earlier backstage in the afternoon, we spy the Norwegian singer-songwriter amongst a menagerie of golden retrievers, beagles and pugs.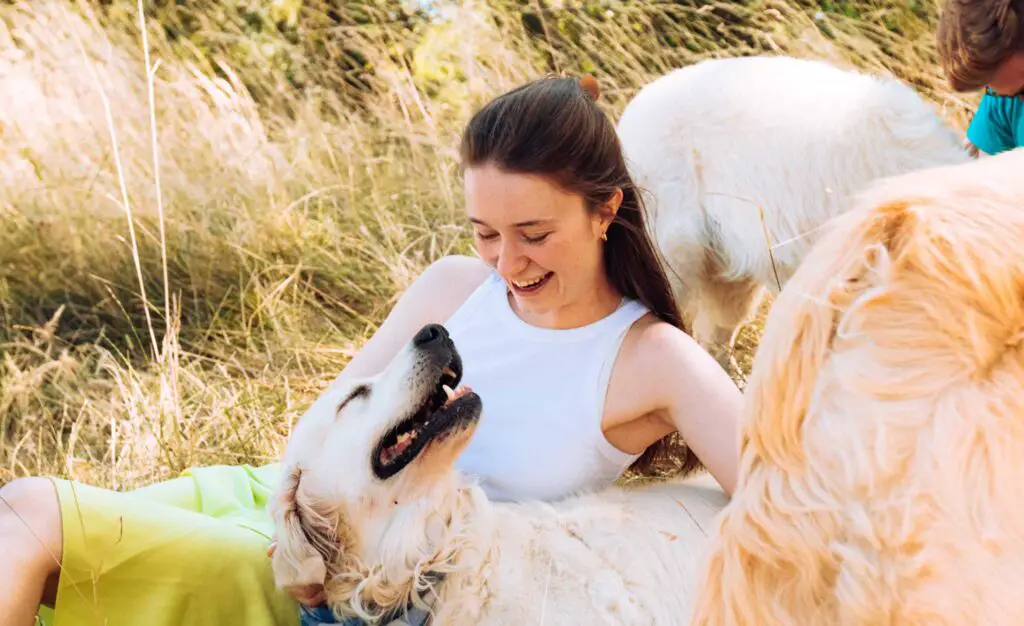 On the last of her UK shows, there's no sign of fatigue; throughout the entirety of Sigrid's set, her vocal ability is laid bare and doesn't falter from the strength on the record, from 'Suckerpunch' to the anthemic 'Don't Kill My Vibe'.
Despite being known primarily for feel-good, infectious pop hits, Sigrid proves her range as she dips into the melancholic pools of her catalogue with an emotive heartfelt tribute to touring from latest, more sombre album, 'How To Let Go'. 'Mirror' concludes her buoyant set, a glossy pop anthem that boasts yet another addictive vocal melody, delivering an invigorating burst of self-confidence to the fields of Standon Calling.
Once again, the ability to balance humour, reality and discuss heavy topics are addressed with capability with the arrival of Dry Cleaning's post-punk hooks. Everyday conversations such as "Why don't you want oven chips now?" are paired with the steady grooves of basslines and dissonant guitars and eventuate in wider considerations of what the human experience entails.
As the night draws to an end, Rebecca Lucy Taylor, otherwise known as Self Esteem, releases an unwavering set to conclude proceedings at Standon Calling. The power and capability in her lyricism and unrelenting ability to dispense dynamic melodies is undeniable; from 'I Do This All The Time's heartfelt "It was really rather miserable trying to love you" to the rasping, abrasive synths in 'Prioritise Pleasure'. The former is interspersed with soaring gospel harmonies that juxtapose the industrial qualities of the background synths.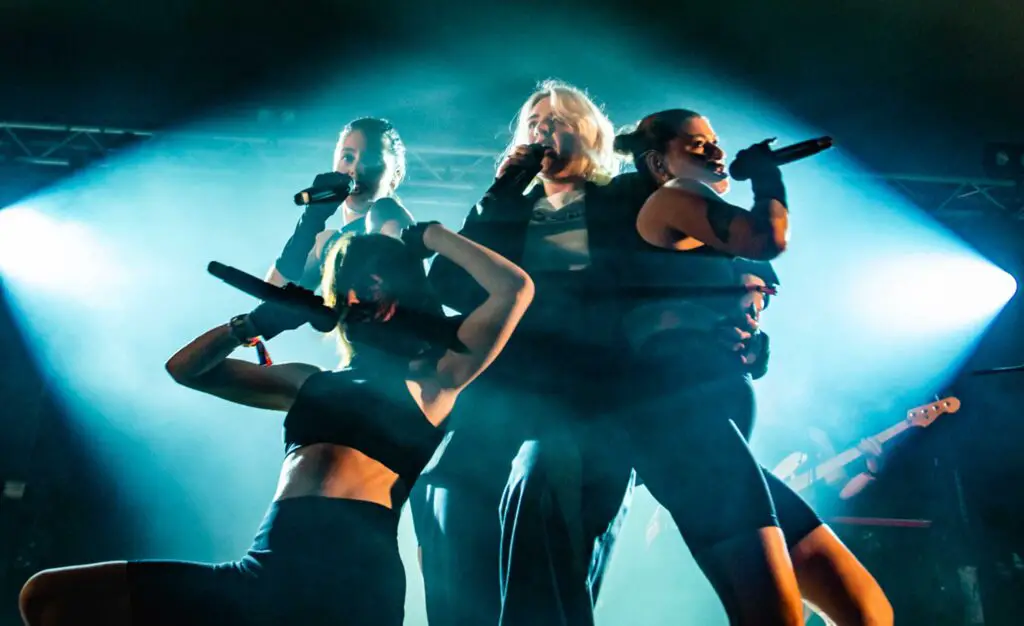 'Fucking Wizardry' erupts with euphoric energy, the chorus bursting into a full, layered sound thanks to Taylor's densely-layered vocals. In between tracks, Taylor addresses the audience with an emotional outpouring, "I've had a long triggering day of men telling me what to do", she considers, before jumping into 'I Do This All The Time'.
"You're beautiful and I wish the best for you/But I also hope you fail without me", Taylor beams as the gospel chorus ascends to its peak. What appears to be an ode to the personal challenges in Taylor's life feels like a gentle but honest bank of advice for her listeners. Already on a steep trajectory to the top, Self Esteem's unique honesty holds enormous potential.
READ MORE: Self Esteem: 'Prioritise Pleasure' album review