Artist, actor and designer, Jesse Jo Stark has just released her long-awaited debut album, 'DOOMED', a record that takes her earlier goth-country sound and adds some modern twists: 808s that get you moving and a little Debbie Harry flair. It's a record that demonstrates Jesse's versatility as an artist and a creator: building worlds as well as songs, her evocative lyricism drawing you into the dark underbelly she seems to inhabit.
Congratulations on the release of 'DOOMED'. How did you celebrate it finally being out?
We had an official release party in LA at my studio, where it was recorded and just invited some family and friends and had yummy food and I premiered my 'Lipstick' video. We have this little sunken couch area and we all piled in and watched it and it was so much fun, ate candy. All the vibes.
The album artwork is very cool and inspired by Italian illustrator Emanuele Taglietti. Did I see that a billboard featuring the cover got complaints for being too raunchy?
Yeah, the city got a lot of complaints. I don't know if it was the placement or what was going on. Because I mean, half the billboards in LA are everyone naked anyway. You know, it's a painting of me. And it just had to be taken down, which was to me, quite iconic and funny. The guy that runs the billboards actually listened to the album and was like, I love it. I'm so sorry about this! So it was actually fine. But it was one of my first billboards. So I was kind of bummed for two seconds, but then it ended up being funny.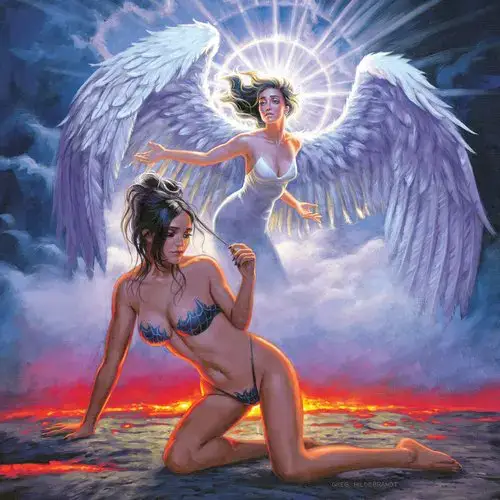 The album has been in the works for some time, with you originally planning to release an LP before COVID hit. These have been strange times for everyone. How do you think the last couple of years have impacted you and the work that we're hearing now?
I just took it as a time to reassess. Some songs that I recorded beforehand actually made it onto the album – we produced them in a different way, but they still made sense to me now. Specifically for me, during that time, I learned a lot about myself. Life feels like you can do anything and you have time for everything but you really don't. And so I wanted to be a bit more fearless in writing and to try new things and try writing with new people so this album; it's very much me, but it sounds new for me as well. I'm very picky. And the people that I chose for this, we all really trusted each other. I'm very proud when I sing these songs – they mean a lot to me.
There are a lot of diverse sounds on this record. You've got slower, tracks like 'Love Is A Dream' and 'Sugar High', then rockier and dancier tracks too. Is that reflective of your own broad tastes or is it a product of who you worked with?
No, I think I have such a crazy weird taste. I grew up on country. I love rock and roll. When I met Jesse [Rutherford], who produced some of the album, he works a lot with 808s and I wanted to incorporate all these different things. I actually wrote 'Love Is a Dream' at one of my favourite studios, Vox before the pandemic, and we had this live string section. That's one part of me and then you've got songs like, 'Patterns' which I wrote in 10 minutes – I was just in a bad mood and I wanted to feel raw and not overproduced at all. We ended up using the first vocal take I did, but then I really wanted a dance song and that just slipped in. It wasn't like we tried to make sure that there were all these different things – it just really happened organically. When I wrote 'Pussycat' with Jesse, I was so excited about that one. I was referencing Blondie a bit and I wanted one that I could do this whole routine to. I've been explaining all the songs on the album like my moods in the day. So I wanted it to be this little moody mix.
Your music is incredibly evocative. It feels like you're not just creating music but the worlds surrounding it, too. How do visuals play into your creative process?
I'm just such a visual person. I didn't even understand that till later. I love words, but I see things – I see colours and so on. Before I write, I can see the music video or I can see this other world that I really want to be in. That's the cherry on top. The song is one thing, you feel such a release from writing and telling the story, but then to create a world around it, whether it's from just picking a colour that you like or… all of a sudden I've got this gargoyle that I bought – we've named him Garg – and I bought him at a Halloween store the other day and he just so fits into the world of 'DOOMED'. I just like everything that comes with it. I'm so cheeky like that.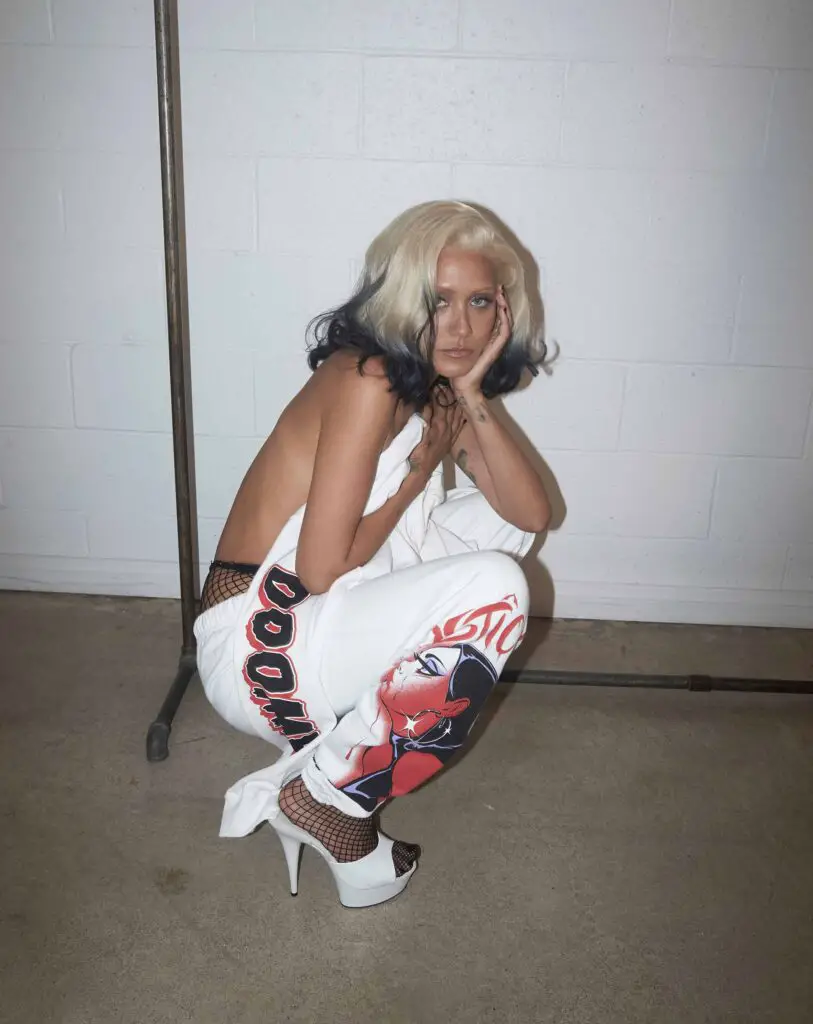 'DOOMED' is a kinda depressing title. Is that how you feel about the world right now?
The world's definitely fucked up and dark. I always think it's getting worse, but I actually think we just know more now. It's hard to stay positive. Even releasing a project you're like: 'What is this doing? Is this doing anything?' But you have to remember it is. Art is inspiring. It's something to discuss. It's important because that's the lightness to the darkness. But 'DOOMED' for me, even though it has a very negative connotation, it has optimism in the word. I just feel like it really represented the album. If you listen to the album, the last song, 'Trippin' has this quite juvenile, upbeat, Ramones-y beat. It ends with the lyrics, "Doomed from the start" over this really pretty melodic moment. It's accepting the chaos and the darkness – it's the start of something new. So even though it sounds negative and depressing, which life can be, it's not to me. It doesn't mean giving up. But I also love spooky shit. I love dark words. I like the underbelly. I like all that stuff. So it was fitting.

Now your debut album is finally out in the world, what do you want it to say about you as an artist?
This music is who I am right now and then there will be more. 'DOOMED' is everything that's made me me up until now. I hope people hear the fearlessness in it and also the heavy insecurities. I hope that it just inspires people to be badass and sexy or anything they want to be. I hope they take different things from each song. And that's it.
'Doomed' by Jesse Jo Stark is out now.
Read our COVER STORY with Jesse Jo Stark from 2021 and see exclusive photos