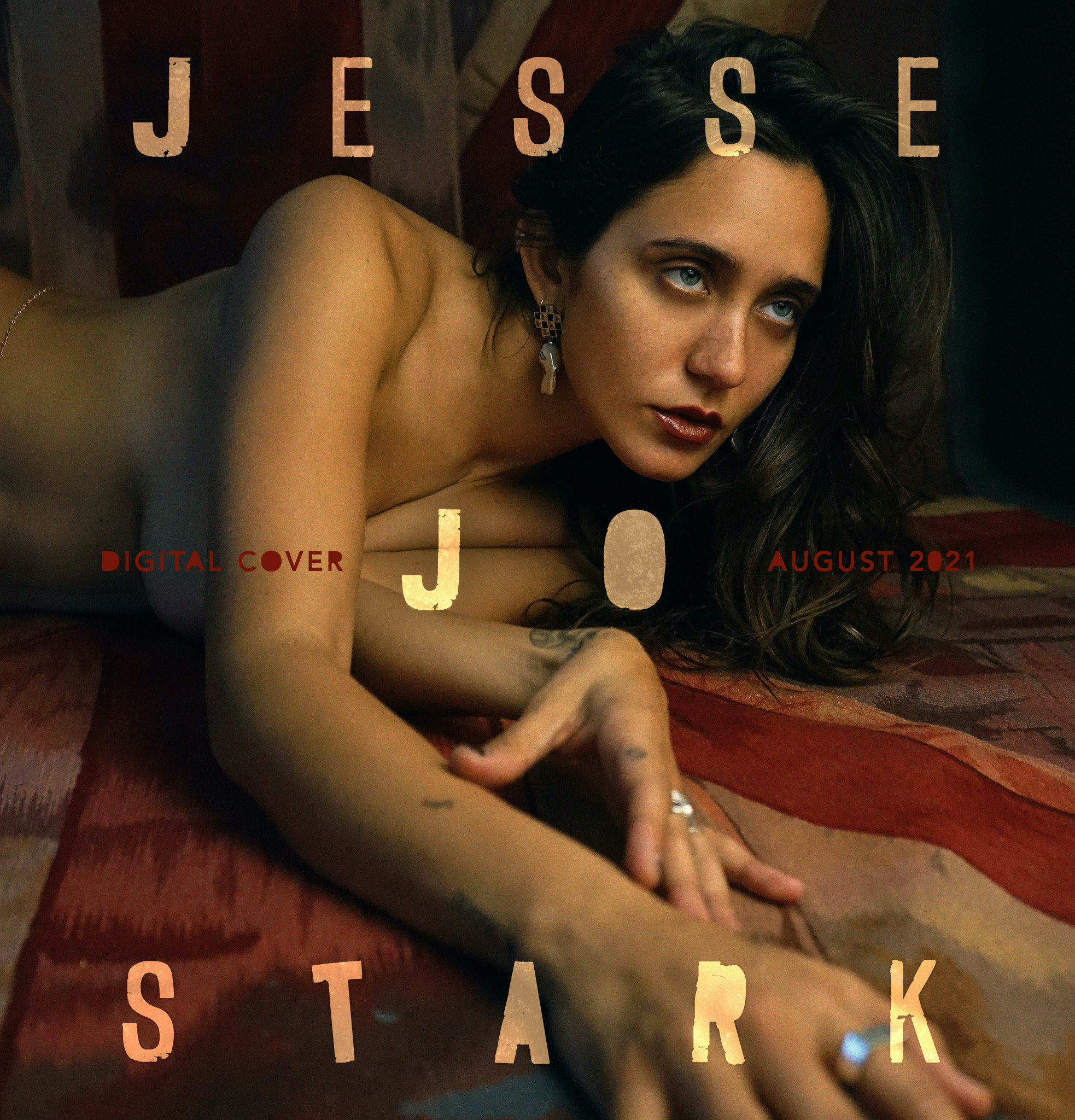 Jesse Jo Stark
---
A musician, a fashion designer and an actor, as obsessed with old-Hollywood glamour as its sleazy underbelly – Jesse Jo Stark is the cowboy-boot wearing punk, making Americana sexy.
Words: Cordelia Lam Photos: Sophia French
---
Jesse Jo Stark talks with her hands, hair, and whole body. "I always knew I was a rockstar" she says, gesturing wildly. "I was a shy kid but I would show up to school wearing these crazy punk pants that connected in weird places. Nobody understood what I was doing!" 
Perched at the edge of a sofa in a nondescript hotel room in Southampton, she listens and speaks with an excitable, unguarded physicality – thinking, absorbing, poised to jump in, a million bangles and bracelets clinking on her wrists as she acts out her ideas with her hands. Her body reacts before even she does, breaking into smiles, eyes brightening, and bolting upright when she hears something that resonates. 
Jesse Jo's music calls upon the body this way too. It is a sensory experience before a cerebral one, inspiring feelings of nostalgia, melancholia and faraway Old Hollywood glamour. Invoking country, folk, rock and hillbilly, indescribably and all at once, her music invites us into a rich and fatalistic world where the stakes are high and everything is beautiful.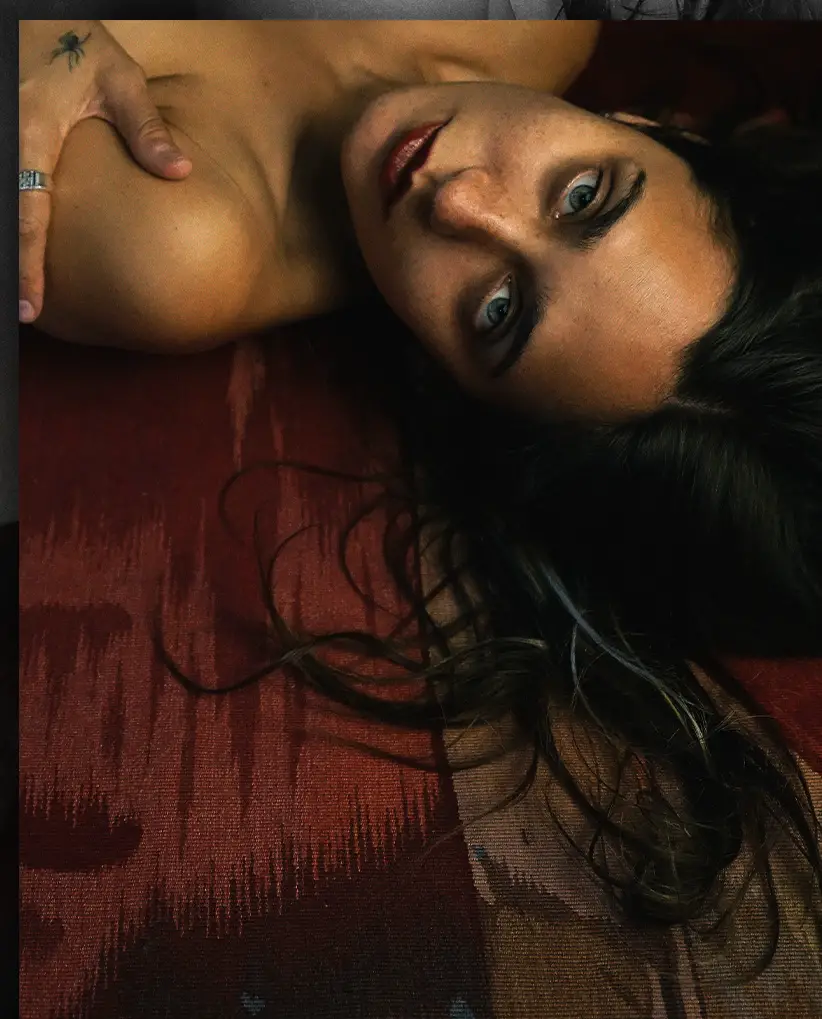 The range and richness of Jesse Jo's body of work make sense when you consider her dynastic creative heritage. Just before Jesse Jo was born, her parents had started the process of building their family business: Chrome Hearts, the luxury accessories and lifestyle label favoured by the likes of Jay-Z, Drake, Bella Hadid and Jesse Jo's godmother, Cher. Hers was a childhood shaped by the adults in it. She grew up in and amongst their dreams, ensconced in a relentless push to create, build, hack it and make it.
She lived between grandparents and family friends in the LA area, but often joined her parents on their travels. Growing up in this nomadic tradition, she looked beyond the Malibu bubble from an early age and knew there was so much else to see. "It gave me such an appreciation for the world. And I love touring as a musician. You know, being on the bus, squeezing into the tight spaces," she shares. "But at the same time, being grounded is so important to me. Even when I'm in a hotel room for a day, I have my blanket, my crystals, my little monster puppet. I'm always telling the boys in my band, 'We need to go and stick our feet in the grass!' They tell me I'm so weird for saying that, but I grew up by the beach and just want to feel rooted, no matter where I am."
---
---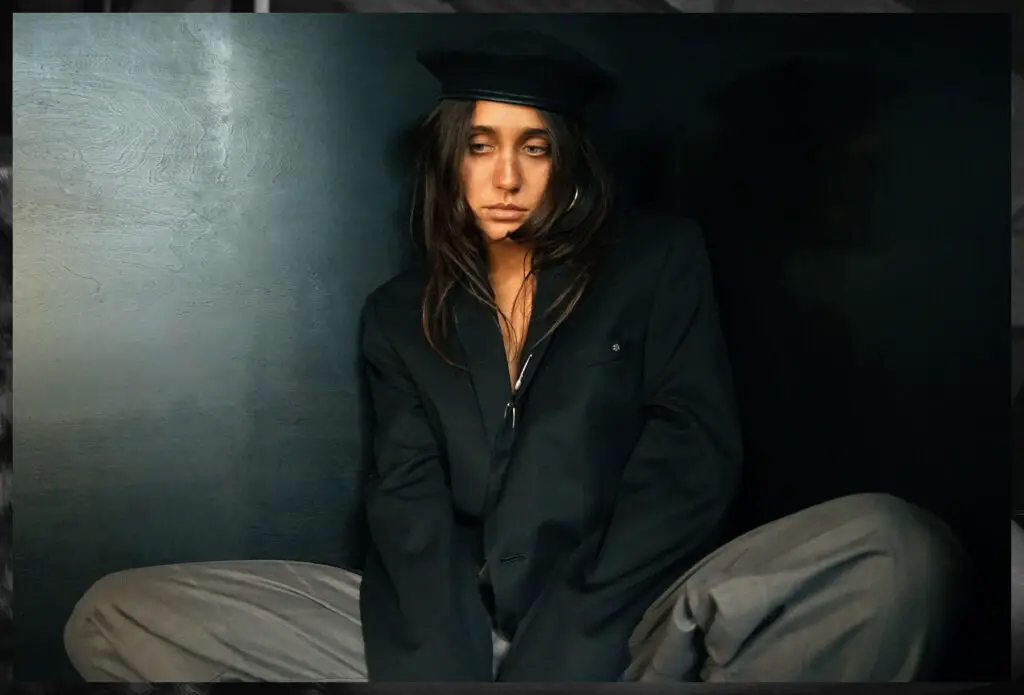 Having spent the last three weeks in the UK supporting her boyfriend on tour (she calls him 'Dom', but we know him as Yungblud), she's certainly started to put down roots. "Sometimes people take my order and just don't know what to do with me," she laughs, "they'll say they don't understand my accent. I'll reply, 'I don't have an accent. YOU have an accent.'" She speaks admirably of Yungblud's own artistry, and resonates with the challenges he faces of being typecast in one particular genre. "He is a huge artist, and still gets judged and put in a box. But artists change, just like people do. We have to fight to put out what we love."
Jesse Jo's relationship with the UK is longstanding. In fact, she has toured this country more than anywhere else. She's gotten a fair dose of a quintessential English summer – "I go wherever the sun is, and I walk everywhere. I'm thrift shopping, eating good food, sitting in the park, going to the pub." Hailing from LA, she loves the "different way of life" and thinks she could definitely move here.
A wayfaring upbringing has instilled in Jesse Jo a practice of centering herself in strange places however she can, often through rituals and trinkets. "I have so many journals. I write poetry. I'll write words, then I'll burn them. I release them so they're not with me anymore."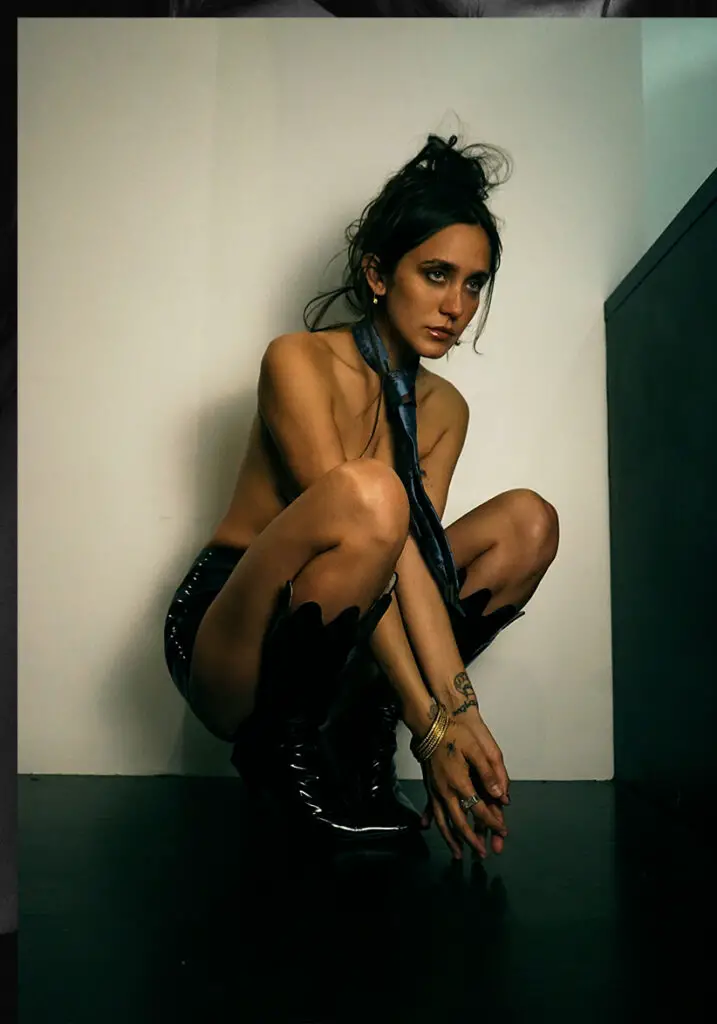 How did her early years shape Jesse Jo's worldview? "There is actually something juvenile about the way I exist," she admits, grinning at the realisation. "As a kid, I was around adults all the time; it made things feel so serious. Now, play is such a big thing for me. I really have a relationship with my inner child." Indeed, it can feel like Jesse Jo is playing (and winning) when it comes to the art she makes. Her music dances effortlessly across genres, criss-crossing from the dreamy and ethereal 'Tangerine', to the dramatic and gothic 'Die Young', to the Bangles-inspired beach hut texture of 'Breakfast with Lou'. Created around her song by the same name, her 'Deadly Doll' clothing line builds vintage comic book imagery and Liechtenstein-esque pop art motifs around a mythical, vampiric femme fatale character of her description. For Chrome Hearts, she has designed fan favourite go-go boots in every colour, from shimmering pink to leopard print. If this is recess, you get the impression that Jesse Jo is playing with every toy in the box.
---
---
But when it came to her music career, there was no room for play. "I wanted to make it happen. I wanted to be taken seriously," she pronounces. Jesse Jo channelled these statements of intention straight into a remarkably self-directed music career, and has managed to avoid the trappings of manufactured artistry or label-driven artificiality (she has always self-released music, and continues to do so). "Being a rebel has never been that easy," she notes on the difficulty of her chosen independent route. "I've been offered things that don't feel natural to my body, that I've had to say no to. I don't want to back my art if I don't back my art, which is not always easy for people to understand."
---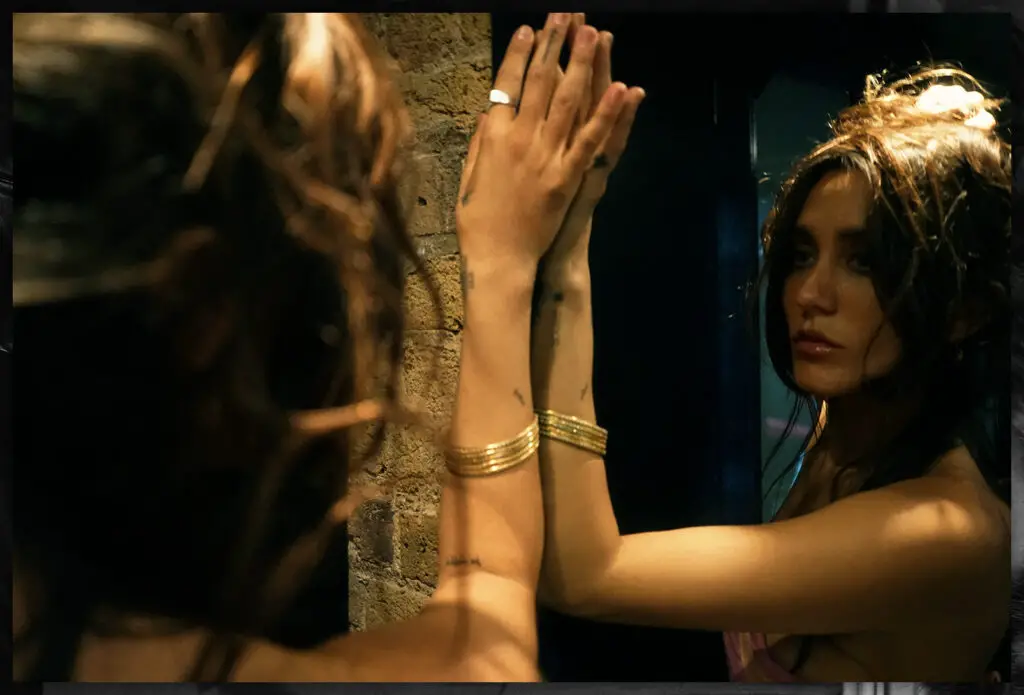 ---
Hearkening to old-world balladeering about haunting love and times gone by, her music sounds flung out of space, entirely unplaceable in today's modern listening context. But Jesse Jo isn't concerned about keeping to a timeline. "I don't want to put out songs to catch a moment or a trend. I've always taken the long road with everything I do, whether it's my music or my clothes." Indeed, the release of Stark's signature Sugar Jones go-go boots was contingent upon getting it all perfect, from the heel to the silhouette; on her 'Deadly Doll' white T-shirts (ostensibly, plain white tees), she agonised for a year over the cut, fit and fabric. She considers the gravity of each micro-interaction with what she shares with the world; how a snippet of a song or the cut of a t-shirt can change a moment, a week, a month, a life. "A young woman approached me at my boyfriend's show recently," she recalls. "She told me she had been inspired by a YouTube video of mine from years ago, called 'Silver Kiss'. I was entirely shocked to hear this, as no one has seen it! But it empowered me so much. It reminded me that our craft is worth it; that spending our lives putting in effort and honing our work is worth it because of who might end up listening to it, and how it could change something for them."
Watching her boyfriend perform live only makes her want to get back into it more. Performing live is central to Jesse Jo's music, and over the last year of isolation, Jesse Jo the performer needed an outlet. So, again, she made it happen. Draping a loose piece of zebra print fabric on her living room wall and stringing up a set of blue lights, she did what she does best – built a world of her own. Her living room set-up was henceforth named 'The Tropical Lux', and became the (virtual) venue for mini Instagram Live performances by Jesse Jo, her guitarist Thomas Hunter, and an assortment of friends. Each night, Jesse Jo slapped on a red lip, scraped her hair into a loose updo and slipped into a Vivienne Westwood corset to perform, in the room you haven't left for weeks, singing covers from her old faithful 'Bette Davis Eyes' to 'Wicked Games' and Train's 'Drops of Jupiter'. There is indeed something endearing and childlike about this exercise – dressing up, playing make-believe to perform to your imaginary friends.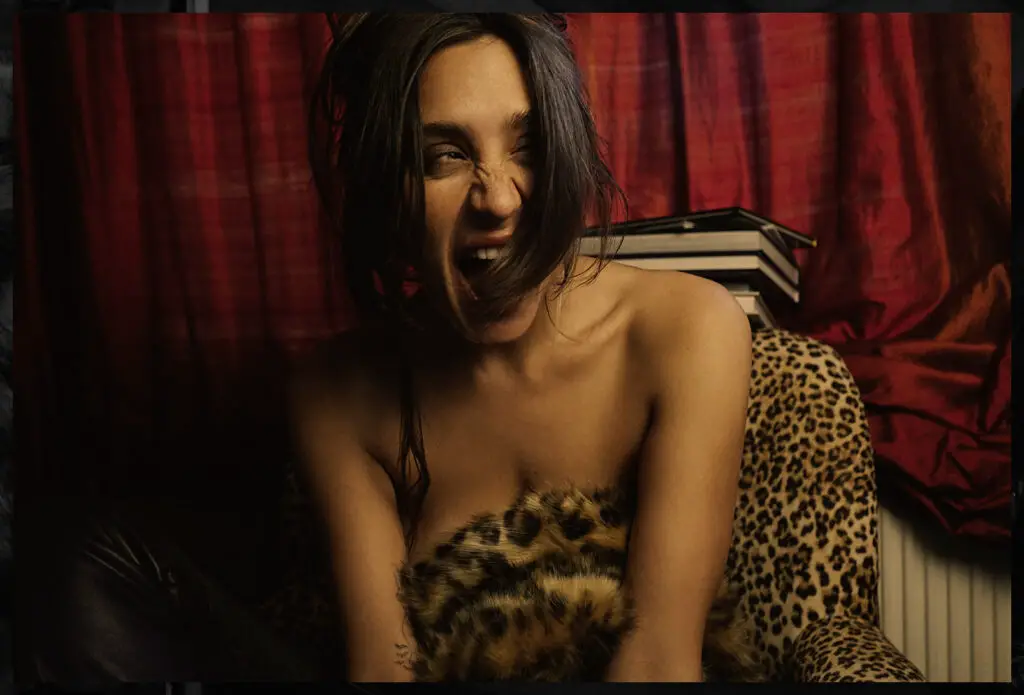 But Jesse Jo Stark's friends are anything but imaginary. They are the fabric of her artistry, as much a part of the music as the protagonist herself. "I overthink everything – I want to see my art come to life and I won't sleep until it does. So my favourite thing is finding the people who can make my dreams come true. Being understood in that way, it feels like such a relief." For Jesse Jo, music is one big group project, a collective endeavour, an exercise in finding people who understand her language enough to translate it with her. Even from the beginning, collaboration was the heart of Jesse Jo's approach. Learning guitar as a teenager with her best friend Sasha, the two formed a band with their adult guitar teacher that exclusively performed songs from the tween film Freaky Friday (think Lindsay Lohan in her Disney rock era, complete with finger gloves, wallet chain and electric guitar). "We called ourselves 'It's Complicated'. We played in front of my mirror and made a whole fake CD with our faces on it. Of course, it was just for us and we didn't do anything with it. But we felt so important." That same guitar teacher, Jesse Jo's long-time mentor, would later play in Jesse Jo's band at the start of her music career and help to record her first ever song 'My Heart's On Fire'.
Jesse Jo keeps her family and friends close. Her relationships are deep, trusting and involved, and that extends to her collaborators. "I wanted to create a family with my band. It really changed my life when I found the right people, put together this band and had them join me on my journey. That was the point at which my music really started to evolve." To this day, her guitar player Thomas Hunter is one of her closest collaborators. A co-writer, co-producer and co-performer on her recent releases (spanning the 'Dandelion' EP (2018), her last pre-quarantine projects 'Tangerine' and 'Die Young' (2020) and now her newest single 'A Pretty Place to Fall Apart'), he is as much a part of Jesse Jo Stark's music as she is, appearing alongside her in music videos and touring the world together.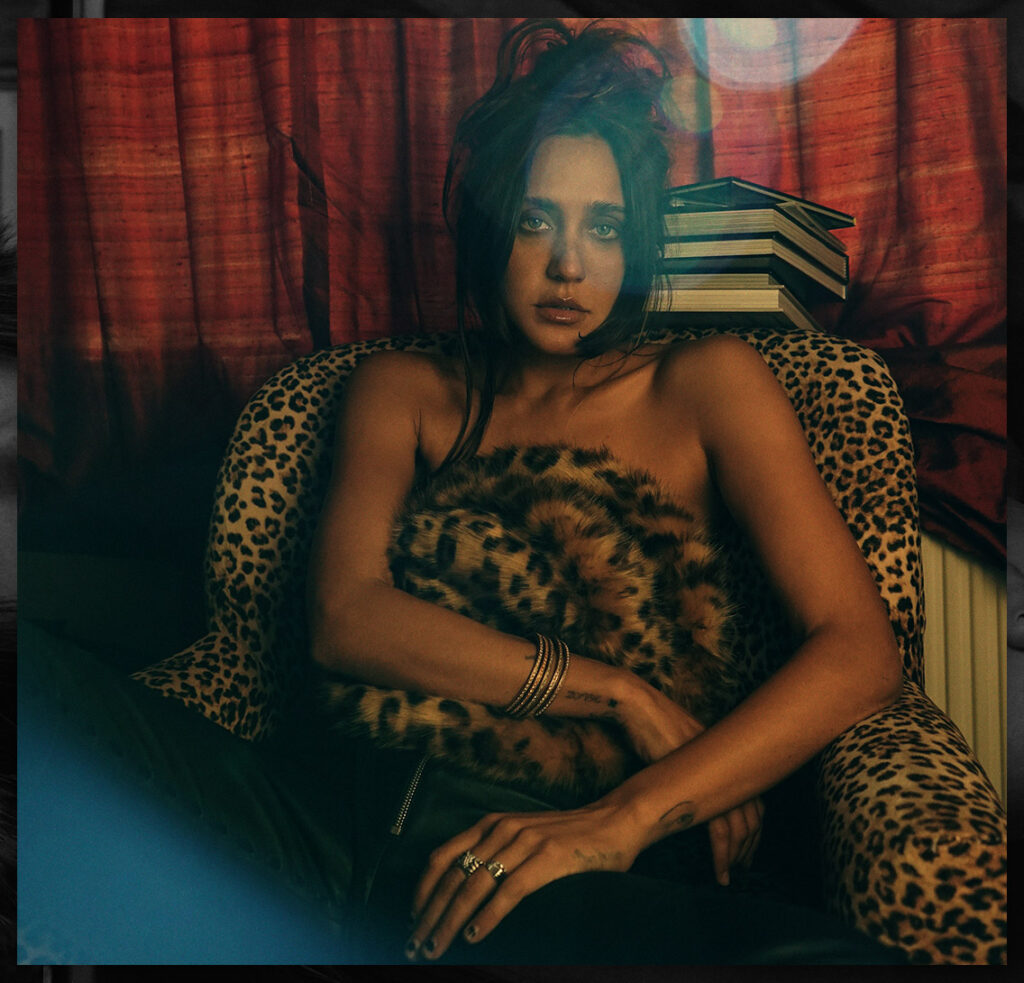 To realise her ambitious vision for the 'Fire of Love' music video (2018), Jesse Jo marshalled the creative talents of her friends Chuck Grant (photographer and, coincidentally, sister of Lana del Rey) and Bailey Hunter. The highly stylised video sees Jesse Jo ensnared in a writhing wall of human bodies, seized by a formidable monster of love reminiscent of Goya's 'Saturn Devouring His Son'. "They understood what I wanted to do immediately; it was such an immense relief. I felt like I could go and take a nap, because they just got it."
It is through deep and trusting collaboration that Jesse Jo creates at her best – even when it's a brand new venture.Starring in, and contributing all original music for, an upcoming limited TV series called 'Fracture' in collaboration with Balmain, Jesse Jo "knew this was going to be the sickest book report ever." She says this gleefully, with the excitement and conviction of someone who has stayed ready, waiting for this, the proverbial "right thing", to come along. She threw herself into this project the way she does all her work, finding space within the character and the walls of the project to stretch, create, add more. She recalls sprawling on the floor with her team, combing through the details of her character: "Would Mya use this amp? Why would she have this in her room? How would she do her hair?" 
On the 'Fracture' set, Jesse Jo's co-stars Tommy Dorfman (13 Reasons Why) and Charles Melton (Riverdale) were generous in supporting her as a first-time actor. Working out of their trailers in Mexico, they helped Jesse Jo to ingrain the details of her character in her physical movements, practicing the way her character would respond to being pushed on the shoulder, or how she would fall down. The collaborative spirit of the experience hit upon Jesse Jo's sweet spot. "They were proud of me, and I felt proud that they were proud".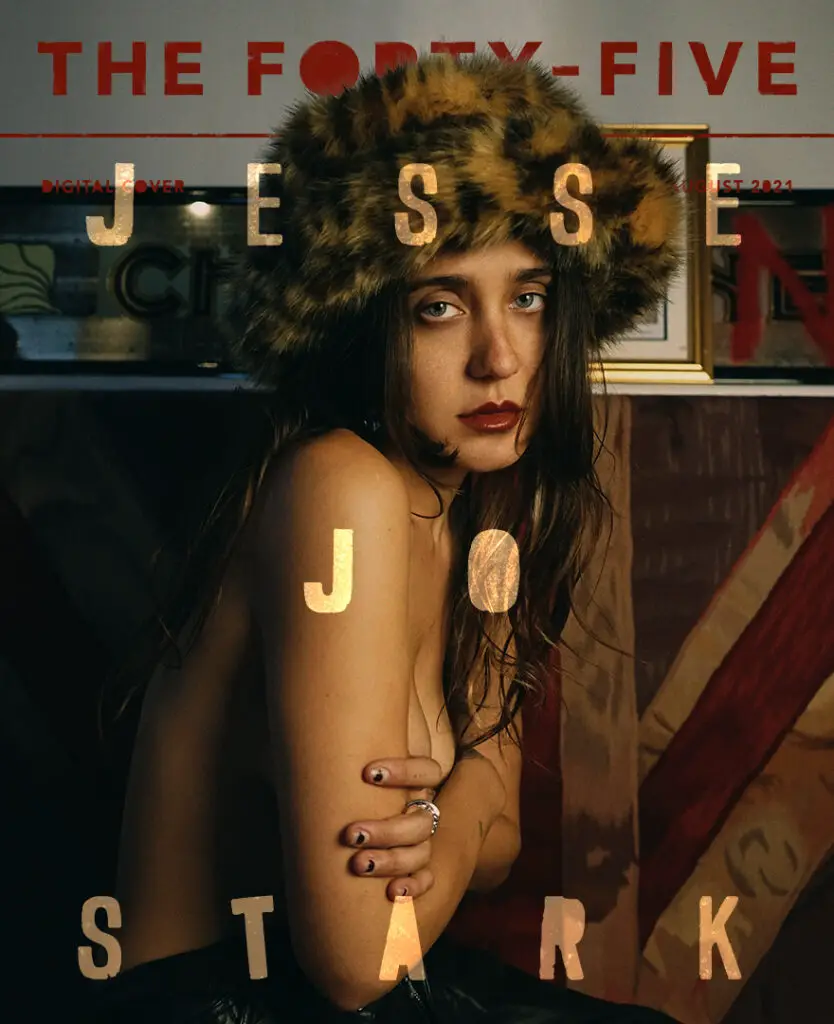 Starting with the dark, thunderous and flashy 'A Pretty Place to Fall Apart', the project has ushered Jesse Jo into a stormy and electric era of new music. An EP will follow, built around the 'Fracture' series and its setting at the Rêve Motel on the outskirts of LA. "My music is changing," Jesse Jo notes, "as it should. Imagine if we had the same soundtrack for our whole lives!". The themes of her music are more pointed now, more true to life for Jesse Jo. "It's about making it on your own and finally getting the respect that you know you deserve. You do bring more suffering on yourself by working so hard to succeed that way, to succeed as "you" on your own, but it's worth it."  
Jesse Jo Stark's new single 'A Pretty Place To Fall Apart' is out now
---
Like what we do? Support The Forty-Five's original editorial with a monthly Patreon subscription. It gets you early access to our Cover Story and lots of other goodies – and crucially, helps fund our writers and photographers.
Become a Patron!