Last year on the 'Speak Yourself' tour, BTS made a promise to fans – they would be back next year for more. At those triumphant stadium dates around the world, no one would have predicted they could end up being so wrong. A new album 'Map Of The Soul: 7' was in the works (and arrived in February) and the seven-piece would be celebrating their seventh year together. The numbers were lining up for a jackpot 2020.
Then the coronavirus came along, turned the world upside down and showed us what we'd been taking for granted. Like all artists, BTS have been forced to adapt and change in the pandemic era, but they're still keeping their promise as best they can. They might not be able to physically visit us in our own cities, but at least they can drop by our screens – as they did in June for the Guinness World Record-breaking 'Bang Bang Con: The Live' show and, this weekend (October 10-11), for the 'Map Of The Soul ON:E' concerts.
The gigs' online location doesn't mean they're underwhelming compared to a regular, IRL BTS show. Although it's unclear just how much would have been changed for the 'Map Of The Soul' tour, they're a glimpse at what could have been. As livestream concerts go, they set the bar high; if anything resembling this production had unfolded on the road, it would have been lauded as a mind-blowing, all-time classic from a group who've already long proven they know how to put on a show.
It's obvious how ambitious night one of this pair of dates will be from the very beginning. A video introduces the band in the red capes from the 'ON' video, before a marching band appears on one of the four stages that have been erected at Seoul's KSPO Dome, two gloomy stone walls part and BTS stand on a Pride Rock-reminiscent structure, staring intently down at the camera. 'ON' itself follows, a fiery opener that fittingly talks of persevering through tough times ("Can't hold me down cos you know I'm a fighter"), delivered with enough force and intensity to motivate you to follow suit.
As many artists – particularly in Korea – have done with virtual concerts, BTS make full use of the innovative technology available to them tonight and take things to new, jaw-dropping heights. For leader RM's 'Intro: Persona', he's joined by the CGI version of himself from the song's music video, looming over him as he raps at full throttle. Later, on the superlative, slick R&B of 'My Time', projections of multiple mini Jungkooks appear behind the singer as he takes the spotlight, and green lasers form a boxing ring for the rap line to prowl around for a potent 'UGH!'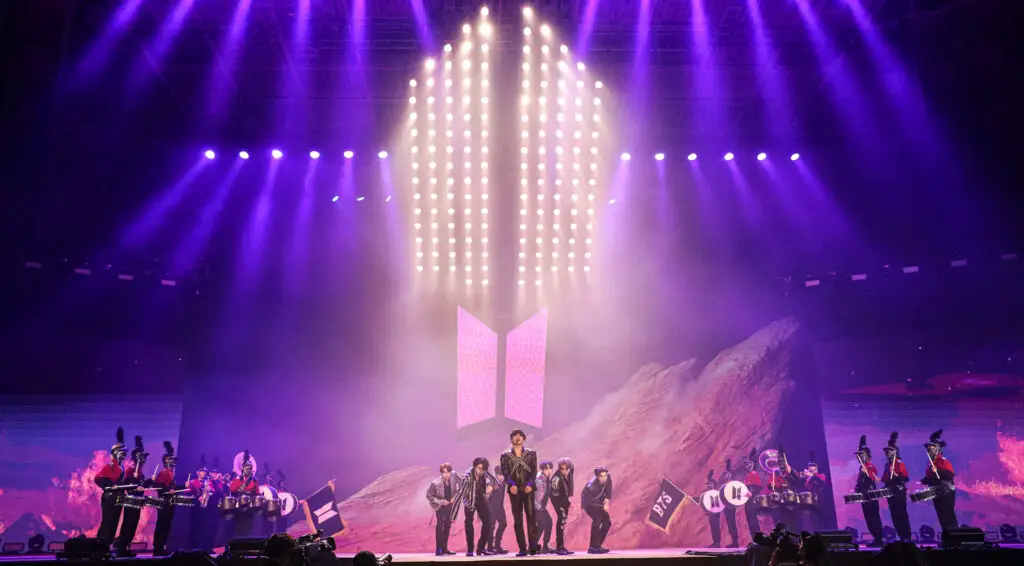 When the setlist hits a down-memory-lane run towards the show's end, things get ramped up even more. As 'DNA' begins, the camera zooms in on V's eye then spirals back out to show we've entered a whole new galaxy, the stage looking like it's suspended in space thanks to XR. On 'Dope', it's made to look like a vintage elevator that hurtles up and down through different settings and the fierce hip-hop choreography of 'No More Dream' is emphasised by virtual bullets of light and explosions of smoky colour.
The songs that don't utilise as much flashy technology are just as captivating. The vocal line's gorgeous '00:00 (Zero O'Clock)' keeps things simple, just a digital clock ticking behind Jimin, Jin, V and Jungkook as they sing of trying to take each new day positively ("Turn this all around/A time when everything is new, zero o'clock"). Sleight of hand moments are thrilling plot twists, like Jimin's seemingly impossible outfit change in the middle of 'Filter'. Aside from it being a stunning rendition of the song, it sees him trying on different jackets and accessories before he disappears behind his dancers for a split second and emerges not in white shirt and black trousers, but a red three-piece suit.
BTS' dancers – always wearing some kind of face-covering to keep things COVID-safe – also add as much to the performances as the group themselves. When Suga walks down a smoky hall to start 'Interlude: Shadow', the walls either side of him come alive and transform into elastic swathes of grabbing hands. At the track's end, dancers clad in black engulf him, only to drop away to reveal the full band ready to start 'Black Swan'.
There are props aplenty, too, that elevate things from beyond standard studio performance. J-Hope's vibrant 'Outro: Ego' opens with the rapper emerging perched on the back of a red convertible, flanked by dancers in big karts, oozing cool. Jin performs a heartfelt 'Moon' from on top of his own lunar satellite, before he walks down some stairs and delivers a short dance routine aided by dancers in fox masks. On a softly euphoric 'Inner Child', V is joined by a young boy – a representation of his younger self – on a fairground carousel that twinkles as it twirls.
The latter also sees V accompanied by some surprise guests – ARMYs themselves. From the start of the show cheers can be heard and faces seen on panel screens at occasional points, but 'Inner Child' is the first song to feature fans singing along. It's a little messy and out of sync in parts, but the effect is still emotional – the sound of a crowd enjoying live music in unison a sharp reminder of the Before Times.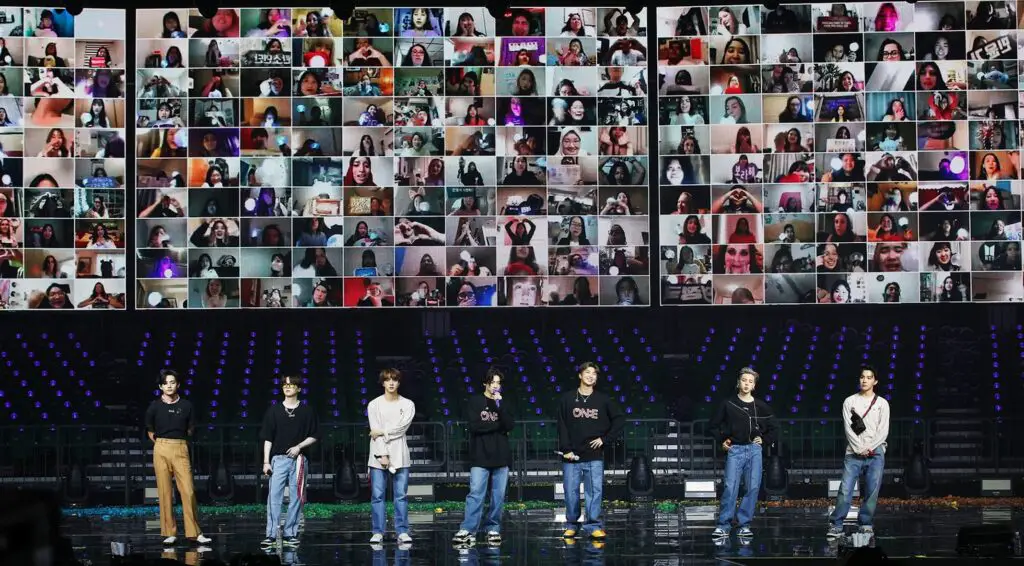 It's not just those watching that are taken back to happier days through the performances and ARMY's appearance. During the band's closing comments, Jin notes that seeing fans' ARMY bombs (BTS' own lightsticks), dolls of RJ (the BT21 character he created) and slogans made him "remember the past a lot and really made me think that I'm with you all, so I was so, so happy".
Not all the members are as satisfied though, with Jimin breaking down in tears, apologising for not being able to focus during the encore. The singer often gets teary-eyed during the band's gigs, but usually for much happier reasons and, this time, his sadness and frustration becomes all the more relatable as he speaks. "I don't know why I have to go through this," he sobs, echoing a thought that many will have shared over the last few months. It's painful to watch him be so upset, but this honesty and vulnerability is part of what makes BTS so easy to connect with and feel close to – the effect of feeling less alone in your struggles.
RM has some encouraging words for both of his bandmates and everyone watching at home. "The ARMYs I know and the BTS you all know, we're all strong," he says calmly. "We'll find a way, we always have. If there's no way, let's draw the map – the whole map – again." It's simple but powerful, subtly referencing the struggles BTS have overcome to make it this far and underscoring both their determination and compassion.
If the last few minutes haven't already destroyed your tear ducts, there's one last affecting moment to come in set-closer 'We Are Bulletproof: The Eternal'. At the end of his verse, RM emphasises the word "bulletproof", as if to remind us of his earlier statement while, once the show is over, a title screen appears featuring the song's sentiment of solidarity: "We are together/We are forever/We are not seven/With you." Life might not be easy right now but, until we meet again and beyond, BTS remain a constant – as confidants, a crutch and a source of comfort. 
BTS played:
'ON'
'N.O'
'We Are Bulletproof Pt. 2'
'Intro: Persona'
'Boy In Luv'
'Dionysus'
'Interlude: Shadow'
'Black Swan'
'UGH!'
'00:00 (Zero O'Clock)'
'My Time'
'Filter'
'Moon'
'Inner Child'
'Outro: Ego'
'Boy With Luv'
'DNA'
'Dope'
'No More Dream'
'Butterfly'
'Run'
'Dynamite'
'We Are Bulletproof: The Eternal'
READ MORE: ARMY as a power for good: how BTS' fans are flipping conversations about stan culture