If you've spent any length of time on Twitter, you've probably seen examples of the toxic side of stan culture – the side that is usually highlighted to the world. It's one where small disagreements can morph into virtual bloodbaths, cyber bullying and prejudice is rife, and some super-fans defend their heroes with often overzealous reactions.
The last few weeks, however, have seen a series of stories that challenge the general public's perceptions of stans. K-pop fans have been credited with new acts of activism – they've taken down apps created by police to obtain info on Black Lives Matter protestors, flooded racist and white supremacist hashtags with fancams of idol groups and, now, played the Trump campaign into thinking thousands more people wanted to come to his half-empty Tulsa rally than actually showed. Most impressively of all, BTS' ARMY following matched the band's $1 million donation to BLM with lightning speed, drawing admiration from across the internet. 
The wider world might be surprised to see these online fandoms operating in this way but, in part, that reveals an unconscious bias towards those communities – one that sees them as just "screaming teenage girls" and doesn't take into account that stanning is only one aspect of their personhood, and not one that automatically negates intelligence, morals, kindness, drive or power. It also overlooks young people's history of spearheading revolution and how diverse these fanbases actually are.
Fandoms largely associated with that tired, misogynistic stereotype (and some who aren't) have long been harnessing their collective power for good. To name a few, every year on Harry Styles' birthday, his fans donate to a cause in his name. Blackpink's Blinks ran a project earlier this year to help those affected by the Taal volcano in the Philippines. Adam Lambert's fans have been sending care packages to cancer patients since 2015. While no fanbase is a perfect haven from the toxicities of stan culture, these and more show not all collective action within them is bad. 
BTS' ARMY, meanwhile, have used the power of fandom for better on an enormous scale. Theirs is a fanbase that have made themselves experts in charity projects and fundraising drives, while also creating groups to help those within the fandom and the band themselves. They give in the name of BTS, inspired by the band's own philanthropic efforts – over the years, the seven-piece have quietly donated money to schools, animal and children's charities, disaster relief and more. In 2017, they launched the Love Myself campaign with UNICEF, which aims to end violence against children and teenagers.
To date, across the fandom, ARMYs have run more than 600 charity projects, organised by fanbase teams representing their individual countries and specific charity groups like BTS For Charity or Singapore's Borahae Team. They've regrown rainforests with Mono Forest Project, adopted whales, red squirrels, ducks and more, and donated food and clothes to those in need. Projects veer from causes that fit with the things the BTS members care about to responding to crises around the world.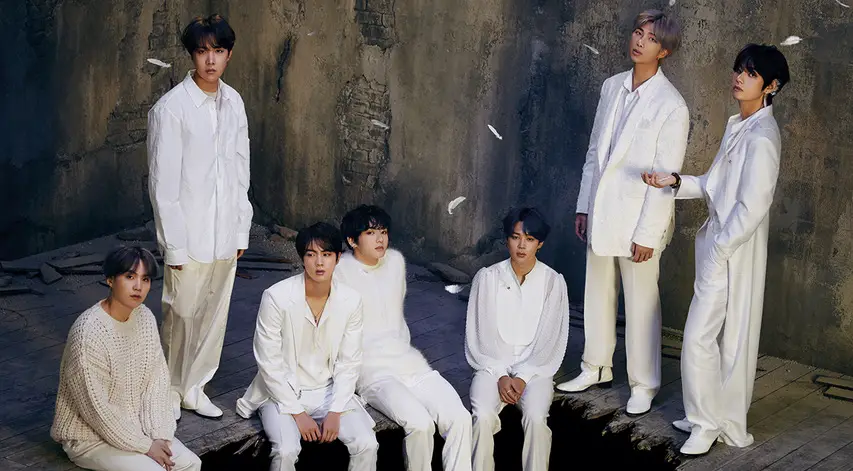 Charity is part of the fandom's culture, according to Louise, a 29-year-old receptionist from Sweden who is part of the charity group One In An ARMY (OIAA). "When we felt that Halsey had treated BTS kindly and wanted to say thank you, we looked up something we felt she was passionate about and donated to it," she explains. "When we felt certain radio or TV show hosts had been treating BTS kindly, we donated to a non-profit they had endorsed. It's a beautiful thing really and I don't doubt that BTS, with their kindness and willingness to be there for others, inspired us to be this way."
OIAA is one of ARMY's best-known charitable organisations and was started by Ana Beatriz, an 18-year-old student from Rio de Janeiro, in 2018. "I've always wanted to do volunteering and charity work somehow, but I had no clue on how I could start," she says. BTS' UNICEF campaign and the response to it gave her the inspiration she needed. "used my Twitter platform to encourage ARMYs to get together for a donation project for Syria, which reached thousands of people who came up with ideas of ways we could help. One was the creation of an organisation in which we could do monthly campaigns in the name of the fandom."
Now, OIAA has around 28 people on its team and, with the help of ARMY, raised $1 million by April 2020 through over 20 projects. To decide exactly what to raise money for, they poll their fellow fans for opinions and then find organisations working in that field, focusing on smaller groups that will feel the benefit of their donations more. "We're not really the generators or instigators of ARMY charity work, we're more like a conduit to help focus and track the efforts that ARMY are already doing, and to facilitate the ability for us to it together," Erika, a 40-year-old e-commerce affiliate in the US, explains of the need to keep the wider fandom involved.
The group acted as a conduit once again for ARMY's recent headline-grabbing Black Lives Matter donations after the #MatchAMillion idea was started by Twitter users @naija0329 and @monosplaylist. They shared a link to a safe site for fans to donate to the cause on which they could also keep track of the amount donated. Around $50,000 had already been given via the link before BTS' donation was made public (ARMY had already been encouraging each other to donate without having an example set for them by the band); a further $817,000 followed within the next 24 hours.
Watching that campaign grow and pick up pace in real-time was like watching the effects of fan power in fast forward. Other fanbase accounts helped OIAA keep everyone updated on the tally with regular tweets, while ARMYs gathered on their timelines to cheer each other on and keep the momentum going. The speed with which the fandom got organised and started pushing together as one was impressive but not unusual for them – they have, after all, honed their skills through years of trying to break streaming records and snag increasingly in-demand concert tickets.
"It was busy, but it was one of the most special days ever," Beatriz says. "Whenever a goal was reached we would celebrate – we couldn't believe that this was happening. To us, it felt like a dream to see so many people coming together like this to donate. As a Black girl, this made me really hopeful for the future of our people, even though I know we still have a long way to go."
Running such a big operation takes a lot of work, with each campaign taking up to two months to organise before launching. Tasks are split among the team, who are based all around the world, and juggled between jobs and studies. The responsibility that comes with being a part of OIAA is threefold – to ARMY, to BTS, and to the organisations they're helping – and they take each very seriously. "We constantly check ourselves so we do not overstep or misrepresent BTS or ARMY," says Erika. "To the organisations, we have a responsibility to be clear in our intentions and we like to try building relationships between them and ourselves (as ARMY) so that we can look to each other for friendship and support even beyond the campaigns."
It's not just external charities that feel the benefits of ARMY's collective power – they often use it to uplift and aid their own community too. With the Purple Ribbon Project in 2018, they turned their focus towards BTS themselves, aiming to provide a safer environment for them at airports. Often the band touching down in a new city or country brings with it scenes of chaos, fans mobbing them as they try to make their way to the exits. ARMY took it upon themselves to try and change that. One fan in Florida designed a new initiative where those at airports would create a new path for the group with purple ribbons with the aim of them being able to walk through unbothered. "They did it themselves so that is really an amazing thing," BTS leader RM told Access after the Purple Ribbon Project was unveiled at LAX.
While ARMY is a big – and ever-growing – fandom, in many ways it operates more like a family, members always ready to lend help to each other when they need it. With fans from all walks of life, it's also a group that have many different skills, talents and knowledge, and they spread their expertise through ARMY Academy – a tutoring community that offers guidance in subjects including languages, maths, science, art, social sciences and more. "BTS are a huge inspiration," says founder Fernanda Pisconte, a 19-year-old student from Peru who came up with the idea for the academy after the release of the band's 2018 album 'Love Yourself: Tear'. "The concept of loving myself started to resonate with me and I realised that a way to love myself was by helping others."
ARMY Academy (AA) came to life after Pisconte came across a fellow fan needing help with a maths problem on her Twitter timeline. She reached out and soon after got the idea to open a designated place where ARMYs could turn to for help with their studies. "Academics have always been an important aspect of my life and tutoring students was a great way to finally put all those skills to good use and help students who, for many reasons, don't have access to private tutors," she explains.
Like OIAA, running the academy comes with its own set of responsibilities and Pisconte and her team of over 25 admins have put together a list of requirements for anyone wishing to join their ranks of more than 400 tutors. They need to be available for a minimum of two hours a week and knowledgable in their subject, which for art tutors is evidenced through a portfolio. Prior experience is "not required but preferred", but they "must be an ARMY who supports all members of BTS, active on Twitter and respectful," says 18-year-old Jhenny Ferrufino, a student in the US who manages AA's HR team.
The subjects offered are chosen through the needs expressed by students either through DMs or polls, while tutors also suggest new courses based on their own areas of expertise. While AA takes care to tell prospective students they can't teach them a new subject from scratch, they do provide help with homework, feedback on assignments and other guidance and advice. "Even though there are a lot more subjects we still don't tutor, we included the most essential ones so we can give a hand and solve most of the students' struggles," says 17-year-old Susana Lao, a student from Panama who runs AA's student service team. "Being able to help students around the world is a great privilege for us because we can remind them that we are on their side whenever they're confused and nothing seems to be working."
In recent months, online communities have become more important than ever thanks to the isolation caused by the coronavirus pandemic. Pisconte says the AA team have seen a definite shift in demand for their services, requiring more tutors to be secured to help. "We also noticed that students are more stressed because of this new way of teaching [online]," she explains. "For that, we launched a few projects to help them like a yoga class [called #SpineBreaker after one of BTS' songs] to relax and a Discord server for ARMYs to talk with each other and do fun activities."
That server, dubbed BTS & ARMY HOME, is like a sanctuary for fans to gather and escape the stresses of daily life for a bit. "To this day, we've had so much fun!" says Karen Elizabeth Then Cruz, a 17-year-old student from the Dominican Republic who heads up AA's social network team. "We played with game bots, discussed books and shared recipes and crafts tips. We've also watched dramas and BTS-related goods. Recently we started a little craft challenge to have fun and appreciate each other's efforts. There's a lot of mini-challenges going on right now on the server. It's always fun to talk with ARMYs about random things."
Talking is at the heart of another supportive group, ARMY Help Center (AHC), who offer fans a safe space to open up about any issues they're struggling with or just have someone listen to them. It started in 2018 as one account run by 10 volunteers, but now has 17 different Twitter accounts dedicated to a different country and language, as well as the main hub and projects account.
AHC's slogan is "spread love and positivity" and in a disclaimer they promise to "always listen to you and support you through the moments you need us". They note, however, they can't give medical advice or diagnoses and are not a replacement for formal healthcare treatment. "It's very important that ARMY understands that we are not able to provide therapy to them," says Carla Postma-Slabbekoorn, a 37-year-old mortgage specialist and business student from the Netherlands. "We will provide them with a listening ear and offer some tips on how to look at certain situations or ask questions to make the ARMY themselves come to certain insights, like 'How did that make you feel? Why do you think you reacted like that?' When needed we will always urge the ARMY to seek help outside AHC."
Volunteers are put through a training process to best equip them to help the ARMYs who need them and are guided by a trainer for their first 60 days on the job. Those who respond to ARMY's messages are split into two levels – speakers and mains. "Speakers are volunteers who don't have a specific training in psychology or a similar study," Postma-Slabbekoorn explains. "They will take on the initial conversations, provide that listening ear. Sometimes the conversations ask for someone with a bit more experience or a background in psychology or counselling – that is when our mains come in. They are studying or have studied something in the mental health care field."
Everyone working for AHC is provided with rules and guidelines, which they have to take a test on. One of the most important, says Postma-Slabbekoorn, is keeping an open mind. "Since we get DMs from all around the world, we get people from all walks of life. Be kind to one another. Listen. Everyone has a story to tell, it can be a big step for someone to contact us so the least we can do is offer our serious interest in their story."
Much like OIAA and AA, those involved with AHC aren't just ARMYs who have happened to set up a project to help others, but fans who have been directly inspired by BTS. "Their message resonates with a lot of people and I think their open heartedness in their music appeals to their listeners to be a better version of yourself," Postma-Slabbekoorn says. "That also includes giving back to your community."
Community is exactly what these groups create within the fandom. As well as citing the feeling of knowing they're helping people, all those who contributed to this piece said one of the most rewarding things about their work was making friends and connections with other ARMYs around the world. Sometimes those relationships have life-changing effects. "As an LGBTQ+ POC, I have had a huge struggle with my identity and being comfortable enough to be myself," says Cristina Dominquez, the head of ARMY Academy's research team and an 18-year-old student in the US. "But, once I was part of ARMY, I was truly able to find others just like me and gain a new appreciation for music that transcends beyond language barriers. I was able to create new meaningful and long lasting relationships that have helped me in times of hardship and really take in the message of love that BTS spreads through their music."
Dawnica Nadora, a 27-year-old student from the US and part of OIAA, has also felt the impact of being a part of ARMY and the charity group. "I used to compare myself to other people and their successes, and sometimes have felt that I have failed in achieving my goals," she says. "However, BTS have really made an impact on me, and made me realise that all the attempts I have made have shaped me to be who I am now – a hardworking, passionate individual, who can overcome any hardships that I may face."
The ARMY fandom might not be free from the negative side of stan culture, but it contains plenty of examples of how the loyal, passionate love of super-fans can be used to make life a little easier and better. "The ARMY fandom has been tainted with the wrong colours – delusional, crazy teenagers who just want to be noticed by our idols," says Eunice Jean C. Patron, a 22-year-old designer from the Philippines and co-head of ARMY Academy's design team. "Through these good deeds, we are also proving that we are a diverse fandom full of members who are moved to do good. Creating such fan projects are our way of expressing our love and gratitude for BTS. All of these sum up to one thing – language is no barrier when it comes to love. We may come from different parts of the world, but BTS and ARMY only want one thing – to make the world a better place to live in for all." It's a message that, really, we have no choice but to stan. 
READ MORE: Jimin's 'Like Crazy' success brings K-Pop's western crossover full circle
Like what we do? Support The Forty-Five's original editorial with a monthly Patreon subscription. It gets you early access to our Cover Story and lots of other goodies – and crucially, helps fund our writers and photographers.
Become a Patron!