Like many burgeoning pop stars with a thriving Instagram following, Bea Kristi has had to do much of her growing up in public. Taken into the Dirty Hit fold back in 2018 and quickly given the immediate global exposure that comes from a Matty Healy co-sign, the London-Filipino singer – better known as Beabadoobee – has transitioned out of her teens with the indie world watching her, and it's the the end of adolescence in all its hungry, emotional whirlwind that defines her hugely-anticipated debut 'Fake It Flowers'.
Musically, her journey so far has been evident; a ten second listen to the twee, bedroom pop beginnings of debut EP 'Patched Up' will reveal an artist at a very different stage to the riot grrl screamer busting a lung on new album standout 'Charlie Brown'. But while Bea's embrace of the electric has undoubtedly yielded increasingly more exciting sonic results, what really makes the record one to hold dear is the palpable sense of someone coming into their own as a human being.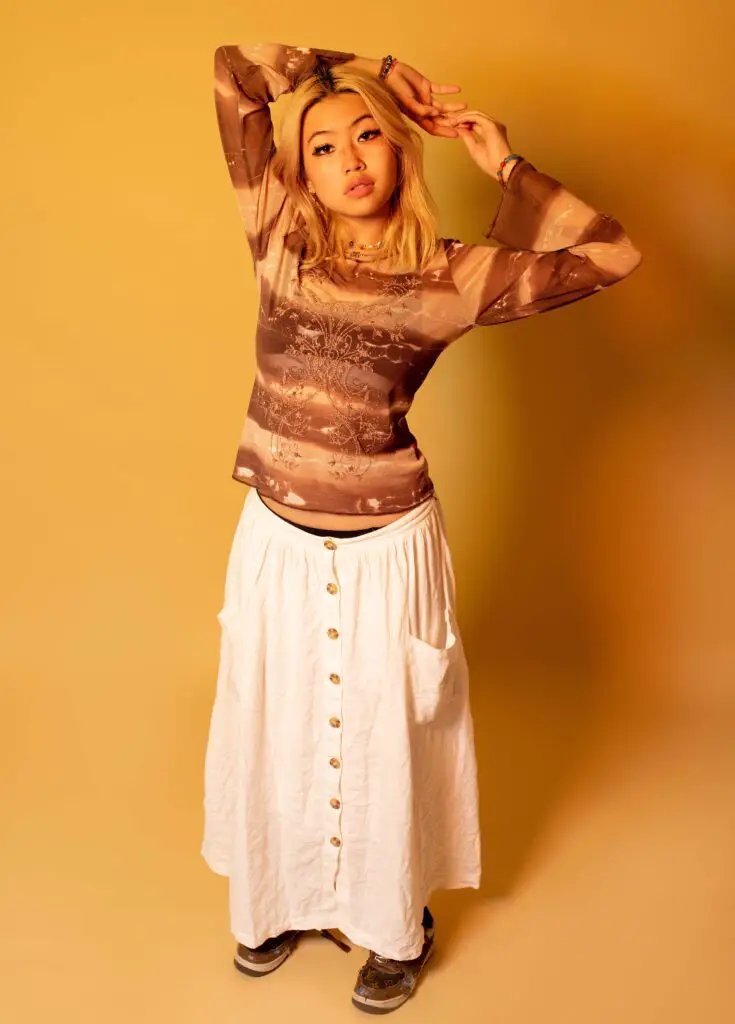 Anyone that's been a teenager – particularly a teenage girl, and even more so a teenage girl who didn't quite fit the cheerleader mould – will recognise the particular quirks Kristi unapologetically exudes from the off. Whether enthusiastically reeling off beloved '90s bands in any given interview (Pavement, Lush, Veruca Salt…), or penning album offering 'Dye It Red' to the enlivening powers of the home hair makeover, the whole package is like a concentrated window into that most transformative time of life: the one where everything starts to click; the one where you really start to listen to yourself.
---
READ MORE: A Cover Story with Beabadoobee
---
There's previous single and fully-fledged, two-fingers-up grunge banger 'Care' that begins the record with an audible line drawn in the sand ("Stop saying you give a shit, cos you don't really care…"); 'Emo Song', which might do what it says on the tin but has also progressed enough to acknowledge it, and 'Horen Sarrison' – the sort of overtly scratch-your-names-on-the-toilet-door ode to her boyfriend that only comes from the deep throes of first love. The whole thing is naive, and rough around the edges, and full of things the singer will almost certainly cringe at in 20 years, but that's also why 'Fake It Flowers' is great.
Rather than try to make a perfect, polished debut album, Beabadoobee has made a record that truly sounds like what it is: an incredibly time-specific diary of someone right in the maelstrom of it all, discovering life and love and music and all the good stuff in real time. As such, 'Fake It Flowers' might not sound like the epitome of 2020, but it does sound EXACTLY like turning 20 and trying to get your head around the whole explosive period. Beabadoobee, you sense, will probably be just fine.
'Fake It Flowers' by Beabadoobee is out October 16 via Dirty Hit.