In the most distant reaches of Worthy Farm, the South-East Corner has a tendency to feel like a completely different planet. By night, it's the festival's stand-out destination for after-hours debauchery, hosting all manner of chaos across its ramshackle selection of weird and wonderful stages. By day, it's arguably an even stranger beast, and traipsing down there via the railway tracks in the crisp light of day makes for a slightly surreal sight. Underneath the sullen, stoney face of the massive IICON stage, a haggard-looking punter takes a weary drag on his vape – through his nostril, no less – while a top-hatted cat-person wobbles past on a precarious pair of stilts. In Shangri-la, a group of revellers still partying from the night before have started an impromptu barn dance in front of a clothes stall. And over at Block 9's resident queer bar, The NYC Downlow, a concrete platform once occupied by a coterie of drag performers lies empty, glitter swept away for the day while a solitary joint of Meat Rack ham dangles from a nearby joist.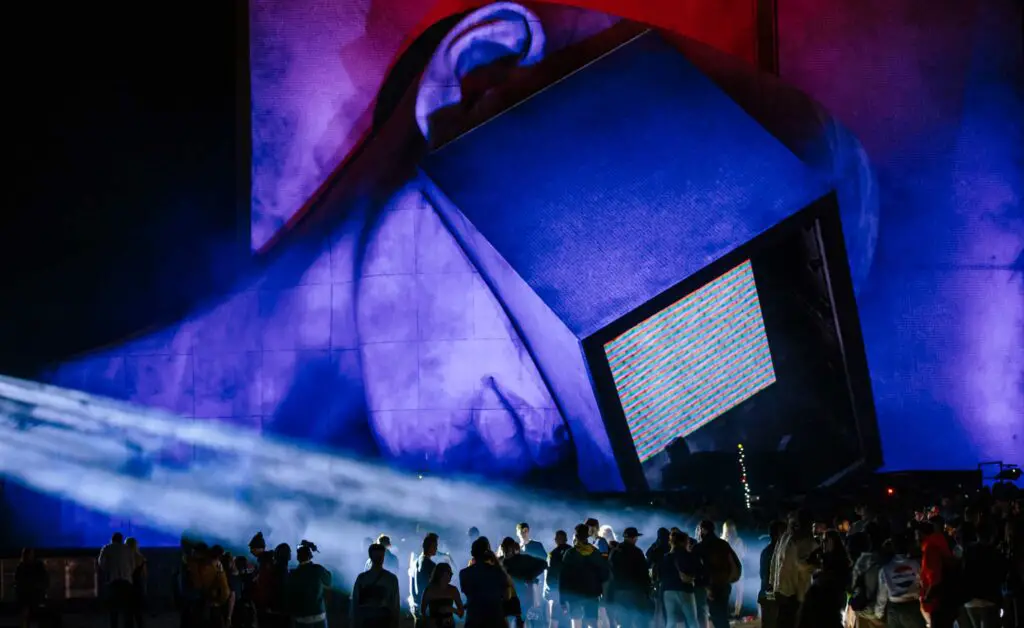 As well as being a notable spot for late-night silliness – its nickname, The Naughty Corner, is well-earned – this part of Glastonbury also has a reputation as a queer hotspot. Taking place in June each year, the festival always falls during LGBTQ+ Pride month, and since the NYC Downlow was founded by Steve Gallagher and Gideon Berger back in 2007, the farm's only nightclub has been the site's go-to spot to celebrate queer culture. In order to gain entry, festival-goers must first brave the winding queues, before buying a stick-on moustache on the door to serve as their entry pass. These colourful slugs of facial hair are coveted objects – once the club reaches full capacity, only lucky moustache-holders can get back in – but they're also raising money for a great cause. In its first decade of existence, the Downlow raised over £80,000 for a variety of charities, including HIV AIDS Alliance, Kaleidoscope Trust, All Out, and the migrant search and rescue operation Sea-Watch. Once inside, you'll find some of the greatest DJs in the world – special mentions go to Masters At Work and Larry Heard – playing in a club modelled on the '70s and '80s spots that hosted disco and house greats like Frankie Knuckles, Ron Hardy, Larry Levan and David Mancuso. 
---
---
At this year's festival, Róisín Murphy turned up for a surprise performance, while New Jersey speed garage pioneer Todd Edwards was preceded by some of the most exciting and talented trans drag acts that London has to offer right now, including Prinx Silva, Chiyo, and Margot Marshall. In the crowd? At least four out-of-drag scene legends, and one very famous musician who shall remain nameless – they were off-duty on a big night out, after all – but played the Pyramid Stage earlier in the same day. In other words, one of the best nights out a person could wish for.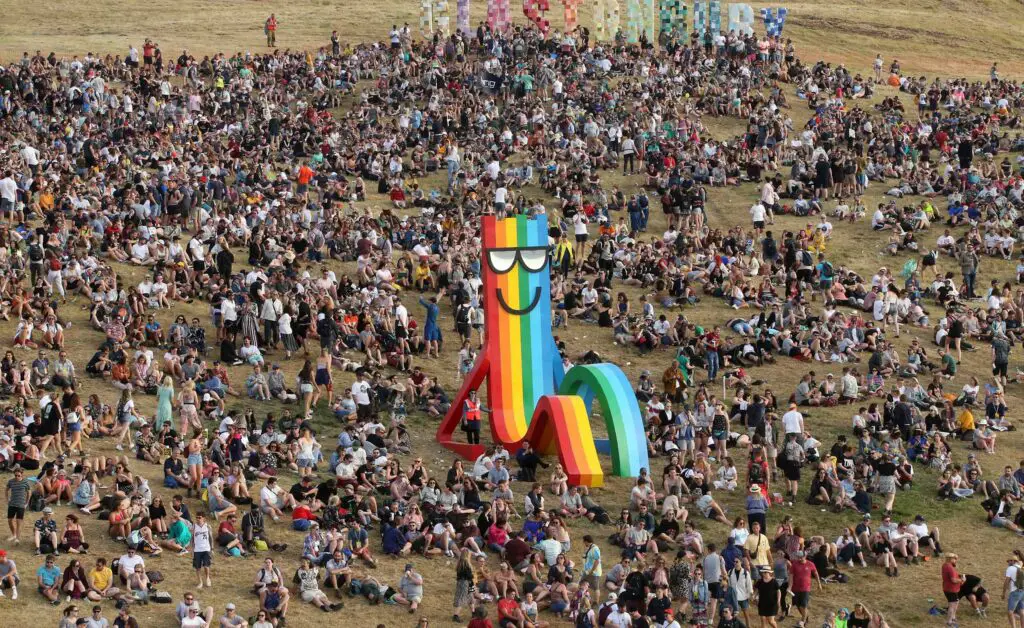 Up until this year, the NYC Downlow has often felt like the epicentre of Glastonbury's Pride celebrations, but as the festival finally returns for its belated 50th anniversary edition – twice-postponed by the pandemic – there feels to be a subtle shift taking place, too. Though the festival's queer nightlife scene is undoubtedly world-class, Pride has typically taken place after dark – save for a handful of daytime workshops at nearby The Sistxrhood (which welcomes in everyone except cis men). It's something that a collaborative group of queer organisers are hoping to change this weekend. "We're outside, we're in the daylight, we're in Shangri-la," says Sweatmother, founder of the Otherness Archive. "We're basically showing people that we exist."
"Glastonbury is one of the biggest festivals in the world, and it's such a great platform" says a London Trans Pride organiser, who asked to speak anonymously. "I mean, this is what London Trans Pride is all about. It's about making connections with people within the [trans] community, but also people outside of it. Making these connections with people who are cis, or who are straight, is super important because the cis world has the most power and sway. We've had a lot of people coming through."
"The Majority of people do not know any trans people, or who they are in real life, other than from what they see and read in the media." Sweatmother says. "Us being here, just communicating and conversing, feels super important."
---
---
Underneath a fluttering trans flag behind us, a group of focused festival-goers are working together to paint a protest banner, which will be taken along to London Trans Pride's march at Wellington Arch on July 9th; and earlier today, the takeover also hosted a workshop where punters can learn how to make low-cost packers and breast-forms out of everyday items from Poundland. One of Nomad's minimal glass boxes also hosts a space dedicated to the Otherness Archive, which showcases often-marginalised trans masc experiences in a collection of films, artwork and digital images. Ahead of its official launch in October 2022, visitors can also learn more about how and why the archive was set up in the first place.
"We're bringing a queer and trans takeover to the field," says Laurie Belgrave, founder of The Chateau. Originally a pop-up queer venue in South East London, it has evolved over the course of the pandemic into a cultural space and performers collective, hosting one-off events just like this. "For me – and I think Shangri-la also feel this – in general the festival is not that queer," Belgrave says. "This corner is about championing some of those queer stories and narratives. Block 9 do it a little bit as well, but I think there should be a lot more space in this festival for queer and trans people."
These kinds of open areas are clearly invaluable – over the course of the day the takeover has welcomed everyone from curious passersby, to young queer people bringing their entire families along to mark Pride together. In the evening, meanwhile, the group's celebration of trans liberation will close with a huge all-night party, complete with DJs, performers, and go-go dancers. "Basically, anyone we know who's on-site, we've invited them to come through, get dressed up, and get in the booth," Belgrave says. "We're going to have a dance, and really create that community family vibe here. We want to make the festival queerer and queerer!"
READ MORE: How to solve a problem like racial diversity at Glastonbury