While the rest of us were naively taking up everything from skateboarding to embroidery during lockdown, Taylor Swift took the existential dread that comes hand-in-hand with a global pandemic as an opportunity to write her most accomplished album to date.
When she dropped 'folklore' with an evening's notice back in July, the collective realisation that this tough new way of life was here for the long haul, had already begun to sink in. What better time to release an album that both comforts and indulges our grief, something that Swift seems keenly aware of: "it turns out that everybody needed a good cry, as well as us."
It's little surprise, then, that Swift would have more surprises in store, first up: documentary. folklore: the long pond studio sessions isn't the story of making an album: it's a reflection on that process from those who made it remotely in exceptionally unusual circumstances and the catharsis that comes from playing that album together in one room for the first time. For this recording session, Swift is joined by long-time producer Jack Antonoff and a new face: the National's Aaron Dessner. What follows is an intimate display of camaraderie and surprising candour from one of the most famous people in the world, grappling with her own existentialism.
Taylor Swift directing her own documentary feels like a natural progression: she now has six music videos under her belt and besides, she's been orchestrating her own folklore for well over a decade. Stylistically, she opts for sweeping overhead shots of Long Pond's idyllic Upstate New York landscape. The studio (already hallowed ground for any fan of the National) is a minimalist wood cabin with a large window to the outside world; the natural home for a cosy, isolated record like 'folklore' that still chooses to look beyond itself. For even though Swift is undoubtedly the star, folklore: the long pond studio sessions – like the record itself – is a deeply collaborative affair.
We get to witness new friendships blossom. Swift and Dessner are an unlikely pairing on paper which makes it especially heartwarming to watch them discuss the musical kinship they found together in the form of a rubber bridge guitar. Dessner is a discreet presence throughout: he's unassuming even whilst shredding a guitar solo and he gently looks on as Swift and Antonoff shoot the shit with a bottle of wine on his porch. He remarks on being genuinely shocked when Swift reached out to collaborate – "is this a real text?" – and discloses how much he can personally relate to the track, 'peace'.
For an artist whose work is routinely (and unjustly) dismissed in certain circles, 'folklore' gave Swift stacks of indie credibility, in no small part thanks to Dessner's contributions in the studio. That's also true for indie heavyweight Justin Vernon, who cameos via his studio in Eau Claire, Wisconsin for the duet, 'exile', peeking out from his conspicuous ensemble of hat, bandana and bulky headphones. It's revealed that he's responsible for the anthemic bridge – "so step right out!" – and that even Taylor Swift has musical heroes she's embarrassed to approach directly. Dessner had to serve as the middle man, as Swift admits that "if Justin had said no, it would have hurt too much".
Notably, the identity of co-writer William Bowery – rumoured to be the alias of everyone from Lorde to Joni Mitchell – is finally revealed in fairly cavalier fashion to be Swift's boyfriend, Joe Alwyn. She paints delicate pictures of him composing piano parts in the other room and as a woman who has lived more of her life in the public eye than not, it's hard not to root for the peace she's found here.
The film quickly settles into a comfortable track-by-track format that Swift must be exceedingly used to by now, considering her tradition of putting on secret listening parties for fans. The discussions between performances are more than just vague Genius lyric annotations – there is genuine insight into both her creative process and her psyche – but like Miss Americana before it, folklore: the long pond studio sessions thrives the most during its moments of musical alchemy.
'august' is one of those 'lightning in a bottle' moments. The track's new mix has a classic feel and Dessner's laid-back, considered approach is perfectly complemented by Antonoff's more boyishly enthusiastic one – one foot on the piano stool and strumming the guitar with all the joyful energy of an eccentric music teacher. Swift can barely contain her delight throughout, performing with slightly dorky hand gestures and tenderly looking on at the pair of them. "I loved that," she says, clapping before the last note has even rung out.
Swift may have outgrown her country music roots in terms of sound but that sensibility runs through her songwriting like an invisible string. Her enthusiasm for her own storytelling is infectious as she unpacks the endgame of Betty, James and Augustine's fictitious love triangle but it's the care with which she crafts the narratives of 'epiphany' and 'this is me trying' that marks her out as a songwriter with a singular grasp of empathy. Swift's noticeably emotional performance of the latter track is so deeply moving that it's hard to believe that the last time she appeared in a narrative film, she was swinging from the rafters seductively dispensing catnip.
If there is an elephant in the room, it's the decision to choose Disney+ as the home for a record that opens with "I'm doing good, I'm on some new shit". The streaming service is already notorious for muting vital Hamilton lyrics and for giving Splash's Darryl Hannah CGI extensions to cover her backside, but long pond studio sessions puts this censorship into harsh perspective: "I talk shit with my friends" (fine), "tell me to go fuck myself" (definitely not fine) and just what is on Jack Antonoff's blurred-out badge?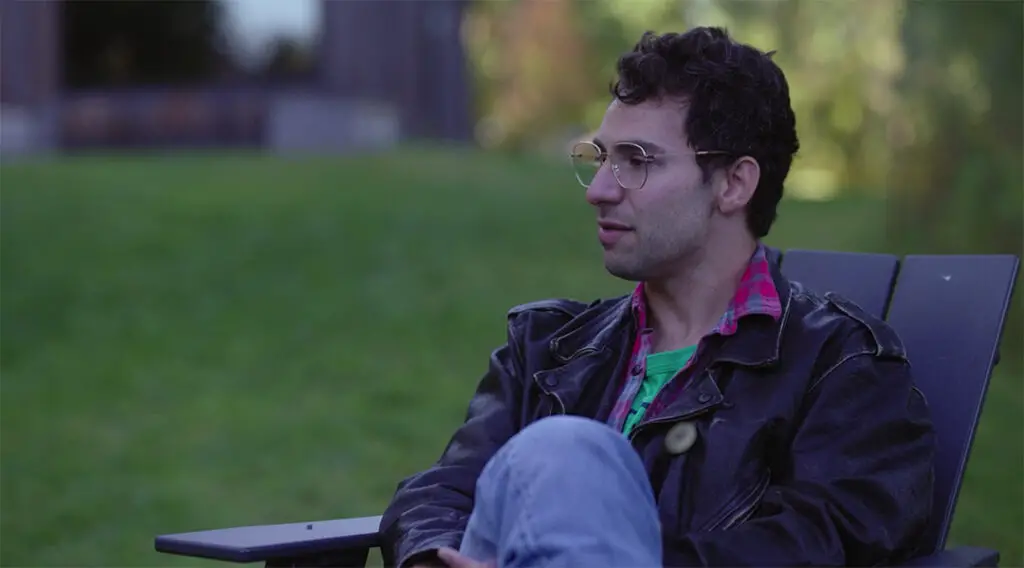 This is particularly distracting during the performance of 'mad woman': on the line "does she mouth 'fuck you forever'", Swift literally has no choice but to. When she's just spent several minutes ruminating on female rage and how society – and by extension, the music industry – renders that impotent, it feels indicative of the wider compromises musicians choose to make in pursuit of greatness.
Because there are contradictions deeply embedded within the myth of Taylor Swift and it's something that Taylor Swift, the person, is explicitly conscious of. She references her own cognitive dissonance; the inherent duplicity that comes with the human experience and having to shape-shift according to the company we're in. Through that admission, the sixth track 'mirrorball' becomes the touchstone for both the record and the film: what does it do to us when we're all things to all people?
"Should I say that? Is that too true?" she asks herself after writing the line 'I've never been a natural, all I do is try, try, try' and it's a universal insecurity that outstretches her unique context. Even if Swift coyly alludes to tabloid-worthy moments while never naming them outright (as is her prerogative), she is still choosing the more difficult path: to move towards those 'too true' feelings in a public forum. It's a truth more worthy of pursuit.
---
Like what we do? Support The Forty-Five's original editorial with a monthly Patreon subscription. It gets you early access to our Cover Story and lots of other goodies – and crucially, helps fund our writers and photographers.
Become a Patron!