On a sunny afternoon in mid-September, over a thousand people gathered in an industrial park in Walthamstow for the inaugural Dialled In festival. Accompanied by a thoughtfully curated programme of music, art and food, the crowd was able to experience and celebrate what the organisers refer to as "the new South Asian underground." 
The project was initiated just a few months before, but its roots stretch back much further. Indeed, Dialled In is a response to the lack of representation faced by South Asian people within the arts — an issue that has permeated much of history. Co-founders Ahad Elley, Ahsan-Elahi Shujaat, Dhruva Balram, Nigel Mphisa and Provhat Rahman — all of whom operate within the music industry — were keen to address ongoing discrepancies while spotlighting the current wave of South Asian artistry. Led by and featuring people of South Asian heritage, the event brought the community to the fore. However, the appeal reached far beyond as people from a host of backgrounds joined in to listen, dance and interact.
Likely the first of its kind in the UK, the lineup exclusively featured artists of South Asian origin. But despite any likeness in heritage, the sounds across the three stages were vast, showcasing the breadth of sonic identity within the community and rejecting any set category. Whilst Yourboykiran shook up the room with his expertly blended dubstep and bassline bangers, siblings Nabihah and Haseeb Iqbal joined forces for a rare b2b set of jazz and disco. Later on, Chippy Nonstop shelled it out with her 160bpm+ selections after Yung Singh blasted bhangra and jungle-laced with qawwali percussion to a full-capacity venue. Amongst DJ sets were live performances from left-field pop, punk and noise musicians.
The after-parties kept the energy levels up throughout the evening, as legendary names such as SBTRKT and Skrillex were interwoven with newest generation of talent. Selector and radio host DEBONAIR, who played a b2b set with Bake in the afternoon, found the sheer scope of music at Dialled In nourishing: "It was super fresh… I've never heard sets like that if I'm completely honest."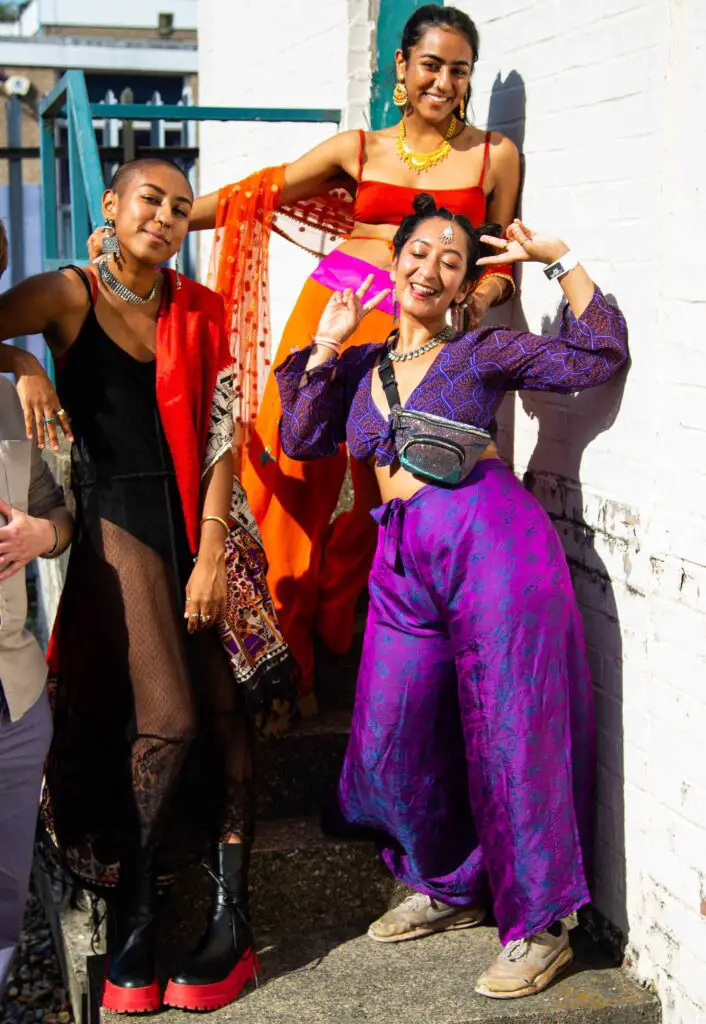 But as well as shedding light on the sounds being championed by the community, the festival offered an important space for bonding; it was a way for people to connect with one another, through conversations as much as dancing.
After her set, DEBONAIR found herself engaging with new people across the day, exchanging sentiments on what the festival meant and discussing existing in creative circles as people from particular ethnic backgrounds. "It was just huge for me being in a space where I could easily talk with people who were South Asian or had some kind of South Asian roots about our experiences in a really comfortable way," she reflects. She had been able to have these conversations before with close friends, but to openly explore personal topics with strangers felt refreshing. "You didn't feel like you were imposing or raising things others didn't wanna talk about," she continues, "it was kind of: we're talking about these things because we all feel comfortable right now; this is kind of a celebration."
Nivetha Suganthy, a spoken word poet and chef who travelled down from Leeds to attend, found this sense of togetherness particularly special. "It really did just feel like: I'm in such a good space with people like me… it was quite a momentous occasion," she gushes.
"To experience a whole festival led by South Asian people for brown people was so, so special. And to be part of the first one was… I don't think words can describe how euphoric and surreal it was," Nivetha continues. For her, the festival was an opportunity to revisit old friendships whilst developing new ones with new people. "There's not much stuff going on in Leeds so it was nice making those connections," she adds.
As the producer of the event, Ahsan felt that these interactions were the most rewarding part of Dialled In. "People were saying 'I felt really included', 'I felt it was a really safe space for me to be in and express myself' and 'I've made lots of friends.' I had people I knew who went on their own and left with ten phone numbers and about 50 Instagram handles," he laughs. "There was a sense of community that I don't think I've ever really experienced at an event of that size before."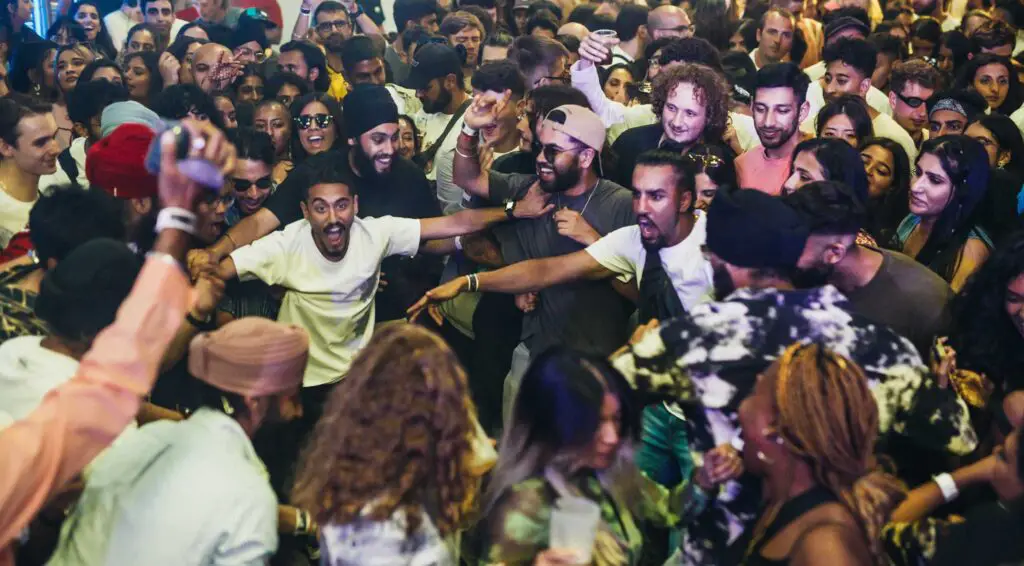 Being surrounded by people from a wealth of different backgrounds meant that the day also provided many with an opportunity to learn, from exploring heritage and tracing the history of diaspora to trying snacks from the subcontinent. In one venue, people gathered before a timeline charting British Asian music on a wall. Meanwhile, hearing classic songs and seeing a Kisaan flag waved proudly during Yung Singh's set inspired DEBONAIR to set up an Indian film night with her Punjabi friend: "I thought it was high time I educated myself about different cultures within South Asia," she says.
Following in the footsteps of other Black, POC and queer-led parties, Dialled In prioritised safety and accessibility. A safer spaces policy declaring zero tolerance of any form of discrimination was shared in the lead-up to the event, with armband-wearers on hand to offer support throughout the day. Gender-neutral toilets and wheelchair access were also considered, whilst low-priced tickets sought to eliminate the financial barriers that are notorious in the events industry.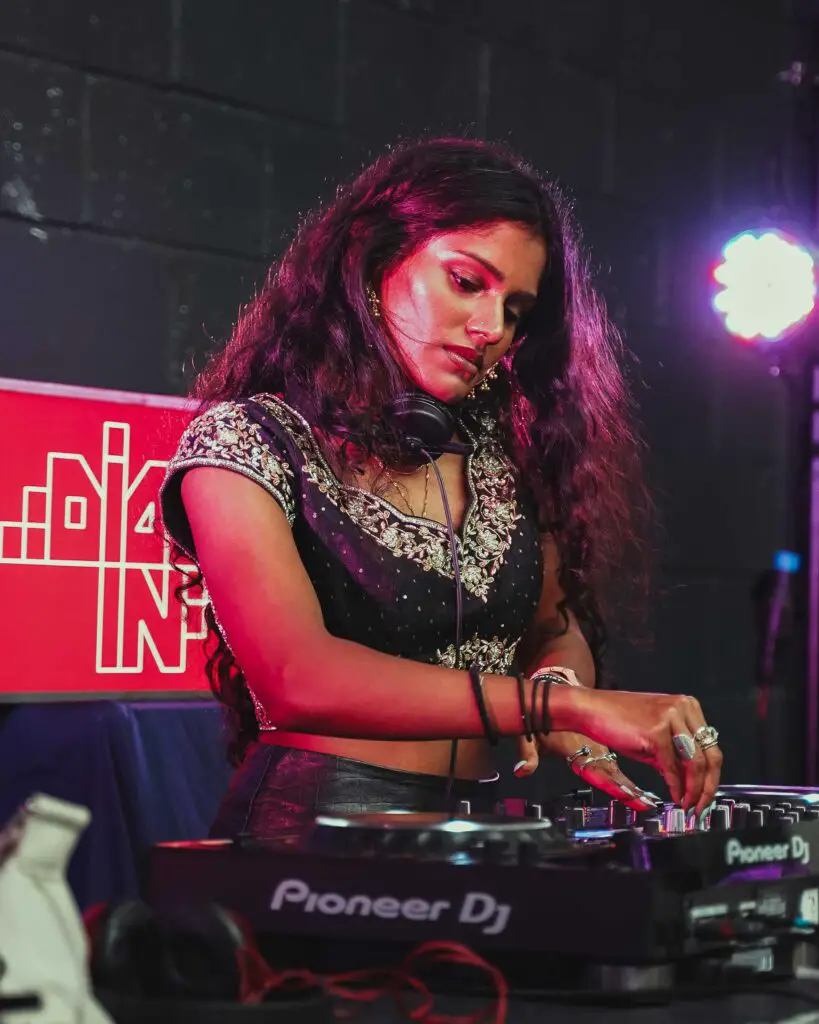 Expanding on these efforts to widen participation, the Dialled In team has programmed a series of mentorship sessions and roundtable discussions to follow the event. The one-to-one meetings and broadcasted conversations — on topics such as South Asian creativity and brownness— aim to push musicians and artists from the community into industry roles.
Recognising the need for the scheme came from the team's own experiences. "I do a lot of mentoring for other organisations and was just aware that there wasn't much focus on South Asian creatives, especially in the music world," Ahsan explains. "I've been doing this for about 10 years and I can probably name, industry-wide, about 10 people… I wanted to do something to rectify that."
This persistent failure to include South Asian and other minority figures in the music industry is exactly why Dialled In felt necessary. "No-ones gonna make an event for us I don't think," Ahsan says, "we had to do it ourselves."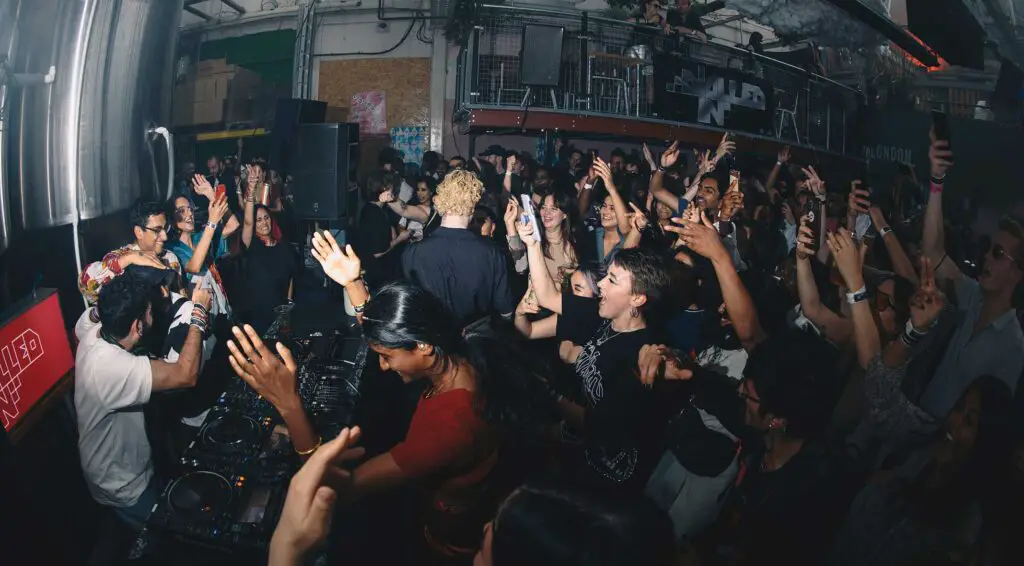 Claiming space— crucially, on one's own terms— is also the premise of a number of South Asian diaspora collectives that are flourishing across the world right now. Take No ID, for example— a club night set up by Dialled In co-founder Ahad. Since its launch, No ID has hosted a string of events in London as well as stages at Lost Village festival, spotlighting DJs and artists with South Asian heritage. Chalo also brings talent from the community to the forefront. Last year, the team released a compilation featuring artists from different scenes within India, Pakistan, America and the UK. The record, which traverses genre and mood, scored 6th in The Guardian's best global albums chart.
More recently, a group of DJs, producers and artists formed Daytimers. Celebrating its first birthday in August, the collective is still in its infancy, but its impact on South Asian and diaspora culture has been indelible, from running a stage takeover at Fabric to curating a viral Boiler Room session.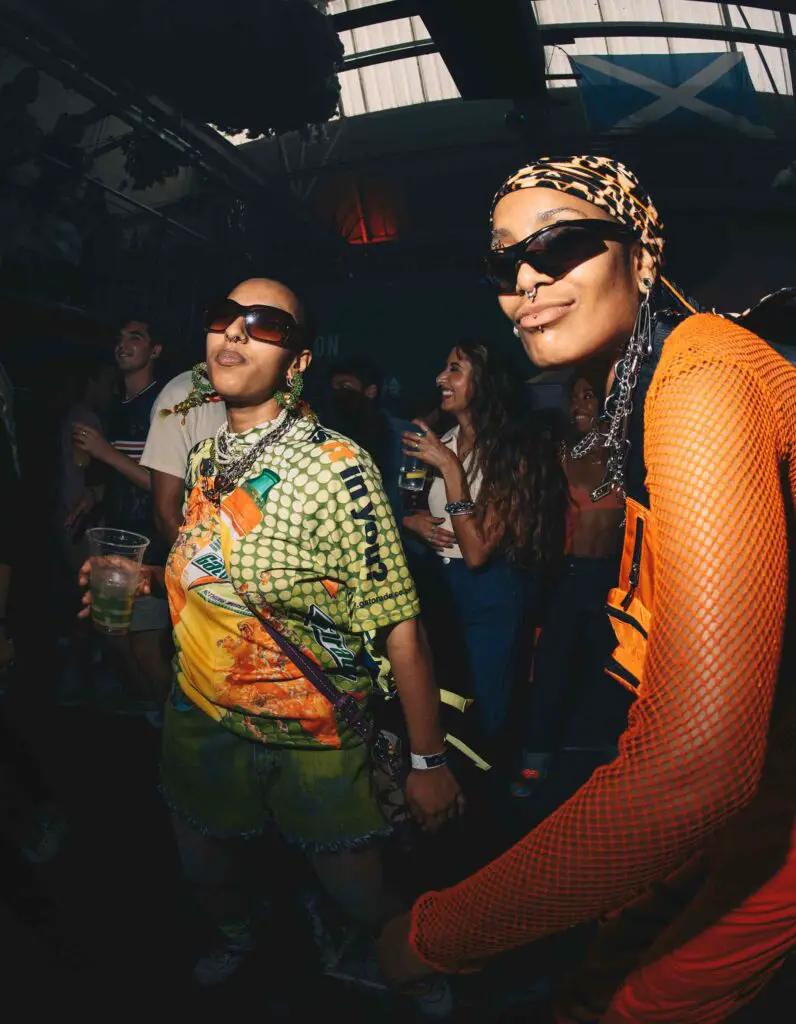 The mission to platform South Asian people in dance music means a lot to Saachi, a Daytimers resident who took her house and R&B selections to Dialled In's debut. "In the years prior to what's happening, you were so, so closed off. I started DJing a few years ago and it's only literally in the last few months that I've felt comfortable to be like 'Oh yeah, I DJ,'" she explains.
"I always felt like an imposter, that it wasn't really my space; I was kind of tiptoeing, walking on eggshells in music," Saachi adds. "Now, having this community, having this supportive environment, having people who are like me really enjoying music, coming together and doing it… it just gives you this confidence that wasn't there before." The sentiment is shared by Nivetha: "It's pretty inspiring to know that there's really cool brown people just doing it."
"I think Dialled In was the fusion of that," says Saachi. "We are here, and you know what? If you guys don't take us seriously, that's fine, we're gonna do it for ourselves and show everyone – and ourselves – that we can do it. That's why I think it was so, so special."
Already leaving an impressive mark on the industry and the wider community alike, Dialled In is far from over. Alongside the upcoming mentoring and discussions, the team assures that the festival will take place again. Details on how it will run and in what format are yet to be confirmed. Though care and consideration were embedded in this year's event, Ahsan outlines his ambition to improve and grow further: "I'd like more representation of artists from outside of London, for example. I'd also like to increase the visibility of the regions that have been less represented in the South Asian diaspora… we're trying to give everyone a voice."
"I can't wait to do whatever it is we do next," Ahsan muses earnestly. "There's a lot of talented people within our community and I think it really, really showed on that Saturday." Indeed, with Dialled In and the new South Asian underground on deck, the future looks bright.