It is endlessly surprising to us how a twenty-year-old former Disney star manages to write music that speaks to our very existence but with new album, 'GUTS', Olivia Rodrigo has done it again. And while jumping around your living room to 'bad idea right?' is a vibe, seeing these songs played live will undoubtedly be a very, very good time – and you soon can, on the 'GUTS' world tour.
Rodrigo is heading out on the road on a tour that will span the US, Canada and Europe. With 18 new dates added to an already extensive run, here's everything we know about the GUTS world tour.
What are the GUTS world tour dates?
This All-American Bitch's arena tour is wide reaching! Here's where you can see GUTS live.
USA
Feb 23 – Palm Springs CA
Feb 24 – Phoenix AZ
Feb 27 – Houston TX
Feb 28 Austin TX
Mar 01 Dallas TX
Mar 02 New Orleans LA
Mar 05 Orlando FL
Mar 06 Miami FL
Mar 08 Charlotte NC
Mar 09 Nashville TN
Mar 12 St Louis MO
Mar 13 Omaha NE
Mar 15 St Paul MN
Mar 16 Millwaukee WI
Mar 19 Chicago IL
Mar 20 Chicago IL
Mar 22 Columbus OH
Mar 23 Detroit MI
Apr 01 Boston MA
Apr 02 Boston MA
Apr 05 New York City NY
Apr 06 New York City NY
Apr 08 New York City NY
Apr 09 New York City NY
July 19 Philadelphia PA
July 20 Washington DC
July 23 Atlanta GA
July 24 Lexington KY
July 26 Kansas City MO
July 27 Oklahoma City OK
July 30 Denver CO
July 31 Salt Lake City UT
Aug 02 San Francisco CA
Aug 03 San Francisco CA
Aug 07 Seattle WA
Aug 07 Seattle WA
Aug 10 Portland OR
Aug 13 Los Angeles CA
Aug 14 Los Angeles CA
Aug 16 Los Angeles CA
Aug 17 Los Angeles CA
CANADA
Mar 26 Montreal QC
Mar 27 Montreal QC
Aug 09 Vancouver BC
UK & Ireland
Apr 30 Dublin IR
May 01 Dublin IR
May 03 Manchester UK
May 04 Manchester UK
May 07 Glasgow Uk
May 08 Glasgow UK
May 10 Birmingham UK
May 11 Birmingham UK
May 14 London UK
May 15 London UK
May 17 London UK
May 18 London UK
Europe
May 22 Antwerp BE
May 24 Amsterdam NL
May 25, Amsterdam, NL
MAY 28, OSLO, NORWAY
MAY 30, COPENHAGEN, DENMARK
JUN 01, BERLIN, GERMANY
JUN 04, HAMBURG, GERMANY
JUN 05, RANKFURT, GERMANY
JUN 07, MUNICH, GERMANY
JUN 09, BOLOGNA, ITALY
JUN 11, ZURICH, SWITZERLAND
JUN 12, COLOGNE, GERMANY
JUN 14, PARIS, FRANCE
JUN 15, PARIS, FRANCE
JUN 18, BARCELONA, SPAIN
JUN 20, MADRID, SPAIN
JUN 22, LISBON, PORTUGAL
Who will support Olivia Rodrigo on the GUTS tour?
Legends only! Olivia Rodrigo is taking The Breeders, Chappell Roan and Remi Wolf out on tour with her. Not familiar? Let us explain.
The Breeders
The Breeders are a nineties alt-rock band made up of Pixies legend Kim Deal, her sister Kelly Deal and Tanya Donnelly of Throwing Muses fame. Olivia has made a habit of paying heed to the women that paved the way for her and this booking is yet another example of that.
Listen to: 'Cannonball'
Remi Wolf
Remi Wolf shows are always a good time. The LA party priestess mixes funk, indie and pop into a unique blend of that always goes off.
Listen to: 'Photo ID'
Chappell Roan
Another alt-pop icon-in-the-making, Chappell Roan is a relative newbie compared to Olivia's other bookings but very much in the same wheelhouse – messy, fun Gen Z anthems you can dance to.
Listen to: 'Red Wine Supernova'
How can I get tickets for the GUTS world tour?
You need to pre-register for tickets via Olivia's website by September 17 at 7pm and select your chosen city.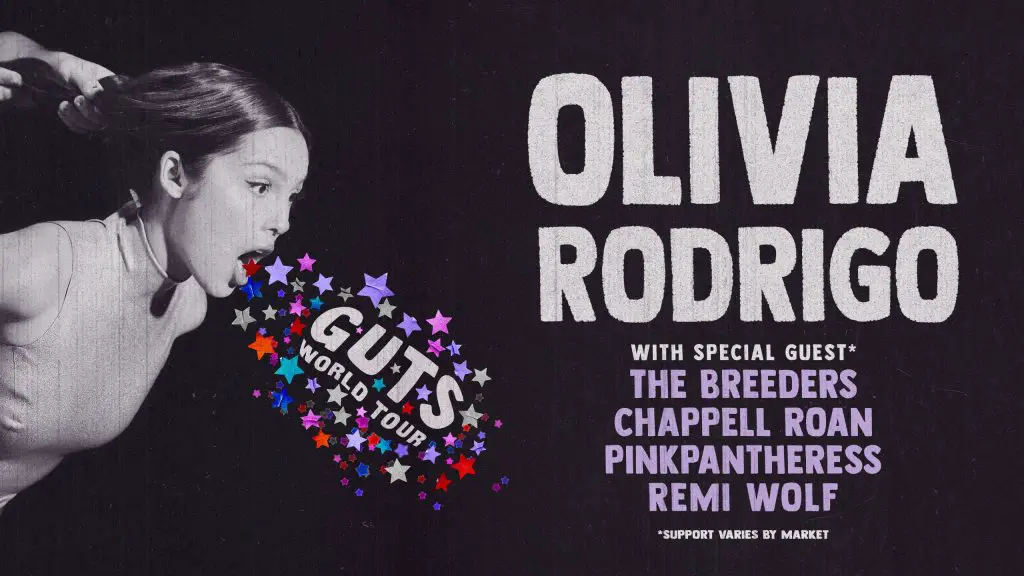 How much will GUTS tour tickets cost?
Standard tickets to the Guts World Tour will cost between $49.50 and $199.50 – according to Live Nation – depending on where you choose to sit or stand. It's worth noting that there will also be additional taxes and fees for each purchase. As well as standard tickets, Olivia is offering a VIP package that gives fans early access to the venue.
Olivia will also be selling $20 Silver Star tickets for every concert of the tour at a later date. A press release for the tour says: "Olivia is launching this program to make it as easy and affordable as possible for her fans to make it out to her shows."
Silver Star tickets can only be purchased in pairs and seats will only be revealed on ticket collection.