Olivia Rodrigo has hit another bump in her driving journey: she has landed a parking ticket.
In a post uploaded to Instagram stories today (April 12), the 18-year-old singer and actress shared that she had received a City of Los Angeles Parking Violation.
"damn this driving shit isn't all fun and games," she quipped in a caption for a photo of the ticket.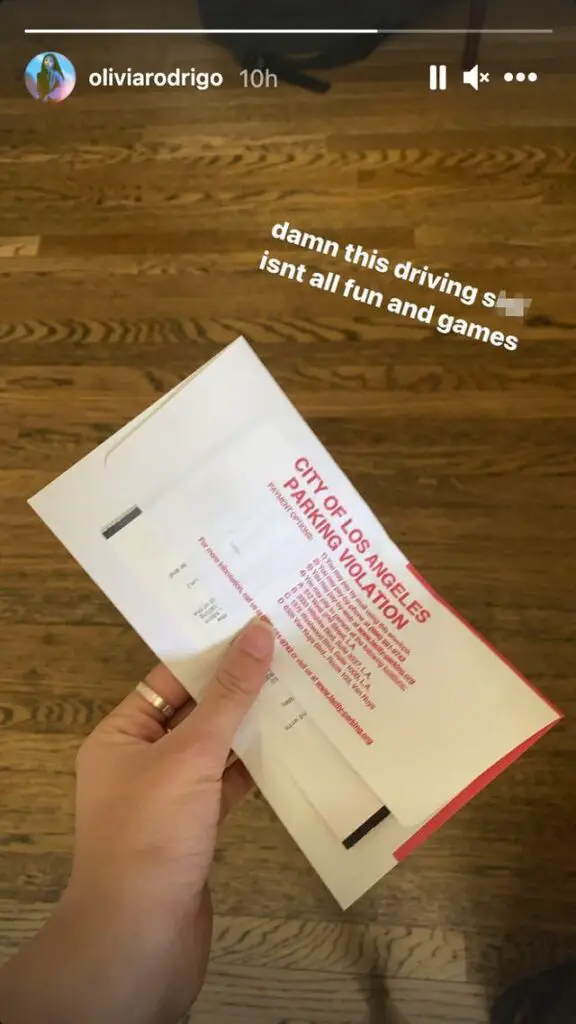 The offence follows another recent milestone after Rodrigo revealed that it took her four attempts to get her licence in the first place. Speaking to LA's 94.5 PST last month (March 10), she said of her driving troubles: "Essentially, the time I got my driver's licence it was my fourth try, which is really sad."
The Disney star said that the first appointment she had scheduled for her test was cancelled due to the ongoing coronavirus pandemic, and the second was pushed back because she was filming the High School Musical: The Musical: The Series.
"The third one, I finally get there and I fly out from Utah to LA just to take the test because I had to take it in California," she said.
"I'm sitting in the car and the guy comes by and he's checking my lights and stuff like that, and he goes, 'Ok, honk your horn now'. And I go to honk my horn and the horn doesn't work on my mum's car and she had no idea that the horn doesn't work on her car because she never uses her horn because she's the calmest person in the whole world.
"And so he said: 'Your car is legally unsafe, I can't take you out to take the test – go home.' I didn't even get to drive out of the DMV (Department of Motor Vehicles) … I was so upset, I literally cried in the DMV parking lot."
She added of her fourth attempt: "I got there eventually!"
Rodrigo's record-breaking single, 'Drivers License', went straight to the top of the Official UK Singles Chart upon release in January. It remained at the top spot for a staggering nine weeks – making it the longest-running Number 1 debut single since Gnarls Barkley's 'Crazy' in 2006.
Rodrigo recently followed up the mega-hit with her second single, 'Deja Vu'. Her debut album is set for release in May, with full details yet to be finalised.
READ MORE: A LICENSE FOR SUCCESS – HOW OLIVIA RODRIGO'S CANDOUR MADE HER A RECORD-BREAKING FAN FAVOURITE