When Yen Strange's face first pops up on Zoom, beamed in from her home city of Sydney, Australia, there's a ghoulish presence looking over her shoulder. On closer inspection, it's a pristine plastic skeleton pinned to the wall; a leftover decoration from Halloween, or maybe a mysterious housemate gatecrashing our chat, perhaps.
Soon Yen (real name, Annabelle Scobie) steps in with the introductions. "This is my skeleton," she says matter-of-factly. "I actually don't have a name for it, but I've had it for four years. Look how clean and beautiful he is!" It turns out that her spooky pal is a prop from the first music video she ever made with an old band when she was seventeen – which involved decking out her garage with Halloween decorations and throwing a party. It's quite unsurprising that All Hallow's Eve is Yen's favourite holiday once you've hit play on her breakthrough single 'Donnie Darko' – a grunge-tinged swirl of shadowy demons named after the 2001 thriller film of the same name.
When Yen wrote 'Donnie Darko' she was living in the coastal city of Wollongong, "eating baked beans and living in a shoebox apartment." At the time, she was commuting up Australia's east coast to Sydney, and fleshed out the bare bones of the track on the train. Though Scobie played in various bands at the time, "a lot of the scene was saturated with men, and all-male bands," she explains, "I love hardcore and heavy metal but I just got over it really quickly and didn't enjoy it anymore, so I kind of just fucked it all off." It's at this point that Scobie began working on the beginnings of Yen Strange to while away the long train journeys.
"I feel like when you're moving and going to a new place you don't have to worry about anything," she says. "You're busy going somewhere, and none of the factors of reality can affect you." Though these journeys offered a kind of escape, day-to-day life felt "just pretty grim and alone all the time with nothing happening," Scobie says. When the city went into lockdown, the feeling exacerbated. "In lockdown you're just stuck with your thoughts and nothing else. That's where a lot of [Donnie Darko's] lyrics came from. When that first lockdown hit it reminded us of the things we might've been pushing away out of our heads."
With a genre-slippy approach that recalls the likes of Olivia Rodrigo and Poppy, Yen Strange's music fuses the scuzz of emo with the sharpness of pop – and spare, synthetic beats lend her sound a slightly menacing, clinical edge. Lyrically, the musician packs in Aussie colloquialisms ("Saw you hiding in the dunny" she sings on 'Donnie Darko') and a bite of humour ("I can't help be a little emo," she admits). Earlier this year, the musician followed it with the equally ear-wormy 'Go Away' – which sounds like the Tony Hawk Pro Skater 2 soundtrack crossed with pop-punk glitz. "Life is boring now, I'm thinking teenage romance is a crime," she snarls in the bridge.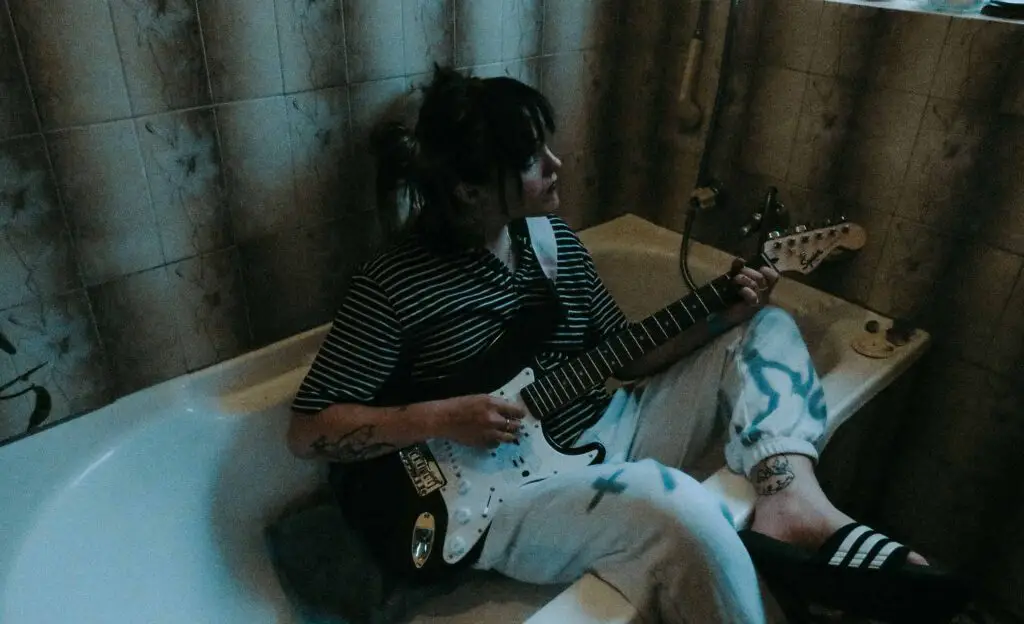 Armed with a camcorder, the musician occasionally posts scrappy home-movie type films – entitled The Melancholy Vlogs – on YouTube, and the vignettes capture Yen's growing disbelief as 'Donnie Darko' gradually racked up thousands of streams. In September, a dancey reworking of the song by buzzy Manchester outfit Porij gave things a further boost. At time of writing the song has over 170 thousand streams on Spotify. It has felt surreal watching her music travel around the world.
It couldn't feel further from where Scobie grew up in Moruya – "on the very extremely rural end of the spectrum," she explains, "very far away from anything, very small, and very not-happening." For a time, the small town weirdly hosted Flea from Red Hot Chilli Peppers as a notable resident (rumour has it he'd occasionally throw raucous parties at his enormous house) but otherwise, very little happened. Music started out simply as "a result of having nothing to do," Scobie says, adding "You can only go for a walk around the bush so many times."
"It was either music or going to parties, I guess," she adds. "A lot of my friends started drinking and doing drugs pretty early and I wasn't interested, so it was good that I had an excuse to stay in my room, for sure. I played piano mainly as a teenager, and if I wasn't working or doing homework, I'd be playing that for hours a day."
Finding her artistic feet has taken time, however – the first song Yen wrote was "was super weird," she laughs. "When I was a teenager I thought I was more grown up than I feel now, and I thought that I knew everything. The song was about reminiscing on memories, the chorus was: "the capacity of our minds has no end, and the actions of the heart and soul will astound you". I think I was listening to a lot of Elton John and Ed Sheeran, so I was like, I'll write about something super deep. I didn't even know what I was talking about!"
As a teenager in Moruya, Scobie remembers thinking that to be a musician in her home country, you had to play in "a bush band" – but says that "everything changed when I discovered Australian music. I remember really loving Mallrat, Allday, and Tired Lion – they're probably the first Australian alternative rock band that I saw live, and they played in a shed across the road from my high school. My universe really cracked open after that".
And looking forward, Yen Strange has a giant heap of tracks in the "rough demos" stage; out in February, her next single captures small-town malaise and "being very bored". "Pointless days of just pretending," she sings on the track, "hopeless dreams are never-ending." It feels good, she says, to finally be making music about her own life, on her own terms – and all without a single bush band in sight.
---
TREMORS// is our monthly spotlight on an artist making waves. Check out more musicians on the rise.