As a kid, Armand Bultheel would lovingly feed his pet ants tiny little portions of a substance called agar-agar. A translucent jelly, it's made by boiling up red algae – and though it's mostly eaten as a veggie alternative to gelatin, it also makes a perfect growing medium for lab Petri dishes. Once a microorganism is chucked into the mix, it can quickly take over, forming strange, spore-like patterns on the jelly. Though Agar Agar didn't consider their namesake very deeply – choosing the word simply because it sounds cool – it's an apt one all the same. Often, the Paris-based duo's own approach feels akin to lobbing different influences into the mix and stepping back to watch the magic happen.
Armand grew up in the south of France in Narbonne while his now-bandmate Clara Cappagli was born in the Parisian suburb of Mantes-la-Jolie; in her mid-teens, she moved to the surfy, seaside town of Biarritz on the southern Basque coast. Both musicians attended different conservatoires – classically minded music institutions – growing up but found the sheer amount of rigidity and theory difficult to navigate. "It sets a lot of boundaries," Clara says. "It can be a useful tool… but it can also be a weight that is difficult to escape," Armand agrees.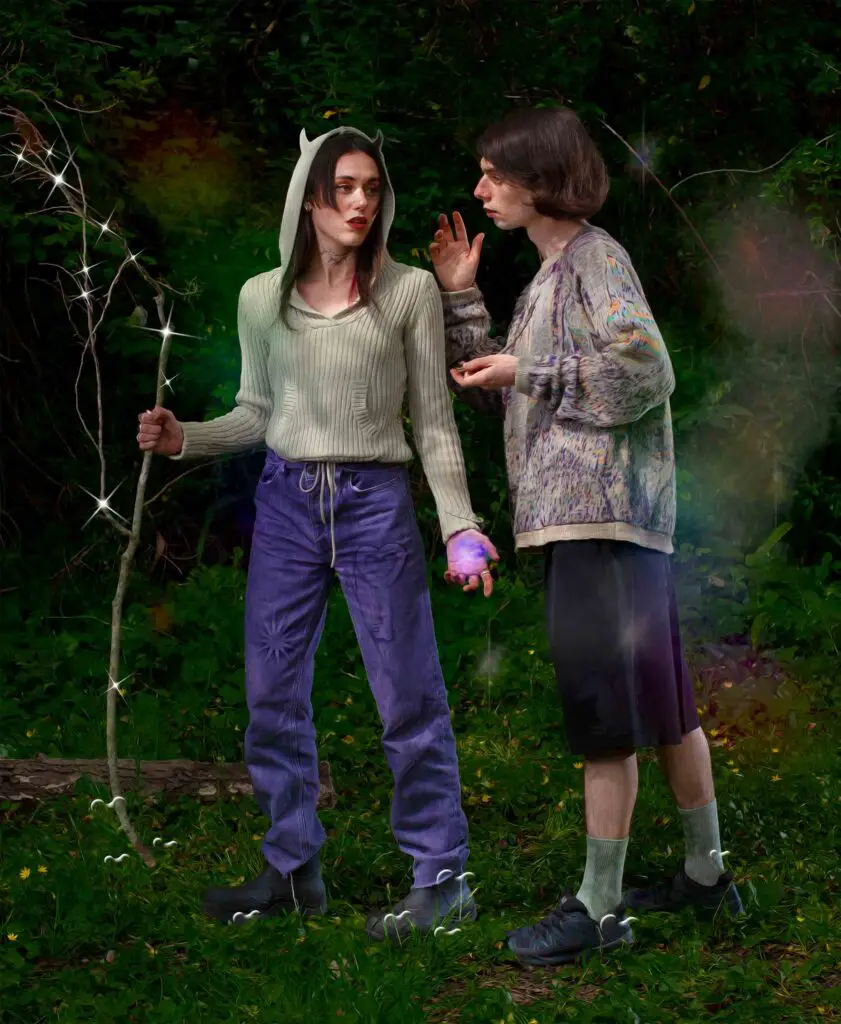 Independently, both gravitated towards Paris art school instead, and met there as students, forming their amorphous electro-pop duo in 2015. Three years later, their debut album 'The Dog and The Future' followed – a plasticky, synth-laden record drawing on the robotic arrangements of vintage game soundtracks and the dancefloor. Meanwhile, with new album 'Player Non Player', the duo expanded these influences even further, collaborating with the game creator and artist Jonathan Coryn to create their own open world game of the same name. The goal? To move around a surreal landscape, touching and exploring a tactile world, and gradually learning more about the drives and desires of four, enigmatic characters in order to make their dreams come true. Doing so will help to free them from this lonely after-life, which sometimes feels like a kind of purgatory. 
Initially, the project felt quite "intuitive" – as with the process behind naming Agar Agar in the first place, it simply felt like it might be a fun new direction to take. But with hindsight, the process of making the game cast new light on the band's multi-media influences, with games transforming into a valuable new medium with which to explore weighty concepts like free will and what drives and motivates different people in the first place. "It really helped us to build an identity," Clara says.
As their attention turned to writing an accompanying album, Clara decided to write a song about a character called Odile – who acts as the game's welcoming figure. "She's the one who greets the gamer, and by default, she's meant to explain the context of the game. I told Armand that it would be nice to make a whole song about her. I thought about the fact that she's always greeting, and always explaining herself, and always telling people to come into her intimacy."
These ideas inspired both 'Odile' and pulsing dance track 'The Visit'. "It's a nice place, it's all cozy and safe," Clara sings on the track, adopting the protagonist's voice, "not so long ago, I had no one to know. Now it's everyday a show, I greet all them and I let go."
"It really talks about the limits of intimacy," she says, of the latter song. "What makes a property? What does it mean to own something? And what does it mean when a person invades it? Odile's quite fed up, in a way, because her only purpose in the game is to greet people. I mean, she has a quest, of course, and she has a secret to solve. But she's quite bored."
Agar Agar's debut album was partly inspired by The Sims – another place where players project their own wants and desires onto blank canvases – though unlike many, they were less interested in leading their unfortunate Sims to grisly deaths by ladderless swimming pool. "It wasn't my first passion," Clara quips. "I liked finding funny mods [player-created game modifications] and building really strange stories of warriors in a forest. I like to be fantastic, I like the weirdness of The Sims." This time around, meanwhile, the duo considered some of their other favourite games while crafting the follow-up. The 2012 indie game Journey – which tasks players with navigating through an unforgiving desert together, aided only by a windchime – was one piece of the collage, along with the Elliot Page-voiced action game Beyond Two Souls, anti-gravity racing game Wipeout, and industrial revolution-era fantasy Arcanum.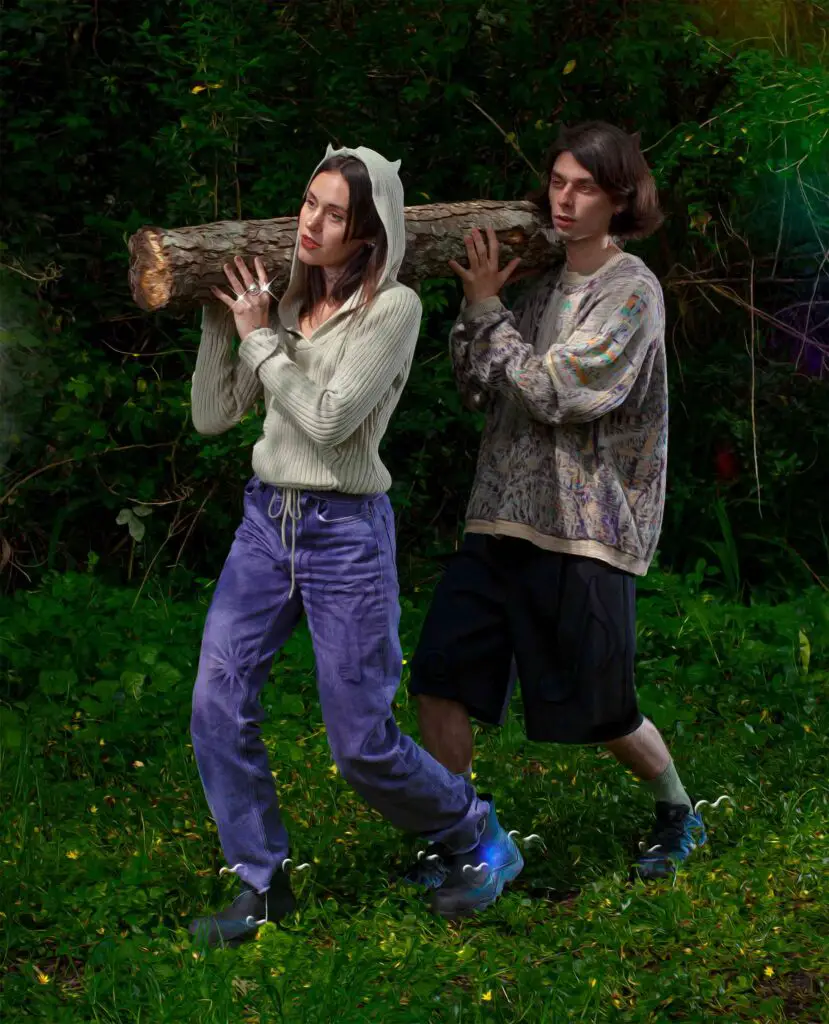 Along with drawing from the storytelling and soundtracks of some of these games – as well as the knock-on, domino effect of different decisions – they were also partly inspired by artists like The Chemical Brothers and other "party stuff". Primarily, though, all of these threads came together to make what Armand refers to as "underground music". Rather than referring to any kind of counter-culture music scene, the phrase is his expression for "the little music you have in the bottom of your mind, that keeps going on". It's a quest that Agar Agar seem to succeed in; meandering from the glitching nonsense-speak syllables of 'No Pressure' to 'Crave's stutters of white noise. It feels almost like being inside a brain and watching a light show of flashing synapses unfold.
With 'Player Non Player' out on January 20, the duo are currently gearing up to take the record out on tour, and are especially looking forward to their London date at Heaven, with its communal, club feel. Given that the duo choose to sing in English, it'll also feel like a sort of second homecoming. 
"I built my whole creative process in English," reasons Clara. "I've always had this connection to it."
READ MORE: Sans Soucis' experimental electronic pop is utterly mesmerising