Sans Soucis – aka Giulia Grispino – makes music that's soulful and soothing, that wraps you up in its warm melodies and their velvet vocals, and cocoons you gently. It's easy to see how music has played a fundamental role in their own healing; the sounds she creates feel infused with a medicinal element that helps beat off the blues with each listen.
On her 2021 record 'On Time For Her', Sans Soucis presented the most enticing example of that yet, whether she was deceiving us into dancing to tales of colonisation ('Games') or dropping bitesize instrumental interludes that mesmerise you into an almost meditative state. Their creative gift is one that is nothing short of entrancing.
The London-based Italo-Congolese told us about their journey in music so far, the albums that shaped them and the meaning behind her artistic motto below.
Hi Sans Soucis! You're in our Future Five for 2022. What are you most looking forward to this year?
Heya! I started the year thinking about the fact that I want to be present and I want to keep cultivating that sense of fulfilment that I get from music, art and learning. Regardless of the season, the mood or the feeling, it's gonna be one dense day of life at a time. I'm also really looking forward to getting closer to my audience and savouring that connection, which I'm really grateful for. I had a couple of short encounters with people who have been listening to my music and that was really special already, so my next show and festivals will definitely be a bombshell of emotions.
Tell us how you started making music.
Music has always been at the back of my mind. I don't have memories without music, to be honest. I remember writing songs with my sister when I was a kid. We would host our own festivals in the living room, where we would take turns being the host and guests of the shows. It was a lot of fun but for a long time, that's where music belonged to me. It was a fun game, a way to connect with my body and feel great about myself. It was only in my late teens that I actually considered pursuing a career in the music industry and that's when I took a leap of faith, moving to this country to study music.
My first songs were written on guitar. I then moved to production and approached it with a very DIY attitude because I couldn't find anyone who wanted to work with me. I thought that was the only way I could possibly release songs. Eventually, I fell in love with the way I was doing things and, with quite a lot of encouragement from my producer friends, I changed my mindset around it and looked at it as a way to express my voice. There are no rules and that's what I love about songwriting and production. It just needs to feel good to you.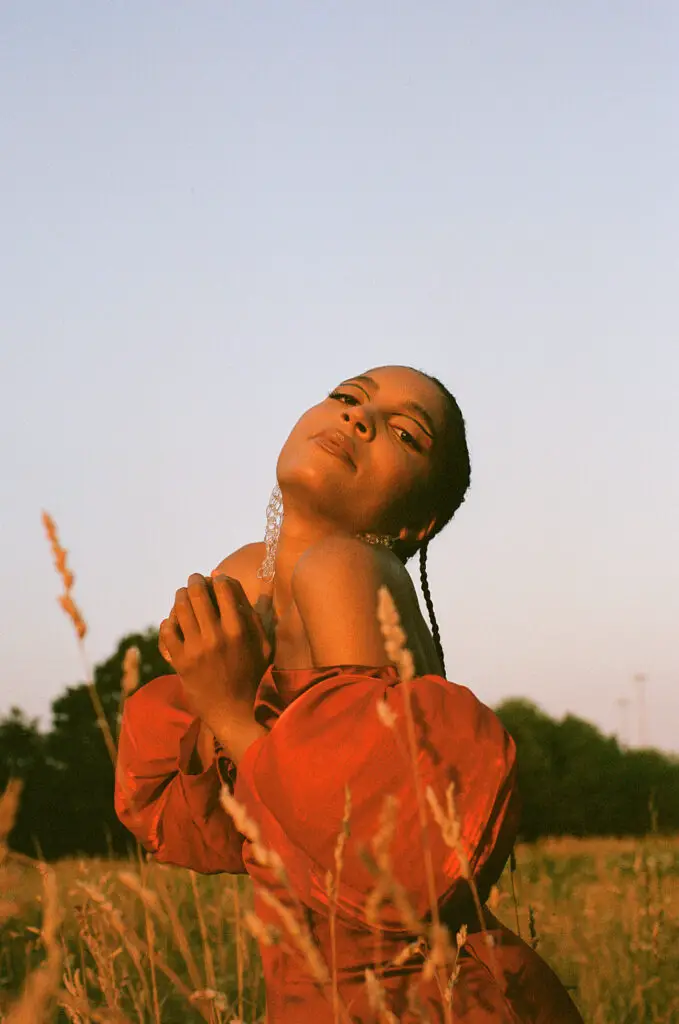 You've said that your experience as an immigrant shaped your first steps as a songwriter. How so?
I definitely believe I challenged my poor mental health through songwriting. It almost feels like I learnt how to sound like myself in English by playing with words more. The freedom I would get from writing a song was what I needed in order to distract myself from the fact that I don't think I was fully able to come across as the person I thought I was. It also helped me put myself out there, going to open mics and poetry nights with something to say. Seeing how welcoming the vibrant music scene of London was towards my music made me feel at home.
You see your music as a movie and you've been very involved with directing and creative direction of your music videos. When you're writing, do you see the songs taking shape as visual narratives or imagery in your head? How do the two worlds feed into each other?
Definitely! I often write songs thinking about a narrative or a music video. I think that's something I developed in the past couple of years, as I was thinking about how to visually present my music to the world. I also use images to elevate some of my lyrics as I write. Texture and colours could be really evocative during the creative process. Visually, I tried quite a lot of different things (with extremely low budgets most times) and very naturally, as it happened with production, I found my own ways around it and the two worlds merged.
I see myself as an artist now, rather than a singer, producer or songwriter, which is a term that encompasses all of these things for me (and has room for more). This understanding allows me to fulfil my creative vision with a more holistic approach, constantly opening doors to new learning paths, spurring my imagination, and allowing new connections, which I find really refreshing and liberating.
Your motto is "be authentic, be bold and be patient". How has that helped you navigate the challenges of creating and the music industry, and helped you stay true to yourself as an artist?
Being authentic for me just means being in tune with my intuition and ultimately my spirituality as well. I need to be able to feel that what I'm doing is not making my inner voice splinter. It's quite tricky to explain but I seem to know when things are a bit off and not aligned with me (even though it's not always easy to listen to that awareness). A constant challenge in the music industry has been learning how to vocalise that feeling and work with my team to adjust accordingly.
Being bold is also connected to the present moment and can morph over time. What I know for sure is that if I feel extremely comfortable and don't challenge things for the better, authenticity is probably teetering.
And finally being patient. That's just life. Because of my forever learner mindset, I had to come to terms with the fact that patience, as well as resilience, will eventually be my best companions in what I wish to be a long-lasting career as an artist. We don't need to have all the answers at ones and we most certainly won't be able to do everything we want to do in a blink of an eye, which now sounds like quite an anti-capitalistic thought, but I guess that's why I'm so much more fascinated by the things I could learn/create than the things I could possess.
What album (or albums) have shaped you the most as an artist and generally as a person? What impact have they had on you?
'Little Dragon' by Little Dragon – I rinsed this album. It's just perfect. So spiritual and forward-thinking. Definitely an album for lovers. I discovered this album when I was falling in love and it felt like the soundtrack of my romance.
'A Seat At The Table' by Solange – this album is history. It empowered me to be more daringly honest with what I experience in my life and reminded me of what's one of the highest purposes of music: making people feel seen and heard, hence giving them a voice.
Any James Blake album is a masterclass in production and songwriting. His latest album 'Friends That Break Your Heart' is possibly my new favourite. I'll be covering a song from that album soon so keep an eye out for that!
Lianne La Havas – 'Is Your Love Big Enough?' When I started playing guitar, Lianne was a huge influence. I love how gentle yet powerful her music can be and obviously, her songwriting is just unique. She's an instant classic and that's what inspires me to get better at being myself.
'Sing To The Moon' by Laura Mvula. She is so inventive, genre-bending and the use of her vocals and strings is a long time inspiration of mine. I love art that inspires more art and this album never stops spurring my imagination.
'A Rush Of Blood To The Head' by Coldplay. I simply love early Coldplay albums. They've been my favourite band for a while and wrote a big chunk of the soundtrack to my life already. The songwriting in this album is excellent.
Beyoncé – '4' is the album I was listening to on rotation when I decided to pursue music as a career. I saw Beyoncé live the year after, and that was a cathartic and life-changing experience.
You released the EP/mini-album 'On Time For Her' last September. What does the title of that record mean to you?
'On Time For' Her means that there is hope on the other side of "what's the point". There were times I really didn't have the strength to show up for life and I am constantly working on how to be prepared for when those moments come. It's about changing perspective around the events of our lives and we are the only people who know when it is the right time for us. I found the help I needed and I wrote tons of songs about it.
'I'm On' was written as you began to rediscover your creative voice and overcome depression. Alongside more traditional therapy sessions, how has music given you space to work through things that have been troubling you or problems you've faced?
Music has been a fundamental outlet for my mental health. Especially when I'm alone, I'm able to tune into a part of me that is really grounded. When I have no certainties and the soil under my feet is really frail, I can find myself somewhere in a song. Music is a life saviour.
On the surface, 'Games' is such a bright, upbeat track. Within its lyrics, though, you're commenting on Western superiority. Were there any specific incidents that inspired you to write that song?
When I was writing the lyrics of 'Games', I instinctively wanted to tune into my first trip to Congo. I was only five, but I still remember the joy I felt reconnecting with my family. It's almost like a part of my body was left there waiting for me to pick it up. As I was growing older, I got more and more interested in the story of Congo and the story of my family emigrating to Europe. I got to realise how politically unstable one of the richest countries on this planet is and the causes of its poverty, which inevitably led me to learn more about its colonial past.
To the present date, there is an ongoing civil war in the eastern part of Congo, a blanket under which raging corruption has been thriving for years and that's something I've been aware of since a young age thanks to my mother. The underlying causes lay in the exploitation of the numerous resources that you can find in Congo, among which 64 per cent of the world possession of Coltan, a material widely used in modern-day technology. Hence why this song is bittersweet in some ways. It shows how colonial mentality has pervaded our society and impacted the way we utilise resources, the way we travel, at the expense of other human beings.
Redinho and a.Blubox remixed 'Games' and 'I'm On' respectively late last year. How did hearing other artists' interpretations of your songs change your relationship with or perspective of those tracks?
I absolutely love both remixes. I actually listen to the remixes quite often lol. It is inspiring to see how people can reimagine your own creations and it makes me feel less judgmental when I listen back to my own music.
You've been working on your debut album – what can we expect from that? What themes are you exploring within it?
I recently drew a mood graph and the album looks like a valley. I'm gonna be talking about something I've been working on for years now and I feel ready to be more open about it. I'm only gonna say that finishing the album would definitely be a high note in my personal life.
What artists do you think people should be keeping an ear out for this year and why?
I'm so looking forward to Rosalía's new album! She is certainly one of the most inspiring artists I came across in the past few years. 'El Mar Querer' was a true discovery. I found it really fascinating how Rosalía and El Guincho were able to hone a sound rooted in the tradition of flamenco, yet so contemporary and universal. A true masterpiece.
Any resolutions – musical or otherwise – for 2022?
Looking after myself and enjoying life as it is, finishing my debut album and feeling proud!
---
Meet more of The Future Five for 2022