Inspired by genres and bands including old school UK garage, Little Dragon, The xx and Everything Everything, Porij are the four-piece band making happy, fresh dance music, primed for the dance floor – even when they delve into darker topics such as the lack of safety for women on 'Nobody Scared'. Porij, made up of Eggy (vocals and keys), Tommy (vocals and guitar), Jammo (bass and keys) and Tom (drums), met at university through, as Tommy calls it, their "love of beats" and music. They started jamming in Tom's room, performing at their first live show soon afterwards.
The entropic energy on so many of their tracks is almost reflected in their process: they'll record elements of each track separately and send them on to another band member to record the rest, in a process that Eggy refers to during our chat as "organised in a chaotic way". Although coming up with their band name was more of a box-ticking exercise for them, they feel it's important to clarify that they are not, in fact, called 'Porji', and Tom reiterates this: "We are not Porji! We are not Porji! Everyone thinks we're Porji".
Ahead of the release of their debut EP, 'Baby Face', we caught up with Porij to chat about the commercialisation of music in the streaming era, avoiding the gatekeeping of queer culture, and the DIY scene.
'Nobody Scared' is this great track about how women and girls feel walking home alone. Can you tell me a bit more about the inspiration behind the song?
Eggy: It's kind of from my own personal experiences and the experiences of all my friends growing up. I grew up in London, and it's just that injustice of not being able to feel ok by yourself once it reaches a certain hour, and going "actually, that's really messed up".
Do you see yourselves making more political music? Do you think music has the power to effect change?
E: I think that, of course, [music] has the power to do things. At any stage, if you have any kind of platform, it's important to talk about things that you think are important to talk about. I don't think we'd say no, we're never going to write a political song.
Jammo: We can't escape the fact that all music is political, especially for us making dance music, which was pioneered by Black people. It means that even if we're making a song that isn't explicitly political, it is inherently just from our influences and inspiration. So we can't hide away from that.
I read that you described yourselves as "pop people" and that a lot of bands are quite "anti-pop". Do you think there's still snobbery in the alternative scene when it comes to pop music?
E: I think pop is one of the hardest genres to write. And I think a lot of people can dismiss that quite quickly. I just wanted to acknowledge the talent that goes into writing a pop song.
Tom: I was going to say that a lot of pop music is a lot broader now than it would have been maybe ten years ago, when we were first getting into pop music. I think it's more about getting all your ideas across quickly and in an easily digestible way.
E: Something that people are a lot more conscious of now, especially in the streaming era, it's very much like, "we can't just churn out a six-minute song". It's like, "it's got to be kind of around three minutes", and I think it can get quite mathematical. There's a formula. So I think that's interesting as well. Does that limit what you do? But then is that better creatively?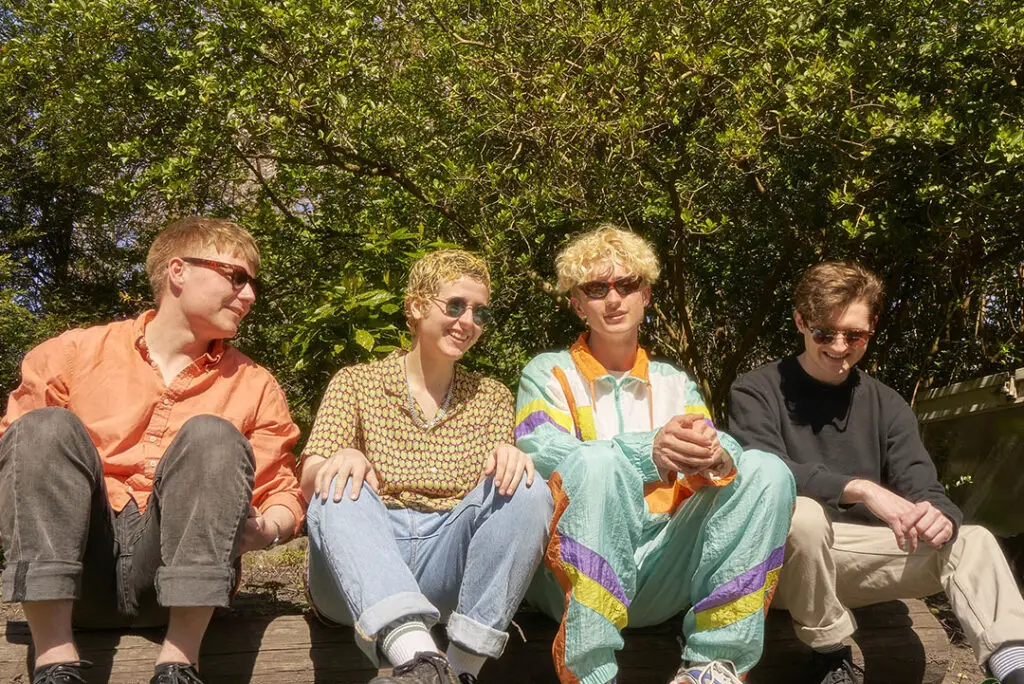 I love the queer influences you have on so many of your tracks. Do you think the music industry is acknowledging queer culture more now?
E: I think queer culture is becoming more mainstream at the moment. I think it's tricky to gatekeep something like that. I don't ever want to gatekeep style or whatever. Sexuality is such an interesting thing, I'd never want to presume anything. Everyone should just express themselves. There's a difference between that and queerbaiting, that's a different thing.
'Can't Stop' is about overthinking and uncertainty. How did you express those feelings on the track?
Tom: You know when you're in that state, and you keep thinking the same three thoughts on a loop, endlessly? I wanted to make that but in audio form. 'Can't Stop' is pretty relentless. I didn't think so much about what the words were doing. I kind of just vomited out everything I was thinking. And that's actually a good way to put your head at rest. Then you can move on and do something else.
E: Therapy!
Congratulations on 'Baby Face'! Can you tell me more about the concept behind it?
E: It encompasses two years of our life as Porij. It's giving the audience and people who are just discovering us a taste of all the different sides of Porij.
Tom: We're still pretty fucking fresh-faced, which is why we called it 'Baby Face'.
You're releasing it on your own label, Oat Gang Records. Why did you decide to release your music independently?
E: Making music it's so much more accessible now, because of technology. We're such a DIY band, we do pretty much everything in house, we do the art, we do the videos. I feel like the DIY thing is what's really cool about Porij.
Tom: We're just at the point where we're figuring out what we sound like. Why would we get someone else to come in and tell us how to sound?
You're part of this DIY scene that has the potential to be really inclusive. How do you want your gigs to emulate that?
E: The main thing about our gigs is that we don't really care who you are, we just want everybody to dance, and to feel like they are able to do that and that they're welcomed.
Tom: There's a huge variety of people at our gigs.
Tommy: They're not like indie gigs. You have no idea who's going to come to through the doors.
Tom: Everyone can find a Porij song!