Starcrawler frontwoman Arrow de Wilde and guitarist Henri Cash are turning the volume up, windows down and swerving into new sonic territory on their third album 'She Said' with a blend of maximal, cinematic punk rock and the LA band's most ambitious music to date. 
The last rays of summer sun shoot through the openings of a dark, sweat-drenched tent like laser beams. On stage, at London's All Points East festival, under magenta spotlights, Starcrawler frontwoman Arrow de Wilde and her band Starcrawler are tearing through the opening track 'Roadkill' off their fast-approaching third album at a breakneck pace. 
Behind peroxide blond fringe and a nude diamante fishnet cape Arrow de Wilde whips her hair and commands over the East London crowd. Just as her partner in crime, Henri Cash, dressed in a navy embroidered western suit, pink tassel satin shirt and snakeskin boots, jumps off the stage to deliver a pulse-racing guitar solo.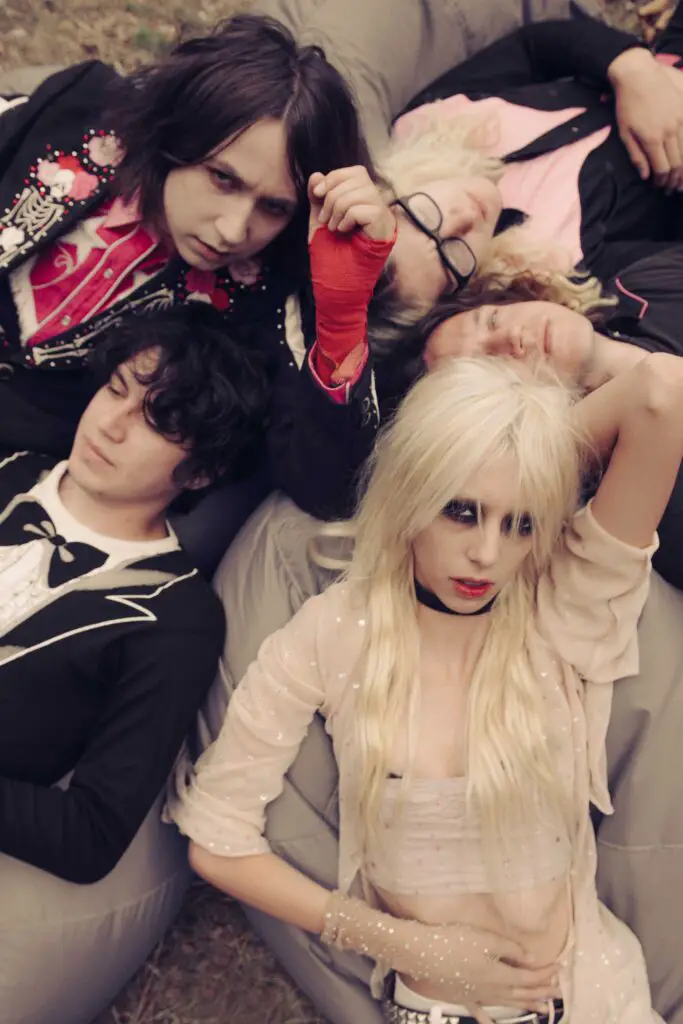 Starcrawler, the band once infamous for spitting fake blood into the front row, are miles past punk gimmicks, instead they're firing their visual and sonic aesthetic at maximal levels and knocking heavy moshpits into cerebral bliss.  
The live show and new music are a mix between an Ennio Morricone spaghetti western and a Hollywood Hills midnight cruise with David Lynch.
When pressed to sum up their new era, Starcrawler describes it as their own epic vision of a contemporary Hollywood Babylon, where they've morphed into a modern-day take on LA legends X, with a sprinkle of The Go-Go's, a smattering of The Distillers and some Rolling Stones sleaze thrown in for good measure.
The overzealous syntax doesn't matter. What the band have done is push the pedal to the medal on 'She Said'. Flexing the dexterity of their skillset as top-tier musicians at maximal levels, their abilities to produce gritty and opulent LA punk rock at full speed whilst swerving into the new sonic territory across 10 tracks. 
Back on stage, they're cementing their status as prolific performers by playing in Porno for Pyros back yard and opening for the best in the business: the likes of Jack White and Foo Fighters. Today in London, they're teeing things up for Thom Yorke and iconic rock gods Nick Cave & the Bad Seeds.
Backstage, just before the sun went down, Arrow de Wilde and Henri Cash sat down to talk about their fast and furious trajectory, the artistic influences that fuelled 'She Said' and creating their most ambitious music to date amid the dystopian city of angels. 
What makes this album different from your other albums?
Arrow de Wilde: All the members of the band have grown exponentially but for me, I think my voice and writing ability has improved a lot. Horror and action movie titan Tyler Bates produced the album and he's worked on films like Dawn of the Dead, 300 and Halloween etc. We first met him doing a stand-alone single for DC's Dark Nights: Death Metal soundtrack. That track just sounded so big. It made me think we should do the whole of the new record like a movie soundtrack.
Henri Cash: We didn't want to make just another basic rock album where every song sounds the same. We wanted to tell a story. We wanted to make songs on this record for everyone, for people that weren't just into punk rock. Also, we got to spend the most time on this one. On both of our albums before everything was so rushed. We either didn't have time back then or we didn't have money. But since we made this one during the pandemic we got to really make sure we loved the record and it was really cool to test drive these different sonic scapes throughout. 'Roadkill' our first release is thrilling but we also put slower and dreamier songs on the album.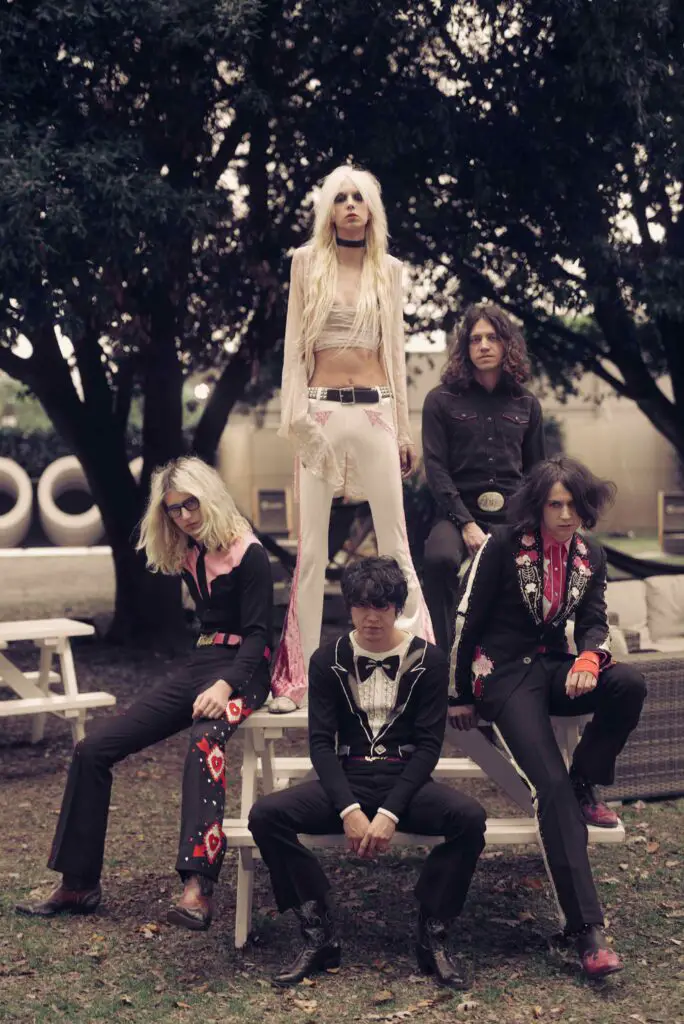 What kind of lengths did you have to go through as a band to record an album during the pandemic?
Arrow: Henri came to my place during the early days, and we recorded the demo for 'Better Place' and 'True' through the window. 'She Said' came together on the front porch when things evolved a bit and we all got to hang out and see each other pod style, eventually we all went out to a cabin/studio in the woods to finish the album. 
Growing up in rodeo country in North America, some of the most atmospheric, inspiring and intimate memories have taken place driving. It's a current theme across 'She Said', how did that come about? 
Arrow: 'She Said' is honestly one of my favourite songs on the record and it was so fun to write. It's empowering. It's badass. It makes me think of being in the car with my girlfriends and driving around aimlessly and sometimes I feel like, the ride to wherever your going with your friends is way better than the actual party or destination. The same goes for the drive afterwards. 
Henri: I came up with the riff for 'Roadkill' in the shower and thought it sounded like something cool for people to drive their car fast too. The whole driving experience had a huge impact on our childhood. As a kid growing up in LA, I was constantly in the car listening to music whether that was the radio or CDs or stuff. There was always music playing wherever you were going too, soundtracking a journey to and from wherever that may be. 
On the topic of driving I have to ask you how the song 'Stranded' came together?
Henri: So I was out driving, the endless driving as I mentioned, trying to get inspired. I got hit by another car on Figueroa and Highland Park – right by Kitchen Mouse. It was Harrison Whitford, Phoebe Bridgers' guitar player. It was the beginning of COVID, before we were even seeing each other. So it was also totally crazy to have human contact. Luckily neither of us was hurt. During that time it was so hard to write songs because nothing was happening, and so this song came from that rock'n'roll car crash intially and then it became about something totally different. The video, which is super sick and cinematic was directed by actor Danny Trejo's son and Arrow's partner Gilbert Trejo.
You were interviewed by Dave Grohl for his documentary 'What Drives Us" about the graft that goes into touring the live circuit. You were telling him how hard it was and how much you wanted to upgrade from a van to a tour bus when off camera he said 'Well, you gotta write a hit then!' This album has no shortage. Was there some that came out better than you expected?
Arrow: What he said really stuck with us. We just levelled up. We were getting hit up by Netflix to make music for some shows and no name projects outside the album. 'Midnight' was one of those. It's spooky. We were trying to write something like Nick Cave, but even sexier. It's about when you break down in your car in the middle of the night. It also reminds me of the David Lynch film Wild At Heart and the parts when they're driving through the desert.
Henri: 'Jet Black' is another one that we had written for a TV. We were asked to write something modern, We were told no guitars. So Tim was playing keyboards and I was playing bass.
Arrow de Wilde: It was bad.
Henri: Arrow wasn't feeling it. Her and Bill, my brother (steel pedal, guitarist) were in the other room like "This sucks." But I had this cool, soulful bassline that I thought If I ever got to play with Mavis Staples, I'd use this.  After a couple of weeks we went back to it and Seth, our drummer had this crazy beat. We thought, what if we take the synths off and add guitar? Then it was amazing. We're like "Wait this song is good, this could be for us?!" 
Your music has appeared in a long list of films and TV shows. What's been your favourite project so far?
Henri: It was really fun recently to do a song for Jackass 4.5. We did it in our basement studio and just recorded it by ourselves. That was really exciting for us because we grew up watching those movies. 
You guys have known each other since high school and I heard you even had to pause touring to come back for prom! How did you meet?
Henri: She came up to me and asked me if I played guitar and we started jamming. It was cool because up until that time I really didn't know anyone who was into the same music as me. So that bonded us instantly. We were on the stairs and I was carrying a tuba. I don't play it as much anymore but we snuck it onto the last album on the 'Call Me a Baby Song'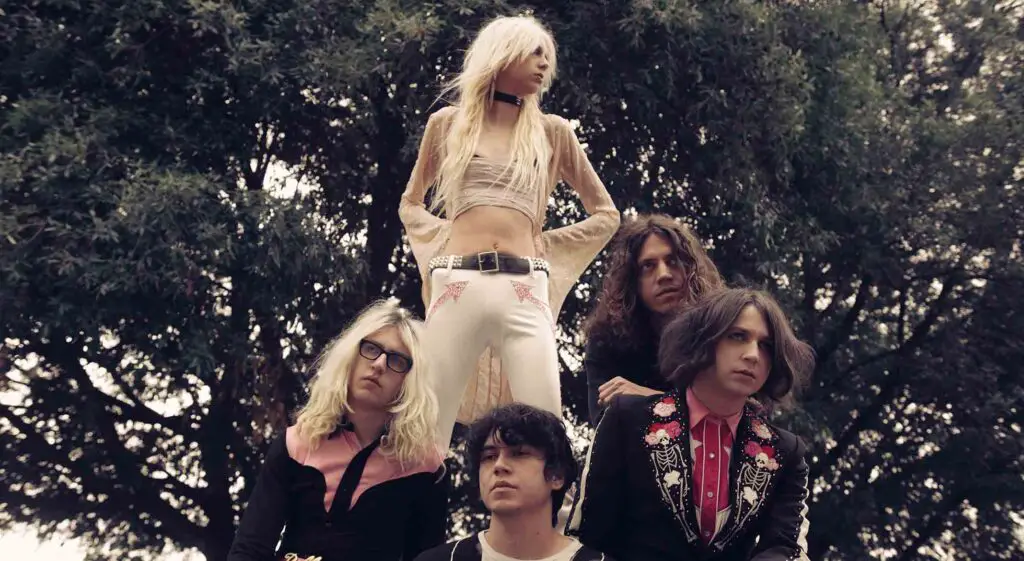 That track featured some kids singing, right?
Arrow de Wilde: We actually got a bunch of Girl Scouts to come in. Our manager's daughter was in troupe Hollywood Hills, and I thought it would be cool to have them on the track. At first, they were really nervous but after a few run-throughs, they were being super rowdy.
Henri: They were telling us these crazy stories! We all looked at each other and were like "Hit record" without them knowing. It was just so good that they wound up opening the second album too on track 'Lizzy.' You can hear one of the girls go "And then I killed a man!"
As a performer you've never watered down theatrics. You've come out dressed in hospital gowns, spat fake blood into faces, dived off towering stages. What's been your gnarliest injury? 
Arrow: There have been some pretty crazy jumps, where I didn't know how high up I was. 
There was one time, I jumped off a stadium stage in Germany. I didn't know how high it was but it turns out it was about 10ft and I landed straight on my knee. It was our last song and I wanted to jump out and touch the crowd. That was my big exit plan….failed. 
Henri: They had to stretcher her out! But also what about SxSW? Oh my god. 
Arrow: That was the gnarliest. We'd played seven shows in four days and this was our last one. I'd been going out every night too so I was already delirious. It was outside a record store, really hot, Texas heat, and I was pouring water on myself and I slipped and hit my head. It was like an instant golf ball. It was massive. It hurt so bad that I had to just lie there to sing the songs. I think we had to perform four or five songs still. Eventually, I asked Henri to cut the set short.
Henri: She whispered in my ear but I actually didn't hear, I just cut it short because it was so hot. It was only after when we got off stage that I saw her head and was like "Oh shit!" But recently I had my own gnarly injury where I broke my hand by falling on stage after pouring water on my head. Because of the adrenaline, I didn't feel anything. I went half a month on tour before knowing. 
Ok, the water thing needs to stop! What about bringing back the fake blood though? Are fans asking for it?
Arrow: I just got kinda bored of it. I'm glad I did it but it's time for a new thing. I felt a little bad at first because I didn't want to do it and fans still expected me to, but I feel like now people are with us in the new era.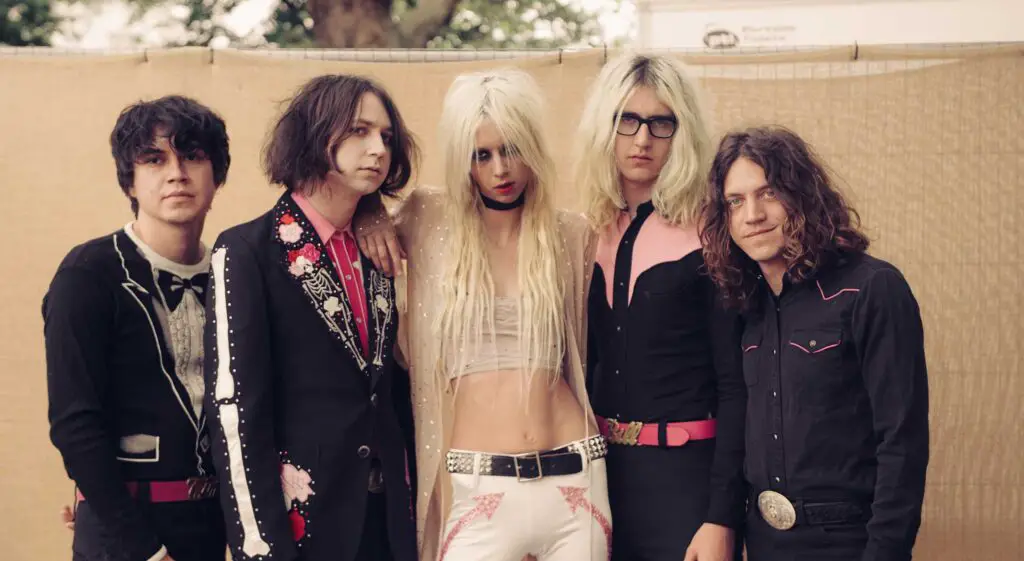 What does the next album sound like?
Henri: We haven't thought about it. We're all just so happy and excited to be able to play shows in front of people, and people are definitely throwing that same kind of energy. So it's this great unity.  Our fan base is growing too. For a long time when we first started there weren't a lot of rock bands playing. Now I feel like because there are more of us on the scene, kids are becoming more intertwined into rock music which is really exciting. 
Musically what's the biggest challenge?
Arrow: I don't know how to write a love song. I've tried. I respect anyone that does. I think it's the hardest thing to do without it being cliché or too emotional to perform. 
What's been your proudest achievement so far? 
Henri: It's been really cool getting to play shows with these bands that we all looked up to. Even just opening for Jack White recently and having his support behind us and being able to play those Foo Fighters shows. Today being on the same bill as Nick Cave, that's really cool. Having these artists that are amazing, legendary performers see what we do, that's the proudest achievement for us I think. 
We never get to see our own shows, so I don't totally know what they look like, I just know how it feels. So when artists of that kind of calibres like Nick Cave or Warren Ellis come up and say that it was good, that's when I know we must be doing something right. 
'She Said' is out September 16 via Big Machine Records.
READ MORE: Crawlers are the compassionate new rock band to believe in