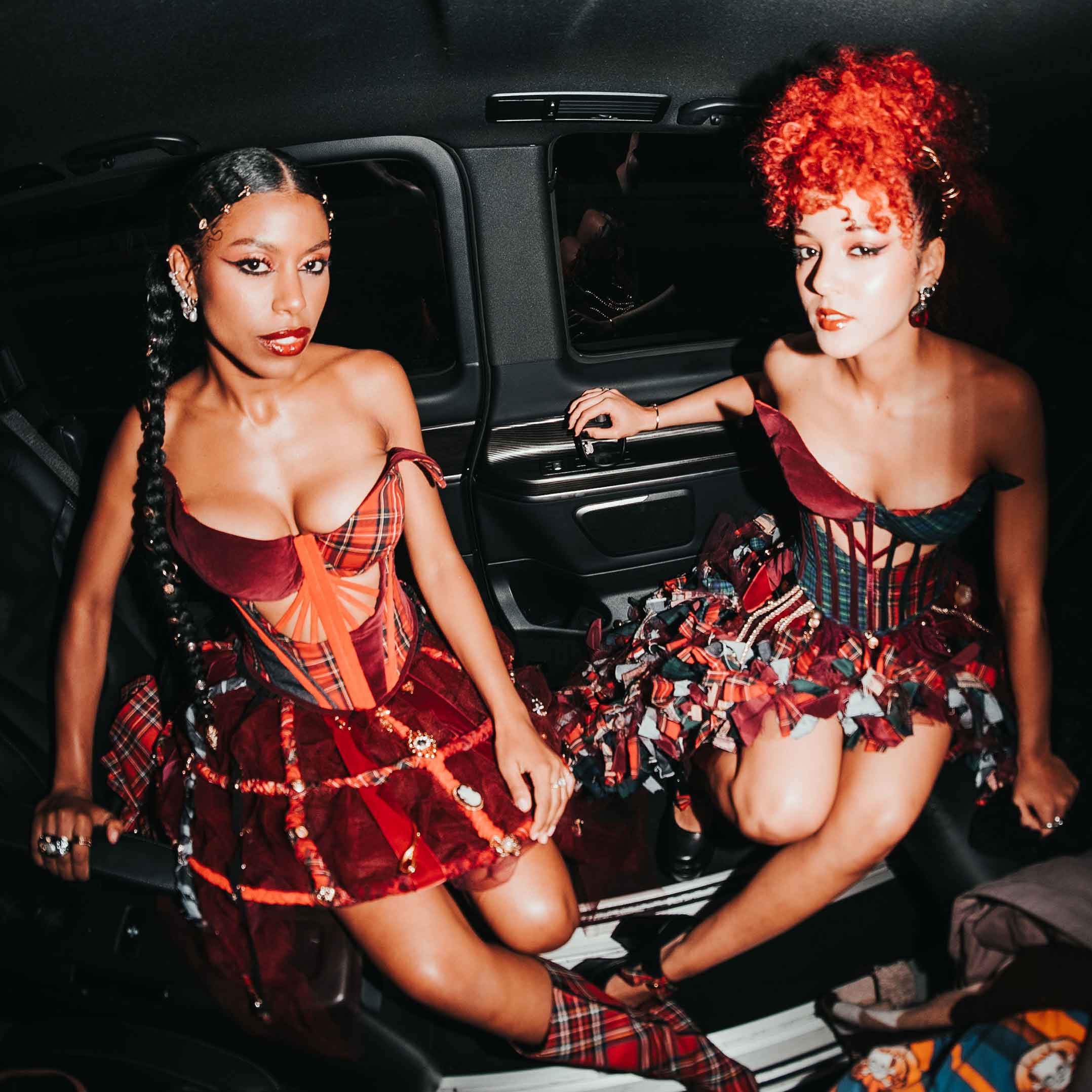 Nova Twins
---
After two stellar albums, rock's most exciting duo are finally getting their dues. Fresh from a jam-packed awards season, Nova Twins tell Lisa Wright why it's all uphill from here.
PHOTOS: Federica Burelli
---
There are a lot of life lessons we could probably all take from the wisdom of The Rocky Horror Picture Show, but the lyrical manifesto at its free-living, free-loving climax remains as rallying now as ever: Don't dream it, be it.
It's a mantra that also seems to sum up the trajectory of rock's most recent success stories Nova Twins – a band who've more often than not had to actively create the space they want to occupy, and who've determinedly fought their dreams into existence. But through manifestation, perseverance and an increasingly-unignorable whack of talent, Amy Love and Georgia South have ended up here: mildly knackered on a Zoom call, having spent their weekend at the BRIT Awards where they were nominated for not only Best Rock/ Alternative Act but also Best Group, alongside heavyweight indie titans Arctic Monkeys and The 1975, and winners Wet Leg.
It's not that the duo never thought they'd get here, but the route has been a challenge nonetheless. "When we were younger, we were quite naive. We hadn't experienced the industry and we didn't think we'd come up against certain challenges, so in the beginning anything was possible," begins Love. "We'd watch the BRIT Awards and think, 'We're gonna go to that one day and be nominated!' We hadn't even thought about what category [we'd be put in]. And then suddenly you start venturing out, and you do shows and get peoples' opinions, and the noise starts flooding in and gives you a rude awakening that it's not necessarily gonna be that easy."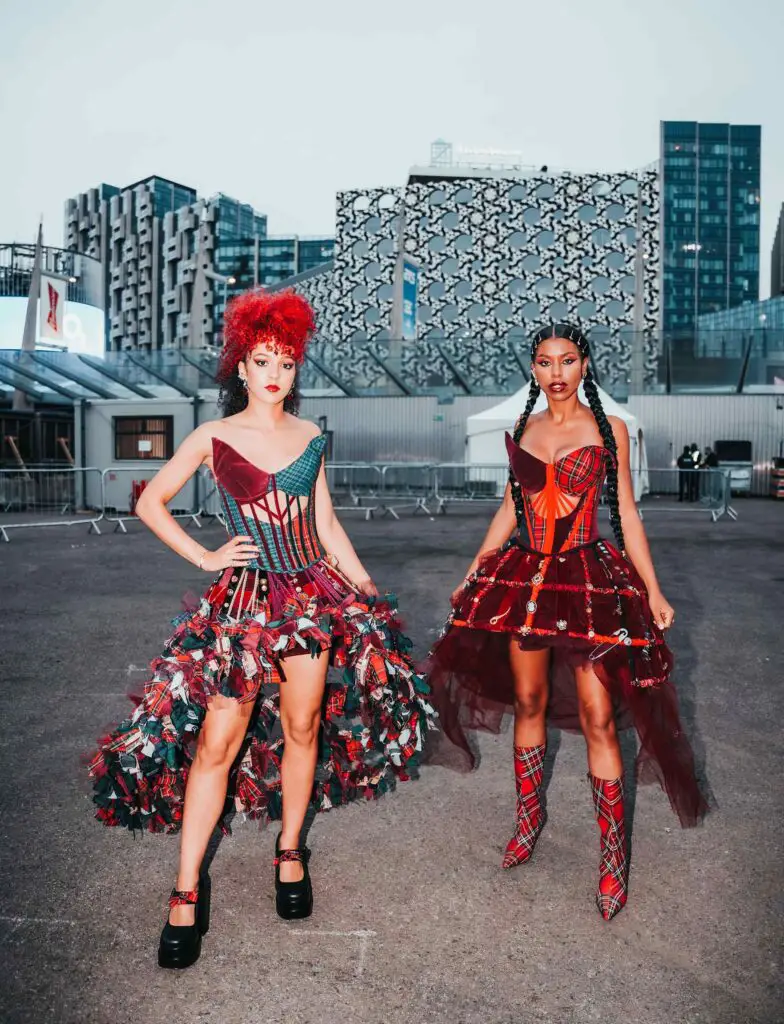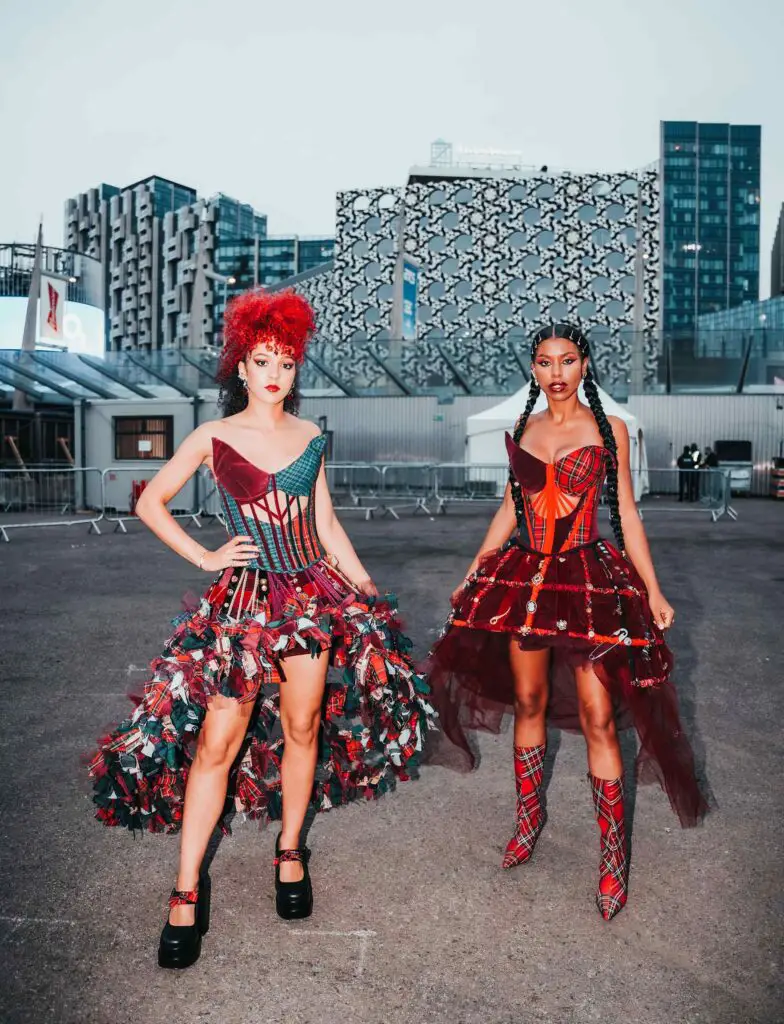 Nova Twins have been vocal about the hurdles they've faced, both as Black women in rock, and as rock musicians in a musical landscape where the genre is often unfairly overlooked. After a two-year-long campaign for the MOBO Awards to acknowledge rock artists, in 2022 a Best Alternative category was introduced as a direct response to the band's actions; the same year, the BRITs introduced four new genre categories. Dressed like "little punk fairies" in Vivienne Westwood-esque gowns that they'd designed and made themselves ("We were in two minds as to whether we get a stylist, but we thought you know what, it's the BRITs, it's our first nominations – we're gonna have to make the outfits," notes Love), their place at the star-studded bash was undeniably deserved, but still unusual.
"It's still strange, but it [shows that] rock and guitar-driven music is making a comeback and people are starting to look at it again in that way," says Love. "Rock was once this huge, popular genre but then people pushed us to the back, so it's really amazing now that we're starting to slowly creep in there." "The next step is to get rock and alternative onto the live performances of these shows; for award shows to open up to what's happening in the culture because rock and metal is on the radio, it's on festivals, it's headlining Glastonbury, so they need to put that on to the TV screens," picks up South. "Ed Sheeran had to bring Bring Me The Horizon onto the BRITs when they should just be on there anyway."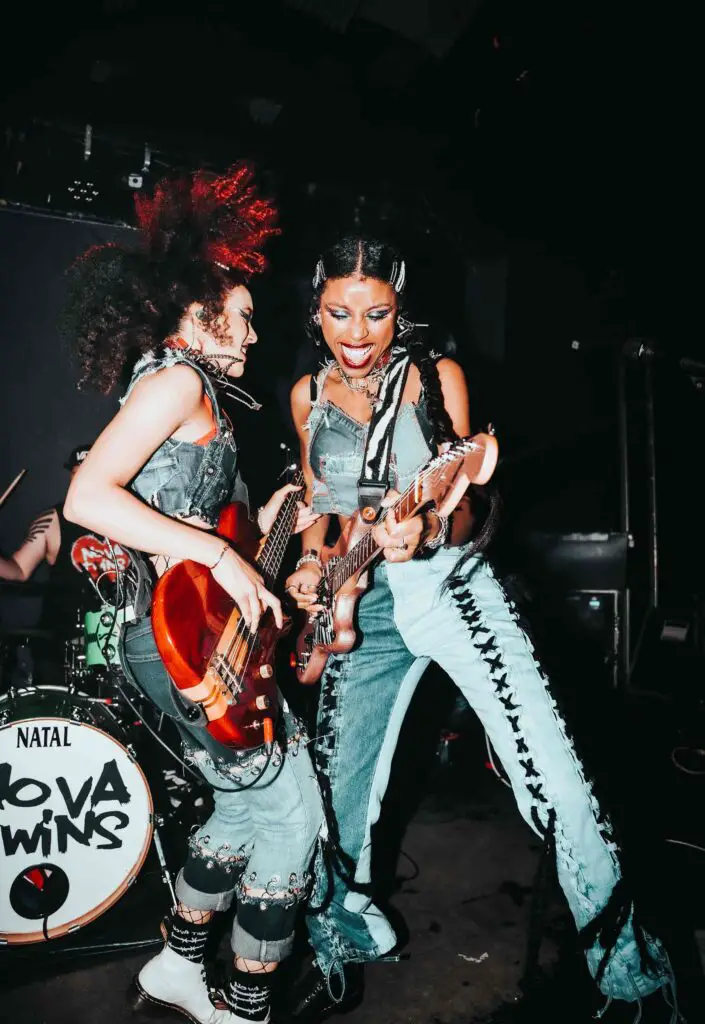 The potted primer on Nova Twins goes something like this. Old friends since childhood and bandmates since 2014, Love and South spent their early years as a unit playing in resolutely underground circuits. Largely ignored by the industry who, as Love states, "just did not understand why we were making rock music", they eventually released 2020 debut 'Who Are The Girls?' via their own label and in collaboration with 333 Wreckords – helmed by rap-metalcore group Fever 333. Still, Nova Twins were somewhat sidelined. "We'd get loads of comments where people wanted us to do more hip hop and R&B because that made sense to them," the vocalist continues. "On the [rock] scene, we never felt like that other than there being nobody else that looked like us, but in the industry it was hard to move because people were like, 'We don't know where to put you, we can't place you'. Now it's a lot more diverse so people can get their heads around the idea more but at first: fucking nightmare."
---
---
But eventually their musical peers started to step in. They were taken on tour with artists as diverse as Wolf Alice, Prophets of Rage and Sleaford Mods and, with the buzz around their undeniable, blistering live show impossible to deny, finally started seeing wider recognition. Last year, second album 'Supernova' followed via Marshall Records, and with it came a Mercury Music Prize nomination on top of wins at the Women in Music Awards and Association of Independent Music Awards, where Nova Twins used their increased platform each time to shout out the need for more diversity and better representation.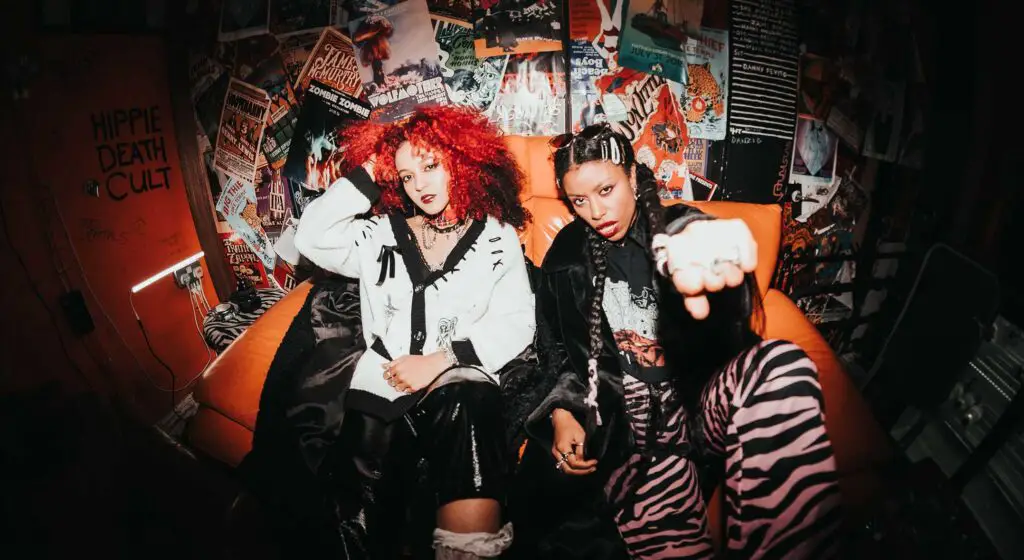 "We don't shy away from being role models because, whether you like it or not, you are a role model if you have lots of people going to your Instagram every day and checking what you're saying," Georgia says. "We had so much difficulty at the beginning, and we don't want that to be the case for new bands starting out now so we just like to boost people and make them feel confident and that they can strive to do anything."
---
---
The band still haven't won the biggest gongs – an idea adjacent to the void of women present in this year's newly gender-nonspecific BRITs Best Artist category that suggests that industry bodies are paying lip service to diversity rather than actually committing themselves fully to it. But for now, the duo are appreciative of progress for their genre. "It was a big shame that there weren't diverse nominees in [the Best Artist] category, but in terms of winning [our categories], we were just happy to be nominated," says South. "It was such a step forward for the rock and alt community to have a heavy band in the Best Group category, so baby steps…"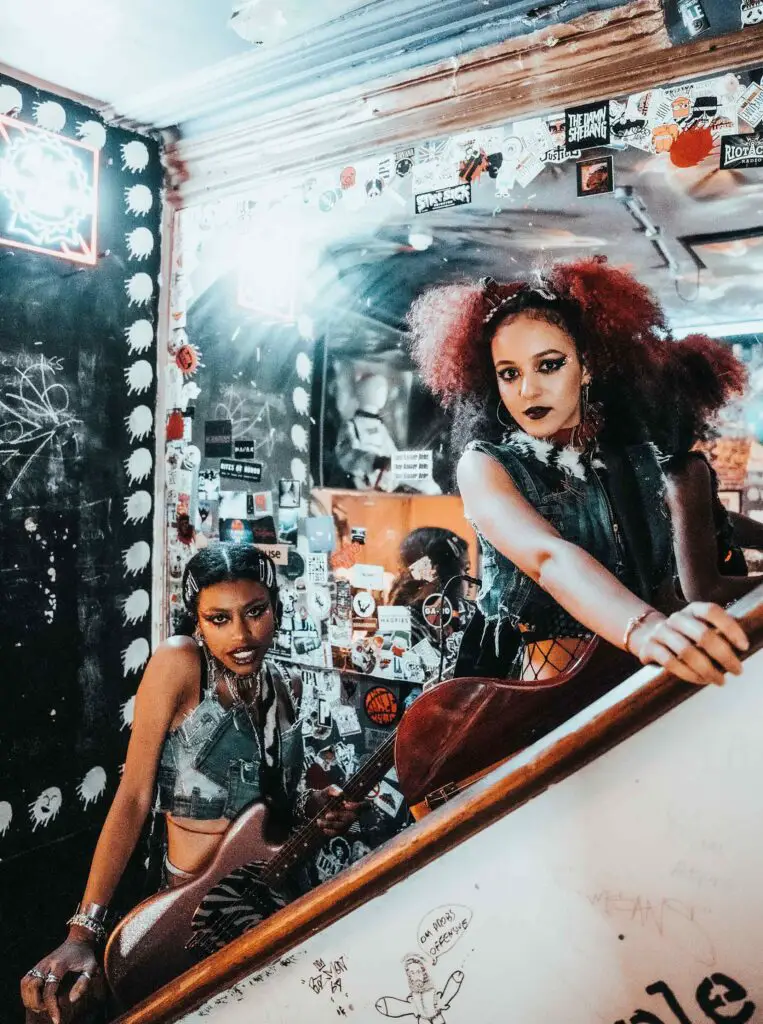 Where Nova Twins need no help, however, is on the live stage. Having spent last summer on the road aboard Yungblud's arena rock train, they've honed their chops to a level where they can comfortably hold a crowd that size in the palm of their hands. "We've never seen fans as receptive as his fans; you play to some audiences and they can be a bit cool, but [Yungblud's fans] made you feel like it was your show. That tour was so mental, it was great," grins Georgia. Yungblud, they affirm, "is just how he is" offstage as well as on, but it's Rage Against the Machine's Tom Morello who's been dishing out the pearls of advice. "All I remember is when we were telling him all our touring horror stories, he was like, 'That's it!'," laughs Love. "Basically saying that he understands and it's all part of it, and you just have to keep going."
Which is handy advice, given that the band are about to embark on a domino of UK, European and American tours that will lead them into a summer of festivals with nary a pause until autumn. On stage, they might be a full-throttle rock behemoth, but off stage the pair have learnt the value of getting your five-a-day and having a good night's sleep. "We're quite disciplined. Drink fucks my vocals and if Georgia was drunk on stage there's no way she'd be able to tap dance on her pedalboard," notes Love. "You have to go that step further to make sure you're keeping alright. When we were first on tour we'd have sweets and crisps and shit on our rider, and always be hungry but forever eating and sitting in a van for eight hours all day. Now we've taken all the crap off, and on our day off our tour manager will try and find a cool, scenic place or a hot tub where you get a discount cos it's winter."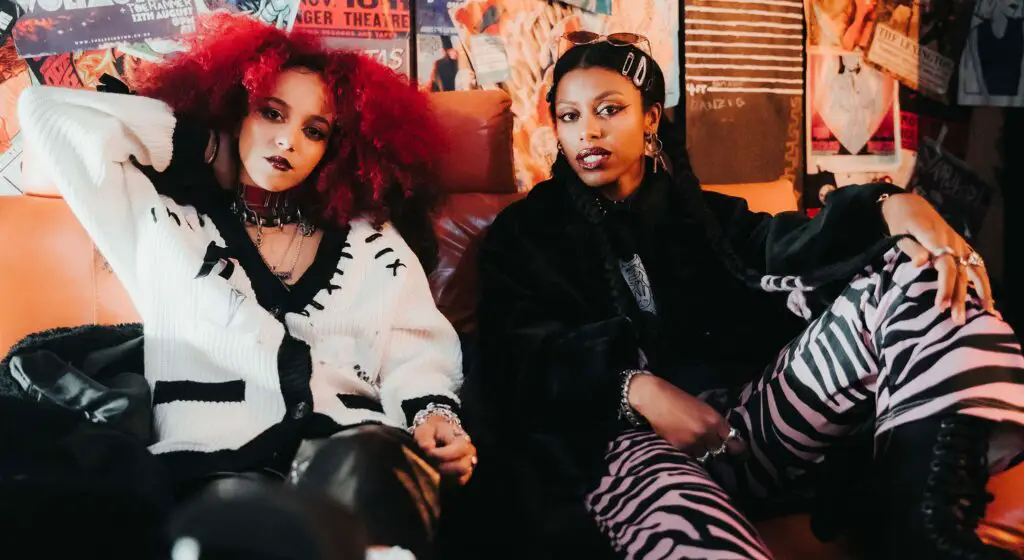 Discipline is evidently a trait that's got the pair far. Recently, they released a riff-filled remix of Sam Smith and Kim Petras' mega-bop 'Unholy' – a recording they laid down during a jetlagged, 5 am session slotted in between a day of rehearsals and a 6 am bus call to play Spotify's Misfits Prom. When they arrived in London the following day, they saw Petras' name on the guestlist; a moment of serendipity that helped seal the deal and reward all their efforts. "We thought she must know about the remix, but when we met her she had no idea and it was the weirdest coincidence," recalls South. "We played it to her and she was vibing out to it, it was such a weird coincidence moment."
Though Nova Twins are vocal in their love of the rock scene and the musical roots that have propelled them to their current status, crossover moments such as these are clearly in their eye line too. US rapper Denzel Curry has gone on record as saying that the two parties are going to work on something that's "more than music", and while the band are remaining equally cryptic about what that collaboration might entail ("You wouldn't expect [it]… It's very early, we're keeping it hush…" is all South will say), Love comes alive at the question of where they could go next.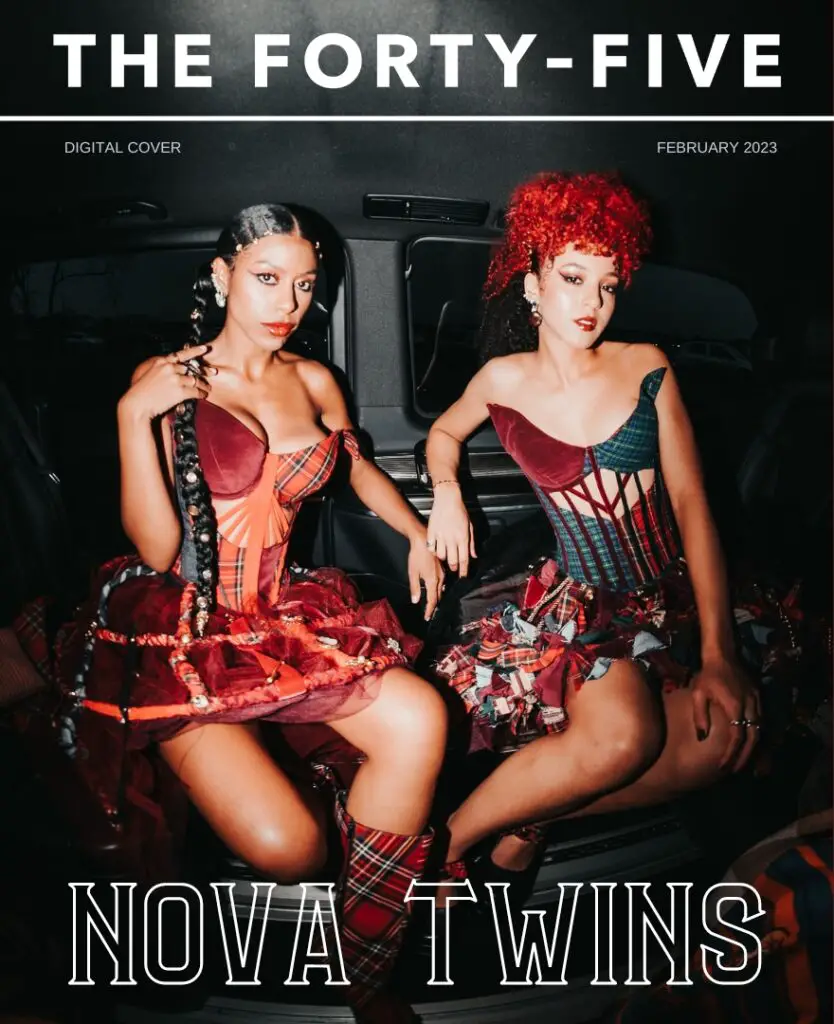 "We're influenced by so many different things that I don't think we'd feel comfortable being stuck to one thing. We enjoy experiencing and being inspired by different genres, whether it's hip-hop or jazz. Music's music and it comes in different forms, but makes you feel different things at the right time," she enthuses. "We'd love [to bring in different things]. Anything's possible; we're so open to orchestral, hip-hop, metal, jazz, maybe we'll bring in some Middle Eastern singers – we love it all!"
As the conversation winds up with some equally coy chat around the new music they're working on – they're in the studio but it's still early days; they're "on the journey, on the path" – it turns out that though the two musicians are sat on separate screens, they're actually only a stone's throw away from each other, in the flats on the same road that they've lived in for the past few years. Considering that they're about to spend the next six months packed together in a tour van, Nova Twins would be forgiven for wanting some time apart, but clearly the pair are kindred spirits who are on this journey, together, for the long haul.
"When we were writing 'Supernova' it was during lockdown and that album was like our child; we were so happy with the album that it didn't matter if it got a one-star review or what happened next," says Love. "But the reaction was incredible, we couldn't have asked for anything more. Maybe it just goes to show that if you follow your gut and do things that you love, that you can fully back, then maybe other people can feel that too."
Nova Twins are currently on tour. Get tickets from novatwins.co.uk