Laden with peppy odes to those trying to navigate the whirlwind that is your mid-twenties, Sigrid is armed with a battalion of confidence-boosting melodies for her slot in the sweltering heat at Standon Calling. 
Doling out her twinkling pool of feel-good, infectious pop hooks, Norwegian singer-songwriter Sigrid finds strength in sugary narratives which manage to encapsulate the tumultuous voyage to finding self-esteem and security. In the wake of her second album release 'How To Let Go', her lyrics continue to draw on consistent themes; comfort in isolation of thought and exploring existentialism, all the while weaving widely relatable, melancholy narratives with ease, clarity and maturity. 
From the tiny fishing village of Bergen, Sigrid has certainly come a long way from her early introduction to music. She reminisces on her journey, from taking piano lessons at home with her grandmother to her upcoming UK/Ireland tour (with the likes of Wembley on the bill). "It all started when I studied comparative politics at University for two weeks, but then I dropped out because I didn't pass an assignment, which [then] meant I couldn't take an exam", she reflects. "I always thought [working in] music would be cool – I thought it would be a gap year thing maybe. But I love it so much, I wouldn't want to do anything else". 
Taking solace in the safety of the shade, she takes a moment to chew over the release of 'How To Let Go', ahead of her last UK appearance before returning to a slew of European and Norwegian festivals. "It was the best thing. I felt really lucky that I've had something to work on for these past few years. I find it really nice to be able to write my feelings out – a bunch of reminders to myself that you're doing the right thing or that you're good enough. That, despite the risk of getting hurt, it is worth stepping out of your comfort zone – I need to tell myself that more. I never thought I was going to be an artist, but here I am! I love it".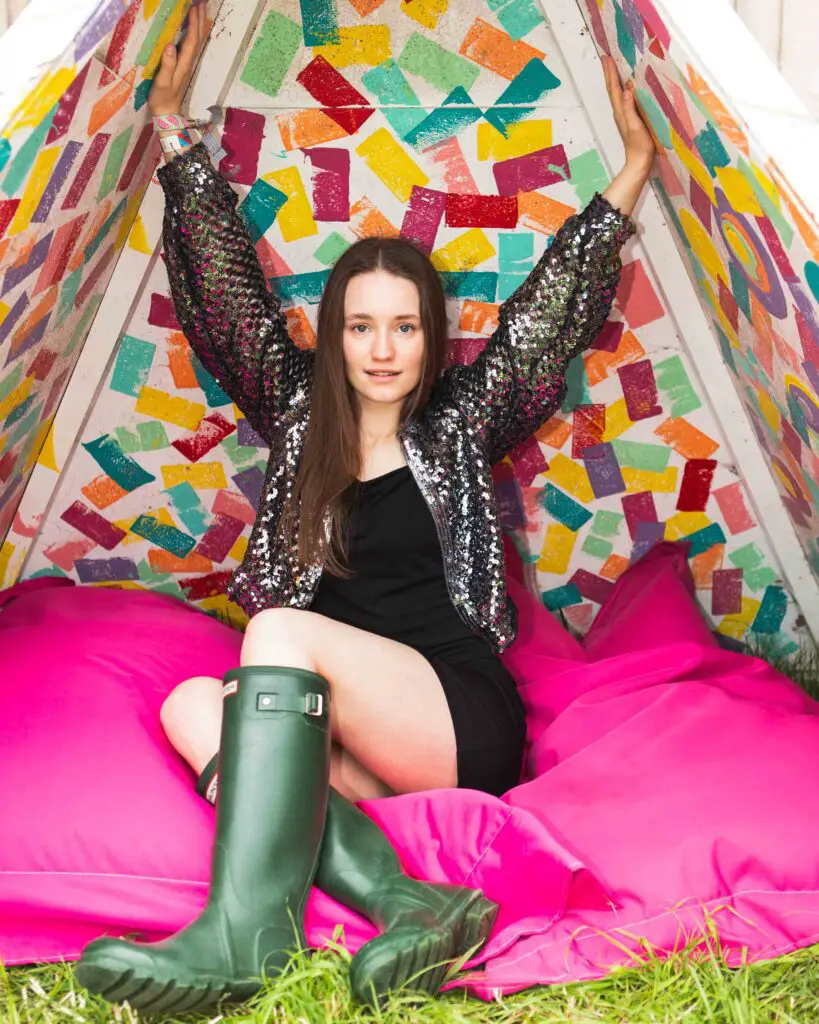 Hey Sigrid! It's been a busy time for you at the moment, where have you just come from?
Hmm, let's see. I left my flat in Oslo a bit over a week ago and we've been on a TV show in Germany, a festival back in Norway, then we did Truck Fest, Tramlines and now Standon Calling. This is the last UK festival of the summer, and then it's off to a lot of European and Norwegian festivals.
Wow, that's a manic schedule. How are you finding everything in these busy few months?
I love it, touring is my favourite part of the job. I don't want to leave the tour bus. If I could live on one I would. It's such a nice way of travelling; I sleep really well knowing that all my bandmates and crew are downstairs having a beer. It's really cosy but exhausting going from 0 – 100.
Since COVID drew everything to an abrupt halt, what's been your favourite memory to date since getting back to touring?
We've had a lot of big moments. We've played our first arena tour in Norway, on the album release date – which was nerve-wracking! Playing new songs that no one had heard yet. It was kinda ballsy but I loved it.
Glastonbury was a massive moment, playing the John Peel tent. It was a perfect slot with a perfect audience. It was everything I had dreamed about for such a long time. The Europe tour was also fucking great! I felt like I was interrailing with my friends.
So, going back to where it all began, what was your trajectory into music?
I think it started because my family were very into music. I grew up listening to Joni Mitchell and Neil Young. Music was always around us in the house and my grandmother taught us to play piano and I fell in love with it.
I've always loved school and it was the reason I got into songwriting. The second song I ever wrote was for an English poetry assignment, because my teacher told us we were between grades and she'd bump us up if we did well. I thought, this is my chance! And so I wrote a song connected to my grade and the subject and I turned out to be pretty good at it. I always wanted to be a teacher and I still think it would be fun.
You've mentioned you can be quite shy at times. It's hard to believe with your energetic onstage presence! How do you get through that shyness, to play to thousands of people when you're feeling like you want to hide away?
I was quite shy and still am in some ways – but not on stage. The piano is my favourite place to be, I wander off there.
I very rarely get nervous now – only for the biggest events like if it's a live TV thing. But, I like to keep things as normal as possible, I don't like any fuss. I want to be around my band and my crew and talk about the same things that we always do – banter with mates and keeping it chill.
Sometimes it helps me to put on a bit of makeup – it's so relaxing! I haven't really done it until this summer. I think before I didn't want to spend time on it, but now it's ten minutes that I get to myself. I don't think I look that different – I'm really bad at putting it on.
Yesterday I was really tired, not in my heart and my head. Sometimes it gets to a point where you feel like you need an off day, but then you go onstage and everyone's cheering. I think about me when I go to a show – they've waited the whole day for this, so I'm going to make it the best hour for all of us! It means literally everything when I can tell people in the crowd want us to do well.
You're about to head onstage so I'll wrap things up here. But before you go, what's the best live reception you've experienced so far?
It's so hard to choose! A lot of the time, a lot of people show up to our shows and I can only see 20 metres ahead. I feel like we've been really lucky with our crowds. I have to say though, Truck festival the other day was great! I don't know where that came from – it was a crazy crowd and they were really going for it. It's one of my favourite shows of the summer. 
Listen to Sigrid exclusively talk through her album, 'How To Let Go', track by track, in our Sleeve Notes podcast.