Over the last few years, Samia has quickly become a go-to artist for anyone in need of indie rock that cuts deeper and gets you right in the gut. She first made her case for being the kind of artist you turn to for an emotional excavation of your soul on her 2020 debut album 'The Baby', writing dramatic vignettes that you can find your own stories in despite the lyrics' hyper-specificities. Last year's 'Scout' EP took a different tact – stripping away the self-deprecation and melodrama in favour of telling things how they really are. 
"[Since 'The Baby' was released], I've learned to be more patient with myself as a writer and to trust that the authentic feeling will come," the 25-year-old says on a Zoom call from Nashville, where she relocated to from New York last year. "The major struggle over the last year-and-a-half has been trying to force myself into a mould that I created for myself at a different juncture in my life and it's really liberating to not make myself do that."
We caught up with Samia in the midst of applying that patient approach to work on songs that are intended for her forthcoming second album, and got an update on that record, separating your authentic and artistic selves, and the mind-blowing experience of hearing people chant your name.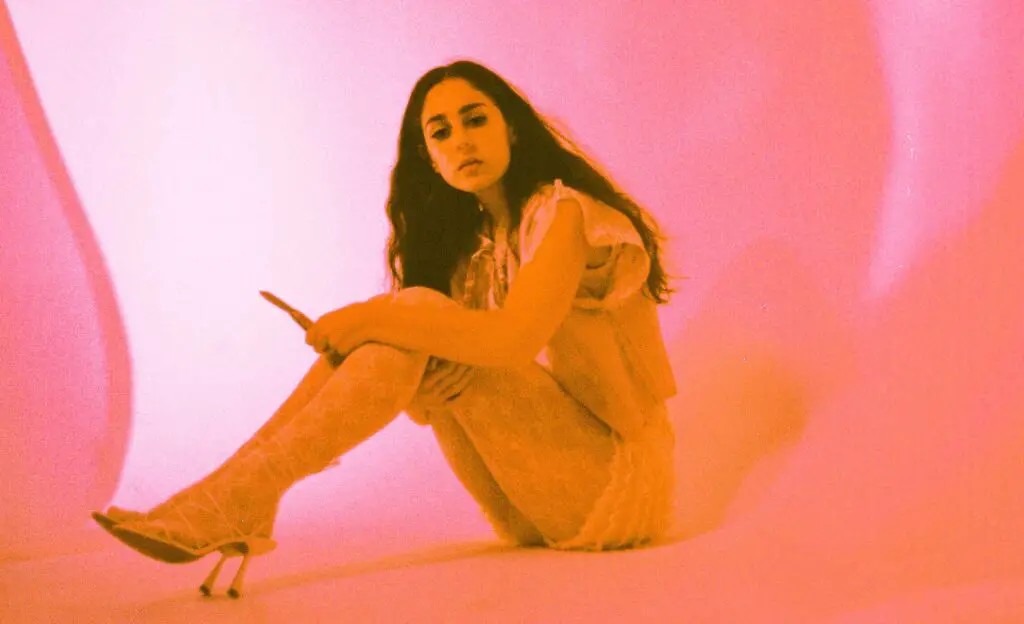 Hey Samia! How's the writing going?
"Crazy. I got to write with my friend Caleb [Hinz], who produced my first record and is one of my favourite musicians and songwriters. We just got into it. We were in the middle of the woods for four days with no distractions and he's really helpful in cracking me open, so it was great."
Those sessions were for your second album – how far into that process are you?
"I guess I'm five songs in. It's just the start, but it's the beginning of something. I'm suddenly really excited [about these songs]. The past two years has not been conducive to a lot of creativity. There have been moments of it that felt potent, but this last week I wrote the most songs that I felt confident about than I have in a long time."
Was that just because you're in a different environment and you're with someone you trust and who you've worked with a lot?
"Yeah, I think it's just about dedicating time and space to it. I think I'm a lot more sensitive to environment than I knew – it's really helpful to have a designated space to do that stuff. And I think also, with the pandemic, it just felt for so long like dramatising my own pain was weird in this super tumultuous, chaotic, terrible situation that was happening to everyone. It felt like looking inwards was maybe weird [laughs] but it feels now like things are starting to be in a place where we can do that again."
Whereabouts on the spectrum of 'The Baby' and the 'Scout' EP are these new songs sitting right now?
"I think it's a new thing now. Part of my epiphany that I had last week was that I was searching for some angst that I had on the first record that I don't have anymore. It's hard to let go of, especially when you're just accustomed to writing a certain way or have received any level of praise or criticism that is describing the way that you are. It's hard not to identify with it. But I realised that I just don't have a lot of angst. I'm sure that's a natural part of growing up."
How do you deal with social media noise and not letting people's opinions become a part of your artistic identity? 
"I grew up around that dilemma. I knew people who had to do a lot of work to separate their authentic self from an identity that was created for them, just because my parents were in the entertainment industry [Samia's parents are both actors, Hocus Pocus' Kathy Najimy and The Hangover's Dan Finnerty] and I knew people who had public personas as a kid. So I think I grew up with an understanding of the difference between the character people make of you if you're in entertainment and the person that you are, but I think this last year has really helped me take the time to sit with myself alone and figure out who I am separately from what I do. There's a very finite amount of people with an idea of me [laughs], but it's definitely something to consider."
You've got a new home and you're working on new music, are there any new influences you've picked up recently?
"The song that's hit me the hardest recently is 'Valentine' by Snail Mail. I just remember putting that on – it came on my Release Radar or something – and I freaked out. I think I listened to it exclusively for weeks, I didn't listen to anything else. Every time I put on music I wanted to hear that song, and that's my favourite thing – just becoming obsessed with something like that. They're so few and far between. So that's been the thing… and the new Lana Del Rey record ['Blue Banisters']. That's really, really great."
In September and October, you played some shows supporting Sylvan Esso before doing a short headline tour of your own. What was it like returning to the road and being able to play songs from 'The Baby' and 'Scout' in front of real people? 
"It was crazy! I would never have expected the experience that we had. It was like we'd time travelled. We were really lucky to open for some really cool bands before the record came out, but we had never played headlining shows like that. I think I was expecting the audience that we had before the record came out so when we got on those stages and people knew all the words, it blew my mind. I think having the year off made it totally surreal to see people again. Having the first time I saw people be in that way was so wild [laughs]."
I saw the video you posted on Instagram of the crowd at New York's Bowery Ballroom chanting your name, which looked insane. What was going through your mind at that point? 
"I wasn't there – I was floating above myself. I don't even remember that whole thing. The guys in my band and I have always talked about headlining Bowery and it was completely ridiculous. That's the thing that you dream of, you're like, 'Yeah, maybe one day it'll pay off in the form of people seeming excited!' [laughs]. It just couldn't have been any cooler."
'As You Are' from the 'Scout' EP features a voicemail from your parents, while 'Paul' on 'The Baby' has a recording of your grandma. How are family and music interlinked for you?
"I write really autobiographically and I think it helps for me to cite specific names and places and referential stuff. I just always loved that in other people's music. And music was such a big part of my life growing up and part of my family and the people peripheral to my family. I just wanna tell this story as honestly as possible and I think sometimes letting the actual voicemail or the actual transcripts of conversations speak for themselves makes me feel like I'm telling the story as best I can."
Last year, you released 'The Baby Reimagined', which has people like The Districts, Palehound and MICHELLE covering songs from that album. What was it like hearing so many artists put their own interpretations on your debut record?
"It was like my birthday. I couldn't believe anyone said yes. I just asked all my favourite artists if they would do this and some of them said yes, which is crazy. It's the stuff that you dream about, it was so cool. I would love to do that with every record I make. That whole was just thing for me [laughs] – if anyone enjoyed it, that's an awesome byproduct."
Charlie Hickey featured on that album, who is joining you on your US headline tour, alongside Annie Russo. Why did you give them the call to come and support?
"I love their music so much and I just love doing stuff with my friends. Charlie has always been one of my favourite songwriters and Annie is a new friend who's the coolest person in the world. I got to see her live show a few months ago and she's gonna be the biggest thing ever. I just feel really lucky to be seeing their shows at this stage in their lives and their careers."
Once this tour's over, any chance we'll get to see you in the UK soon?
"We're really trying to, once everything cools down with COVID and it gets less expensive. We've had so many little opportunities to do one-offs and stuff, but we're trying to save it so that we can really make the most of getting over there." 
---
READ MORE: MICHELLE interview: "What we look like isn't everything we are"